Something special is happening April 2 through May 30, 2018, at Tulalip Resort Casino. Tulalip chefs regularly take the opportunity to conceive new and delicious dishes using complex creativity at every level. Through inspirational research from the ever-changing culinary world, these creations invoke what truly makes the Tulalip chefs love what they do.
At each restaurant, there are favorite dishes the Tulalip chefs keep on their menus with the intention they may become "foodie" favorites. During these two months, the Resort chefs are enticing diners to take a walk through the menu and to step out of their normal dining routines. This dining event is to encourage patrons to venture outside of the usual, while still staying inside the box of their treasured dishes and to experience all of the culinary magic possible.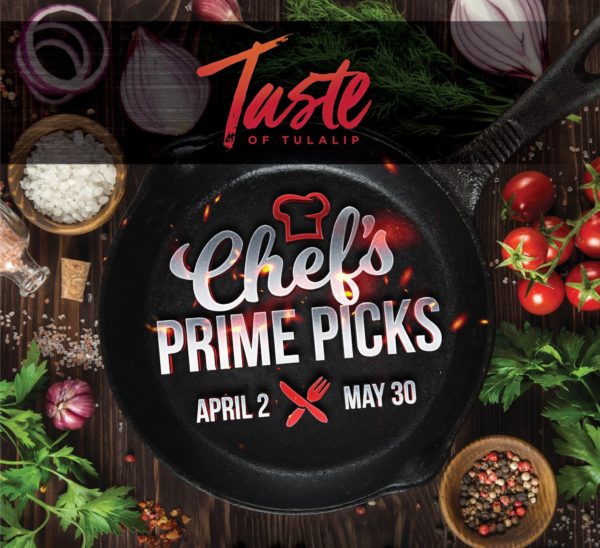 Below are some spotlight dishes to explore by Tulalip's Culinary Chefs.
Chef David Buchanan – Blackfish Wild Salmon Grill
Appetizer: Dungeness Crab Cakes with miso-apple watercress salad and aiolis of Meyer lemon, Skagit honey-mustard, and dill-black pepper.
Salad: Heart Of Romaine Caesar with roasted garlic crouton ring and shaved parmesan.
Entree: Heritage Salmon & Filet Mignon Duo
Alaskan Sockeye salmon seasoned and roasted over Alderwood coals on Ironwood sticks. Served with grilled asparagus spears and corn fritter cake.
Filet Mignon served with Twin Sisters Bleu Cheese, crushed hazelnuts, crispy apple-bacon, romanesco, roasted garlic-cheddar potato fritter, shaved fennel & frisse salad tossed in a prickly pear vinaigrette.
Dessert: Sticky Toffee Pudding Cake.
The special four-course dinner menu will be available for $68 per person in addition to the regular dinner menu. To book a table online, visit here, or reserve by phone at (360) 716-1100.
Chef John Jadamec – Journeys East
Appetizer: Gỏi Cuốn – a Vietnamese spring roll with shrimp, Thai basil, rice noodles, cucumber, green leaf lettuce and peanut dipping sauce.
Entree: Honey Walnut Shrimp with 10 jumbo tempura shrimp tossed in a honey cream sauce with house made candied walnuts.
Dessert: Strawberry Milk Shake made with Snoqualmie Gourmet strawberry ice cream, fresh strawberries, and mixed with a little sweetened condensed milk, cream, and vanilla.
The Journeys East special three-course menu is priced at $30 per person and will be available in addition to the regular dinner menu from 5 pm until closing. To book a table online, visit here, or reserve by phone at (360) 716-1880.
Chef Garde Manger John (JP) Ponticelli – The Carvery / Hotel Espresso
Cheese and Fruit Grab and Go Snack Tray with assorted local Tillamook smoked cheddar and Wisconsin sage derby with sliced Fuji apples, red grapes, seasoned almonds, and crackers priced at $6.50.

Chef Brent Clarkson and Chef Susan Jensen – The Draft Sports Bar and Grill
Big sports fan? Check out The Draft's featured dishes, includes two loaded Potato Skins packed with cheese, Alfredo sauce, sour cream, bacon, and green onions; alongside three of The Draft's crispy fried wings tossed in a choice of garlic basil parmesan, buffalo sauce, honey BBQ sauce or Asian chili lime sauce priced at $9 per serving.
For more information on how to reserve a table at The Draft, visit here.

Chef Brent Clarkson – Cedars Cafe
Appetizer: Chili Lime Popcorn Shrimp tossed in honey, rice wine vinegar, and sambal oelek sauce. Served over jasmine rice and topped with wasabi tobiko.
Soup: Cedars Creamy Seafood Chowder a blend of clams, shrimp, salmon, potatoes, and bacon.
Entree: Diver Scallop & Bacon Sauté sautéed with a sweet Riesling wine, fresh garlic, and bacon garnished with green onion, fresh tomato, and garlic bread.
Dessert: Devil's Food Chocolate Cake, sinfully delicious.
The featured four-course menu will be available for $22 per person and will be in addition to the regular menu. For more information, call (360) 716-1276 or visit here.
Chef Lil Miller – Eagles Buffet
Here are several delicious options to try at Eagles Buffet: Lemon Dill Wild Sockeye Salmon, Bacon Wrapped Asparagus, and the Tulalip Triple Berry Ice Cream in a waffle cone topped with fresh berries and whip cream.
Savor Eagles Buffet all day from 9 am to 9 pm. The buffet is priced at $24.95 for adults and $13.95 for children ages 2 to 10 (prices do not include sales tax or gratuity). Tables are seated on a first come, first served basis. For more information, call 360-716-1462, or visit online at TulalipResort.com.
Creative culinary innovation is the wave of the future at Tulalip—and guests are invited to join in on the fun April 2 through May 30, 2018, and try the "Chef's Prime Picks."
About Tulalip Resort Casino
Award winning Tulalip Resort Casino 
is the most distinctive gaming, dining, meeting, entertainment and shopping destination in Washington state. The AAA Four Diamond resort's world class amenities have ensured its place on the Condé Nast Traveler Gold and Traveler Top 100 Resorts lists. The property includes 192,000 square feet of gaming excitement; a luxury hotel featuring 370 guest rooms and suites; 30,000 square feet of premier meeting, convention and wedding space; the full-service T Spa; and 8 dining venues, including the highly acclaimed Blackfish Wild Salmon Grill and Bar. It also showcases the intimate Canoes Cabaret; a 3,000-seat amphitheater. Nearby, find the Hibulb Cultural Center and Natural History Preserve, Cabela's; and Seattle Premium Outlets, featuring more than 122 name brand retail discount shops. The Resort Casino is conveniently located between Seattle and Vancouver, B.C. just off Interstate-5 at exit 200. It is an enterprise of the Tulalip Tribes. For reservations, please call (866) 716-7162. Connect with us on
Facebook
,
Twitter
, and
Instagram
.