'Salmon Nori Taco'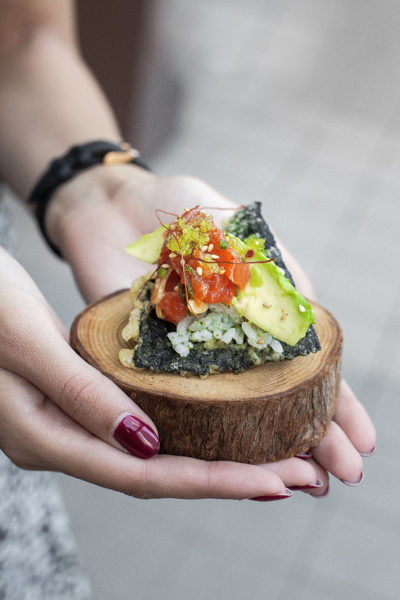 Yields 8 servings
INGREDIENTS
Rice / Seasoning:
2 cups Japanese Short Grain Rice
2 ½ cups Water
3 Tbsp Rice Wine Vinegar
2 Tbsp Mirin
1 Tbsp Salt
Salmon Poke:
1 Tbsp Green Onions, finely chopped
1/2 tsp Salt
1/4 Tbsp Crushed Red Chili Flakes, to taste
1 Tbsp Furikake Flakes
2 Tbsp Soy Sauce
1 Tbsp Mirin
1 tsp Sesame Oil (more to taste)
1 lb Fresh Sushi-Grade Salmon, cut into ½-inch cubes
1 Avocado, cut into ½-inch cubes
1 Tbsp Lightly Toasted Sesame Seeds, for garnish
Nori Taco Shells: 
2 pcs 7×8" Nori Sheets, cut into 8 even pieces
Tempura Flour Mix (available in most Japanese groceries stores)
Oil, for deep frying
METHOD
Cook rice and season with rice wine vinegar, Mirin and salt.
Combine all salmon poke ingredients in a large mixing bowl, and toss to coat.
Carefully heat oil over medium heat to 140°C.
While waiting for the oil to heat, mix tempura batter with cold water.
Dip one piece of nori in the batter and fry for 5 seconds. Using thongs, carefully form the nori into a basket while frying. Hold this position until batter hardens (while still frying), approximately 40-60 seconds.
Fry for another 1-2 minutes or until cooked and crisp, but not browned.
Allow to drain on paper towels.
Repeat with the rest of the nori. Note: making perfect nori shells takes a while, so be patient — it's worth it!
Assembly:
Fill a nori taco shell with the seasoned sushi rice.
Top with salmon poke mixture.
Repeat with remaining nori taco shells.
Serve immediately.
FELIX ZHOU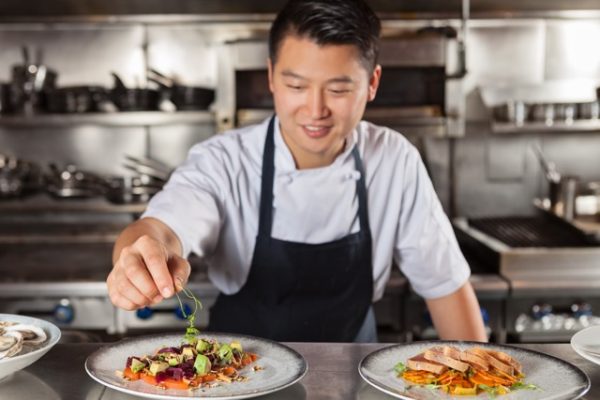 Chef, Heritage Asian Eatery
A rising star in Vancouver's culinary scene, Felix Zhou honed his skills at a number of acclaimed restaurants both locally and internationally before deciding to embark on his first solo foray at Heritage Asian Eatery.
After a turn as chef de partie at Vancouver's West Restaurant and Bar in 2007, Felix moved on to ply his trade at Market by Jean-Georges at the Shangri-La Hotel before venturing overseas to perfect his craft at Michelin-starred Roganic and Galvin La Chapelle in London, UK. In 2014, he returned to the West Coast to take on the role of Executive Sous Chef at Whistler's Nita Lake Lodge, and most recently presided as Executive Chef at a number of notable local restaurants including The Parker, Big Trouble Chinatown and Beach Bay Café.
From an early age, Felix developed an appreciation for the time-honoured traditions of using quality, local ingredients, experimenting with various flavour profiles and leaving nothing to waste that were bestowed upon him by his mother and grandparents in his family's kitchen as a young boy in China. After re-locating to Vancouver at the age of 10, Felix took those sage lessons to heart and pursued his Red Seal certificate at Vancouver Community College, graduating in 2007 and launching a culinary career that would make his forbears proud, while crafting a reputation as a nuanced and polished culinary talent.
Twitter: @EatHeritageNow
Instagram: @EatHeritage
Facebook: /EatHeritage
Website: www.eatheritage.ca