This week's #TasteofThursday recipe is a prize winner! Courtesy of Chef Felix Zhou of Heritage Asian Eatery straight from his exciting win at the 4th Annual Curry Cup.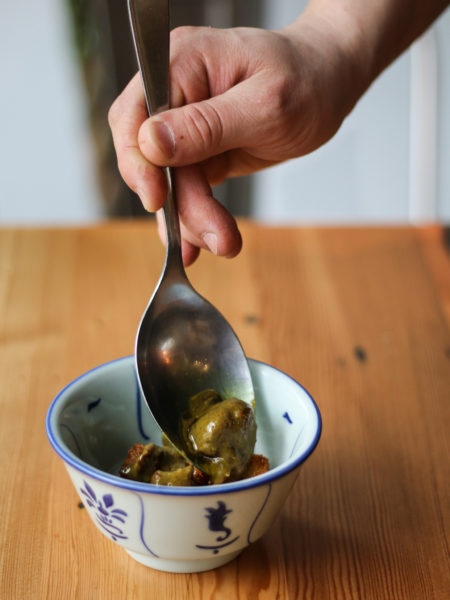 Yarrow Meadows Duck Curry 
Ingredients
750g Yarrow Meadows Duck Legs 
12 cloves Garlic
6 Shallots
1 medium piece Ginger
4 Lemongrass Stalks
12 Kaffir Lime Leaves
2 x 400g cans Light Coconut Milk
100g Brown Sugar
4 green Bird's Eye Chilies
4 Tbsp Fish Sauce
2 bunches Fresh Thai Basil
1 bunch Fresh Coriander
Juice of 2 limes
Salt
2 Tbsp Coriander Seeds
2 Tbsp Fennel Seeds
2 Tbsp Cumin Seeds
8 pods Cardamom Seeds
2 Tbsp Sichuan Peppercorns
Russet Potatoes
250 mL Canola Oil
250g Dried Bean Curd, soaked in warm water for 2 hours (or until soft) and cut into 2 cm pieces
Curry 
To make the curry paste, peel, roughly chop and place the garlic, shallots and ginger in a food processor.
Trim the lemongrass, remove the tough outer leaves, then finely chop and add to the food processor as well. Trim and add the chillies along with the basil and the coriander stalks. Blitz until finely chopped.
De-bone and slice the duck legs into 2 cm cubes. Heat a splash of canola oil in a large pan on medium heat, add the cubed duck and fry for 5 to 8 minutes, or until just turning golden and the fat has rendered down. Transfer to a plate.
Reduce the heat to medium low and add the curry paste mixture from above. Cook for 4 to 5 minutes, stirring occasionally.
Lightly toast all seeds and peppercorns and grind to a fine powder. Add to the curry mixture to infuse.
Pour in the coconut milk and fish sauce. Add lime leaves and brown sugar. Turn the heat up and bring to a gentle boil, then let simmer for 30 minutes or until the sauce is slightly reduced.
Transfer to a Vitamix blender and blend until smooth, then pass through a fine strainer. Return to the pan along with the duck legs and dried bean curd allow to cook on medium low heat.
Reduce heat to low and cook for an additional 10-20 minutes, or until the duck is cooked and tender through. Add the lime juice for the final 2 minutes of cooking.
Season carefully to taste with sea salt. 
Potato Rösti
Parboil potatoes until just tender, but not soft. Allow to cool fully for at least a couple of hours.
Peel, and coarsely grate potatoes. Season with sea salt. 
Heat oil in a pan. Add grated potatoes, shaping into flat cakes by gently pressing. Cook until golden and crispy.
Basil Oil
Bring a pot of salted water to a boil.
Blanch the basil leaves for 10-15 seconds, then immediately place them in ice water. Squeeze out as much water as possible, and place in a Vitamix blender with just enough oil to cover the basil. Blend until smooth. 
Place a bowl over a larger bowl filled with ice water. Poor the oil mixture into the top bowl in order to quickly cool it down. Refrigerate overnight, and strain through a fine strainer.
To Serve
Place crispy potato rösti in desired serving dish, and top with duck curry and braised bean curd. Garnish with fresh coriander, Thai basil and pickled jalapeños. Enjoy!
Felix Zhou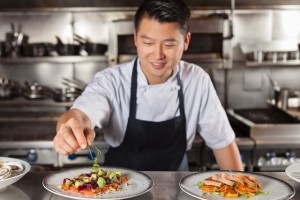 Born in Hunan, China and raised in Vancouver, Felix Zhou started his culinary journey at West Restaurant under the tutelage of critically acclaimed chefs David Hawksworth and Warren Geraghty. He further honed his skills in his next role at the Shangri-La Hotel's MARKET by Jean-George, and in 2012 jetted off to London to pursue his next culinary adventure. Here, Felix joined the team at Michelin-starred Galvin La Chapelle – a bastion of modern French cuisine – and then sharpened his foraging skills at Roganic, a pop-up restaurant in Marylebone dreamed up by Michelin-starred Chef Simon Rogan.
Felix returned to Canada in early 2014 to assume the role of executive sous chef at Whistler's Nita Lake Lodge where he helped to oversee the resort's five food outlets. Later that year, Felix moved back to Vancouver to accept the executive chef position at The Parker – one of the city's most well-received vegetarian eateries – and stayed with the restaurant during its rebranding as Big Trouble.
Now, as executive chef at Beach Bay Café, Felix brings to the table rich experience drawn from his travels and chefs he has worked alongside throughout his storied career. His ever-evolving menu prioritizes locally sourced ingredients, freshly caught seafood and approachable dishes inspired by the laidback lifestyle of the West Coast. Felix's personal spin on refined yet casual dining is a breath of fresh air, expertly capturing the restaurant's beachfront location and contemporary feel.
Twitter: @EatHeritageNow
Instagram: @EatHeritage
Facebook: /EatHeritage
Website: www.eatheritage.ca
About the Chefs' Table Society: 
The Chefs' Table Society of British Columbia is a non-profit society comprised of BC's leading chefs and culinary professionals. It is a chef-administered, province-wide collaborative dedicated to creating a foundation for the exchange of information between culinary professionals. The Society supports innovative and sustainable programs that will inspire, educate and nurture BC chefs, producers and the local food industry. The Chefs' Table Society secures apprenticeships for and bestows bursaries to emerging local chefs and also finances culinary education programs in BC schools. For more information or to become a member visit chefstablesociety.com.