Zhou's Yarrow Meadows Duck Curry With Potato Rösti Turns Heads, Tempts Palates
Heritage Asian Eatery Chef and Co-owner Felix Zhou truly curried the favour of all involved at the 2017 edition of the annual Curry Cup competition at Heritage Hall last night, winning both the Peoples' and Judges' Choice Awards with a Yarrow Meadows Duck Curry with Potato Rösti.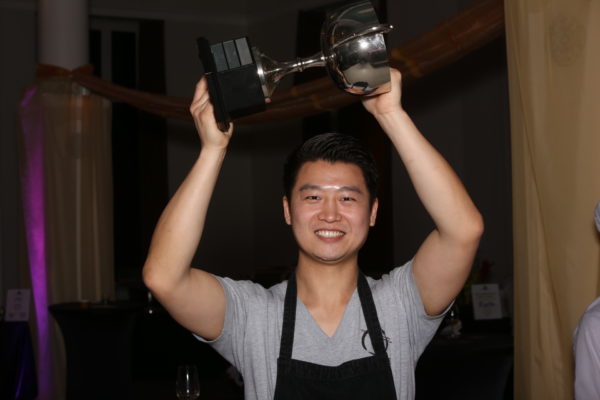 Presented by the Chefs' Table Society of BC, the sold-out benefit for Project CHEF saw Zhou single himself out from a talented troupe of eight local chefs — including TeeJay Conwi (Spencer's Lounge), Dawn Doucette (Earls), Colin Johnson (Bestie), Mathew Koyanagi (Savoury City Catering), Keith Pears (EBO), Adam Perrier (Café Medina) and Neil Taylor (España) — with his unique and flavourful dish.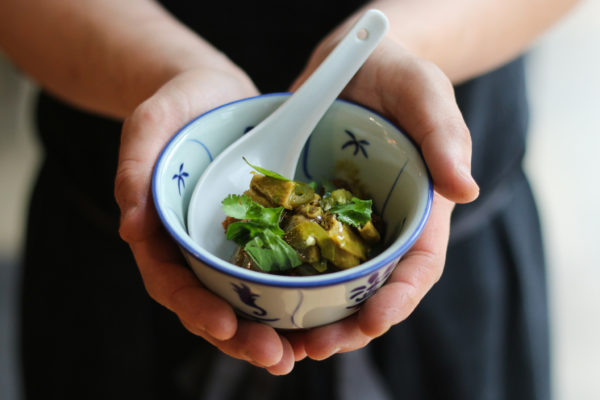 "Felix's dish exhibited tremendous balance, depth and technical skill, but most of all, the dish had heart. It was comforting, generous and delicious," said Lee Man of TheFoodBot.com and Vancouver Magazine, who judged the competition along with The Globe and Mail food critic Alexandra Gill, restaurateur/chef Vikram Vij and 2016 Curry Cup champion and Boulevard Kitchen & Oyster Bar chef de cuisine Roger Ma.
Zhou's entry, a Thai-style curry, was enhanced by Szechuan peppercorn and a number of Indian spices such as cardamom, fennel, cumin and cilantro, as well as a potato rösti that he discovered an affinity for during a two-year sojourn in the UK working at Michelin-starred London restaurants Roganic and Galvin La Chapelle. Following that, Zhou returned to Vancouver to helm kitchens at The Parker, Big Trouble Chinatown and Beach Bay Café and embarked on his first solo foray by opening Heritage Asian Eatery in 2016.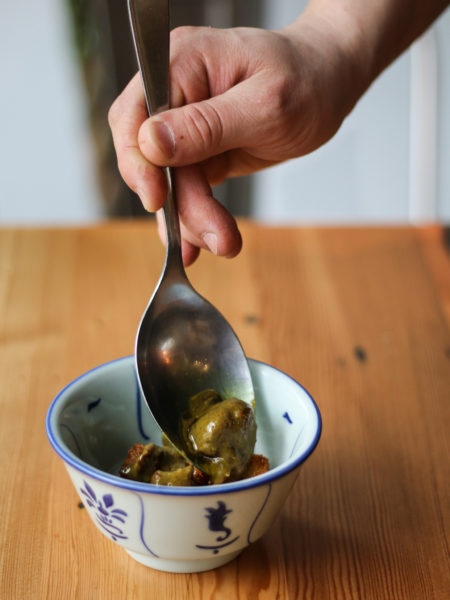 "The inspiration for this particular type of curry came pretty easily to me — it's exactly what I like to make and eat on my rare days off from the kitchen," said Zhou, who will feature his winning entry on the menu at Heritage Asian Eatery from March 13 to 17. "This is a thrill for myself and my staff as we faced some tough competition from the other chefs."
Opened last September by chef Zhou and industry veterans Natasha Romero and Paul Zhang, Heritage Asian Eatery is a counter-service hotspot that has quickly gained a loyal following and earned a number of rave reviews thanks to its signature blend of Far East flavours created with locally sourced ingredients and modern techniques.
For more information about Heritage Asian Eatery, go to www.eatheritage.ca, become a fan of /eatheritage on Facebook and follow @eatheritagenow on Twitter and @eatheritage on Instagram. Heritage Asian Eatery is also available to be booked for evening and weekend events. For information, inquiries and pricing for private functions, call 778-737-1108 or email info@nulleatheritage.ca.
ABOUT HERITAGE ASIAN EATERY | Located in the heart of downtown Vancouver's Financial District, Heritage Asian Eatery is the brainchild of acclaimed chef Felix Zhou, formerly the executive chef at Vancouver's The Parker Restaurant and Beach Bay Café. With an industrial-yet-rustic décor that fosters a casual and communal atmosphere with touches of reclaimed wood, polished concrete and metal, Heritage Asian Eatery is a counter-service restaurant that features a blend of Far East flavours created with locally sourced ingredients and modern techniques. Heritage Asian Eatery offers sit-down and take-out lunch and dinner service from Monday to Friday as well as weekend brunch on Saturdays and Sundays.
1108 W. Pender St., Vancouver BC V6E 4J6 | www.eatheritage.ca
Hours: Monday – Friday: 10:00 a.m. – 8:00 p.m. | Saturday & Sunday 10:00 a.m. – 3:00 p.m.
ABOUT THE CHEFS' TABLE SOCIETY | The Chefs' Table Society of British Columbia is a non-profit society comprised of BC's leading chefs and culinary professionals. It is a chef-administered, province-wide collaborative dedicated to creating a foundation for the exchange of information between culinary professionals. The Society supports innovative and sustainable programs that will inspire, educate and nurture BC chefs, producers and the local food industry. The Chefs' Table Society secures apprenticeships for and bestows bursaries to emerging local chefs and also finances culinary education programs in BC schools.
Visit chefstablesociety.com for more information about the Chefs' Table Society of BC or to become a chef or supporting member.