Ninth annual battle of the BBQs pits Vancouver's top grill masters against each other for the coveted RibFest Cup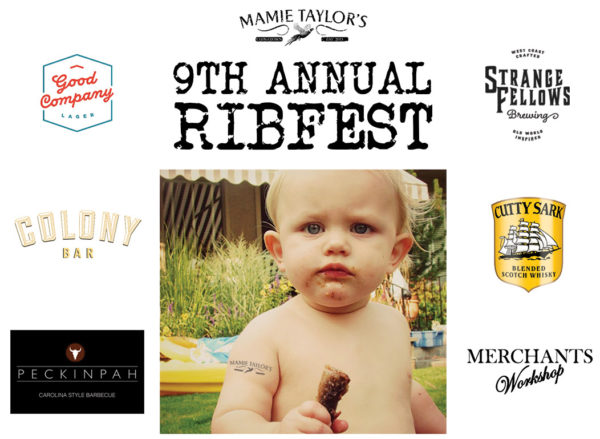 Calling all BBQ fans! The ninth annual Canada Day RibFest comes to Mamie Taylor's on Sunday, July 1, sponsored by Strange Fellows Brewing, Good Company Lager and Cutty Sark Whisky.
An Eastside Canada Day tradition, the cook-off competition will see chefs and master grillers from some of the city's top restaurants meet over the flames of competition at Mamie Taylor's in Chinatown.
Starting at 2pm on Canada Day, the outdoor grills at 251 East Georgia Streetwill be fired up and Mamie Taylor's Chef Jeff Koop will welcome fellow flamers:
Karl Greg from Colony Bar Main Street
Jesse Jobin from Peckinpah BBQ
and
returning champion Doug Stevens from Merchant's Workshop
(More competitors to be announced via Mamie Taylor's social media channels)
At stake: bragging rights and the coveted RibFest Cup, a DIY trophy that is "improved" upon each year by the winning restaurant.
Only 100 Judging Tickets ($10 per person) will be made available to members of the public, who will help choose the winning chef/restaurant.  Judging Tickets will be available onsite at Mamie Taylor's (251 E. Georgia Street) on Canada Day at 2pm, on a first-come-first-served basis.
Judging plates will feature a rib from each of the competitors and a voting token. The ribs with the most votes will be slathered in victory and rub defeat into the competition!
Throughout the afternoon and into the evening, Mamie Taylor's will also be serving a $15 ribs platter featuring slow-cooked, Low Country Southern Ribs and sides of coleslaw, macaroni salad and corn on the cob.
MAMIE TAYLOR'S NINTH ANNUAL RIBFEST
The city's hottest BBQ masters fire it up on Sunday, July 1 (Canada Day).
When: Sunday, July 1 — Doors at 2pm. Competition Ribs served at 4pm.Winner announced 5pm.
Where: Mamie Taylor's (251 E Georgia Street)
Tickets: $10 available onsite as of 2pm on a first-come-first-served basis