If the world is getting you down with all its minor daily issues, or if you feel the need for a shopping spree, or a beautifully prepared and presented gourmet dinner, or you want to try your luck at a different kind of table testing your luck or skill,  or you want a re-energizing, spa treatment, you can escape with a very short drive to Tulalip Resort Casino, a AAA Four Diamond, Forbes Travel guide recommended Resort at Exit 200 on  I-5.
Even the drive through the mountains, valleys and small towns helps set the mood for the pleasant time ahead.
I had the wonderful opportunity to spend some time at Tulalip recently and was very impressed.
The minute you drive up to the large portico and hand over your vehicle and baggage, you are treated like a VIP.
The circular foyer takes your breath away, three stories tall and centred with totems that soar above you.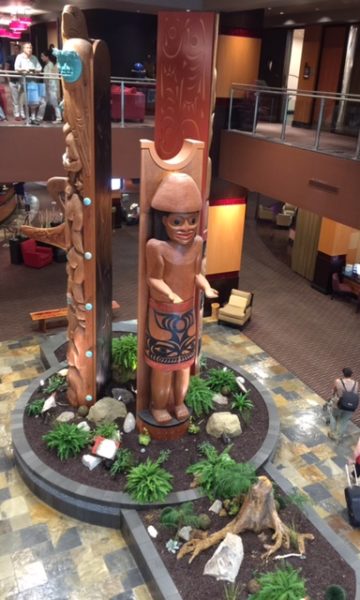 The friendly staff at Reception is directly ahead and a hallway to the pool and convention area radiates to the left past the Salal Marketplace, the gift shop featuring gifts, jewelry and art in the Northwest  and Coast Salish design, Pandora and Pendleton, as well as beautiful floral arrangements.
 An intimate bar, Destinations Lounge, awaits you on the right with an extensive wine and bar menu and and if you are an inveterate gambler, the entrance to the casino is just beyond.
A fast, key card operated elevator whisks you up to your spacious and newly renovated room. Here the word luxurious applies to all:  shower and bath areas, toiletries, towels and long accommodating robes you can get lost in, LED reading lights, in room refrigerators, USB, Bluetooth, and high speed wifi. Everything you might need is provided except for a scale, and after you read my dining section, you will be glad there isn't one around.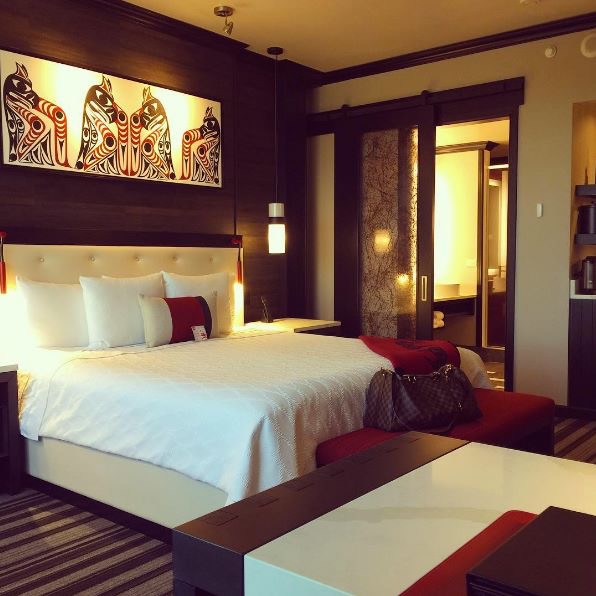 The entire Resort is owned and operated by the Tulalip tribes and celebrates the Tulalip culture. Beautiful art decorates the bedrooms, hallways, and open spaces. Staff proudly share their heritage and work hard to guarantee you a good holiday.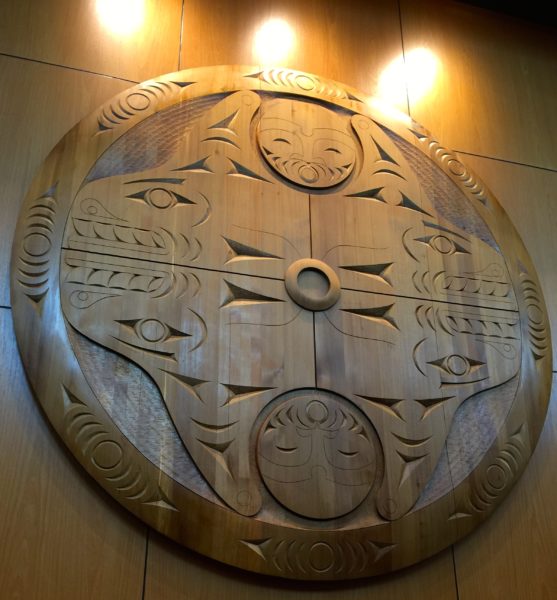 The Conference and Convention Centre provide large and small rooms that are meticulously maintained for the attendees. They have just been named Best of Meetings Today 2016 winner because of the "top quality service, meeting space, guest rooms, amenities and more…" I was impressed with the care taken in this arrangement.
The Orca Ballroom can accommodate conference keynotes, weddings, or entertainers like Wanda Sykes who is coming Sept. 23/24. There is a large adjacent outdoor area that can be set up for gatherings, as well. For a more intimate setting The Canoe is another entertainment centre.
Around the hallways, custom designed furniture catches your eye and enhances the native art.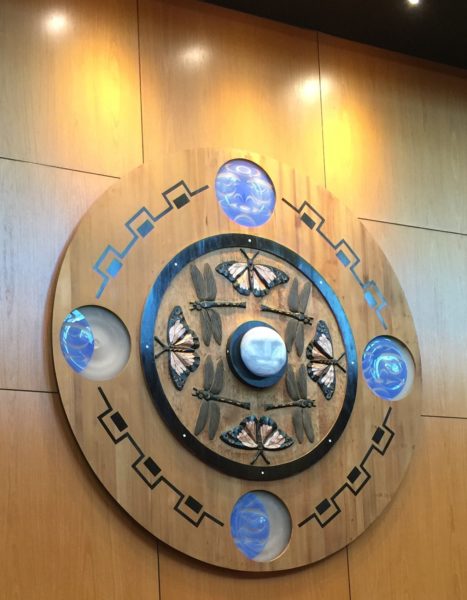 The Pool area is almost spa-like with a large circular conservatory glass ceiling and a natural bridge and waterfall set amongst the trees inside and out. A lift is provided for those that wish to enjoy the pool and have special needs, a thoughtful touch. One can swim or laze, depending on your mood.
The T-Spa sanctuary encompasses an entire floor of 14,000 square feet with services for all. The natural  foliage, bamboo floors, river rocks, cedar saunas, and fragrant candles set the mood.  It becomes the perfect spot to find the inner calm and soothe the spirit within, at the same time as healing the body.  Luxury products are used and native spa rituals help complete the renewal treatments.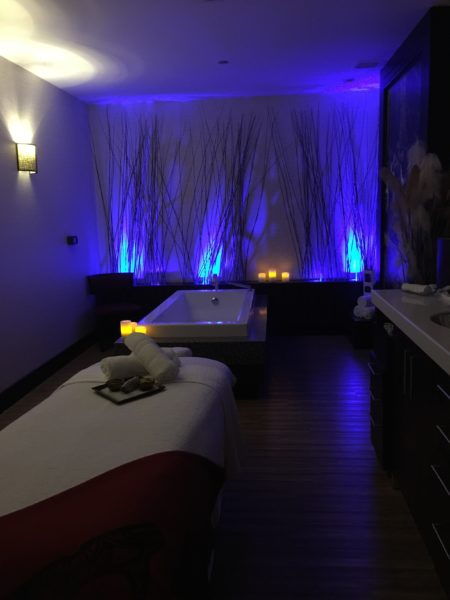 Deep tissue massage, body treatments, skin therapies, facials, steam rooms, sauna, showers all work on the skin and muscles and help the body and spirit to heal, or you can just try the state of the art fitness centre!
A couples option is available with unique privacy as is a VIP package. Enjoy!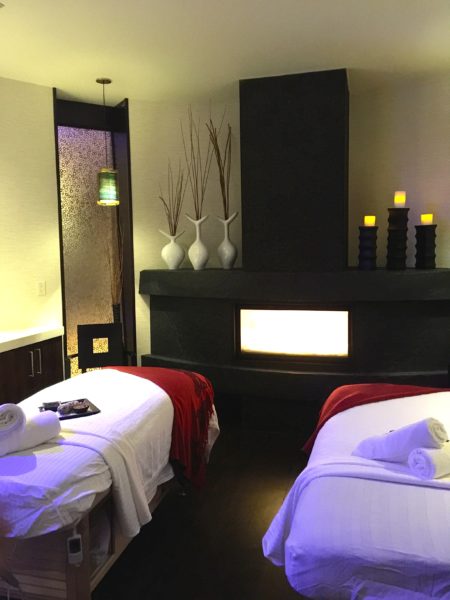 If beauty regime is your wish, you can have it all: spray tanning, tooth whitening, hair styling, make up, manicures, pedicures, beauty treatments with the best products, whatever may be on your wish list.
 Dining Options
Tulalip offers endless dining options, each unique in its own way.
Eagles Buffet offers a full assortment of food, as expected from a casino buffet. However, that is where the similarity ends; The quality and variety of the food is unbelievable. The chef has scheduled special evenings that add to the usual mouth watering international foods. Join him for Steak and Shrimp, Crab and Seafood, Killer burger, Top that Pizza, Mongolian Grill and Italian Nights! My problem is overloading my plate and that is hard NOT to do at this buffet. Make sure you leave room for dessert!
Cedars Cafe is your "go to" family restaurant, open 24 hours a day offering full breakfasts, lunches, through to perfectly cooked prime rib dinners. It is decorated with a twinkling fiber optic night sky and a curving wall of bamboo so it is relaxing with comfortable seating. We had a delicious breakfast here and would recommend it to all.
The Draft Sports Bar and Grill offers a  huge HDTV wall to keep up on all the ongoing sports events around the world.  Memorabilia decorates the walls and each of the Seattle teams has their own section decorated with a painted logo. Active games, like darts, and summer Olympic games add to the atmosphere and a large outdoor area is available.
Large soft pretzels, sausages, hot dogs, burgers, special sandwiches (BBQ Hog Handwich) and chilli round out the tasty regular menu. My friend raved about the most delicious hotdog he had ever eaten at The Draft.
However, Chef Brent Clarkson also creates unique menu items like roasted hazelnut hummus with honey crisp apples, and spiced maple glazed pork tenderloin with a hazelnut apple fritter. Draft and craft beer, wine and cocktails make your spectator or active sports even better.
Journeys East presented appetizers from Chef John Jadamac that offer a twist on the norm.   Garlic lemon grass beef was wrapped in a bethel leaf and served with a fried beet chip and a cucumber carrot salad,  a cucumber avocado roll with seared sockeye and wasabi cheese was presented and many ingredients from local farms. You can also enjoy a perfect Dim Sum, made to order sushi, Thai noodles, Pho, and other Asian foods in a unique setting. The wallpaper was hand-painted and together with the wood, chrome and glass, and the open cooking area, Journeys East provides a unique blend of cuisine and culture. Order some fried rice or have the full Asian banquet as you take a break or take out!
The Carvery is the place for a quick sandwich, burger, pizza or snack.
Tulalip Bay is the most elegant of the superb restaurants, centred around a Dale Chihuly chandelier, an open kitchen and an intimate wine room. It is an award winning restaurant ( AAA Diamond rating, Washington State Wine Grand Award, Wine Spectator Award of Excellence, a DiRoNa-Distinquished Restaurants of North America) and offers sumptuous culinary artistry.
Blackfish is another unique restaurant that offers the best of the Pacific Northwest and much of the food is cooked using traditional tribal techniques. Salmon is cooked over an open firepit on ironwood sticks,
We were lucky to have an unbelievable dinner served in Blackfish that rivalled any I have previously enjoyed. The appetizer platter consisted of a crab cake, wild salmon, and pork belly served over mac and cheese.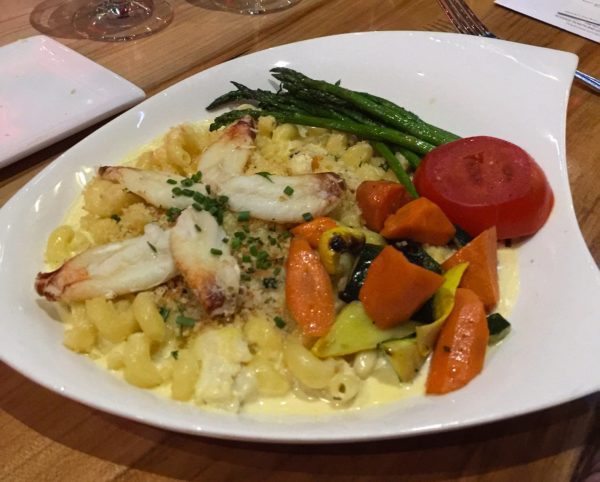 Photo credit: Sylvia Pritchard for MyVanCity
Even the Caesar salad was served in a garlic bread ring with fresh shaved parmesan.
The four entrees were each delicious and we shared and tested, with many mmm's and oooh's and aahhhs. Each one offered fresh and unique flavours, and the presentation was lovely.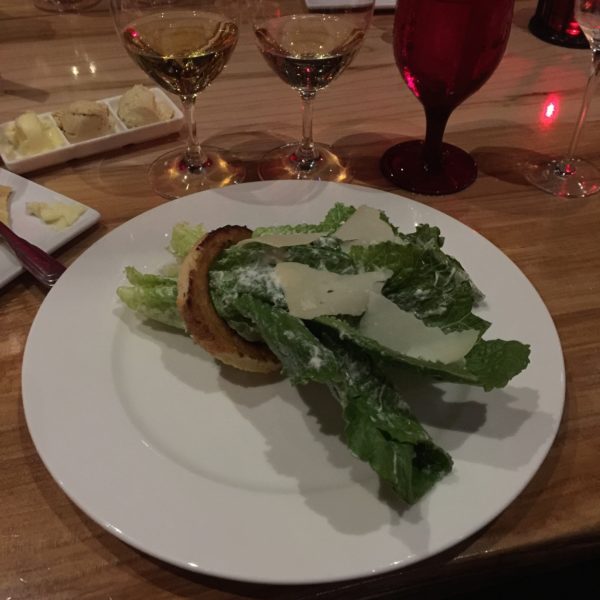 Heritage salmon prepared as above and served with asparagus and corn fritter cakes melted in your mouth.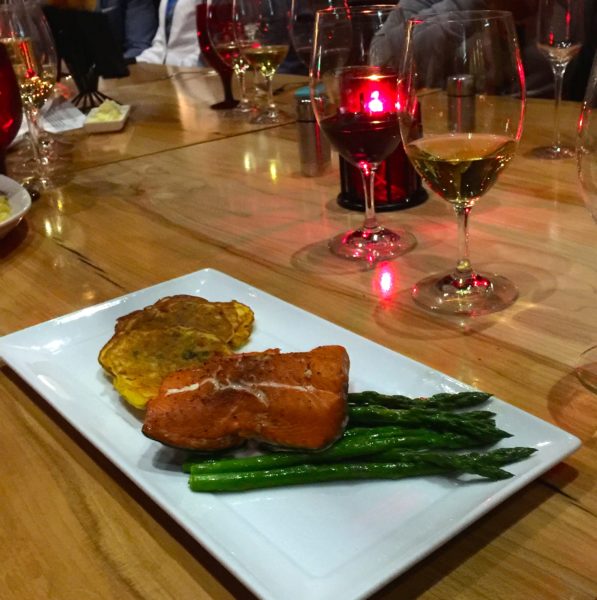 Pesto crusted halibut in a crust with sautéed mussels and gourmet rice, baby carrots, squash, and green beans. On top a parmesan crisp, completed the presentation.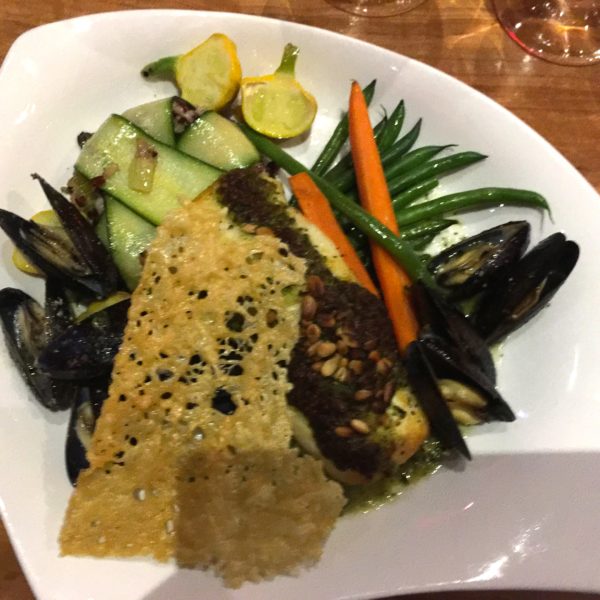 Dungeness Mac and Cheese took an old favourite to a whole new level as crab was arranged flower-like on a rich creamy, cheesy pasta base with roasted asparagus appearing stem-like.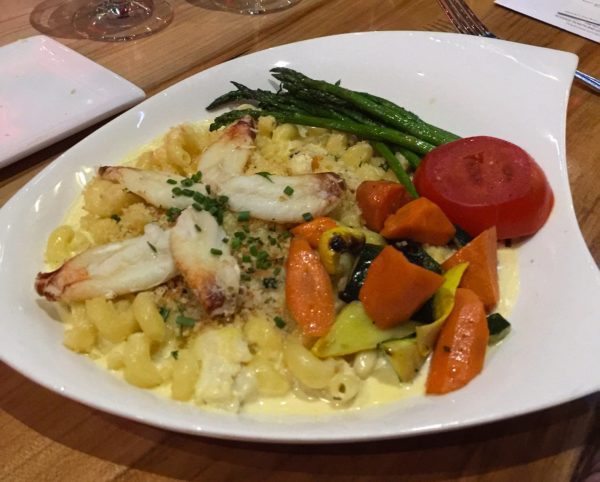 Filet Mignon was more than the classic entree. Served in a garlic pecan crust with multicoloured vegetables, rainbow carrots, trio of roasted potatoes, and snap peas, it presented as a rich aged tapestry with a bleu cheese, thyme-merlot demi-glace.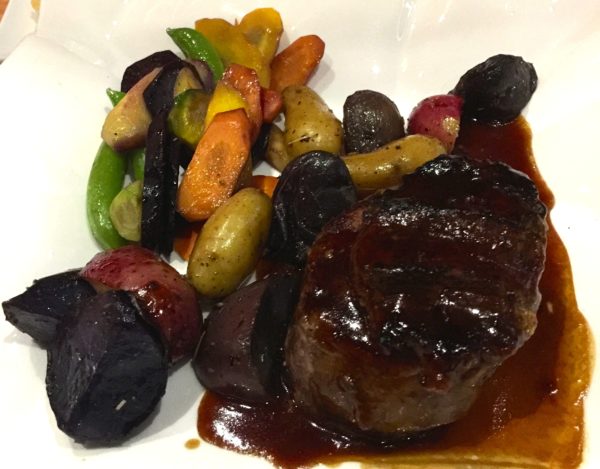 A flight of wines were chosen to enhance the entrees and the fresh flavours of the food. As I tried an entree with one of  the wines, and then switched to another, the food took on a different flavour and richness to savour.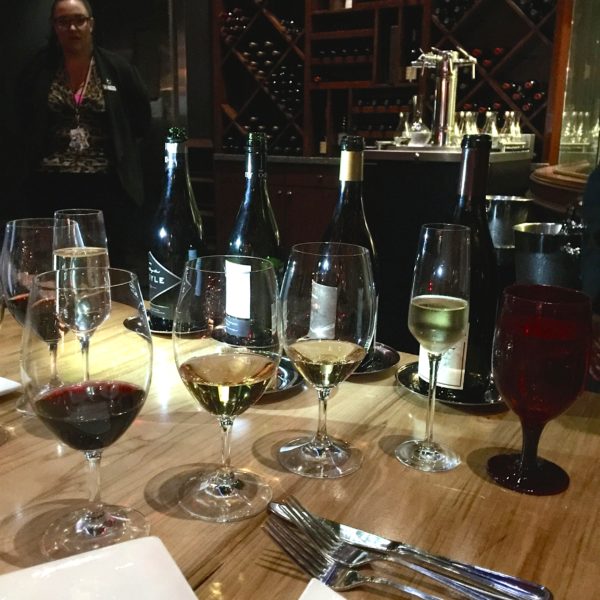 I told you to leave room for dessert at the buffet and Blackfish is no different. The desserts were delicious, again focusing on local fruits and transformed into extraordinary creations. As they kept arriving, I was certain I had landed in my version of heaven.
Homebaked blueberry pies, raspberry shortcakes, pretzel circles deep-fried and served with chocolate and caramel sauce, and fresh cherry cupcakes! Where to start and when to stop? Mmmm.
The adjacent open air Tulalip Amphitheatre is the venue for live concerts, from rockers and bands,  jazz and pop,  to sentimental crooners and silky voiced singers.  It provides an intimate setting that enables good sight lines to the stage and there is something special about sitting under the stars to enjoy your favourite musical entertainment.
If you feel like some live music and dancing, or a comedy routine, try out the Canoes cabaret. 
Also nearby, the Tulalip Bingo provides a different kind of fun.
For people wanting to learn more about the Tulalip culture, The Hibulb Cultural Centre and Natural History Preserve provides 23,000 square feet of interactive and classroom space with a longhouse , research library, and archaeology displays and 50 acres of a natural history preserve.
A weekend barely touches all that Tulalip has to offer, but I guarantee you will leave well fed, pampered and maybe a little richer, if not in dollars then in cultural experiences.  You will start planning your next trip down the I-5.