Chefs David Gunawan and Mark Perrier Prepare Family-Style Dinner, Share Stage with Noted Author and Organic Farming Pioneer Michael Ableman
Two award-winning Vancouver restaurants will join forces to spotlight one of their favourite farm-to-table suppliers when Farmer's Apprentice Chef/Owner David Gunawan and Osteria Savio Volpe Chef/Co-owner Mark Perrier host a Late Summer Harvest Dinner with organic farming pioneer Michael Ableman at Salt Spring Island's Foxglove Farm on Saturday, September 30 at 5 p.m.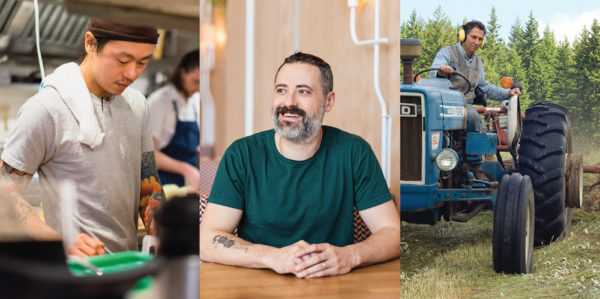 Taking place on one of British Columbia's finest heritage working organic farms, the event will see guests enjoy a sparkling wine canapé reception upon arrival, guided tour of Foxglove Farm, multi-course family-style menu with B.C. wines, and a copy of Ableman's groundbreaking book Street Farm: Growing Food, Jobs and Hope on the Urban Frontier, proceeds of which support the important work of Sole Food Street Farm and the vital connections between farming, land stewardship and community well-being.
Foxglove has been a preferred supplier for both locavore chef Gunawan at Farmer's Apprentice — which was ranked No. 2 on enRoute Magazine's 2014 list of Canada's Best New Restaurants and 'Best New Restaurant' and 'Restaurant of the Year' at the 2014 Vancouver Magazine Restaurant Awards — and Perrier at Osteria Savio Volpe, which was also recognized among enRoute's Top 10 ranking in 2016 and claimed the title of 'Best New Restaurant' at the 2017 Vancouver Magazine Restaurant Awards.
Ableman is head farmer at Foxglove, a 120-acre organic farm that has been supplying some of North America's most notable restaurants — including Michelin-starred California staples Chez Panisse and Quince, among others — with artisan quality products since 1985. A champion of sustainable and urban agriculture movements, Ableman is also a noted author whose food and farm-forward books include From the Good Earth, On Good Land and Fields of Plenty.
FOXGLOVE FARM LATE SUMMER HARVEST MENU
Canapé Reception with Haywire 'The Bub' 2015, Summerland, B.C.
Wood-oven Sourdough Bread
Handmade Pasta, Tomato Sauce, Goat Milk Ricotta
Spit-roasted Lamb, Fresh Flageolet Beans, Fire-roasted Eggplant and Peppers
Heirloom Melons and Berries
Lock & Worth Sauvignon Blanc + Semillon 2016, Naramata, B.C.
Orofino 'Pozza Vineyard' Cabernet Franc 2016, Similkameen, B.C.
"I am thrilled to have the opportunity to work with these two well-loved Vancouver chefs," says Ableman. "This will be the only event of its kind at the farm this year and will be a rare opportunity to experience the coming together of several of the region's most accomplished growers and chefs. We invite you to share our table in the village-like atmosphere of Foxglove Farm, for what will surely be a memorable evening in support of the important charitable work of Sole Food Street Farms based in Vancouver's Downtown Eastside."
TICKETS
A limited number of tickets to the Late Summer Harvest Dinner are available for $149 per person all-inclusive and are available to be purchased via Eventbrite.
Foxglove Farm offers a limited number of self-contained classic cottages to be booked on the farmstead at www.foxglovefarmbc.com/view-accommodations.

ABOUT FARMER'S APPRENTICE | The birthplace of innovative, artisanal and sustainable cuisine in Vancouver, Farmer's Apprentice features ever-changing menus comprised of ingredients delivered fresh daily from local farms, pastures and providers and served in a casual, intellectually stimulating environment that encourages interactions between the chefs and guests. Launched in 2013 by acclaimed locavore chef David Gunawan, Farmer's Apprentice was ranked No. 2 on enRoute Magazine's annual list of Canada's Best New Restaurants in 2014, and also swept the podium that year with nods for Best New Restaurant, Best Casual Restaurant and Restaurant of the Year at the 25th annual Vancouver Magazine Restaurant Awards.
1535 West 6th Ave., Vancouver, B.C.  V6J 1R1 | Hours: Lunch Tues – Fri 11 a.m. to 2 p.m., Dinner Mon – Sun 5:30 to 10 p.m., Weekend Brunch Sat to Sun 11 a.m. – 2 p.m. | 604-620-2070 | www.farmersapprentice.ca
ABOUT OSTERIA SAVIO VOLPE | Opened in Vancouver's Fraserhood neighbourhood in 2015, Osteria Savio Volpe is a restaurant styled after the classic osteria — featuring rustic fare in the Italian tradition of freshness and regionality, using ingredients gathered from the nearby lakes, oceans, farms and fields. Everything is prepared in the simplest, most flavourful way, with pasta handmade fresh every day — fatto a mano in casa — and meat, poultry and fish kissed by smoke over the wood-fired grill and rotisserie. The 75-seat osteria, which was named 'Best New Restaurant' at the 2017 Vancouver Magazine Restaurant Awards, also features a long list of friendly Italian wines and old-world coffee to inspire conversation and good cheer among friends, family and strangers alike. Above all else, Savio Volpe celebrates liveliness, warmth and hospitality.
615 Kingsway, Vancouver, B.C.  V5T 3K5 | Hours: Sunday to Wednesday 5 p.m. to 10 p.m. | Thursday to Saturday 5 p.m. to 10:30 p.m. | 604-428-0072 | saviovolpe.com
ABOUT FOXGLOVE FARM | Considered one of the most innovative organic farms in the region, Foxglove Farm is a 120-acre organic farm on Salt Spring Island. The farm is one of the original homesteads on the Island, surrounded by hundreds of acres of protected forest and agricultural fields, bordering Maxwell Lake. Foxglove Farm produces strawberries, raspberries, blueberries, asparagus, melons, greens, roots, a wide range of annual Mediterranean vegetables, as well as orchards of diverse varieties of peach, plum, apple, pear, quince, persimmon, fig, chestnut, and cherry. The farm also manages a small flock of laying hens, pastured pigs, and extensive fields of grains, legumes, and hay and pasture. Foxglove Farm offers workshops and programs through its Centre For Arts, Ecology and Agriculture, which was voted by Travel and Leisure magazine as one of the best cooking schools in the world. The farm also offers self-contained accommodations for personal and family retreats.
1200 Mt. Maxwell Rd., Salt Spring Island B.C.  V8K2H7 | 250-537-1989 | www.foxglovefarmbc.com
For more information on Michael Ableman and his organic farming and urban agriculture projects, visit michaelableman.com, foxglovefarmbc.ca and solefoodfarms.com.