The "Icons of Wine & Food Dinner" for Chef meets BC Grape Okanagan Wine & Food Experience at The Sonora Room at Burrowing Owl Estate Winery was one of the best wine pairing dinners I have had the opportunity to attend.
On Friday, August 25, 2017, the Sonora Room and patio became the setting for a magnificent dining experience that brought together chefs from Food Network Canada. Each talented chef created a course that delighted and impressed every guest. The chosen wine pairings were outstanding and complimented the dishes, sometimes surprising or as expected.
The BC Wine Institute pulled out all the stops in putting together not only the Icons of Wine & Food Dinner but the entire four days of gourmet dining and BC VQA wine tasting like no other for Chef Meets BC Grape Okanagan Wine & Food Experience.
The Friday night dinner was the second of four experiences over a period of four days. A sold out event that began with canapés and bubbles that included such specialties as bites and sips of Chilled Chilliwack Corn Soup with Nova Scotia Lobster and Calabrian Chili Spicy Albacore Tuna Poke with Avocado, compressed cucumber, tapioca and seaweed crisp. With a choice of two BC VQA sparkling wines; Summerhill Pyramid Winery Cipes Blanc de Blanc 2010 and Steller's Jay Brut 2014, both BC VQA Okanagan Valley.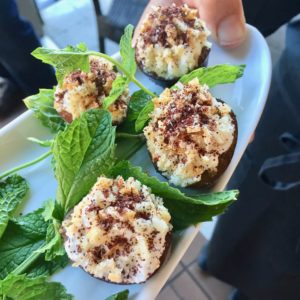 The seven-course dinner featured eleven BC VQA wines from the Okanagan and Similkameen Valleys which included a Riesling; a Pinot Noir; a Chardonnay; a Gamay; two vintages of Meritage; a Syrah; a Cabernet Blend; a Cabernet Sauvignon, Merlot, Cabernet Franc Blend; and an Ice Wine.
The chefs, their dishes in order of appearance and wine pairings:
Trevor Bird
Heirloom Tomatoes Essence
Cucumbers, Horseradish, Mascarpone, Cold Pressed Canola Oil
Wild Goose Vineyards & Winery Stoney Slope Riesling 2015, BC VQA Okanagan Valley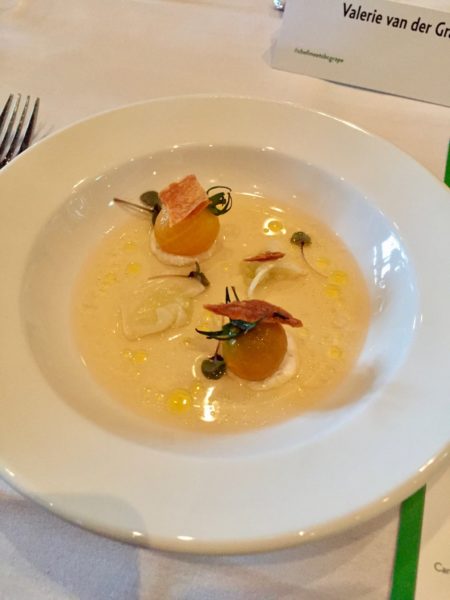 Connie De Sousa and John Jackson
Table-Side Tuna Ceviche
Albacore Tuna, Yuzu, Puffed Wild Rice, Cilantro, Sprouted Lentils
Tantalus Vineyards Old Vine Riesling 2014, BC VQA Okanagan Valley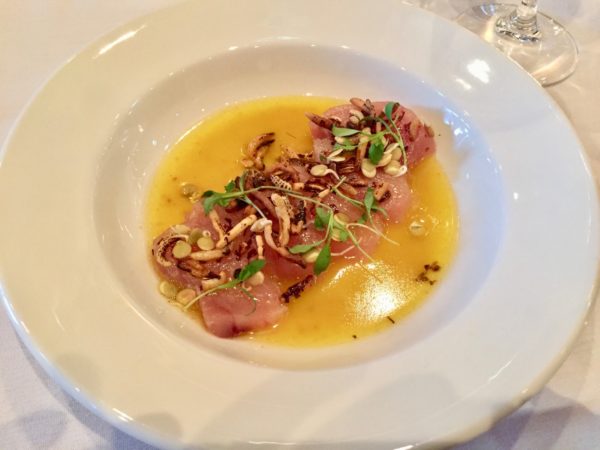 Nicole Gomes
Tortellini
Goat Ricotta, Preserved Lemon, Lobster Mushrooms, Pancetta, Ricotta Salata
50th Parallel Estate Unparalleled Pinot Noir 2014, BC VQA Okanagan Valley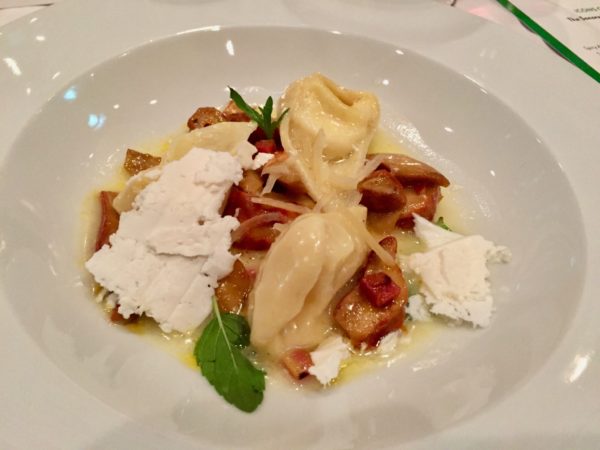 Duncan Ly and Jinhee Lee
Slow Baked Haida Gwaii Halibut
King Oyster Mushrooms, Mussels, Clams, Tom Yum and Tobiko Butter Sauce
Meyer Family Vineyards Micro Cuvée Chardonnay 2015, BC VQA Okanagan Valley
Robin Ridge Winery Gamay 2014, BC VQA Similkameen Valley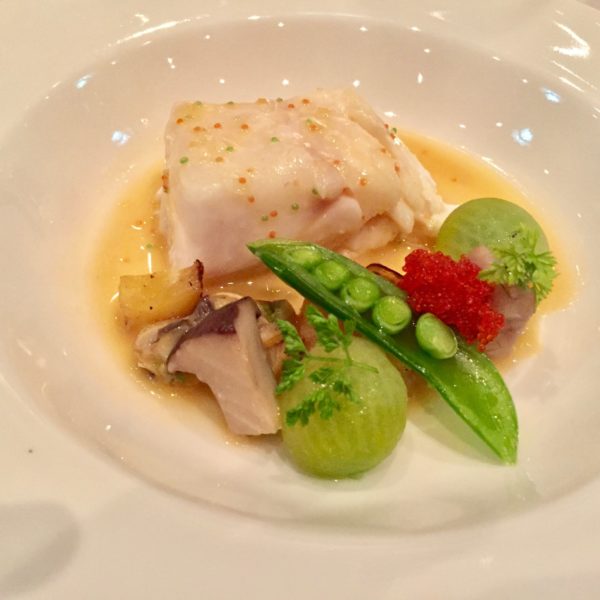 Lee Humphries
Roasted Lamb with Mint and Anchovy, Fennel, Rosemary Jus
Burrowing Owl Estate Winery Heritage 2010 & 2014, BC VQA Okanagan Valley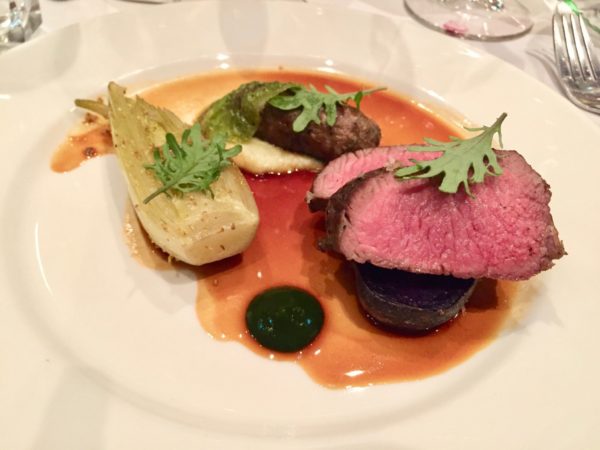 Mark McEwan
Roasted Beef Tenderloin with Short Rib Croquettes
Carrot Horseradish Purée, Sautéed Chanterelles, Pearl Onion, Bone Marrow Butter & Black Truffle
Le Vieux Pin Winery Equinoxe Syrah 2013, BC VQA Okanagan Valley
Laughing Stock Vineyards Portfolio 2008, BC VQA Okanagan Valley
Black Hills Estate Winery Nota Bene 2015, BC VQA Okanagan Valley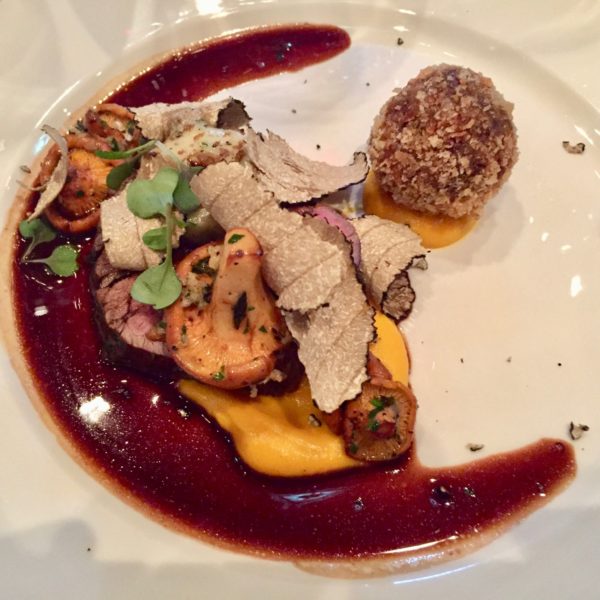 Matthew Stowe
Icewine-Poached Okanagan Peach
Tahitian Vanilla Bean Tapioca, Pistachio Crumble, Peach Sorbet, Red Shiso
Quails' Gate Winery Optima 2016, BC VQA Okanagan Valley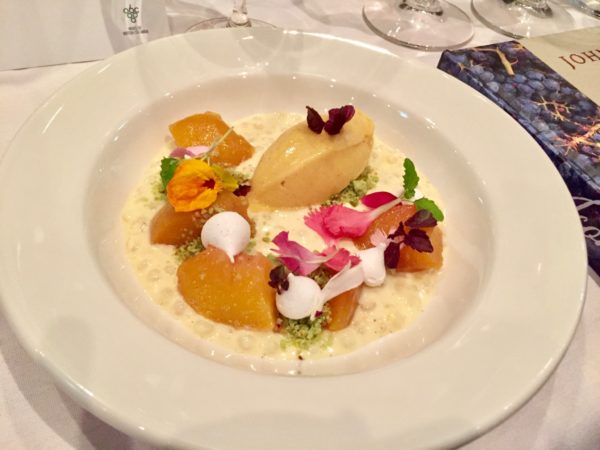 Each of the chefs addressed the guests with their interpretation of each dish. Most of the dishes were created especially for the Icons of Wine & Food Dinner from fresh, locally sourced produce. Wineries spokespersons gave a brief overview of the wines they had paired with each course. The evening included an introduction to John Schreiners new book "Icon Flagship Wines from British Columbia's Best Wineries". 
This was the inaugural Chef meets BC Grape Okanagan Wine & Food Experience and if this wine dinner is any indication there will be another chapter in 2018. Kudos to the organizers, chefs, presenters and special guest John Schreiner for a most delightful evening of good food and wine from British Columbia. The dinner was $165.00/person including taxes and gratuities. Each guest received a copy of "Icon" to take home.
The evenings' chefs included:
Chef Lee Humphries, The Sonora Room & Vintage Hospitality, Okanagan @sonoraroom
Chef Trevor Bird, Fable Kitchen & Fable Diner, Vancouver @fablekitchen
Chefs Connie DeSousa and John Jackson, Charcut & charbar, Calgary @Charcut
Chef Nicole Gomes, Nicole Gourmet & Cluck N Cleaver, Calgary @cluckncleaver
Chefs Duncan Ly and Jinhee Lee, Foreign Concept, Calgary @eatforeign
Chef Mark McEwan, The McEwan Group, Toronto @Chef_MarkMcEwan
Chef Matthew Stowe, Joseph Richard Group, Vancouver @ChefMattStowe
Special guests included:
Emcee: Master of Wine, Rhys Pended @WinePlus
Guest Speaker: John Schreiner, Wine Writer @goodgrog
Wineries:
@50thparallelwin
@BlackHillsWine
@BurrowingOwlBC
@lfngwine
@LeVieuxPin
@MFVwines
@Quails_Gate
@RobinRidgeWine
@SumacRidgeWine
@summerhillwine
@tantaluswine
@wildgoosewines
Meantime there are approximately six more weeks of "wine time" that's perfect for visiting in the Okanagan. Explore Wine BC's Okanagan Valley and the Similkameen Valley. For more information on BC Wine events.
The Chefs & Presenters of Chef meets BC Grape

Feature image: Burrowing Owl Estate Winery
Disclosure: I received complimentary tickets to attend this event. Travel and accommodation for the weekend were at my own expense. All opinions are my own.