To celebrate Canada's 150th Anniversary, Hy's challenged the cocktail team at each of its five locations to develop a drink, using local ingredients, which would reflect the tastes of their region. Their range of tempting drinks exceeded expectations, with the best of local spirits and inspiration combined to make cocktails perfectly crafted for a Canadian summer. And starting mid-June, this special cocktail list will be offered at every Hy's Steakhouse & Cocktail Bar.
Naturally, our own Canadian Rye Whisky shows up, along with boutique gin and local craft lager. There's Hy's take on the Bloody Caesar, and some surprising, playful ingredients like salmon jerky and house-made rhubarb syrup. As each cocktail is named to represent a location, guests may enjoy a cross-country tour without ever leaving their favourite Hy's.
"We wanted to find an authentic way to celebrate Canada's 150th," said Hy's Chief Operating Officer Megan Buckley. "Over the last 62 years, Hy's has understood that Canadians from East to West enjoy a great cocktail. This list is a chance for each of our restaurants to fly a local flag, and share their creations across the country."
Hy's Vancouver will also offer a special Canada 150 Happy Hour menu with the addition of a few locally-inspired choices. Along with classic favorites like Hy's Cheese Toast, Vancouver's Happy Hour will feature delicious bites like West Coast Candied Salmon, and house made Nanaimo Bars, perfect for sharing in celebration.
The Canada 150 cocktail list and summer Happy Hour features will be available until August 31st. The cocktails may be enjoyed any time, while the Happy Hour menu is offered in the lounge Monday– Friday from 3-6 pm.
In celebration of
Canada's 150th Anniversary, Hy's Bar Masters have created special cocktails using the best of their local spirits and flavours, perfectly crafted for a Canadian summer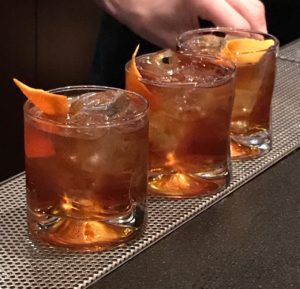 MUSKOKA DREAM
Toronto
Canadian Club Chairman's Select rye, Fernet Branca, orange curacao, housemade maple syrup
PORTAGE & MAIN
Winnipeg
Manitoba's Tall Grass gin, housemade rhubarb syrup, fresh blueberries, lemon and lime juices, splash of soda
SPIRITS OF THE WEST
Calgary
Canadian Club Dark Horse rye, Clamato,
Hy's peppercorn sauce, pickled bean juice, lime juice, horseradish, jalapeno-beef jerky garnish
COASTAL WAVE
Vancouver
Wayward bourbon barrel-aged gin, Punt e Mes, Benedictine, orange bitters, salmon jerky garnish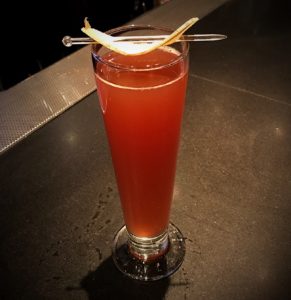 ALPINE GLOW
Whistler
Local craft lager, Campari, lime juice and fresh ginger
14.00
For full menu details, visit http://hyssteakhouse.com/locations/vancouver