Romance! How do you define romance? The Oxford Dictionary defines romance as: A feeling of excitement and mystery associated with love.
We think we can add to the excitement and take the mystery out of which wine to share with your Valentine.
"Wine prepares the heart for love" – Ovid
Here are the wines of Romance that we have enjoyed and personally recommend for you:
Bench 1775 Glow Rosé

Malbec Rosé
Made from Malbec, with small amounts of Syrah, our 2018 Glow Rosé is complex and layered with bright flavors of Lapin cherry and wild strawberries. A long finish with slightly resinous tannins gives this wine a sophisticated style.
Glow Rosé is balanced with bright acidity and a textured mid-palate. Pair this elegant, dry wine with BBQs, white meats, shellfish, and roasted vegetables.
You'll have her blushing when you serve this Glow Rosé. Subtle just like romance. 
Blue Grouse Quill 2018 Off Dry White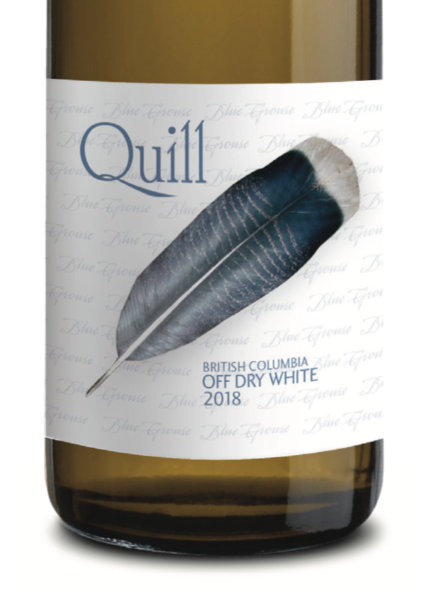 Gewürztraminer 30% I Siegerrebe 28.5% I Chasselas 24.2% I Riesling 14.2% I Schönburger 3.1%
Winemaker's Notes
This lively blend came to us from a reputable grower in east Kelowna. It consists of aromatic grapes that lend themselves to an off dry style. No malolactic fermentation took place.
Profile
This medium bodied wine boasts generous aromas of granny smith apple, peach and citrus. The palate picks up flavours of sweet peach, pear and honey to complete this nicely balanced wine.
Food Pairing
Enjoy with spicy Asian or Indian cuisine, lightly poached pears or taking in the sun on a warm summer day.
$22.00
SKU 541029
Blue Grouse Wine Fan Club
Blue Grouse Estate Winery celebrates its loyal wine-lovers by offering the Blue Grouse Estate Winery Fan Club. This exclusive membership includes packages that arrive three times per year, to ensure members can enjoy their favourite Blue Grouse Estate wines throughout almost every season.
Multi-Level Memberships
Playing off the "Blue Grouches" nickname (given to past, present and future Blue Grouse owners), the three levels of the Wine Fan Club membership include: Grouchy, Grouchier and Grouchiest.
As a Wine Fan Club member, you will NOT pay any membership fees. Simply fill out your contact info and choose whether you're Grouchy, Grouchier or Grouchiest to start receiving wine at your home, or through pick-up at the winery.
By joining the Wine Fan Club, you are privy to specially reserved Blue Grouse Estate wines. If certain wine becomes sold-out to the public, you may still request these wines for purchase.
It gets better! If you're a Wine Fan Club "pick-up member" you (& guests) are invited to attend a pick-up party each time you grab your Fan Club wine (3X per year!)
Learn more about Blue Grouse's Wine Fan Club on the website: https://www.bluegrouse.ca/Wine-Clubs
2018 CedarCreek Platinum Block 1 Pinot Noir Rose

Blend
100% Block 1 Pinot Noir
In 2018, we dedicated all of our Block 1 Pinot Noir to Platinum Rosé. Harvested over two picks, the first pick captured more of the herbaceous, grapefruit and watermelon flavours. The second pick adds classic Rosé notes of strawberries and cream. After picking, the grapes were destemmed and introduced to the press where they sat in contact with the skins for 60 minutes before being pressed. Sixteen percent went into neutral oak for fermentation followed by 3 months on lees to add a little depth and roundness to the finished wine.
Tasting Notes
Pink grapefruit, strawberry and watermelon notes, citrus and a fresh leafy floral character.
Vineyard Notes
Above average growing degree days in the spring contributed to an early budbreak. Cooler days and evenings arrived in August, which slowed down the ripening of the grapes and allowed for greater flavour development while retaining freshness and acidity.
Winemaker Notes
Enjoy now.
Food Pairing Notes
More rosé or watermelon, feta & mint.

Isn't this the prettiest bottle of rosé wine you've ever seen? The contents of this beauty is rave worthy and your Valentine is going to love this new release.
Valentine's Dinner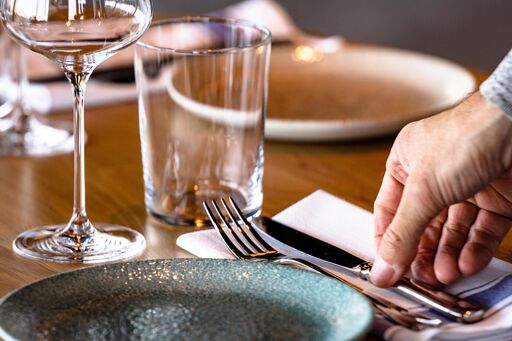 A Romantic Evening at Home Block
Celebrate Valentine's Day with someone special at Home Block. Executive Chef Neil Taylor has prepared a special 4-course menu for the evening, with additional options to add selected wine pairings throughout, and to start with a 1/2 dozen fresh shucked oysters. Let us make this Valentine's Day one to remember.
Friday, February 14
Home Block at CedarCreek Estate Winery
$100 per person  (+ taxes and gratuity)
Menu available here
Add-ons:
Wine pairings $45
Oysters to start $24
Phone Home Block to book
250-980-4663
Do you want to make your experience extra special? Contact the Tasting Room to book a special Valentine's themed tasting before your dinner. All inquiries can be sent to tastingroom@nullcedarcreek.bc.ca or 778-738-1027
About CedarCreek Estate Winery and Home Block Restaurant
Tasting Experiences:
Complimentary Estate Tasting: Showcasing bright, expressive, aromatic wines sourced from our Okanagan vineyards
Platinum Tasting: Bringing out the most character from individual blocks to make premium vineyard-driven wines
Silt & Stone Experience:  Gifted with two amazing blocks of Pinot Noir planted in the early 1990's, Block 2 & Block 4 of Home Block Vineyard have some of the oldest Pinot Noir vines in BC.  The Silt & Stone Experience explores the very tangible impacts that each block's soil composition has on the wines, as well as vintage variation between the 2012 and 2016 Pinot Noirs. 
Call (778) 738-1027 for information and reservations.
The story of CedarCreek begins with the vision of Senator Ross Fitzpatrick.  Born and raised in the Okanagan, the future senator worked alongside his father during the '40s and '50s at MacLean & Fitzpatrick, a fruit packing and shipping company.
Though his education and career took him away from the valley for three decades, he returned in 1986, and purchased his first Okanagan Valley winery and vineyard on a site overlooking Okanagan Lake.  At the time, there wasn't much belief in the idea of wine being produced in the valley, let alone wine that could stand among the best in the world. He became a pioneer in the planting of vinifera grape varieties to produce premium quality wine.
Few others shared the same vision of what the Okanagan might become, among them – the von Mandls.  CedarCreek grew into one of the leading wineries in the Okanagan Valley – twice winning Canada's "Winery of the Year" award.  In February 2014, the Fitzpatrick family announced the transfer of ownership of CedarCreek to the von Mandl family.  With this, two of the region's pioneering winemaking families came together over a shared vision for the future of the Okanagan Valley.
Today, we honour the Senator's vision for the 50-acre Home Block Vineyard. Winemaker Taylor Whelan is building upon three decades of winemaking history and defining a new chapter with estate-grown, organic wines.  Because of planting decisions made in the early 1990's, we now have 30-year-old vines at the heart of everything we do, and seek to showcase them in increasingly nuanced ways.  We commit to this land daily with integrity, authenticity, and a commitment to quality.  On that, you have our word.
Nominated: Air Canada / enRoute Canada's Best New Restaurants 2019.
At Home Block Restaurant, we embrace the bounty of the Okanagan while our name pays homage to the Home Block Vineyard which surrounds us. Our building is crafted from fieldstone and 100-year-old reclaimed barn wood and our cuisine draws on those elemental roots. We integrate natural cooking methods like our wood-fired grill fueled by timber from local orchards and seasoned barrel staves. The result is honest, confident, and approachable food that unites flawlessly with CedarCreek wine.
Come soak up the spectacular views of the lake, vines, and valley with us.  Book on Open Table or call 250-980-4663 for reservations.
Clos du Soleil
1 x 2015 Signature & 1 x 2017 Capella in a beautiful wood gift box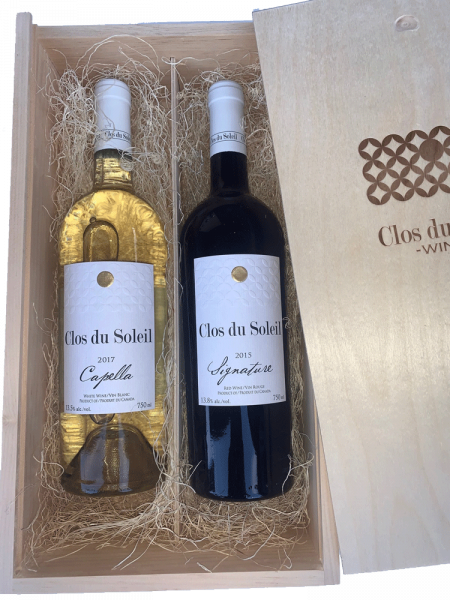 The Perfect Pair
With romance in the air, we've got the perfect pair! The Clos du Soleil flagship wines gift pack not only offers up "couple goals", but is guaranteed to garner a better reaction than a cliched bunch of wilting red roses. (Undoubtedly bought last minute at some random grocery store!)
Even if you're not a fan of Valentine's Day and all the schmaltz that goes with it, this is one couple you can't help but fall in love with.
About Signature 2015: Our flagship blend of red Bordeaux varieties, the 2015 vintage of Signature is the product of a long, hot growing season producing ripe fruit character. Showcasing flavours of sun-ripened cherries, raspberry, cassis, mint, blackberry, and complex notes of graphite, sagebrush and pepper, it is a lush example of this iconic wine.
About Capella 2017: Our flagship white wine is a classic Bordeaux blend of Sauvignon Blanc and Semillon. It is a wine of grace, elegance and age-worthy structure, with delicious flavours of lemon zest, ripe grapefruit, Anjou pear, pineapple and wisps of wood smoke all tied together with crisp citrus acidity.
Buy online:  https://www.closdusoleil.ca/product/flagship-wines-gift-pack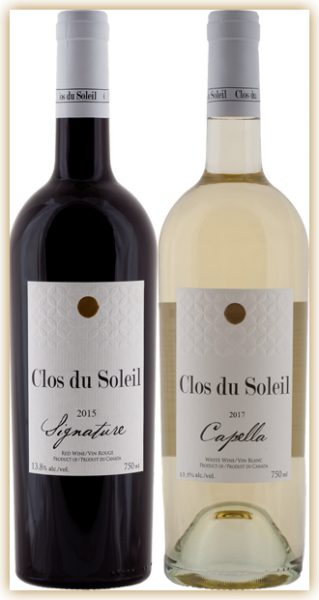 No gift box if purchased at a wine store.
Buy in store: Clos du Soleil Signature and Capella are also available at a variety of stores (no gift box). Contact wine@nullclosdusoleil.ca for more info.
~ $85.90 after-tax ($73.65 before tax + $12.25 tax)
Won't you be a hit with a double dose of love on Valentine's Day, or maybe consider making it a weekend!
Dirty Laundry Hush White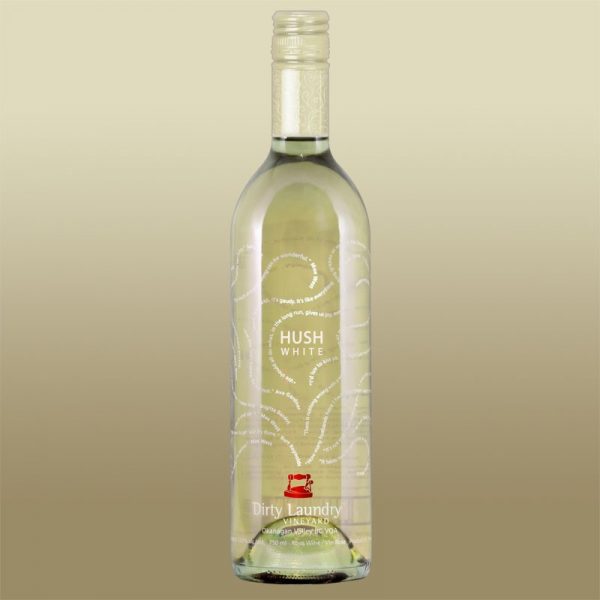 Tasting Notes
You will find aromas of ripe pear, lemon & honey with subtle herbal notes. The slight effervescence you will find upon opening the bottle balances the bright acidity with flavors of meyer lemon & crisp orchard fruit.
Winemaker Notes
A balanced blend of Gewurztraminer, Riesling & Sauvignon Blanc with an effervescent finish. All portions are fermented separately & the final blend is carefully chosen. All grapes are sourced from our Summerland vineyards.
Food Pairing Notes
Soft creamy cheese, oysters or a cream based pasta with fresh seafood.
"he placed a finger before pursed lips to hush her" Hush – silence, quiet, quietness, quietude, soundlessness, noiselessness. stillness, still, peacefulness, peace, calmness, calm, tranquillity. Perhaps the excitement of the wine overwhelmed her? Romantic gesture or a prelude to pouring her glass of wine?

Eau Vivre Cinq Blanc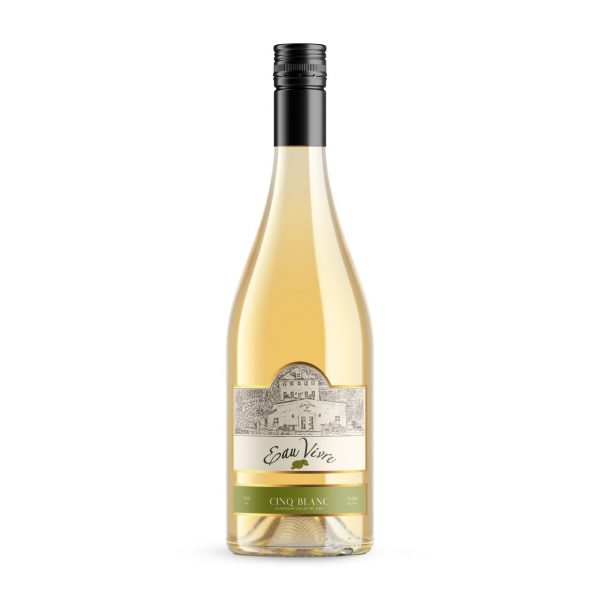 Tropical aroma service of pineapple, white peach, passion fruit and mango lead the way to a rich textural mouthfeel with accents of honeydew, melon and star fruit. Finishes with balanced juicy acidity.
The very name "Eau Vivre", loosely translated as water of life or living water is in and of itself – titillating; which the Oxford dictionary describes as "arousing mild sexual excitement or interest; salacious." We prefer to call it romantic.
Welcome to the Eau Vivre Wine Club.
This will be the simplest wine club in BC, no subscriptions necessary and we, at the wine shop, do not have to store your credit card numbers at all, making it extra safe for you to shop in confidence.  We are using the highly acclaimed Stripe and / or PayPal on-line payment portal to securely manage all your purchases, one less headache for both of us!
We ship only twice a year before thanksgiving in late september and before easter in late march.
Our Wine Club Options 6 bottles or 12 bottles, no limit on how many you order.  They can be red, white or half and half.
Now what you need to do is simple, pop over to our Purchase page and go through the Wine Club Options until you find ones you want, then purchase it through the store.
Sometimes there are no Wine Club Boxes visible on the Purchase page.  If this happens there will be a different special offers available.  Check the prices of the wines to see the specials. Unfortunately, extra discounts and free shipping are not available during special offers.
Have fun and enjoy the wines.
Evolve Sauvignon Blanc

Tropical fruits with lime and nectarine. Bright, lively citrus and summer fruit flavours of melon, nectarine, and pear. Pairs well with Okanagan goat cheese at your picnic, or afternoons under a shade tree with a really good book.
We suggest you bring a blanket, a bottle of Sauvignon Blanc from Evolve and show her how romantic an indoor picnic on Valentine's Day can be.
Every choice you make has intention – to accomplish, create, and grow.
With Evolve Cellars, our intention is to craft friendly and approachable wines, providing a pure expression of the grapes grown by our south Okanagan grower partners. Fruit-forward with a bright freshness typical of the area, our wines are a celebration of this great region and how we can evolve together.
Celebrate your next step forward with the natural spirit of the Okanagan in every bottle of Evolve Cellars.
Lariana 2018 Viognier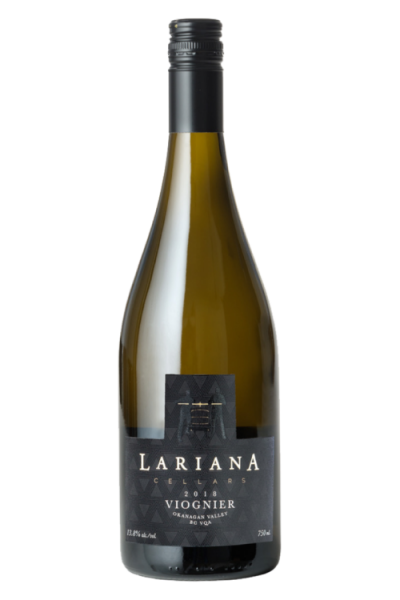 As in previous vintages the fruit is sourced from Red Brick vineyard (east side of Osoyoos Lake) and the estate vineyard Shady Lagoon. 75% of the fermentation and aging happens in concrete with the remainder split between one French oak barrel and stainless. Upon the first few swirls, whiffs of tangerine, honeysuckle and soft fruits waft out of the glass. The juicy core is further enhanced by lemony shortbread and honeyed peach cream with a dusting of ginger. Weighty, without being rich and fat, persists to the finish. Paired with curry chicken thighs and Moroccan-spiced blood orange couscous.
~ Senka Tennant, winemaker
100% Viognier
fermented in concrete
Our garage-style winery is located alongside our 5 acre vineyard and we are very much involved in every aspect of the winemaking process. With the help of a professional winemaker and friend, Senka Tennant, we love combining classic vinification practices with innovative new methods to produce wines that are sure to leave you wanting more. We specialize in single varietal Viognier, Cabernet Sauvignon, and Carménère wines as well as our red blends that we name after each vintage year.
If you are looking for a wine that is extra special then the Lariana Viognier is an excellent choice. This small lot winery is known for their intense viticulture practices. The result? Superb wine that says you are special. Now that's Romance!
Mayhem 2018 Gewürztraminer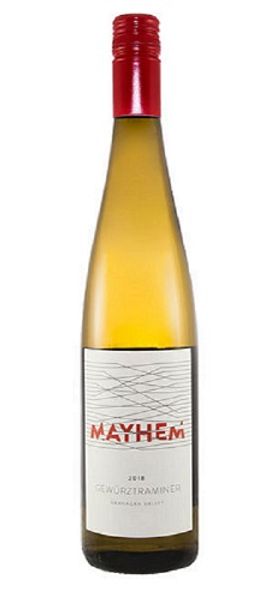 These grapes are from vines that were planted in 1994 from cuttings of a German variety. Whole cluster pressing was used on the grapes to retain their delicate aromatics. These aromatic traits were highlighted further by employing an aromatic yeast strain during fermentation. The wine was racked off its fermentation lees and left to settle on its fine lees for a short time before bottling.
The nose opens with classic lychee and rose notes, with a touch of ginger and a kiss of coconut. On the palate the lychee follows through accented with notes of clove, mandarin and grilled pineapple.
Amazingly only $15.65
Wine reflects the ever-changing environment from which it emanates; from the whims of Mother Nature to the unique talents of the winemaker, the effects of time and distance, and even your mood while enjoying it.
It is, perhaps, a distillation of the beauty found in disorder.
We'd like to offer a promo – order six bottles or more between now and
Valentine
's and get free shipping.  Use the code 'LOVE20″   That way no one has to leave their house in the winter.
As well, keep the love going all year with a membership in our wine club!
The perfect wine for the impish Valentine with a touch and a kiss!
CLUB MAYHEM
Club Mayhem is a great club, that's not really a club, it's more a gathering of friends who love wine.  Break all the rules!
NO FEES TO JOIN.  PICK THE WINES YOU WANT.  GET THE SHIP DATES YOU NEED.
Here's how it works:
2 shipments per year. 6 bottles each shipment. There is also the option to pick up if you are in the area.
You are free to add on any other available wines to your club shipment.
Club members are the first to receive the new releases.
Customize the wines in your case OR stick with the curated selections of our talented winemaker
10% off on all your wine orders. Perks!
Be first in line for crazy good Club Mayhem events
Hang out with awesome Club members and Mayhem people
You are free to cancel whenever you want, but…why?
Meyer Family Vineyards McLean Creek Road Chardonnay 2017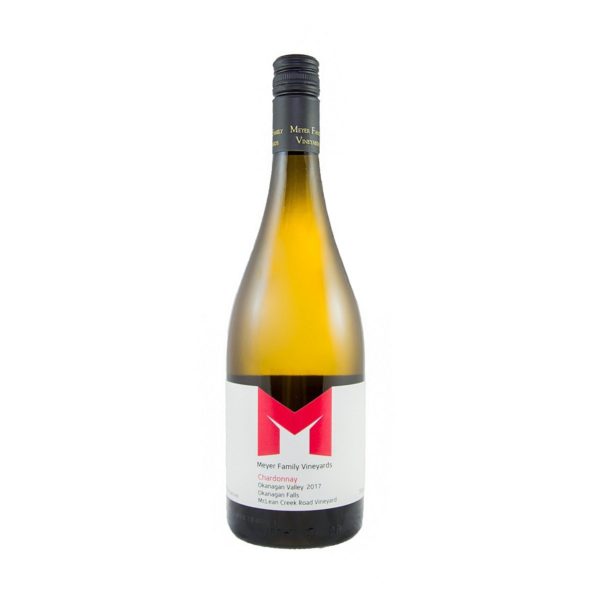 We produced 530 cases of single vineyard Chardonnay from our estate vineyard on "McLean Creek Road" in Okanagan Falls.
The wine has bright acidity with peach and herbs on the palate, great structure and a long finish. On the nose fuzzy peaches, lemon and vanilla.
Drink this wine now or cellar up to 7 to 10 years. $28.80
This is one of my personal favourites. I always have a Meyer Chardonnay on hand. Love how it pairs with romantic dishes like Seared Scallops!
Crafting Single Vineyard Wines of Excellence.
In traditional French Burgundian style we focus on small case lots of varietals best suited and expressive of their unique place of origin with an emphasis on Chardonnay and Pinot Noir. Producing about 8,000 cases, we strive to create the finest wines possible. Our wines are hand harvested and hand crafted and we take great pride in each bottle of wine with great attention to detail. We hope that you enjoy our wines as much as we enjoy making them! JAK & Janice Meyer.
Mission Hill 2018 Reserve Riesling

An Uncompromising Expression of the Okanagan Valley.
Vintage Report
The 2018 harvest began earlier than anticipated due to above average growing degree days in the spring. Summer arrived with cooler temperatures, encouraging the fruit to develop beautiful acidity and allowing more time for full flavour retention. One of the coolest Septembers on record followed, slowing down the sugar accumulation and allowing the fruit to fully develop phenologically. Harvest concluded on November 8, with the extended season yielding a crop of uniformly ripened fruit with mouthwatering freshness and acidity.
Winemaker Notes
Our 2018 Reserve Riesling was farmed in two of our estate vineyards in West Kelowna and Naramata. Our West Kelowna vineyard, perched on the brow of Mount Bourcherie, an inactive volcano, has steep, hillside vineyards with a southeast aspect. Our Naramata Ranch vineyard enjoys the Okanagan Lake's moderating influence, which provides ideal growing conditions for Riesling and an extended ripening period.
Tasting Notes
Vibrant acidity and incredible freshness, complemented with crisp pear, green apple, juicy lime and a stony minerality.
What could be more romantic than a glass of wine and prose for your Valentine? "We are such stuff as dreams are made on" – Shakespeare
Noble Ridge 2018 Rosé

Noble Ridge is an estate vineyard and winery located in the Okanagan Valley. All work is done by hand, onsite by a team of dedicated workers who strive to create exceptional wine that reflects its noble namesake.
TASTING NOTES
The fruit-forward, French Provence style Rosé is made with 100% Pinot Noir grapes. Beautiful aromas of fresh wild strawberry and melon are complimented by refreshing flavors of cherry and rhubarb. The perfect patio sipper for those hot summer days!
FOOD PAIRING
Light salads and pasta dishes
Seafood & grilled fish
White meat
Mild cheeses
Okanagan Falls brings to mind images of nymphs frolicking. "A nymph (Greek: νύμφη, nymphē) in Greek and in Roman mythology is a young female deity typically identified with natural features such as mountains (oreads), trees and flowers (dryads and meliae), springs, rivers and lakes (naiads)" Written by Gabriel H. Jones, Ancient History Encyclopedia.
Serendipity 2017 Rosé

Made in a food-friendly style, this dry rosé is a nod to old-world rosé wines. Made from only red grapes, kept on the skin for 24 hours to draw out the colour, the flavour of this wine can be best described by the word 'pink'. Notes of strawberry, cranberry, pomegranate, rhubarb, citrus and cantaloupe abound. The dryness and unique blend of grapes make this an extraordinarily versatile wine, pairing nicely with a wide range of flavours and textures.
"With so many people getting engaged around Valentine's day, what better wine to celebrate the next step in your relationship" Katie, winemaker.
Considered the most romantic day of the year Valentine's Day is ideal for sharing your sentiments with your loved one while sharing a bottle of Serendipity Rosé. That's our idea of romantic!
Tantalus 2018 Riesling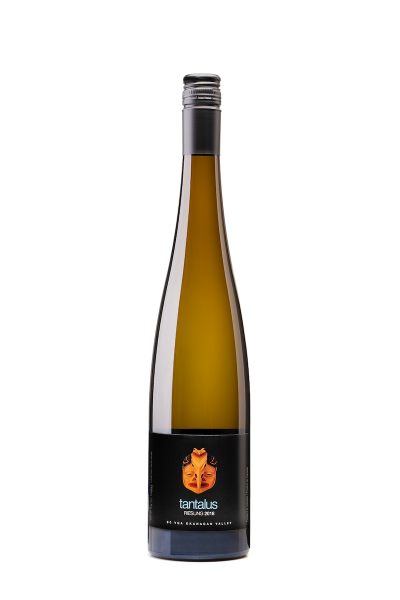 Tasting Notes:
There is something about the purity of Riesling that keeps us wrapped around its finger; but pure doesn't always equate to great. It still needs plenty of fostering in the vineyard and delicate handling in the cellar to allow that purity to shine through unimpeded. It is our cellar team's faith in our viticulture and in their years of working with our parcels of fruit that allows this noble variety to express such vibrancy and most of all to achieve balance.
A shimmering pale straw in colour, this wine exudes bright aromas of orange peel, white flowers, fresh pear and lime leaf. A slatey minerality adds lift and intrigue. The palate is lush and juicy with tangerine and lime juice, rounding out as the wine opens with richer tropical notes of guava, starfruit and kiwi. Concentration abounds, with no shortage of fresh, natural acidity to offer the hallmark tension we seek in our Rieslings. Enjoy now, or watch evolve over the next 10 to 12 years comfortably.
Winemaker's Notes:
The fruit for our 2018 Riesling was hand-picked at optimal ripeness from a variety of estate blocks, some of which date back to the late 70's. Gently whole-bunched pressed, once in the cellar, ferments were inoculated after a short settling period with a variety of yeasts. Each parcel was fermented separately in stainless steel tanks with inidividual ferments handled uniquely as part of the overall "blend" and in order to achieve the best point of balance expressed from the vintage.
Vintage Notes:
A mild but long winter with lots of late-season snowfall delayed bud break by a few days compared to the long-term average and resulted in a slow start to the growing season. Once spring arrived, the vines switched gears and caught back up to a more normal pace by June. Flowering took place under ideal conditions (dry and warm) and resulted in the potential for high yields, especially in our Chardonnay blocks. July brought us beautiful Okanagan summer conditions.
A couple weeks of haze from wildfire smoke slowed the vines down in August and pushed veraison and subsequent ripening back by a little. Fortunately, our grapes and wines were not impacted by the smoke. Harvest began in early September and, thanks to cool, dry weather which allowed our grapes to ripen gently, lasted until the end of October of the longest harvest windows to date.
Admittedly I am a Riesling lover so this one would definitely please. Perfect for sipping on it's own or paired with equally delicate dishes.
Time 2018 Viognier

The nose offers complex aromas of pineapple, orange, apricot, citrus and floral notes. Tropical flavours continue through the lush and round palate, balanced by a kiss of sweet coconut from oak barrels, leading to a long finish.
She will be thrilled with your choice of a wine that says "I've put some thought into choosing this wine just for you" Sharing is caring.
We craft our wines using grapes grown in the Okanagan Valley, British Columbia. Nature guides our decisions on which grape varieties are best suited to which site; since 1993 we've listened closely to our vineyard, making slight changes along the way.
For us, making wine is about time and place. It's investing our time: documenting and studying each vintage, paying attention to the vines, and noting that which is discernable only when we take a moment to pause. It also means respecting the land: using mindful farming practices, employing new technologies to reduce our environmental footprint, and listening for the unique qualities of our region's terroir.
The View Pinotage Rosé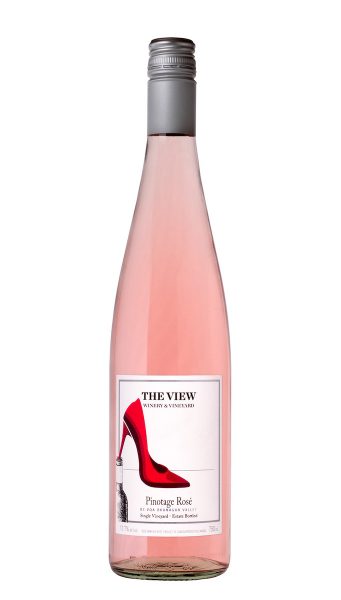 Like all The View's wines, our rosé offerings are a true reflection of the estate's unique growing conditions.  The sandy loam soil, hot afternoon sun and cool evening lake breezes play a role in every bottle.
The View's signature Pinotage grapes are the basis for all of our rosé wines. Our personal discovery of just how wonderful it is as a rosé came accidentally after a winemaker was distracted and overfilled the Pinotage fermentation tank. We decided to remove some of the juice from the tank and ferment it as a rosé. The result, Distraction Rosé 2009 was delicious and we never turned back. It was a very fortunate mistake. Today we have dropped the name Distraction, preferring to highlight the varietal from which it is made.
Pinotage Rosé 2017 is a unique offering, the only one of its kind in North America. It boasts intense aromas of strawberry and cotton candy followed by flavours of pink grapefruit and tart cranberry.  A dry, crisp finish and pleasing fruit notes add to its elegance. Pinotage Rosé pairs well with poultry, arugula, strawberry and walnut salad, caprese salad or prosciutto and balsamic flatbread.
Our 2017 Pinotage Rose earned a gold medal at the BC Best of Varietal Awards in 2018 and a gold medal at the All Canadian Wine Championships 2018.
The only one of its kind in North America, Pinotage Rosé boasts intense aromatics of strawberry and cotton candy followed by flavours of pink grapefruit and tart cranberry. Dry, crisp and elegant, we call it delicious.
Pair it with poultry, arugula, strawberry and walnut salad, Caprese salad or prosciutto and balsamic flatbread.
"Wine Your Valentine" event on Friday, Feb. 14th from 5-8 pm here at the winery:
"Wine Your Valentine will take place Friday February 14th.   Start your romantic evening off with a visit to The View anytime between the hours of 5:00-8:00 pm.   We will be featuring  wine and small bites food pairings in our cellar and barrel room, all set to the beautiful sounds of live acoustic guitar.   Cost is $25 at the door and includes a gift as well as discounts on wine and cider purchases."
vinAmité Chanson d'amour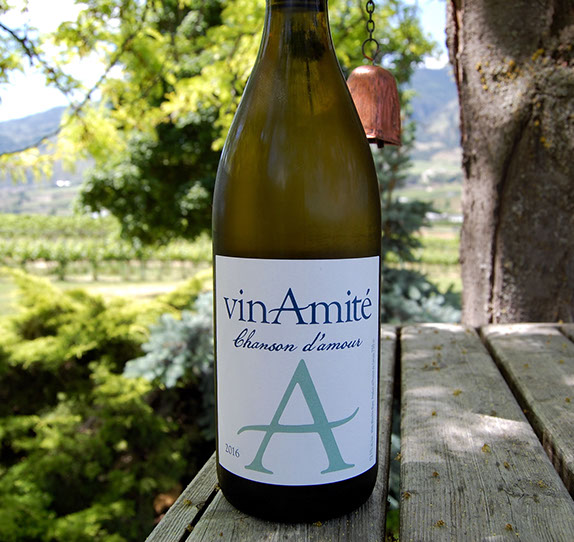 The bouquet of this joyful, lively wine is a floral and fruit-forward aroma that leads you to taste a refreshing and sophisticated balanced wine with notes of pear, orange and peach. This wine expresses a soft minerality inviting you to sit back and breathe easy with this new companion.
34% Orange Muscat, 33% Pinot Gris, 33% Chardonnay.
"Intoxicating aromas of fields of wild flowers bring you home to a new favourite blend."
What could be a better wine for Romance! than Chanson d'amour (meaning "the song of love") From Shakespeare's Twelth Night – if music be the food of love play on…We think a few sonnets and a glass of wine makes the perfect Romance! scenario for your Valentine.
Wild Goose Gewürztraminer
One of Wild Goose's most awardedsignature wines
The winemaking team sourced the best grapes from throughout the valley, from Oliver to Kelowna. Kept sepa-rate until blending, they were blind tasted and the top three were used to make this aromatic wine. The 2018 has a dominant nose of grapefruit, lilac, orange and spice. The Okanagan is known for many of its stellar white wines and this wine is setting the stage for Gewürztraminers.
FOOD PAIRINGS
Think exotic spices—Moroccan roasted meats and vegetables
Duck & Chicken dishes
Bounties of The Ocean
Best in Class, Double Gold—Cascadia Intl., Wine Comp. WA, USA, 2019
Best in Class—Alberta Bev-erage Awards, 2019
Every year I attend the Spring Release event featuring the wines of Okanagan Falls. As difficult as it is I always choose one wine from the Wild Goose portfolio to be my personal "house" wine. This wonderful Gewürztraminer was my selection in 2019 and will be challenged later this spring when I again make my choice. Perhaps more practical than romantic? That depends on the occasion in which this wine will be served…
40 Knots Rosé 2016

Grown on the edge of the Salish Sea using no synthetic chemicals, fertilizers or sprays in these Coastal Cool Climate glacier till soils.
A crisp, dry, aromatic Rose that reflects the terroir and natural wine making approach.  Pairs well with everyday life.
Tasting Notes
John Schreiner says this: 40 Knots Rosé 2016  This wine has an appealing pink hue, leading to aromas and flavours of cherry and cranberry. The wine is lively and refreshing on the palate and crisply dry on the finish. 90.
What could be more romantic than the vision of the seaman home from the sea to share his adventures with his lover?
If casual is more your romantic style, we suggest…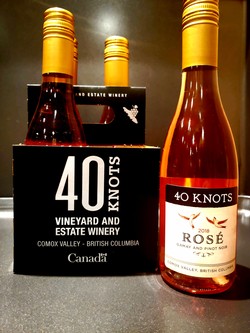 40 Knots classic Rosé blend can now be enjoyed in personal sizes. 4 bottles of 375ml Rosé is the perfect picnic pairing.  Crafted from 40 Knots Estate Gamay and Pinot Noir grapes for a classic for that pleases the crowd.  A perfect accompaniment to brunch, book club, a hike to the top of the mountain or a walk along the beach.
Tasting notes and images courtesy of the wineries. Comments in italics are my own.
[wdi_feed id="2″]