Valentine's Day is a wonderful opportunity to celebrate! Whether you are intending to propose on February 14 or you were engaged on a previous Valentine's Day celebrating is in order.
What says "celebrate" more than a bubbly or sparkling wine. A bubbly or sparkling wine from BC? Even better!
Here are our picks based on the BC Wines we've enjoyed before and that qualify as our #FavouriteThings that we personally recommend:
Bench 1775 2012 Blanc de Blanc

Platinum Medal Winner
PLATINUM ~ 2017 National Wine Awards of Canada
SILVER ~ 2017 Cascadia Wine Competition
The 2012 Blanc de Blancs Champagne is white sparkling wine made from 100% Chardonnay. Lemon zest and lively acidity balance the toasted creamy flan palate. Lees aging in bottle for 4 years before disgorging, yields a long finish and complexity.
The 2012 Blanc de Blancs Champagne's best delight comes in oysters, fried chicken, and triple cream cheese. Play with variations on the theme—fresh and fried seafood, creamy cheese extravaganzas.
This 2012 Blanc de Blancs sparkling wine, ready to drink now or worthy of aging, is fabulous with your everyday celebrations.
Emily Serre de St. Jean of Bench 1775 is releasing this Wine Club Exclusive wine especially for our Celebration! #FavouriteThings personally recommended sparkling wines for Valentine's Day. Don't let this opportunity pass you by.
GET TO KNOW OUR WINE CLUB!
Benefits to Enjoy
Receive a curated 6 bottle shipment delivered right to your door each Spring and Fall totaling 2 shipments per year
A 15% discount on all Bench 1775 wines & select Events
Complimentary tastings for you and up to 6 guests. Private tastings in the VIP Hall are available to Members with 24hrs notice
Access to reserved Library Wines, Small-lot productions & Sold out wines
Invitation for you plus 1 guest to our exclusive Wine Club Party held every Summer on Estate grounds. You will meet our Winemaker, Valeria Tait, the Bench1775 Team & other club members like yourself while enjoying wine & food on our patio!
Receive a $25 credit toward your next Wine Shipment by referring a friend
Meyer Family Vineyards Blanc de Blanc
Méthode Traditionnelle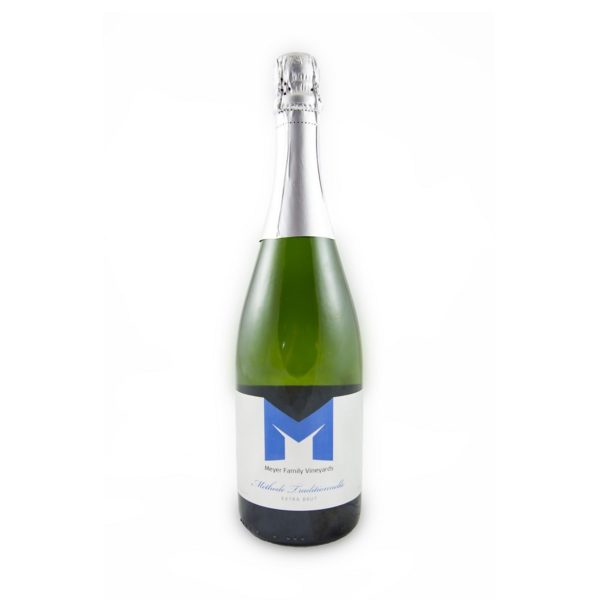 Our inaugural NV Méthode Traditionnelle, Extra Brut sparkling has a fine and persistent mousse thanks to the traditional method secondary fermentation in the bottle. Clean, crisp, and fresh palate with mineral notes wrapped in flavours of orchard apples and pears, finishing with a rich and creamy texture from the extended bottle age. The wine is dry from start to finish making it the perfect aperitif wine.
This is an exceptionally delicious sparkling wine. You can't go wrong if you choose this one for your Valentine.
Meyer is noted for excellent wines and in particular their Chardonnays and Pinot Noirs are outstanding. Just why Meyer Family Vineyard is a #FavouriteThings highly recommended winery. See wine our reviews for Meyer wines here.
An alternative to purchasing wine is always a membership in the Wine Club. The gift that keeps on giving all year long.
BECOME A PART OF OUR FAMILY WHEN YOU JOIN MEYER FAMILY VINEYARDS WINE CLUB.
With all these benefits you'll be feeling like one of the family in no time.
Receive 4 bottles of award-winning wine 3 times per year (March, June & October)
Priority access to limited-availability wines, library wines & new releases
10% discount on all wine that you purchase online or in our tasting room
Exclusive access to our online wine club store
Complimentary tastings in our tasting room for you and up to 3 guests
Invitations to special "Family Only" events
No additional shipping fees when you add-on to your wine club order
No membership fees & no cancellation fees
Each "care package" is personally selected by our winemaker Chris Carson and will include a story about each wine along with a Meyer family favourite recipe to pair with your wine selection.
Wines are shipped directly to your door (unless you prefer to pick up at the winery).
More information here.
Crafting Single Vineyard Wines of Excellence.
In traditional French Burgundian style we focus on small case lots of varietals best suited and expressive of their unique place of origin with an emphasis on Chardonnay and Pinot Noir. Producing about 8,000 cases, we strive to create the finest wines possible. Our wines are hand harvested and hand crafted and we take great pride in each bottle of wine with great attention to detail. We hope that you enjoy our wines as much as we enjoy making them! JAK & Janice Meyer.
Meyer Family Vineyards
4287 McLean Creek Rd
Okanagan Falls, B.C. V0H 1R1
T: 250-497-8553
marketing@nullmfvwines.com
Tasting Room Hours
Apr 1st through Oct 31st
10am to 5pm
Nov 1st through March 31st
By appointment
EVOLVE PINK EFFERVESCENCE

Bright and fresh, this charmat-method sparkling wine is best enjoyed with friends and sunshine.
Like us, for every step you take forward,
every thought you have; everything you've ever tried to accomplish, you're always striving to achieve your best. To constantly change and grow.
And we raise a glass to you.
Wait no longer – just pop open and raise a glass. You might gets notes of ripe peach and rich berry fruit in your glass from this 97% Pinot Blanc and 3% Merlot blend, but all you really need to know is that it is sparkly, just like you.
#raiseaglassto  SKU 672410  $19.99
To 'evolve' means to change or develop slowly, step by step, one day at a time, ideally into a better, more complex, more advanced, and more progressive state of being. This is the core value and inspiration for the Evolve Cellars brand.
Now, Evolve Cellars, the winery that celebrates transformation and growing with its fan base, is going to literally live out its brand stance and relocate.
Evolve Cellars' new home will be at 361 Martin St., in downtown Penticton BC, sharing a roof with sibling TIME Winery.
Evolve Cellars was established in 2015 by the McWatters family as a label created by their company, ENCORE Vineyards, to offer fresh, fruit-forward, crisp, approachable, well-balanced and affordable wines that can be enjoyed by anyone, and at every occasion. This, the winery team believes, is the natural essence of Okanagan wine today.
A Sparkling wine that is so affordable you can't resist!
CedarCreek Home Block Sparkling Brut Non Vintage

Blend
100% Muscat Ottonel
It all began in 1986 with our small Home Block vineyard. After three decades of making award-winning, estate grown wines from our signature vineyard sites, we figured we had something to celebrate. So we looked high and low for a perfectly balanced, single vineyard sparkling that met our hard-to-please standards. And since we couldn't find one, we made one. Delicious problem solved. $24.99
The Vintage
An unusually wet spring led to a later start to the season; however, 2017 in its entirety was a hotter, more compressed season than normal. Bud break was 2 – 3 weeks earlier than in 2016, with an earlier harvest by 3 weeks. On average, the season brought smaller berry size, clusters and yields. Though yields were slightly smaller, fruit quality was excellent, characterized by high flavour concentration, moderate alcohol, balanced tannins, complexity and natural acidity.
Tasting Notes
Lovely  flavours of orange, tangerine, and flowers. The mousse is smooth with a soft entry and long lingering finish. A bright, fresh wine perfect for celebrating!
I absolutely love this one. For anyone who is "bubble" hesitant this is a wine that is lightly sparkling.
Valentine's Dinner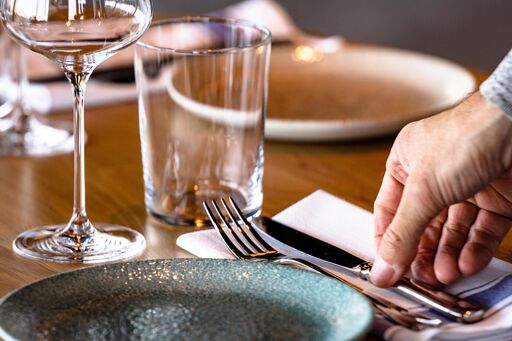 A Romantic Evening at Home Block
Celebrate Valentine's Day with someone special at Home Block. Executive Chef Neil Taylor has prepared a special 4-course menu for the evening, with additional options to add selected wine pairings throughout, and to start with a 1/2 dozen fresh shucked oysters. Let us make this Valentine's Day one to remember.
Friday, February 14
Home Block at CedarCreek Estate Winery
$100 per person  (+ taxes and gratuity)
Menu available here
Add-ons:
Wine pairings $45
Oysters to start $24
Phone Home Block to book
250-980-4663
Do you want to make your experience extra special? Contact the Tasting Room to book a special Valentine's themed tasting before your dinner. All inquiries can be sent to tastingroom@nullcedarcreek.bc.ca or 778-738-1027
About CedarCreek Estate Winery and Home Block Restaurant
Tasting Experiences:
Complimentary Estate Tasting: Showcasing bright, expressive, aromatic wines sourced from our Okanagan vineyards
Platinum Tasting: Bringing out the most character from individual blocks to make premium vineyard-driven wines
Silt & Stone Experience:  Gifted with two amazing blocks of Pinot Noir planted in the early 1990's, Block 2 & Block 4 of Home Block Vineyard have some of the oldest Pinot Noir vines in BC.  The Silt & Stone Experience explores the very tangible impacts that each block's soil composition has on the wines, as well as vintage variation between the 2012 and 2016 Pinot Noirs. 
Call (778) 738-1027 for information and reservations.
The story of CedarCreek begins with the vision of Senator Ross Fitzpatrick.  Born and raised in the Okanagan, the future senator worked alongside his father during the '40s and '50s at MacLean & Fitzpatrick, a fruit packing and shipping company.
Though his education and career took him away from the valley for three decades, he returned in 1986, and purchased his first Okanagan Valley winery and vineyard on a site overlooking Okanagan Lake.  At the time, there wasn't much belief in the idea of wine being produced in the valley, let alone wine that could stand among the best in the world. He became a pioneer in the planting of vinifera grape varieties to produce premium quality wine.
Few others shared the same vision of what the Okanagan might become, among them – the von Mandls.  CedarCreek grew into one of the leading wineries in the Okanagan Valley – twice winning Canada's "Winery of the Year" award.  In February 2014, the Fitzpatrick family announced the transfer of ownership of CedarCreek to the von Mandl family.  With this, two of the region's pioneering winemaking families came together over a shared vision for the future of the Okanagan Valley.
Today, we honour the Senator's vision for the 50-acre Home Block Vineyard. Winemaker Taylor Whelan is building upon three decades of winemaking history and defining a new chapter with estate-grown, organic wines.  Because of planting decisions made in the early 1990's, we now have 30-year-old vines at the heart of everything we do, and seek to showcase them in increasingly nuanced ways.  We commit to this land daily with integrity, authenticity, and a commitment to quality.  On that, you have our word.
Nominated: Air Canada / enRoute Canada's Best New Restaurants 2019.
At Home Block Restaurant, we embrace the bounty of the Okanagan while our name pays homage to the Home Block Vineyard which surrounds us. Our building is crafted from fieldstone and 100-year-old reclaimed barn wood and our cuisine draws on those elemental roots. We integrate natural cooking methods like our wood-fired grill fueled by timber from local orchards and seasoned barrel staves. The result is honest, confident, and approachable food that unites flawlessly with CedarCreek wine.
Come soak up the spectacular views of the lake, vines, and valley with us.  Book on Open Table or call 250-980-4663 for reservations.
The View Pearls Traditional Brut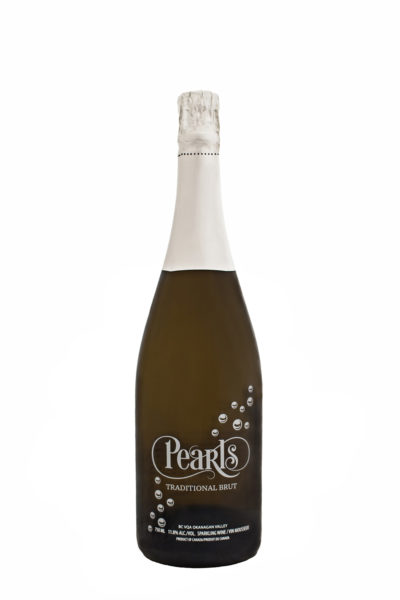 This elegant, dry, sparkling Riesling has notes of crisp green apple, citrus and subtle minerality which dance on your palate with lively effervescence. For centuries the delicate procession of bubbles in sparkling wines has been referred to as "perlage". We call it Pearls.
Pairing: Pairs well with celebration! Also pasta with a buttered cream sauce, buttered popcorn, Brie chesses, shrimp or shellfish, stuffed mushrooms and fruit based desserts. Shortbread cookies are a fun and surprising pairing; the acidity in Champagne cuts through the rich butter of the cookie.
$29.95
Pearls wine ranks as our #FavouriteThings. Valentines Day, the Pearls sets the tone for the occasion.
"Wine Your Valentine" event on Friday, Feb. 14th from 5-8 pm here at the winery:
"Wine Your Valentine will take place Friday February 14th.   Start your romantic evening off with a visit to The View anytime between the hours of 5:00-8:00 pm.   We will be featuring  wine and small bites food pairings in our cellar and barrel room, all set to the beautiful sounds of live acoustic guitar.   Cost is $25 at the door and includes a gift as well as discounts on wine and cider purchases."
THE VIEW WINERY & WARDS CIDER OUR HISTORY
The View Winery is situated on a parcel of land that has been in the Turton/Ward family for 5 generations. Historically, fresh market apples were grown on the property. In the mid 1990's a transition began and vineyards and cider apples were planted. Spartans and McIntosh gave way to Gewürztraminer, Riesling, Ehrenfelser and Pinotage vines as well as cider apple varieties such as Belle de Boskoop, Chisel Jersey and Bulmers Norman.
In 2006, plans began to make our own premium wines and the beloved old packinghouse built by Great Granddad Ward in 1922 was transformed into a winery and cidery.
The View now produces over ten thousand cases each year. Our diverse portfolio of award winning wines includes Riesling, Gewürztraminer, Pinot Gris, Ehrenfelser, and our signature reds: Pinotage and Pinot Noir. Our rosé has emerged as a favourite as have our Silver Lining Estate blends. In 2013 we added Canada's first wine in can with our wildly popular BLING Sparkling Wine.
Original plans were to build a new retail store and tasting room at the top of the property hence the name "The View". However, we have grown to love and embrace the unique historical qualities of our family property, so instead chose the original apple packinghouse for our wine shop and winery/cidery.
Built by George Ward in 1922, the packinghouse is the last from its era in the Kelowna area.
With an eye on the future but a keen sense of celebrating our past we now look forward to sharing this important part of Okanagan history with everyone.
With an age-old family recipe and the expertise of our winemaking staff, we proudly craft Wards Ciders which honour our past and our commitment to quality.
40 Knots Soleil Rosé Brut

Inspired by the work of LGBTQ, and our society's rising shown as a pink sun rising, we created pink bubbles to celebrate.
"We are all a part of the solution… including those that have taken actions against us".  Tim Cyr.  
Root stock planted 2005- 2007 from France on glacier till soil facing the Salish Sea.  2016 brought the perfect climate to this perfect Coastal Cool Climate terroir.
Tourmaline hue, earthy aromas backed with light berry fruits and fresh baked bread.  Strawberries shine with a bramble bush character and fresh citrus.  Pair with naturally sweet kushi oysters.
GOLD winner in the Lieutenant Governor's Awards 2018.
"Valentine's Day always has me thinking of our sparkling tribute to LGBTQ1 named Soleil Rose, depicting society's acceptance of the group as a pink sun rising, thanks to groups Gay Pride." – Brenda Hetman-Craig – Owner at  40 Knots Winery
A local Island favourite. We think you will enjoy this one when shared with your Valentine. 
40 Knots Estate Wines
At the edge of the Salish Sea, these wines are distinctly shaped by this windswept, sun-soaked vineyard.  Grown with traditional farming methods, with little to no intervention.  Our grapes are hand selected to bring you clean, aromatic and juicy wines.
What's in it for you?
Delicious and natural, rooted in our cool climate to give you fruit forward juicy and elegant wines.  You can taste the difference.
What's NOT in it for you?
No chemical and unnatural preservatives.  We are vegan and gluten free and achieve Gold for our efforts.  Customers thank us all the time, because they say they can now drink wine again with no adverse effects.   It is because of our Green Farm.
Unsworth Rosé Charme De L'Ile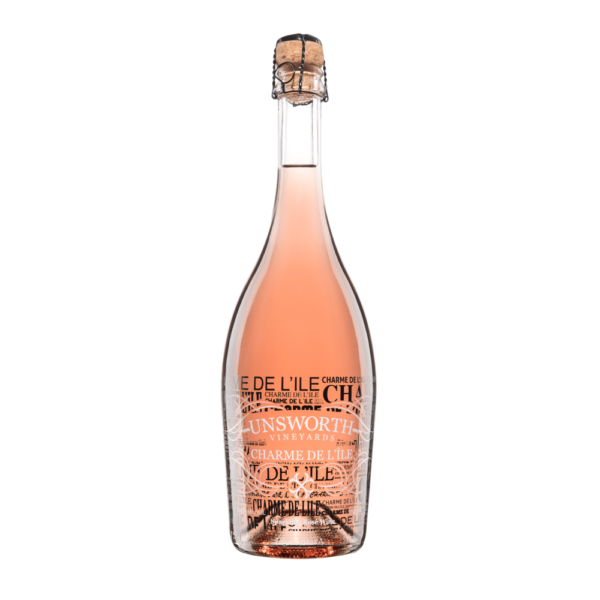 *Online wine orders must be in multiples of 12, mixed cases are accepted.
Charme De L'île (charm of the island) is the regional name shared with Vancouver and Gulf Island wineries for the sparkling wines made using the charmat method and representative of the local terroir.
Salmon in colour with bright, raspberry, strawberry and rhubarb notes. Dry with beautiful balance and a fine, persistent mousse.
This limited release Charmat-method sparkling wine is made from 100% Cowichan Valley Pinot Noir offering seasonally festive notes of cranberry, pink grapefruit and ginger with a creamier, bigger body than our regular Charme De L'Ile.
Our signature non-vintage blend is crafted each year with a paradoxical goal of consistency and ever greater quality. And all while remaining grounded in a sense of place. It is 100% Pinot Noir. Up to 25% reserve wine.
This is a charming little wine that speaks "celebration". For young lovers and those young at heart!
Built on family and a passion for wine & food.
Meet Tim and Colleen Turyk – the visionaries and proprietors behind Unsworth Vineyards.
The Turyk family has a long history in the Cowichan Valley area, spending summers at Shawnigan Lake – a much-loved lakeside community that has been attracting families for generations. Tim's mother Marjorie summered at the lake as a child and made it a part of her own family ritual, bringing Tim and his sisters there every year.
Having grown up watching Cowichan Valley's homespun wine and food culture evolve, Tim's ears perked up when he heard about a small vineyard and winery that was for sale in the fall of 2009. After 40+ years working in BC's fishing industry, he was looking for a new challenge.
One look at the spectacular property and early 1900s farmhouse, and Tim knew he'd found something special. Colleen saw the vision too and they bought the farm, so to speak.
It was the heritage around Marjorie that inspired the name – Unsworth was her maiden name.
From expanding the operation and restoring the farmhouse, to building a brand around sustainably managed vineyard practices, the Turyk's and their team have built Unsworth one vine, one bottle, one blend at a time.