"In this series, I will be sharing my take on which BC Wine pairs well with some inspirational recipes"
Although the intention was to celebrate not only #NationalChardonnayDay May 21st and #InternationalChardonnayDay May 27th with something a little bit beyond ordinary and at the same time classic, sometimes life intervenes, and so it is that this Little Engine Gold Chardonnay was enjoyed just slightly later than planned but nevertheless still a cause for celebration.
The point was to challenge the pairing of the Little Engine Gold Series Chardonnay 2018. I think this dish fits the bill. Scallops are a given to pair with Chardonnay but asparagus would usually present a bit of a challenge. Thanks to access to local, fresh, and somewhat milder flavoured asparagus, this dish was a great fit and an excellent pairing.
Little Engine Gold Chardonnay 2018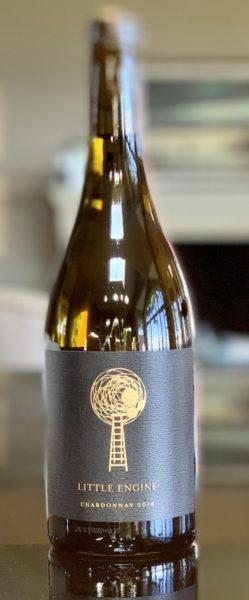 Aromas of melon, preserved lemon, honeycomb, peach & orchard flowers, and brioche. The palate is full, round and creamy while at the same time, crisp and focused. Pear, lemon curd, with subtle hints of butterscotch and crème brûlée. Vibrant while rich; well balanced with acidity which is characteristic to our estate, leading to a bright, lifted and lasting finish.
Drinking beautifully now and will age gracefully through 2025 under ideal cellaring conditions.
Aromas of Granny Smith apples, Barlett pear and lychee. Cultured with an enticing and exciting feel that is velvety in the mouth with good but moderate acidity. Lightly oaked with delicate flavours of a tarte au citron. 
Again, as with the Silver Chardonnay, I very much enjoyed this Gold label Chardonnay, and, as I've said before, I am quite particular about Chardonnay. A bit of a late convert to the grape I am not fond of those that are overly oaky or at all overpowering. 
I would not refer to this one as buttery but it does have a lingering property that is particularly desirable and yet interesting.
Asparagus with Scallops, Browned Butter and Prosciutto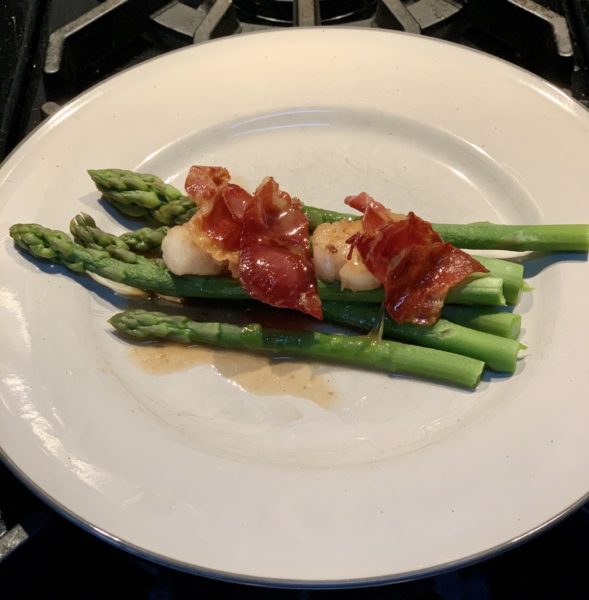 Ingredients:
fresh asparagus
unsalted butter
prosciutto
sea scallops
salt and pepper
lemon zest
wine
Method:
This recipe is a bit tricky in that you do everything pretty much all at once, but it's fast. Simultaneously cooking is the key.
Cut the prosciutto into 1″ squares. Dry the scallops well with a paper towel.
Turn two non-stick frying pans on to medium/high, once heated add unsalted butter to each pan.
Add the prosciutto to one frying pan and fry until crisp then turn off the burner. The butter in the other frying pan should be starting to brown, at the same time add the scallops to the frying pan,  sear on both sides until golden. It will take about the same time as the prosciutto. Transfer the seared scallops to the pan with the prosciutto making sure they don't touch.
At the same time cook the asparagus in a frying pan, starting in cold water (no salt) on medium, cook only until it comes to a boil, shut off the burner and cover the frying pan with a lid. The asparagus will keep warm and continue to cook just a bit more.
Immediately turn up the heat on the scallop frying pan add the lemon zest allowing it to caramelize then add a good dash of Little Engine Gold Chardonnay to the hot pan, it should begin to boil rapidly right away. Add more unsalted butter and stir quickly to incorporate the wine, butter, lemon zest. Turn the burner down to low and return the scallops to the frying pan just long enough to baste a few times with the brown butter wine sauce.
Assemble the dish by placing the asparagus first, adding salt and pepper to taste, add the seared scallops and pour the brown butter wine sauce overall. Top with the crispy prosciutto pieces and serve immediately.
Note: Remember to always use the best quality wine for cooking, I suggest using the same wine you are serving, you will be glad you did. And, yes, I always cook with the wine I will be serving, in this case, the Little Engine Gold Chardonnay. It does make a difference. The quality of the dish is only as good as the quality of the wine.
The local asparagus was milder and added just a touch of sweetness to this dish.
Little Engine Story
Dreams don't come true, dreams are made true and so began the journey.
A vision to produce a collection of wines that would appeal to astute wine enthusiasts and the most seasoned professionals. Varietals based on terroir with the ability to influence with barrels. Three properties planted in Chardonnay, Pinot Noir and Merlot mark estate production while Sauvignon Blanc and Cabernet Franc make up the balance of the portfolio.
A winery dedicated to the pursuit of excellence. We believe our vision of inspiration and dreams result in wines that deliver, inspired by the same dreams.
Notes courtesy of the winery. My own wine notes in (bold italics) Recipe inspiration FoodandWine.com (note: the original recipe called for lemon juice and stock for which I substituted the wine) I received a complimentary bottle of wine to facilitate this review and feature. All opinions are my own.
See all #ThisWineThatDish features here. If you would like to have your wine reviewed and featured in #ThisWineThatDish on MyVanCity.ca please connect with your pr agency or email valerievdg@nullgmail.com for details.