"In this series, I will be sharing my take on which BC Wine pairs well with some inspirational recipes"
What do you think about the "sheet-pan"? Who wouldn't be looking for easy? If you are clean-up adverse this is the only way to go. After dinner linger over a glass of wine and avoid the nasty clean-up as long as possible. The sheet-pan method saves you from all of that work. Indoors using the oven with a parchment paper lined cookie sheet or on the BBQ with handy tin-foil trays (these trays can be found at the dollar store, grocery store and sometimes at Costco) a rectangular light weight tray with channels and open slats that allow for grill marks. Once you're finished just throw them away. For the most part the BBQ also stays clean so it's a win, win.
With this wonderful summer weather BBQ fare is king and this easy recipe is versatile and gives several options for ingredients, you've going to love it.
Of course, like any good meal, the wine selection is key. For this dish with it's mix of flavours and textures I chose a deliciously, slightly peppery Syrah from Moon Curser.
BC Wine Suggestion:
SYRAH 2019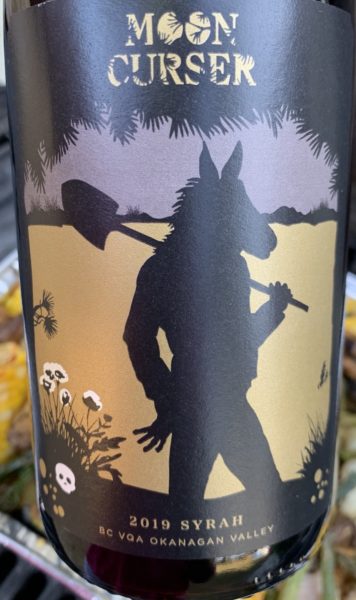 South Okanagan Syrah is a thing of beauty. Our Syrah displays the signature aromatic notes of spices, dark fruits and floral notes, all backed up by lush and approachable tannins. Enjoy…
GOLD MEDAL – 2021 All Canadian Wine Championships
The Grapes
Syrah is a red grape variety grown all over the world, but it is associated in particular with the Rhône region of France, as well as Australia (Shiraz). The style and flavour profile of wines made from Syrah grapes vary widely depending on the region and winemaking techniques, but in general, Syrah wines tend to be medium to full-bodied, mouth-filling wines with dark fruits, spices (often pepper) and floral/herbal notes dominating. Over the last few years, the South Okanagan has been recognized as a consistent producer of world-class, elegant and complex Syrah.
Tasting Notes
A medium-bodied, rich and elegant vintage of Moon Curser Syrah, with a medium ruby colour in the glass. The lower fruit yields experienced in the Okanagan in 2019 have created lovely aromas of dark fruit and gorgeous floral notes. The palate has a beautiful concentration of savoury flavours such as fresh cigar, dark wood and violets backed up by soft, approachable tannins with a rich, round midpalate. The balanced acidity causes the wine to linger with a finish of clove and a light smokiness from the oak that invites you in for another sip. Bigger and richer than usual, yet approachable and definitely punching above its weight class, our 2019 Syrah drinks wonderfully now but will continue to develop in the bottle if cellared over the next seven years.
Everything I look for in a Syrah, juicy perfection with lighter tannins than I expected. The dish combined sweet, sour and savoury but the wine was up to the challenge. I knew that a peppery wine would be exactly right, and wow, definitely a hit.
Rich and smooth, with ripe fruit aromas and flavours of dark fruits like blackberry and just the right amount of tart wild blueberry to add interest and acidity. 
Sweet & Spicy Grilled Vegetables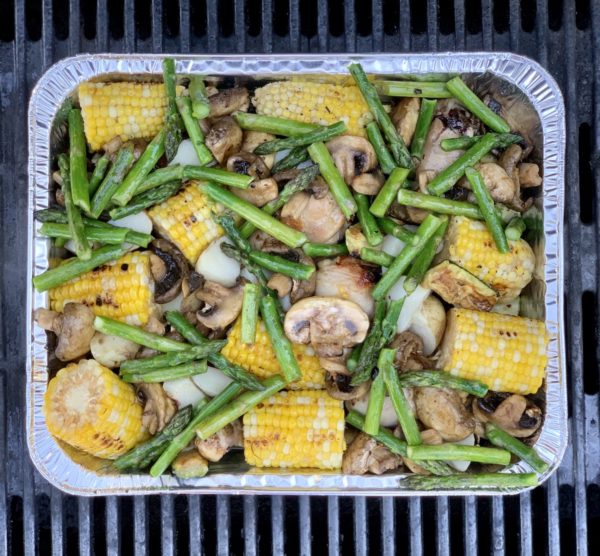 Ingredients (use any or all of these vegetables to your liking)
Zucchini
Corn on the cob
mushrooms
bell peppers
grape or cherry tomatoes, sliced
asparagus
eggplant
sweet onions
new crop, nugget potatoes (cooked and cut in half)
burrata or fresh mozzarella (optional)
olive oil
herbes de provence (or rosemary, or oregano fresh or dried)
basting sauce
2/3 cup of white wine vinegar
2 – 4 tablespoons of honey
a few dashes of fish sauce or tamari
red pepper flakes (optional)
Cook on the stove to absorb the honey. If you like it sweeter than savoury just add more honey.
Optional:
tofu squares
chicken (bone-in preferrably)
sausage (Italian, Bratwurst, chorizo, your choice)
pork ribs
tin-foil grill pan(s) and a tin-foil roasting pan for serving
Chop the vegetables into large bite-sized pieces, destem and slice mushrooms in half (if very large quarter the mushrooms).
For the corn, par-boil, drain and run under cold water to cool. Once cool enough to touch, slice the cob into thirds or quarters.
Tomatoes, if using, can be left whole or sliced in half.
Toss each vegetable in olive oil, place on a serrated baking sheet, salt and pepper to taste. For the zucchini add the herbs de provence.
Drizzle with the cooking sauce, repeat as it cooks.
BBQ on high just long enough to create grill marks (cooking the vegetables to about half done) then remove and place in the serving dish. (the vegetables will continue to cook in the serving pan) It works best to grill each vegetable separately and cook to half done. A BBQ usually is large enough for two trays side by side.
If using, grill the chicken (takes the longest) or sausage while grilling the vegetables one at a time. Making sure the meat is fully cooked before combining with the vegetables.
Toss all the vegetables and meat together in a large tin-foil dish and return to the grill. Drizzle with any leftover basting sauce. The vegetables will finish cooking while you quickly grill the asparagus.
Note: asparagus should be done last to avoid overcooking, toss the asparagus on top of the grilled vegetables and serve. If adding the cheese do so just at the end then add the asparagus. You want the cheese to soften, but not melt.
Marinating: for this dish I put the chicken in a plastic bag, adding the olive oil and a portion of the cooking sauce, tossing to coat. For safety only use the marinate in the bag to drizzle on the chicken as it is on the grill, then discard any leftover sauce that was in the plastic bag with the chicken.
Feel free to add any of your favourite vegetables to this dish. The list is just a suggestion, use your imagination!
This dish is beyond versatile as it allows you to pick and choose your favourite vegetables, and if you wish add a protein. For this version  bone-in chicken legs were added.Sans protein vegan and vegetarian friendly.
Tasting notes and wine description courtesy of the winery. My notes in bold italics. All opinions are my own. I received complimentary wine to facilitate this feature.