"In this series, I will be sharing my take on which BC Wine pairs well with some inspirational recipes"
It's summertime so casual is the name of the game at our house. This is an easy recipe that takes little time to prep and can be either baked in the oven, roasted in a fry pan on the stove or grilled on the bbq. Versatile and quite delish. I especially like the simplicity of this all on one pan dinner fare.
This is a fun dish to make and so easy, just pop it into the oven, bake/grill and enjoy!
Suggested BC Wine Pairing:
Fort Berens Pinot Noir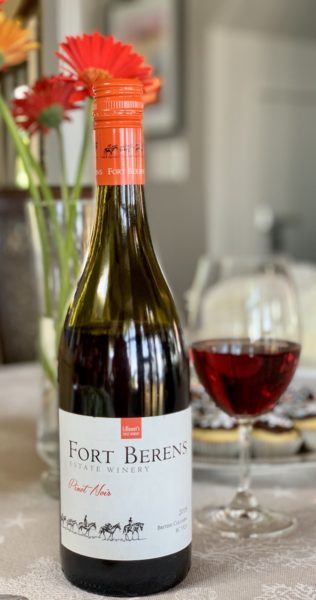 Wine Profile
TASTING NOTES
After you decant this wine, savour the deep and intensely aromatic notes of cherries and berries with a hint of pepper in your glass. On the palate, this complex wine is beautiful with a lingering, red fruit finish.
WINEMAKER NOTES
Made from estate-grown Pinot Noir as well as fruit from the Similkameen and West Kelowna. This Pinot Noir was partially fermented with carbonic maceration and aged in French oak barrels for 9 months. The 2018 vintage yielded a good crop with a slightly higher yield than normal. The long, warm summer allowed the fruit to ripen slowly, producing fantastic Pinot Noir. The colour is light, and the flavour is complex and long. This wine is fermented with natural yeasts that occur in the winery and vineyards.
FOOD PAIRING NOTES
Pair this delicate food-friendly Pinot Noir with a grilled salmon or a hearty stew.
This light and deliciously juicy Pinot Noir was the perfect pairing for the mix of flavours in this dish. Fresh from the market Zucchini, fresh and flavourful garden tomatoes, toasted parmesan cheese compliment the "meatballs" made from mild Italian sausage.
That's an interesting flavour combination and the Pinot Noir had just the right amount of freshness to compete with this garden mixture. It was light bodied which was ideal to pair with the zucchini and tomatoes, seasoned with dried Italian herbs. The bite of the toasted parmesan was balanced with the smooth, slightly light bodied Pinot Noir. Aromas of fresh berries with dense fruit flavour. 
I can think of so many options to pair with this ideal summer Pinot Noir. Share it with good friends.
Sheet-pan Italian sausage Meatballs with tomatoes and zucchini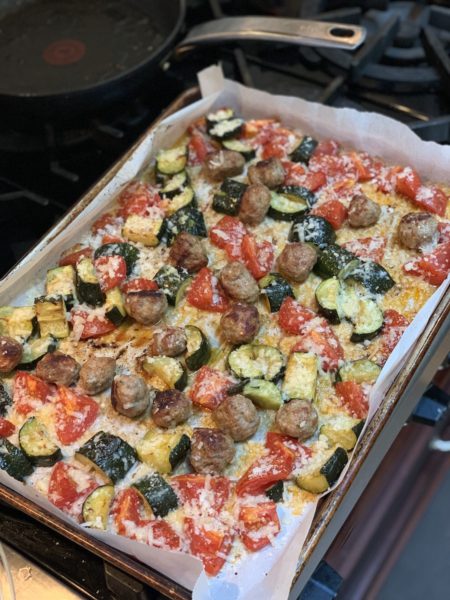 Ingredients:
Cherry or grape tomatoes, halved
Zucchini, roughly cubed
olive oil
Italian seasoning
salt and pepper to taste
Italian sausage, mild or hot
Parmesan cheese, grated
Line a cookie sheet with parchments paper. You can either assemble just the zucchini and tomatoes, tossed in olive oil, sprinkled with Italian seasoning, salt and pepper to broil, adding the fried meatballs later; or, add the meatballs, nestling them between the tomatoes and zucchini and roast together. The finished dish will be the same. Just a matter of preference. I have tried it both ways and prefer to roast everything together (saves a fry pan clean-up).
425 oven, with a roast setting for best results. Add the grated Parmesan cheese at about the half way mark. Bake/roast until the cheese is crispy and meatballs are cooked through.
You can use either bulk Italian sausage or use sausages and remove the sausage meat from the casing. (I find removing the sausage from the casing is a simpler way to make the meatballs)
This is a fun, casual family dish. Serve with crusty bread or homemade focaccia.
You can easily make this a vegetarian dish by eliminating the Italian sausage meatballs and add mushrooms. Vegan friendly dish without the cheese.
Come Explore
Fort Berens Estate Winery is located in Lillooet, along the Gold Rush Trail in British Columbia's newest and most exciting emerging wine region. Lillooet's first winery was forged on the road less traveled. It is a culmination of the dreams, vision, and pioneering spirit of the team. Today, with 38 acres of vineyard and a cabinet filled with regional, national, and international wine awards, Fort Berens is showing the world that this is a discovery for the new millennium. At this breathtaking location, we passionately handcraft award-winning wines that reflect our unique Lillooet terroir.
Wine profile courtesy of the winery. Tasting notes (in bold italics) are my own. I received complimentary wine to facilitate this feature. All opinions are my own.