"In this series, I will be sharing my take on which BC Wine pairs well with some inspirational recipes"
As the seasons change so do both our appetite and our cravings. While comfort food is king during inclement weather once spring and summer arrive in earnest we tend to turn to more casual fare. This dish fits the bill and the Roche Pinot Gris was the perfect pairing.
Roche Texture Pinot Gris 2020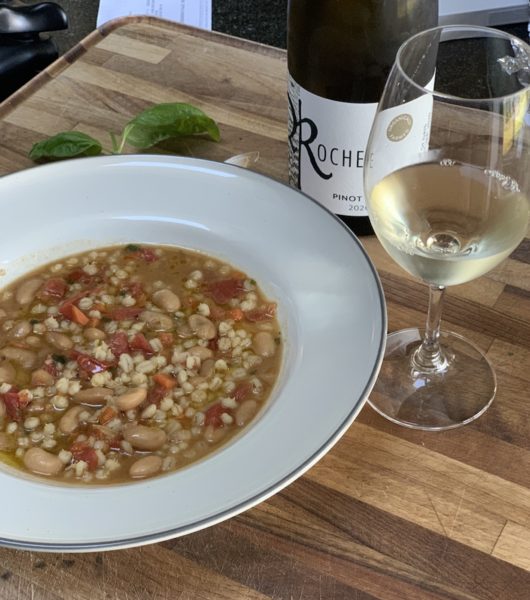 Fresh gala apple, lime zest, and a delicate floral note with an underlying minerality. This wine would pair best with wild BC salmon, grilled vegetables, or a selection of artisanal local cheeses.
This wine was ideal for the dish. Crisp with good acidity, fruity and deliciously smooth. Everything I look for in a Pinot Gris. Wonderful aromas of tart Granny Smith apples with ever so light Meyer lemon scents. 
Tuscan Soup
Simple ingredients:
olive oil
onion
celery
carrots
garlic
farro (or in this case pearl barley) or wheat berries
canned white cannoli beans drained and rinsed well
canned chopped tomatoes
vegetable (or chicken) stock, preferably homemade
parsley and/or basil
grated parmesan (optional)
Dice the onion, celery and carrots and cook in the olive oil until softened, add the garlic and salt and pepper to taste. Add the chopped tomatoes and vegetable stock and bring to a simmer, add the pearl barley and gently cook until the barley is puffy and soft. Here I vary with the original recipe because the beans do break down faster if you are using canned beans, so add them towards the end of the cooking process. note: my homemade vegetable stock was well seasoned so I did not add any additional salt
Serve topped with parsley or basil. If you wish also add finely grated parmesan before serving.
This dish was actually lighter than I expected. The vegetable broth allowed the flavours of the ingredients to be the star. With the beans and pearl barley, it was filling enough to be the main course.

Roche Wines
CONVICTION
Our strength is our combination of experience in both vineyard management and winemaking, and a precise appreciation of the link between the two.
We have always worked with small lots, in direct contact with the vineyard, and we are acutely aware of the details that make the difference between good and exceptional wine.
From our roots in Bordeaux and Burgundy to the emerging terroir of the Okanagan Valley, we continue to build an informed perspective, based on observation from the vineyard to the glass.
We consider ourselves as 'vignerons' in the truest meaning of the word, committed to crafting to our wines from start to finish.
Our priority is hands-on organic farming, with traditional French 'savoir-faire', to make exceptional wines which express unique Okanagan terroirs.
Domaine Roche
On the southern edge of the Naramata Bench, this vineyard overlooks the city of Penticton and Okanagan Lake. The twenty-year-old ungrafted vines are deeply rooted in a mix of silt, organic matter and gravel. The gentle westward slope at the base of Campbell Mountain ensures good drainage and ideal exposure.
We farm our vineyards using organic methods. Environmental stewardship is important to us for the health of our family and ecosystem,  and for the contribution, it makes to the quality of our wines.
This vineyard site adjoins the winery and includes 3 acres of Schonberger, 1 acre of Zweigelt, 1.12 acres of Chardonnay and 0.63 acres of Pinot noir.
Pinot Noir and Chardonnay were planted in summer 2017.
Kozier Organic Vineyard
Planted in 2007, the Kozier Organic vineyard is located on the Naramata bench, 4 km north of the winery. The 15-acre vineyard is a gently sloping amphitheatre, steeper as it approaches the mountainside. It faces west toward Okanagan lake.
Gravel, sand and organic material from the mountainside above mix with denser glacial silt. The certified organic farm benefits from the synergy of a warm microclimate with cool soils ensuring long, even ripening.
Merlot, Pinot Noir, Pinot Gris, Viognier and Gewurztraminer are planted according to variations in slope orientation and subsoils to meet the needs of each variety.
From pruning to harvest, every decision is made based on observation and experience, with one priority – to obtain the purest, most balanced grapes possible by treating the grapevine and its ecosystem as inseparable and codependent partners.
ROCHE Wines, 60 Upper Bench Road S, Penticton, BC V2A 8T1
Bottle shot and wine notes courtesy of the winery. Soup and feature image MyVanCity. I received complimentary wine to facilitate a #ShiptoSip 2021 feature which was published on Wednesday, June 2nd. Read it here.