"In this series I will be sharing my take on which BC Wine pairs well with some inspirational recipes"
Lately I have been indulging in slightly more casual, comforting dishes but that doesn't mean going casual in the selection of the wine. In fact the opposite is true; a modest dish pairs so well with a higher quality of wine. Point in fact, this outstanding wine from Roche which I paired with a homemade, weeknight, and delicious, mushroom soup. A perfect pairing on a chilly evening at home.
Starting with the BC wine pairing…
Tasting this one started as an impulse. As the main house cook (who am I kidding, as the only house cook) while I'm carrying out the kitchen duties hubby gets a head start on savouring the wine. This time I couldn't wait, or resist a chance, to sneak a taste from his glass.
Roche Château 2017
"Deep roots in French tradition nourish our shared passion for soils, vines and wine. Dedicated to natural, artisanal farming and wine-making, we strive to reveal the intimate relation of wine and terroir. Drawing from the savour-faire of six gnerations of winemaking in Bordeaux, Château 2017 is the second vintage of a new trandition of Grand Vin. Aged 18 months in 50% new French oak. Unfined and unfiltered." Penelope and Dylan Roche
THE PLACE
Merlot is grown at Kozier Organic Vineyard on the Naramata Bench, on west-facing slopes overlooking Okanagan Lake. Soils include both granite gravel and finer glacial sediments.
Cabernets Franc and Sauvignon are grown just north of Oliver, on well-sorted rounded river rock and gravel, a remnant of post-glacial riverbed.
THE WINE
Hand-picked, fermented separately, and aged in new and recent French oak barrels. Combining lots which show the greatest density and depth of structure,
Château is blended to reward 5-10 years of cellaring.
TASTING AND FOOD PAIRING
Fine vanilla, spice, black currant and tobacco. Structured tannins frame dense berry fruit and balanced acidity. Firm in its youth, the wine favours lamb or duck, but will welcome leaner cuts and fine cuisine as it softens with age.
54% Cabernet Sauvignon | 36% Merlot | 10% Cabernet Franc
An immediate hit of my very favourite fruits – rich, ripe cherries and wild blackberries. Wow! Absolutely fantastic, in your face, spectacular, dark fruit flavour, so smooth and absolutely tantalizing in the mouth. Initial reaction of a full bodied, intense ripeness. Bold and exciting.
Normally I would begin any wine tasting with my nose steadfastly in the glass, usually for a long, long time just to appreciate the full essence of the wine. This time that was the second step. Scents of, first, Italian plum, developing into both Itailian plum with a hint of Greengage plums,  just a bit lighter than its purple cousin, but without any sense of tartness. No this wine is so big there is no room for imperfection.
A true, fresh French style wine with very little tannin to speak of. As the wine sits in the glass the heady aromas waft enticingly, tempting you to take another sip, and who could resist? 
Dark ruby red with excellent clarity. Decant this wine to best appreciate its quality. 258 cases produced
Note, the 2017 Château is anticipated to be released very soon at $49.90, currently the inaugural 2016 Château is available on the Roche website. Read more about the 2016 on #ShiptoSip Roche
The Dish…
Mushroom Soup
Ingredients
butter
onion
mushrooms
celery stalks
carrots
garlic
fresh thyme sprig
wine (optional)
flour
homemeade vegetarian stock
salt and pepper to taste
sour cream (optional)
chopped green onions or chives for garnish
Method
finely dice the celery, carrots and onion
peel, detstem and thinly slice the garlic
remove the mushroom stems and slice the mushrooms
melt butter in a frying pan and add first the celery for a couple of minutes, add the carrots and finally onion, garlic and thyme sprig
once the celery and carrots are soft add the sliced mushrooms and cook until they have released their juices
add about 1/4 cup of flour and stir until fully incorporated
add 1/2 cup wine if using and 4 or 5 cups of homemade vegetable stock (see below)
Simmer for 30 minutes or more to enhance the flavours
If you wish you can add sour cream, first spoon out some soup into a small bowl and mix in the sour cream, pour into soup and stir until blended or use the sour cream only as a finishing touch on top of the soup. Sprinkle with chopped green onions or chives and serve immediately.
My homemade sustainable vegetarian stock: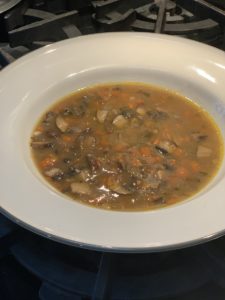 After years of chucking the unwanted parts of my vegetables I have taken a page from the Fairmont Hotel chain sustainability recipes and make my own vegetarian stock. It keeps at least a week in the refrigerator.
Use any of these vegetable peels, ends, or discarded bits: carrots, onions, leeks, mushroom stems, green onions, spinach, asparagus ends, swiss chard, arugula, almost any vegetable scraps will do. Leftover cooked vegetables can also be used. Fill a large pot with at least 4 or more cups of vegetable scraps and cover with water, adding salt and pepper, and fresh garlic (optional) to taste.
Bring to a boil and simmer for at least two hours, drain through a colander (and cheesecloth if you wish) and keep in glass jars in the refrigerator.
Bonus: you still have all the vegetable scraps to put in your compost.
The original recipe from New York Times Cooking calls for wild rice to be cooked separately and added to the soup. The nutty flavour of the rice would be a very nice addition. I chose not to use the rice but opted to pair the soup with homemade focaccia bread. If you are not limiting your carbs I would suggest both the addition of the wild rice and some freshly baked bread. My new favourite focaccia recipe comes from gimmesomeoven.com 

Roche Wines
CONVICTION
Our strength is our combination of experience in both vineyard management and winemaking, and a precise appreciation of the link between the two.
We have always worked with small lots, in direct contact with the vineyard, and we are acutely aware of the details that make the difference between good and exceptional wine.
From our roots in Bordeaux and Burgundy to the emerging terroir of the Okanagan Valley, we continue to build an informed perspective, based on observation from the vineyard to the glass.
We consider ourselves as 'vignerons' in the truest meaning of the word, committed to crafting to our wines from start to finish.
Our priority is hands-on organic farming, with traditional French 'savoir-faire', to make exceptional wines which express unique Okanagan terroirs.
Domaine Roche
On the southern edge of the Naramata Bench, this vineyard overlooks the city of Penticton and Okanagan Lake. The twenty-year old ungrafted vines are deeply rooted in a mix of silt, organic matter and gravel. The gentle westward slope at the base of Campbell Mountain ensures good drainage and ideal exposure.
We farm our vineyards using organic methods. Environmental stewardship is important to us for the health of our family and ecosystem,  and for the contribution it makes to the quality of our wines.
This vineyard site adjoins the winery and includes 3 acres of Schonberger, 1 acre of Zweigelt, 1.12 acres of Chardonnay and 0.63 acres of Pinot noir.
Pinot Noir and Chardonnay were planted in summer 2017.
Kozier Organic Vineyard
Planted in 2007, Kozier Organic vineyard is located on the Naramata bench, 4 km north of the winery. The 15-acre vineyard is a gently sloping amphitheater, steeper as it approaches the mountainside. It faces west toward Okanagan lake.
Gravel, sand and organic material from the mountainside above mix with denser glacial silt. The certified organic farm benefits from the synergy of a warm microclimate with cool soils ensuring long, even ripening.
Merlot, Pinot Noir, Pinot Gris, Viognier and Gewurztraminer are planted according to variations in slope orientation and subsoils to meet the needs of each variety.
From pruning to harvest, every decision is made based on observation and experience, with one priority – to obtain the purest, most balanced grapes possible by treating the grapevine and its ecosystem as inseparable and codependent partners.
ROCHE Wines, 60 Upper Bench Road S, Penticton, BC V2A 8T1
Bottle shot and wine notes courtesy of the winery. Soup and feature image MyVanCity. I received complimentary wine to facilitate a #ShiptoSip 2021 feature which will be published on Wednesday, June 2nd.