"In this series, I'll share which B.C. wine pairs best with select recipes from the best chefs in B.C." 
With the change in the weather from summer-like to a chance of showers this comforting dish will part the clouds and give us something to look forward to. Whether a weeknight or company dish this one is sure to please.
Chicken Piccata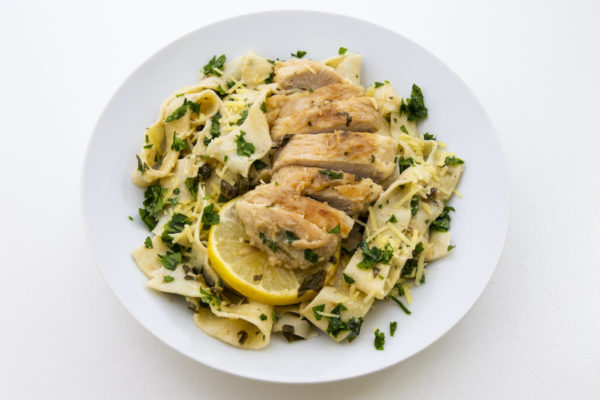 Serves 4-6
Breaded Chicken
4 boneless skinless chicken breasts, pounded to about 1/2" thick
2 large eggs, whisked with 2 tbsp water in a small bowl
1 cup flour
1 cup breadcrumbs
1 tbsp dried basil
Salt and pepper
1 tbsp butter (per batch of chicken)
Sauce
1/2 cup fresh lemon juice
1/3 cup white wine (Grüner or Chardonnay)
3 tbsp butter
Salt and pepper (to taste)
Line a cookie sheet with parchment paper and preheat oven to 400o F.
Dust both sides of each chicken breast liberally with salt and pepper then cut into 3 or 4 pieces.
Sift flour in a bowl with 1 tsp salt and 1 tsp pepper. Mix breadcrumbs in another bowl with basil. Dip each piece of chicken first in the flour, shaking off the excess, then in the egg mixture, then in breadcrumbs. Set aside on a plate or cutting board.
Melt 1 tablespoon of butter on medium in a medium saucepan. Place chicken pieces in a pan and fry on medium-high for 2 minutes or until golden brown, flip them, and repeat. You may have to do 2 batches. If so, clean out the pan in between or the second batch will cook unevenly.
Place browned chicken on a cookie sheet and bake in the oven for 10 minutes.
In the same pan as the chicken, melt 2 tablespoons of butter, add wine, lemon juice, and salt and pepper. Bring to a boil and allow to reduce by half.
Turn off heat and swirl in 1 more tablespoon of butter.
Serve in in a deeper dish and pour sauce liberally over breaded chicken. Serve with Fort Berens Estate Winery Grüner Veltliner 2020
This recipe is from Brett Cooper, our Tasting Room & Hospitality Manager at Fort Berens Estate Winery.
"Chicken Piccata was one of the first dishes I truly mastered, and it has since become a favourite among my friends and family. I usually serve this over noodles or pair it with risotto or fried gnocchi as they go beautifully with the wine sauce. Enjoy with a glass of the wine used in the sauce as well. In this case, Grüner Veltliner would go wonderfully as it is a classic pairing for breaded and fried meats."
Suggested BC wine pairing:
Grüner Veltliner
Tasting notes:
This wine features an array of tropical fruit aromas, with hints of ripe stone fruit, yellow apple, honeysuckle, and fruit punch. This very food-friendly wine has a rich, creamy and nutty texture, followed by a zesty aftertaste.
Winemaker's notes:
The grapes for our premier vintage of Grüner Veltliner were sourced from Bordertown. We are looking forward to the first vintage with our estate-grown Grüner Veltliner grapes in 2021 or 2022. This riper style of wine was made with only free-run juice from the whole cluster pressing to give a rich and creamy texture on the palate. It was fermented with cold-fermenting yeast to produce a complex, aromatic wine.
Food pairings:
With its origins in Austria, Grüner Veltliner is traditionally served with Wiener Schnitzel. It is also a great palate cleanser to enjoy with spicy creamy dishes such as butter chicken.
Cellaring advice:
This wine is ready to be enjoyed now, or it can be aged until 2024.
Yes, we are open
TASTING ROOM & KITCHEN
Come explore Lillooet's first winery and sample our latest vintages in our tasting room while looking out at the towering Coast Mountains. Spend some time shopping through our collection of wines, glassware, gift ideas, cookbooks, preserves, and more. Plan to enjoy a farm-fresh wine-paired lunch at our seasonal restaurant, The Kitchen at Fort Berens, while you soak up the breathtaking vistas from our patio.
The Kitchen at Fort Berens
Our seasonal restaurant is open from June 16 through September 30, 2021. Lunch service is available from 12-4pm daily. Dinner is served on the patio on Friday, Saturday and Sunday from 5:30pm-8:30pm.
Farm to Table: Discover Lillooet's regional cuisine featuring fresh, local ingredients and classic, old-world techniques. Come experience our warm hospitality, award-winning wines and the finest bounty from Lillooet.
The Kitchen at Fort Berens offers patio seating with stunning vistas of our vineyards, the Fraser Benchlands and the Coast Mountains. We invite you to come and savour our wine and food pairings.
Reservation for parties of 1 to 6
Book your reservation here
Vineyard Picnic
Just imagine for a moment….a delicious lunch with wine at a private table set among the vines in our vineyard. You can now enjoy this experience with our new and exclusive vineyard lunch. Enjoy a private vineyard lunch with a selection of delicious dishes. Our Executive Chef has created a fabulous preset menu of shareable dishes that will be delivered to your table, along with your choice of wine.
The cost is $75 per person and includes your shareable dishes and wine. Minimum 4 people and maximum 6 people per table.
Prepaid reservation for parties of 1 to 6
$75 per person
Book your reservation here
Fort Berens Estate Winery
Fort Berens Estate Winery is located in Lillooet, along the Gold Rush Trail in British Columbia's newest and most exciting emerging wine region. Lillooet's oldest winery was forged on the road less travelled. It is a culmination of the dreams, vision, and pioneering spirit of the team. Today, with 38 acres of vineyard and a cabinet filled with regional, national, and international wine awards, Fort Berens is showing the world that this is a discovery for the new millennium. At this breathtaking location, we passionately handcraft award-winning wines that reflect our unique Lillooet terroir.
Recipe provided by Kim Lawton, Dog Leg Marketing. Bottle shot and wine notes courtesy of the winery. I received complimentary wine to facilitate this feature.