"In this series I'll share which B.C. wine pairs best with select recipes from the best chefs in B.C." 
Don't let the overcast skies spoil your good mood. This delightful Strawberry Spinach Salad paired with a Fort Berens Rosé will chase away the gloom and bring back the sunshine. Local strawberries are just starting to appear at Farmer's Markets and there is no better way to enjoy strawberries than when they are fresh and so delicious. Just coming on now strawberries are at their peak in June. We highly recommend this pairing, and don't forget, just like the local strawberry, Rosé wines are gone all too soon.
"I remember making this recipe for the first time one summer, maybe 25 years ago. I was wondering about the strawberry, goat cheese, and balsamic combination, and only later learned that they work really well together. This is a delightful summer appetizer or light lunch dish, and it pairs beautifully with our Rosé." This recipe is from Heleen Pannekoek, one of the co-founders and co-owners of Fort Berens Estate Winery.
Strawberry Spinach Salad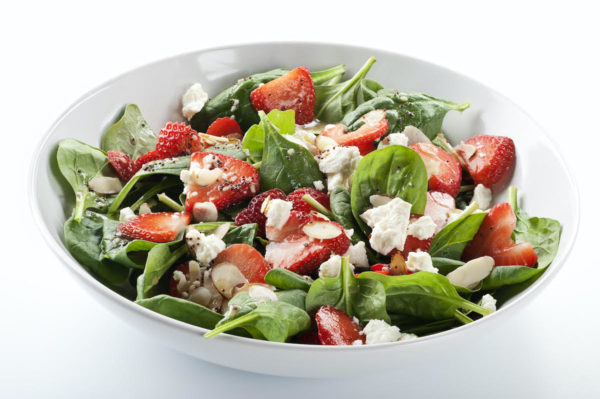 Serve with Fort Berens Estate Winery Rosé 2020
Serves 4-6 starter sized portions
250 grams fresh spinach leaves
200 grams fresh strawberries
200 grams soft goat cheese or mild feta
35 grams pine nuts
2 tbsp aged balsamic vinegar
Salt and pepper
6 tbsp olive oil
Whisk the balsamic vinegar, salt, pepper, and olive oil together in a small cup and put aside.
Roast the pine nuts carefully in a dry skillet over medium heat, stirring regularly, until golden brown (about 3 minutes).
Wash the spinach leaves and then put them in a wide salad bowl.
Cut the goat or feta cheese in 1 cm square cubes.
Clean the strawberries and cut them in half.
Put all the toppings in the bowl with the spinach and serve the vinaigrette on the side.
Suggested BC Wine pairing:
Fort Berens Rosé

Tasting notes:
This inviting summer wine is refreshing with notes of bright red raspberry, watermelon, and cotton candy. It has a fresh and juicy palate with a lingering fruit finish. This wine is made with grapes exclusively from our estate vineyard, predominantly Pinot Noir, with a small fraction of Cabernet Franc and Merlot grapes from our young Red Rock Vineyard.
Winemaker's notes:
The grapes were destemmed and crushed to allow for skin contact time of 48 hours. This process allowed for the colour from the skin to integrate into the juice. After the perfect colour was acheived, the grapes were lightly pressed, settled, and the clean juice racked from the solids. Inoculated with a select strain of yeast accompanied by cold fermentation produced an exotic fruit aroma with a fruit-forward palate.
Food pairings:
Enjoy this great summer refresher on its own or with chicken salad, spinach and feta quiche, salmon, or BBQ chicken skewers.
Cellaring advice:
This wine is ready to be enjoyed now, or you can age it until 2023.
Wines
We craft exceptional quality wines that are balanced and honest, reflective of this unique terroir, and expressing the spirit of our winemaker. Whether you open a bottle after a long day at work or to celebrate a milestone event with family and friends, our wines are about enjoyment and discovery.
We ship your wine in boxes that hold either 3, 6 or 12 bottles. The most efficient shipping rates are for the 12 bottle boxes.
Yes, we are open
We have made some changes to be ready for your visit, it might look and feel a little different, but you can expect the same warm and friendly hospitality.
Book your reservation here
Notes courtesy of the winery. Recipe courtesy of "guest chef" Heleen Pannekoek, co-founder and co-ownerof Fort Berens Estate Winery Images MyVanCity. I received complimentary wine to facilitate a #ShiptoSip 2021 feature, you can read it here.