"Transitioning a bit here and now using #Taste to cover a series of BC wine and recipe pairings"
This recipe and BC wine pairing is the result of my #BCWineGoals for this week. Just as a reminder, I will be randomly selecting a BC wine from my wine cellar (aka basement shelf) and then finding a recipe that I think will be the perfect pairing. Supposed to be a fun adventure that ranges from super casual to challenging in the recipe department.
First I draw a letter from a hat (A,B,C,D) to indicate which wine rack I will select from. Then I further narrow it down to a shelf number drawn randomly. At this point I have the choice of any wine from the shelf which holds around a dozen bottles.
For this week I chose the Wild Goose Gewürzteraminer, a 2018 over a 2019 I had on hand. I had been scoping out recipe websites earlier in the week and came across a NYTCooking recipe for Sheet Pan Crispy Tofu and Sweet Potatoes. At the same time I had been craving a rich, creamy soup like Butternut Squash, which is a favourite in our house. Instead I decided to go all out with yams, basically because that's what I had on hand.
So what's the difference between a sweet potato and a yam, not a lot. I think of it this way; a sweet potato is a vanilla milkshake versus a yam which is a vanilla milkshake with whip cream on top. Both are super rich, sweet and delicious.
Roasted Yam Soup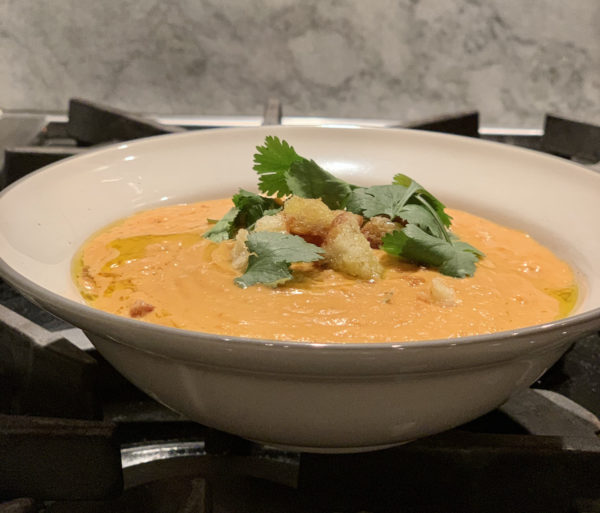 2 good sizes Yams
2 large bulk (aka horse) carrots
1 sweet onion
olive oil
heavy cream
1 quart vegetable stock (preferrably homemade)
salt and pepper to taste
Umami Bomb Shiitake Chili Oil (optional)
focaccia croutons (preferrably homemade)
cilantro, chopped
quality olive oil for finishing
To make this dish vegan, substitute more vegetable stock for the cream.
Turn your oven to at least 400 F or up to 425 F depending on how well your oven reaches higher temperatures. I use 425 and a roast setting.
Peel and chop the carrots and yams into chunks about 1″ square. Core and cut the onion into wedges (about six) removing the tough core of the onion. Toss everything in a large bowl with a generous amount of good quality olive oil and a bit of salt. The carrots take longer to caramelize so I give them about a 10 minute head start then add the yams and onion. Roast for about an additional 20 – 25 minutes, turning half way so all sides caramelize. Watch carefully because the yams will quickly go from perfect to burnt.
Add the roasted vegetables to a large pot, add the vegetable stock, a bit more olive oil and pureé to a very thick texture. Next I let that simmer slowly on the stove for at least an hour. Taste to see if it needs any more salt or if you would like to add pepper, or for those who like a kick, the chili oil (to taste).
The soup will be very thick and now I add the heavy cream (if you prefer use light cream or milk) until the soup is about the consistency you like. Heat until just under the boiling point.
To serve top with focaccia croutons a little chopped cilantro and finish with a finer, best quality olive oil.
Serves 2 with leftovers, or 4 people
Sheet Pan Yams with Tamari Sauce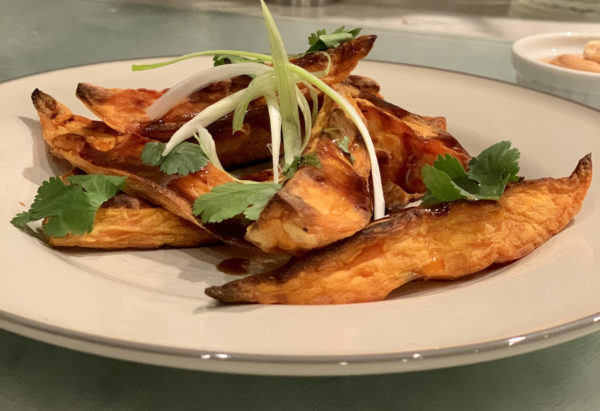 2 medium size yams
olive oil
salt (the dressing is salty so I was careful not to add too much)
green onions, julienne
cilantro leaves
Roasted and salted peanuts
Turn oven to 400 – 425 F
Peel and slice the yams lengthwise to make thick wedges no wider than 1″ Toss in olive oil and roast for about 15 – 20 minutes until the yams are golden on the outside and soft on the inside.
Tamari Sauce
Peanut oil (if you don't have it grapeseed, or in a pinch sesame oil)
rice vinegar
tamari sauce (or light soy sauce)
honey
peanut butter
Umami Bomb Shiitake Chili Oil to taste
Make this earlier in the day to allow the flavour to mingle. I made about 1/3 of a cup using just a couple of tablespoons of soy sauce (all I had on hand so cut back the quantity) 2-3 tablespoons rice vinegar, 1 tablespoon of honey, 2 tablespoons of creamy peanut butter (crunchy is fine too) and enough oil to make a marinade or dressing. Chili Oil to taste just at the end.
To serve stack the yam pieces on a plate, spoon over a generous portion of the Tamari sauce and top with the green onion slices and cilantro leaves. Add a side of roasted, salted peanuts.
Hint: when I make focaccia bread I use a lot of fresh rosemary in the dough and on top, any leftover bread gets sliced and cubed, tossed in olive oil and roasted in the oven, then kept in the freezer so I have some on hand.
Serves 2, or 1 yam fan
Wild Goose 2018

 

Gewürztraminer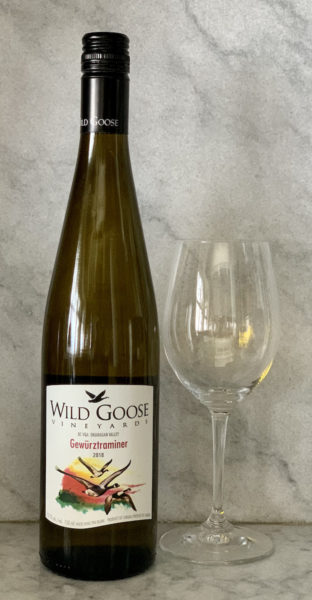 Okanagan Valley
One of Wild Goose's most awarded signature wines 
The winemaking team sourced the best grapes from throughout the valley, from Oliver to Kelowna. Kept sepa-rate until blending, they were blind tasted and the top three were used to make this aromatic wine. The 2018 has a dominant nose of grapefruit, lilac, orange and spice. The Okanagan is known for many of its stellar white wines and this wine is setting the stage for Gewürztraminers. 
The 2019 vintage is $17.39 online from the winery
$18.49 at select BC Liquor Stores $18.89 at select Save-On-Foods
"Floral scents, rose, dusting powder, feminine. More full flavoured than I expected, great acidity, candy with a deep sweetness.
I wasn't surprised that at the end of the day this flavourful, fruit forward Gewürz became my favourite, at least for now. I did choose the Gewürztraminer at the Spring Tasting even though I had been regularly drinking Autumn Gold almost exclusively. One of the great things about Wild Goose wines is that they are affordable enough you can change your mind and switch up your favourites. A flexible commitment. Interesting though how your taste can change, it pays to be flexible." April, 2019
This was my review from 2019 when I first tasted the Wild Goose Gewürztraminer and I am still a huge fan, well actually a huge fan of all the Wild Goose wines. I especially love their whites and enjoy them year round. I thought this wine stood up well to both the extreme richness of the creamy soup but also held its own with the spicy Tamari sauce, onions and cilantro. That's a lot to throw at just one wine but the Gewürz was up for the challenge.
The Autumn Gold I save for wintry nights and it would also make a great pairing for these two, very rich, dishes.
Tasting notes (in italics) were from 2019 and courtesy of the winery. My tasting notes follow. I purchased a case of the Gewürztraminer during a visit to the winery in 2019. On my wine shelf a have both the 2018 and a 2019 (the 2019 I received complimentary to facilitate the 2020 #FavouriteThings feature). You can read more Wild Goose Vineyard & Winery features on MyVanCity.ca by clicking here. I also received complimentary samples of the Umami Bomb Shiitake Chili Oil in medium and hot. To learn more about Umami click here.