"In the Spring a young man's fancy lightly turns to thoughts of love."― Alfred Tennyson
Well that may be so, for wine lovers our hearts turn to thoughts of spring releases and what better event to focus our fancy on but the Okanagan Falls and Skaha Lake wineries.
The Heart of Wine Country boasts 14 award winning member wineries. "From the shores of Skaha Lake to the tip of Vaseux Lake member wineries offer visitors spectacular scenery, unsurpassed winery experiences, and of course, exceptional wines.
Boasting the Okanagan's most photographed vineyard views, the wineries in and around Okanagan Falls have been producing some of BC's best wines for many years. From vibrant sparkling wines and crip Rieslings to complex Pinot Noirs and rich Syrahs, there is truly something for everyone.
We invite you to visit our beautiful region this year and disover why we truly are the heart of wine country." – Jak Meyer, President, Okanagan Falls Wineries Association (OFWA)
What we tasted at the Okanagan Falls/Skaha Lake wineries Spring Release 2019:
Bonamici Cellars
Italian inspired food friendly wines. The journey begins with a wonderful Italian tradition & passion for celebrating great wine & food with family & friends. We look forward to sharing our wines and our story with all of you!
Sauvignon Blanc – Viognier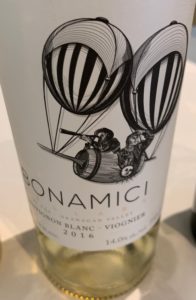 Blend of Sauvignon – Blanc (60%) and Viognier (40%) Aromas of passionfruit, grassy floral, pear, apricots, and hints of bell pepper. Good acidity with nice clean balanced finish with nuances of peaches and vanilla in the aftertaste.
I was curious to try this unusual blend. The wine has a delicious aroma followed by a buttery taste.
Liquidity Wines
liquiditywines.com
Based in Okanagan Falls, the Heart of Wine Country™, Liquidity offers an artisan approach to winemaking – taking you on a journey of the senses that captures the art of winemaking from grape to glass in a stunning space where guests are wowed by the incredible views, eclectic artwork and locally inspired food. Time is spent enjoying these finer things in life, while in the vineyard the best fruit is carefully hand-harvested and then artfully blended into fine wines.
Collage 2017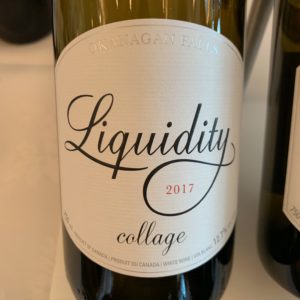 This fun year-round sipper has aromas of ripe papaya, yellow plum, peach and honeysuckle, with a round mouthfeel and flavours of melon, starfruit, apple, lime, and spice with keen minerality.
A favourite at a very attractive price point of $17.00 at the winery.
Meyer Family Vineyards
Crafting Single Vineyard Wines of Excellence.
In traditional French Burgundian style we focus on small case lots of varietals best suited and expressive of their unique place of origin with an emphasis on Chardonnay and Pinot Noir. Producing about 8,000 cases, we strive to create the finest wines possible. Our wines are hand harvested and hand crafted and we take great pride in each bottle of wine with great attention to detail. We hope that you enjoy our wines as much as we enjoy making them! JAK & Janice Meyer.
Gewürztraminer 2017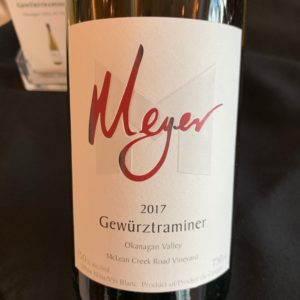 The 2017 Gewürztraminer is a beautifully aromatic, food-friendly wine from a heritage block on our McLean Creek Road Vineyard planted in 1994.
This is a very good, easy drinking, everyday wine. Always keep one on hand. $15.75 online or at the winery. I always enjoy this very affordable wine. Great anytime of the year but especially nice while relaxing on the patio.
Stevens Block Chardonnay 2017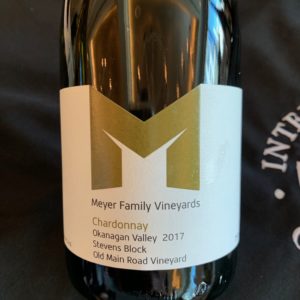 The wine is a blend of our two estate vineyards; Old Main Road vineyard planted in 1996 on the Naramata Bench, McLean Creek Road vineyard planted in 1994 in Okanagan Falls and JAK's sister Terry Meyer-Stone's vineyard on Anarchist Mountain in Osoyoos, BC. This Chardonnay is a blend of many separate small batch picks through the dates listed above; the unique terroirs of the three vineyard sites yield a wine with elegance, finesse and length. 
One of four Chardonnay produced, this one at $24.45, for those with a more modest budget I would suggest their Okanagan Valley Chardonnay 2017 an excellent price point at $17.49 online or at the winery. Meyer definitely knows how to make Chardonnay wine.
McLean Creek Road Chardonnay 2017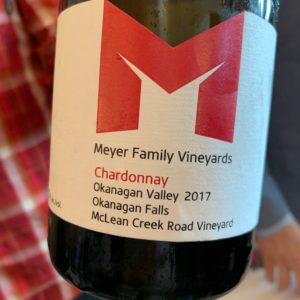 We produced 530 cases of single vineyard Chardonnay from our estate vineyard on "McLean Creek Road" in Okanagan Falls.  The wine has bright acidity with peach and herbs on the palate, great structure and a long finish. On the nose fuzzy peaches, lemon and vanilla. Drink this wine now or cellar up to 7 to 10 years.
A single vineyard wine, this one is very popular. $28.80 online or at the winery. Recommended.
Old Block Pinot Noir 2017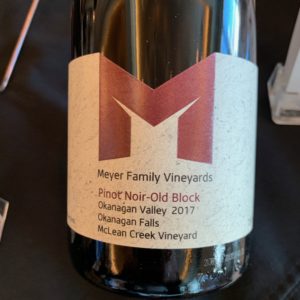 We produced 311 cases of "Old Block" Pinot Noir. The "Old Block" is one of the original vineyard plantings from 1994 and is part of the largest block of Pinot Noir at our McLean Creek Road vineyard. On the nose is wild raspberry, cranberry and leather with hints of savoury wet forest floor and vanilla. Sour cherry and violets on the palate, a medium light body and well-integrated tannins that feel velvety. The wine is approachable now but has all the components to allow it to age gracefully.
Noted for their Pinots Meyer makes very good to exceptional Pinot Noir. The Old Block is top notch at $43.58 online or at the winery.
For a Pinot Noir that is very good and an excellent price at $22.71 online or at the winery my recommendation for those on a budget is Okanagan Valley Pinot Noir.
The fruit is sourced from three different vineyards in the Okanagan Valley; our estate vineyard on McLean Creek Road in Okanagan Falls; Teasdale Road Vineyard in South East Kelowna and a vineyard in Kaleden, BC. The combination of these three different vineyards each having their own unique aspect, elevation and soils has produced a well-rounded Pinot Noir that showcases the Okanagan as a whole. This is a club member only wine.
You really can't go wrong with whichever wine you choose from Meyer.
Nighthawk Vineyards
nighthawk vineyards.com
NATURAL BEAUTY. DISTINCTIVE ELEGANCE. EXCEPTIONAL HAND CRAFTED WINES.
Nighthawk Vineyards is a boutique farm gate winery, overlooking the scenic Green Lake valley above Okanagan Falls. It is truly a magical destination, with a distinctive terroir that contributes to some of the finest grape growing conditions.
Pinot Noir 2015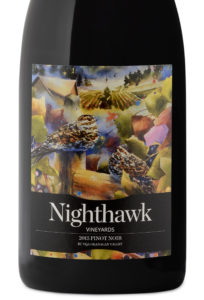 Priced at $24.90 (great price)
Our estate grown Pinot Noir features delicate hints of ripe berries,vanilla bean, and the minerality distinctive to our high altitude vineyard.  This complex wine was finished in Tuscan concrete tanks,creating a textured mouth feel.
Gewürztraminer 2016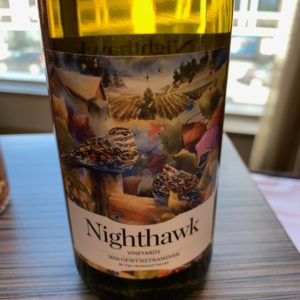 Priced at $19.90
Our high altitude vineyard imparts aromatic elegance and minerality, distinctive to our Gewurztraminer.  The grapes were hand harvested and sorted followed by a whole berry gravity "crush", with minimal skin contact.  After fermentation, the wine was racked into stainless where it was cold stabilized, filtered and bottled.
This one was my favourite of the Nighthawk white wines.
Pinot Noir Rosé 2016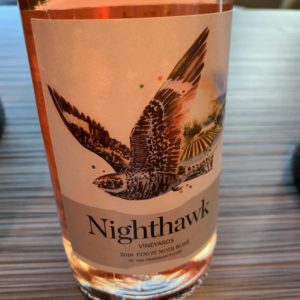 Priced at $21.90
A crisp and lively wine, with hints of raspberry, rhubarb, and a kiss of French Oak, our Pinot Noir Rose features delicate floral notes and minerality, creating a textured mouth feel. 
This rosé came in a close second on my favourite Nighthawk wine list.
Cabernet Franc 2016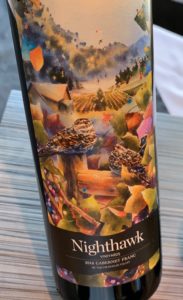 Priced at $39.90
Our Cabernet Franc is a flirtatious wine, with hints of ripe raspberries, black currant, dark chocolate, tobacco, and vanilla bean. It has subtle fragrant notes with a charming, aromatic elegance, and a soft but structured mouth feel.
I was sticking almost entirely to the whites and rosé wines but my companion was quite impressed with the Pinot Noir and Cabernet Franc.
Noble Ridge Vineyard & Winery
nobleridge.com
A stunning view above. Glacial rock below. In-between the Noble ridge, and a care and a passion for our land, our vines, our people, resulting in excellence in the bottle. Noble Ridge is committed to creating premium quality, award-winning wine, cultivating your cherished memories and delivering convenience and ease of year-round purchase through our valued restaurant and retail partners, on-site wine shop and on-line purchasing/home delivery service.
Not only does Noble Ridge has one of the most outstanding vistas of the valley they also make really good wine. I've been a follower for a few years now and I am never disappointed.
Pinot Grigio 2017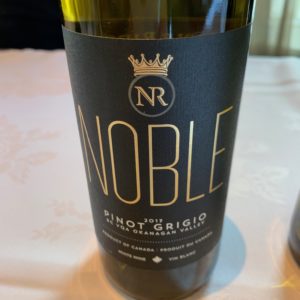 Priced at $18.49 online or at the winery
2017 Pinot Grigio – this elegant, terroir driven Pinot Grigio is the official staff pick of the month. The minerality, bright acidity and beautiful notes of apple and stone fruit make it the perfect summer patio sipper!  
Can't wait for patio weather to enjoy this light, fruity flavoured favourite. (try saying that 3 times fast)
Reserve Chardonnay 2016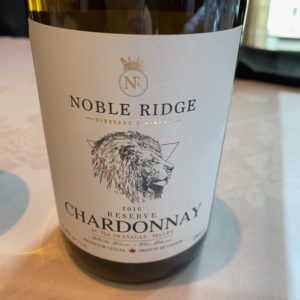 Priced at $26.00 online or at the winery.
Aromas of peaches and cream with hints of vanilla and caramelized stone fruit re accentuated with subtle citrus notes and baking spices. The marzipan finish is lively and bright with a rich, creamy texture.
Reserve Pinot Noir 2016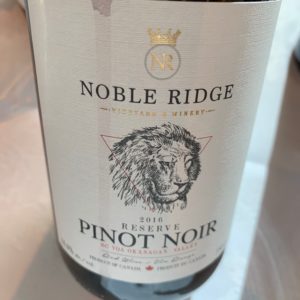 Priced at $30.35 online and at the winery.
This bold and deeply complex Pinot Noir delivers many layers in both aroma and flavour. Intense blueberry. cherry cola and anise aromas are enhanced by a subtle earthiness. The palate follows with notes of strawberry and cherry with well-integrated tannins creating a long lingering finish. 
The Noble Ridge Pinot Noir nevers disappoints. This is one I enjoy and my pinot loving companion thinks is "so good, their wines are always good".
Meritage 2014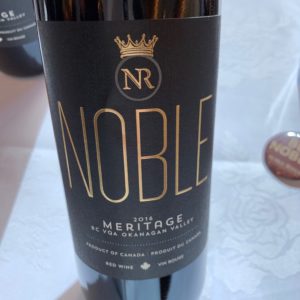 Priced at $21.99 online and at the winery.
This big, bold Meritage blend beautifully represents the premium quality grapes harvested from the Noble Ridge estate. Explosive aromas of field berries and black forest cake will tantalize the palate. A combination of French and American Oak barrels are used to age over a period of 12 months. Rich with structure and tannin, this Meritage is ready to be enjoyed now or cellared. The addition of Petite Verdot is new for our Meritage blend and only enhances this beautiful wine. – Everything Wine.
An excellent example of a bold red blend. Not only delicious and juicy but also a great price point.
Pentâge Winery
pentage.com
Pentâge is a boutique, family owned winery nestled on 23 acres overlooking Skaha Lake in Penticton, British Columbia. Founded in 1996, we strive to achieve a balance between minimal intervention and modern wine making techniques to produce unique and expressive wines. Our impressive 5000 square foot natural rock wine cellar is a must visit if you are in Okanagan area.
Both the wine shop and wine cellar allow guests to immerse themselves in the terroir and beauty of our property. Explore our passion and enjoy our hand-crafted wines.
Pinot Gris 2017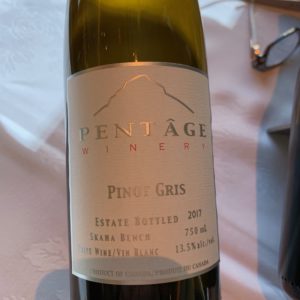 Priced at $20.00 online or at the winery.
The 2016 release of our quintessential Pinot gris offers beautiful aromas of honeyed pear, citrus and hints grapefruit. This medium bodied wine showcases ripe grapefruit, citrus and ripe pear on the palate and finishes with refreshing acidity.
I am all about easy drinking wines that transport me to the patio. A wonderful sunshine wine. Recommended.
Roussanne/Marsanne/Viognier 2013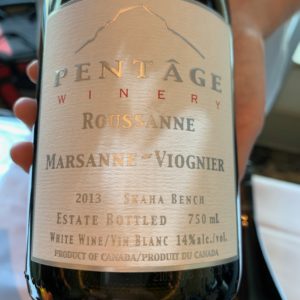 Priced at $27.00 online and at the winery.
Rhone inspired – this is our third vintage of our flagship white wine.  A blend of 65% Roussanne, 25% Viognier, and 10% Marsanne).  Bright aromas of stone fruit, citrus and whispers of perfumed floral notes rise from the glass.  The palate showcases flavours of apricot, peach and citrus with a hint of spice.  Lightly oaked then bottle aged – truly elegant!
If you haven't tried this one you really should. Another recommended wine.
Gamay 2016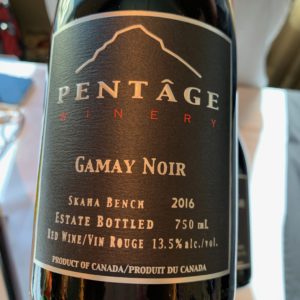 Priced at $23.00 online and at the winery.
Our 2016 Gamay noir offers aromas of raspberry, strawberry and dark cherry notes.  The palate offers focused red berry fruits with soft supply tannins.  Full of flavor from start to finish this wine is truly elegant with balanced acidity.
Not many wineries are making or growing Gamay but those that are have loyal fans. This is a very nice one. Both my companion and I enjoy this one and recommend it.
Syrah 2014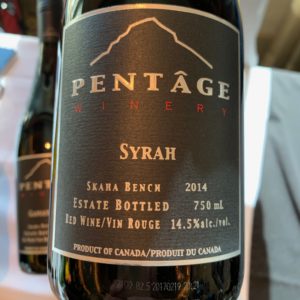 Priced at $26.00 online and at the winery.
Bright aromas of cherry and blueberry with hints of peppercorn, vanilla and toasted oak.  Juicy dark berry fruits surge on the palate, supported by balanced acidity and elegant tannins that continue to offer a long smooth finish.
Always a favourite.
See Ya Later Ranch
sylranch.com
The wines of See Ya Later Ranch celebrate the lively legacy of Major Hugh Fraser, a colourful character who purchased the property high above the Okanagan Valley in 1920. Here, near the town of Okanagan Falls, he planted vines and seeded a legend. Stories are at the heart of the See Ya Later Ranch brand. Notable wines, born and raised on higher ground by a true character of the Okanagan who sought to produce wines that reflected his personality and storied passion for life.
These days, visitors love See Ya Later Ranch for its well-crafted, award-winning VQA wines served in an unbeatable setting. The tasting room and wine shop are located in the Major's 1900's home – made of original hand-split stone – while the patio is the perfect perch to enjoy a bottle of wine and take in the view of the surrounding valley, vineyards and lakes.
The winery welcomes four-legged family members, with a "Barking Lot" for them to play in.
Pinot Gris 2018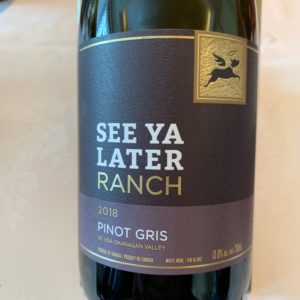 Priced at $16.99 online and at the winery.
A mix of Lemongrass, ginger, cloves, citrus blossoms and nectarine aromatics, with a medium-bodied finish of lemon and ginger.
A good solid white for easy sipping and an excellent price.
Gewürztraminer 2017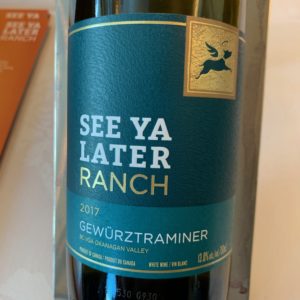 A nice, spicy Gewürztraminer. Hints of ginger, goose berry, lychee, honey and grapefruit dance on the palate. Crafted in an off-dry style with medium acidity and a long, spicy finish.
Nelly Rosé 2017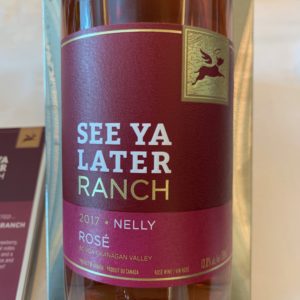 Priced at $18.99 online and at the winery.
A complex mixture of aromatics; Strawberry, grapefruit, citrus rind, and floral notes. The well-balanced acidity makes this wine a versatile choice with food. Perfect for patios!
Rover 2016
Priced at $21.99 online and at the winery. (no image available)
Lots of ripe red fruit and intense dark berries with hints of baking spices and course ground black pepper notes. The palate is rich and full with firm tannins alongside flavours of creamy cassis, ripe plums, spiced rum cake, and hints of pepper.
Synchromesh
synchromeshwines.ca
Synchromesh Wines is a small family run operation focused on producing terroir driven, world class Riesling, Pinot Noir and Cabernet Franc. From vineyard to bottle we practice sustainable techniques, no-chemical farming, natural low cropping, extensive use of indigenous yeasts and no additives or manipulations in winemaking. We approach the entire business with a holistic philosophy, ensuring every aspect of the farm and winery helps to support our business ecosystem, philosophies and enables us to produce interesting and unique wines.
Synchromesh wines were a new discovery for me just last May and I've been a big fan ever since. These wines sell out at the winery as early as June but you can sometimes find them at a specialty wine store. A must have for Riesling lovers.
Riesling 2018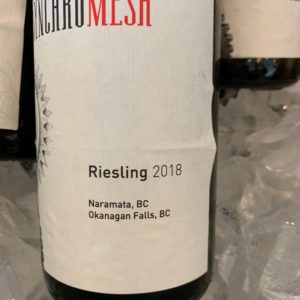 This careful assembly of small fermentations from each property brings together lush apricot and rich pineapple with a mineral limey backbone and granny smith apple with pear skin to a textured and fresh finish.
This was probably my favourite of the Synchromesh wines, if I had to pick just one.
Thorny Vines Riesling 2018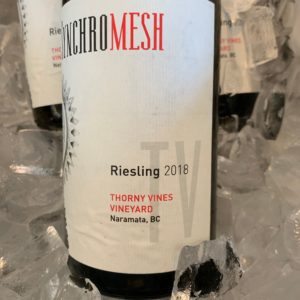 The Thorny Vines property is located at the southern end of the Naramata Bench, immediately north of Penticton. Benefitting from the moderating effects of Okanagan Lake, this cooler North facing vineyard enjoys slow, steady ripening with good acid retention. The vineyard consists entirely of German clone 21B vines that are hand farmed by the family owners. Individual vine attention, a sustainable philosophy and drive to create premium quality Riesling are at the heart of this property. Lush Grapefruit with intense mandarin finish with honeycrisp and lemon in an off-dry finish with persistent chalky acidity.
It was a toss up between these two Synchromesh rieslings with this second one as a runner-up. Both are fantastic and because last year's vintages are sold out I am unable to quote a price point. Most should be in the low to mid $20. range. The new releases will be available very soon at the winery.
Bob Hancock Riesling 2018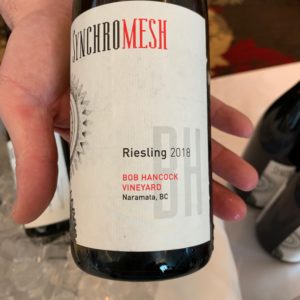 A limey spine lies under fresh ripe apple and Asian pear with juicy apricot and a nearly dry finish. A wonderful celebration of a pillar of the Naramata community.
First time trying this one but definitely adding it to my "favourite three" list of Synchromesh Rieslings.
Wild Goose Vineyards & Winery
wildgoosewinery.com
For more than 29 years, Wild Goose Vineyards & Winery has been producing premium quality wines that touch the four corners of the Okanagan: Sun, Earth, Fruit and Family. Owned and operated by the Kruger family, the winery is a complete wine country destination offering vineyards views, spacious tasting room, Smoke & Oak Bistro with al fresco patio, private function room and award winning wines. Wild Goose spans three generations of family passion for producing premium approachable wines, a true Canadian icon!
Gewürztraminer 2017
Priced at $17.39 online and at the winery.
One of BC's Most Popular GT's!
The winemaking team sourced the best grapes from throughout the valley, from Oliver to Kelowna. They were kept separate until blending, when they were blind tasted and the top three were used to make this aromatic wine. It doesn't happen every year, but this year and last year Wild Goose's estate grapes were used as the anchor as they were deemed the best! This floral wine has a bouquet of grapefruit, lilac, orange tea and cloves with elegant flavours of peach, apricot and spice all balanced by crisp acidity.
Current vintage sold out, new vintages coming soon. This was my number 1 pick for Wild Goose. A new discovery for me in 2018. Now my "go to" wine. I am a big fan of all their white wines.
Pinot Gris 2017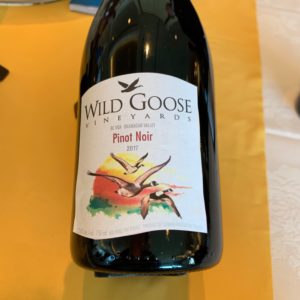 Priced at $17.39 online and at the winery.
"This Wine Will Make You the Most Popular Person at Dinner Parties!"
BC's most popular varietal! This vintage shows true varietal character from traditional growing Okanagan growing season of 2017. The nose expresses peach and pear while the palate fills your mouth with flavours of melon and honey layered with spicy, earthy undertones, finishing with a hint of spice. A wonderful nose, well balanced and a beautiful finish.
This one was my number 3 pick of the Wild Goose whites, still an excellent offering.
Autumn Gold 2017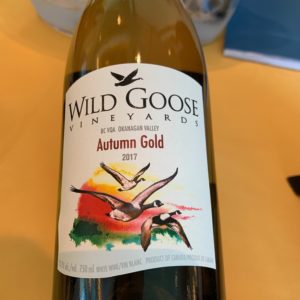 Priced at $17.39 online and at the winery.
Our Secret Blend of Deliciousness
One of Canada's most popular white blends, Autumn Gold is equal parts Riesling, Gewurztraminer and Pinot Blanc. This is a clean, crisp, white wine that carries aromas of orchard fruit, spiced apple and citrus. The soft and round palate will taste spice, candied ginger, and a hint of rose balanced with crisp acidity. The amazing fruit makes it the perfect wine to have on the patio with lots of family and friends, or at traditional festive gatherings where you are roasting a big bird!
Autumn Gold which is another of my "go to" wines is my number 2 pick for this tasting.
This is one of my favourite spring release wine tasting events with fourteen wineries all producing very good to excellent wines. With few exceptions I am tasked with tasting whites, bubbles, and rosés while my companion focuses on reds of all types. Even so, we don't always manage to sample every wine in the room.  Every Okanagan Falls/Skaha Lake winery produces top notch wines and thank you for having us, we had another wonderful tasting experience. – Mike and Valerie van der Gracht.
Each year the Spring Tasting includes a "feature" wine. This year's feature wine was the Meritage. My review of the Meritage wines on offer can be viewed here.
Tasting notes courtesy of the wineries, except as noted. Feature image courtesy of Noble Ridge. Bottle shots MyVanCity, except Nighthawk Pinot Noir provided by the winery. Winery bios courtesy of Okanagan Falls Wineries Association.