Every year wine lovers look forward to the Okanagan Falls Winery Association Spring Release Tasting. One of the hallmarks of this event is the choosing of the "featured" wine varietal, this year that distinction goes to "Meritage".
The Okanagan Falls region reaches from Skaha Lake to Vaseux Lake and the Association boasts 14 unique wineries. The wineries of the Okanagan Falls Winery Association produce a varied spectrum of delicious wines so it must be challenging to decide on just one varietal to be featured.
Meritage Feature Table
Meritage is the name given to North American Bordeaux-style blends, both red and white. The name was coined in 1988, and is a combination of the words Merit and Heritage. Red Meritage is blended from a combination of some or all of the following varietals (but no more than 90% of any one varietal): Cabernet Franc, Cabernet Sauvignon, Merlot, Petit Verdot, and less frequently St. Mascaire, Gros Verdot and Carménère. Meritage wines made in the Heart of Wine Country™ are very diverse, as each winemaker creates a unique blend that expresses the terrioir of their particular vineyard. These are cellar-worthy wines, but if you can't wait, they can be enjoyed now.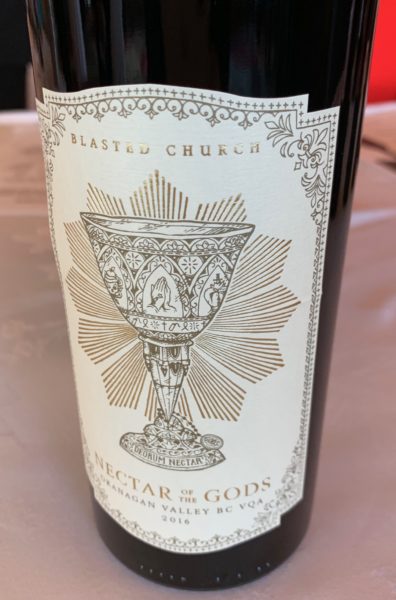 Nectar of the Gods 2016 CSPC #141361 (pending release)
The Nectar of the Gods started with the desire to achieve greatness. With this lofty goal in mind, we made everything available to the pursuit – unlimited grape selection, the best oak barrels, and Pascal Madevon as a consultant. Every vineyard block was carefully considered before arriving at the component list. After tasting and meticulously blending we had finally arrived – one of the best wines of the vintage, a true expression of the season completely unencumbered by the status quo.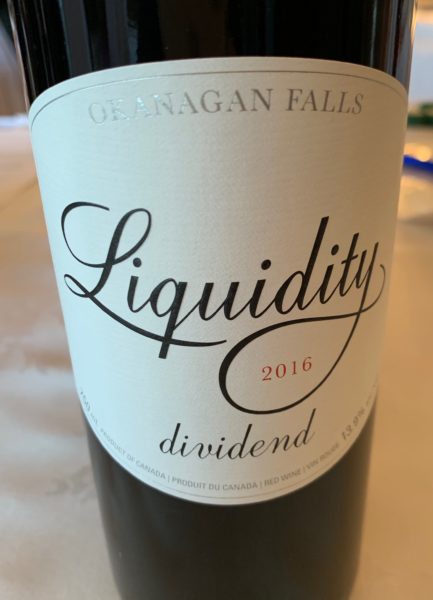 Dividend 2016 CSPC #853358 $35.00 online
The bouquet is a fabulous blend of cassis, dark tree fruits, red berries, baking spice, and smoky toasted oak. The palate is rich and full with flavours of cassis, red and dark fruits, and mocha notes. The tannins are medium in intensity and with a long finish and a nice balanced acidity.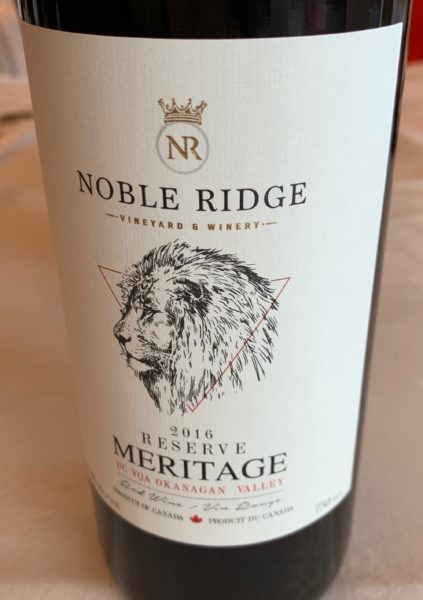 Reserve Meritage 2016 CSPC #219796 $34.99 online
Aromas of cranberry and cassis are complements by hints of spice and savoury earthiness. This win will age gracefully for 8-10 years. Food pairing, steak, grilled lamb, blue cheese, grill Portobello mushrooms, dark chocolate desserts.
Pentâge Blend 2012 CSPC #32733 $35.00 online
Aromas of black cherry, red berries and dried plum combined with notes of vanilla, cedar and spice. Flavors of red berry, dried cherry, toasted oak and spice mingle on the palate.  The youthful tannins and bright balanced acidity makes this an ideal wine for drinking now with grilled and roasted fare, but also show the pedigree of a wine with excellent cellaring potential.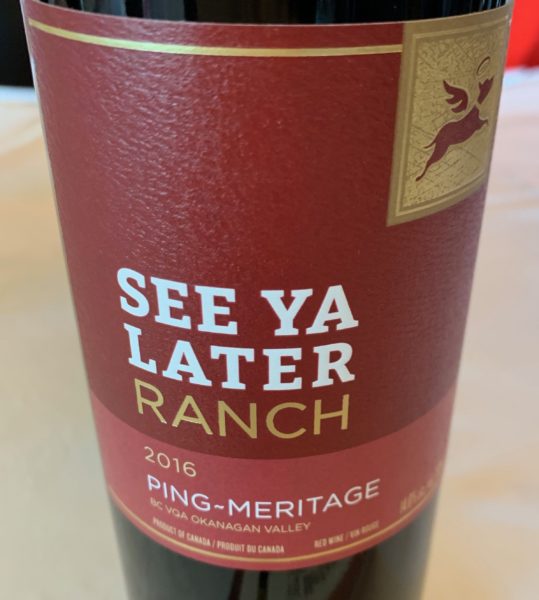 Ping Meritage 2016 CSPC #220145 $24.99 online
The bouquet is a fabulous blend of cassis, dark tree fruits, red berries, baking spice, and smoky toasted oak. The palate is reich and full with flavours of cassis, red and dark fruits, and mocha notes. The tannins are medium in intensity with a long finish and a nice balanced acidity.
Skaha Vineyard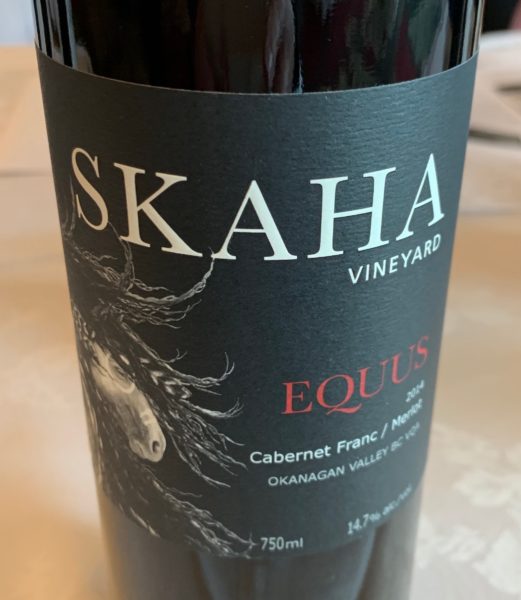 Equus 2014  CSPC #475491
Beautifully balanced, rich, bold layers of black cherry, ripe plum and blueberry are florward on the palate with the French oak perfectly integrated in the background. An extended finish of crème brûlée, chocolate, and espresso. Stellar served all on its own or pair perfectly with prime cuts of roasted or grilled meats.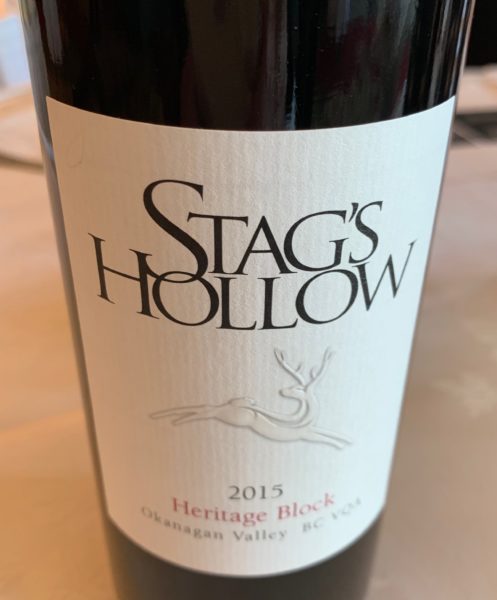 Heritage Block 2015 CSPC #115972 $24.99 online
Inviting dark cherry notes with a touch of cedar and wild Okanagan sage.  Red fruit dominated palate with plenty of ripe tannins and juicy acidity which make this a great red to be paired with a broad range of grilled fare.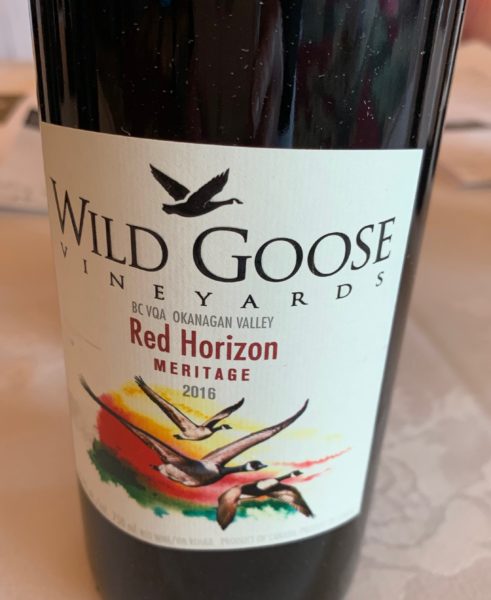 Red Horizon 2016 CSPC #738377 SOLD OUT online
Available at select Save-On-Foods $23.98
A classic right bank Bordeaux style blend of estate grapes grown at our Secrest Vineyard in Oliver and our Kerry Hill Vineyard locted in Okanagan Falls; Merlot, Petit Verdot, and Cabernet Sauvignon. This is our sixth vintage of Red Horizon and, definitely, the best yet. Winner of "The Best Red Wine in Canada: at the 2018 All Canadian Wine Championships, this Meritage was aged for 14 months in American and French oak barrels, the silky annins and soft acidity express the wine's fine aging ability.
About the Okanagan Falls Winery Association: The Okanagan Falls Winery Association brings together 14 of the valley's premiere wineries from the shores of Skaha Lake to the tip of Vaseux Lake to offer visitors spectacular scenery, unsurpassed winery experiences, and, of course, exceptional wines. Boasting the Okanagan's most photographed vineyard views, the wineries in and around Okanagan Falls have been producing some of BC's best wines for many years. From vibrant sparkling wines and crisp Rieslings to complex Pinot Noirs and rich Syrahs, there is truly something for everyone. We invite you to visit our beautiful region this year and discover why we truly are the Heart of Wine Country™.
About the BC Hospitality Foundation: The BC Hospitality Foundation is a registered charity that raises funds to support those in the hospitality industry facing financial crisis due to a health issue. Each year hundreds of hospitality workers across BC face financial challenges and have no one else to turn to. The BCHF helps them when all other options have been exhausted. In addition, the BCHF offers a scholarship program to foster the development of the next generation of workers and industry leaders. Scholarships are awarded to students enrolled in hospitality, culinary, sommelier, beverage, and other hospitality-related programs in BC.
Information and tasting notes courtesy of Okanagan Falls Wineries Association, the wineries, and Dana Lee Consulting.  Featured image courtesy of Noble Ridge Vineyard & Winery. Bottle images MyVanCity.
[wdi_feed id="2″]