On our recent trip to Okanagan Falls we enjoyed an afternoon wine tasting at Noble Ridge with co-owner Leslie D'Andrea.
It was a warm, sunny day in May that saw us descend, totally unannounced, at Noble Ridge. We were lucky to find Leslie not just on site but available to lead us on a tasting journey.
We were joined by MyVanCity guest blogger Valerie Stride (@demystifiedvine) as a bit of a celebration and congratulations to Stride for her successful win at the Tasting Games final showdown in Kelowna.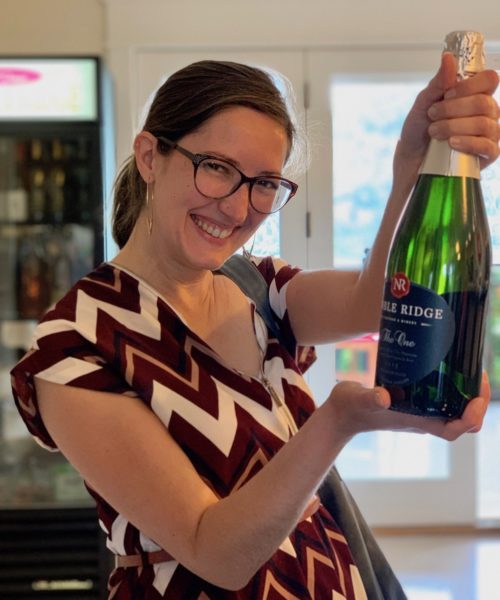 Stride competed against a celebrity panel and the audience to become the top scoring audience member at the Tasting Games Finale. Kudos to Valerie Stride and congrats on her inclusion on the panel for the Tasting Games 2020.
Here is what we tasted:
2015 "The Wild One" Sparkling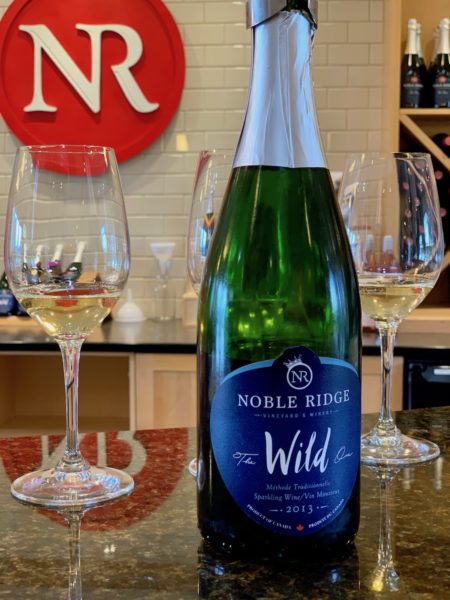 Typically our Sparkling is made the traditional French style. In 2013 things got a little WILD! This bottle was fermented using the natural yeast found on the grapes at harvest. This is an artisanal wine, the sweetness scale will vary slightly from bottle to bottle (Brut to Semi-Brut). You don't know until you pop the top.
Unfortunately, the Wild One is no longer available for purchase. It's worth noting that this 2013 vintage one-hit-wonder lead us to some experimentation creating a Port-style wine. 
Since some of the base wine from the Wild One did not take to the second round of fermentation to produce the desired bubble, we found ourselves with excess to play. We sent the still wine to Maple Leaf Distillery to be distilled and they sent us back a spirit, which we used to fortify our 2014 Merlot.
We hope to release new vintages of the Port-style within the year. 
Every celebration should start with a sparkling! This one of a kind "Wild" wine was fun in a glass. Glad we had a chance to try this sparkler and looking forward to tasting the Port-style wine once it's released.
2016 Reserve Chardonnay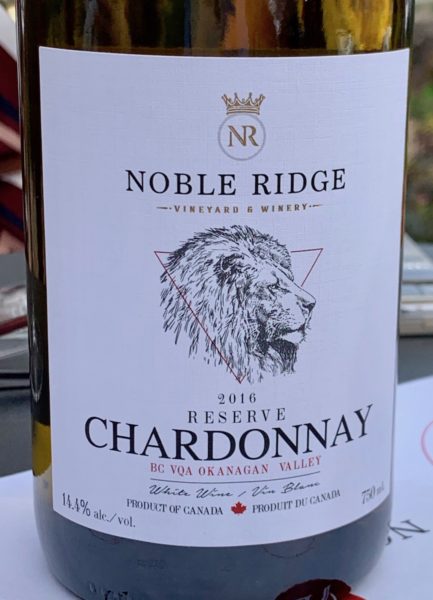 TASTING NOTES
Aromas of peaches and cream with hints of vanilla and caramelized stone fruit re accentuated with subtle citrus notes and baking spices. The marzipan finish is lively and bright with a rich, creamy texture.
This was a lovely, fruity Chardonnay with very mild toasty oak, almost discreetly in the background. Good for those who prefer their Chardonnay less oaked. It had pleasing scents of yummy candy. I really enjoyed this one. $26.00 online or at the Wine Shop.
2015 King's Ransom Chardonnay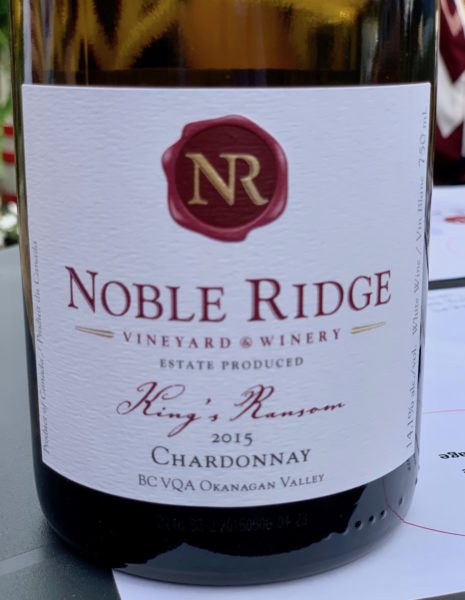 TASTING NOTES
Our King's Ransom Chardonnay is truly a jewel in our collection. This brazen Chardonnay is made entirely with Estate grown Chardonnay grapes. It spends 14 months in French Oak barrel and undergoes partial malolactic fermentation. Rich aromas of butterscotch, vanilla, peach cobbler and baking spice are complimented by flavours of banana cream pie and caramelized stone fruit. Subtle oak flavours and aromas are integrated perfectly giving it a rich and creamy texture. The silky finish elegantly lingers long after your last sip.
FOOD PAIRING
Pan seared scallops, Truffle prawn risotto,  Pecan crusted halibut, Chicken cordon bleu 
A characteristic Chardonnay with aromas of roasted marshmallow. I thought this Chardonnay had more flavour than the 2016 Reserve. Very tasty and what I would describe as "very chardonnay" for lovers of Chardonnay wine. Unfortunately this wine has sold out since our visit.
2015 Reserve Pinot Noir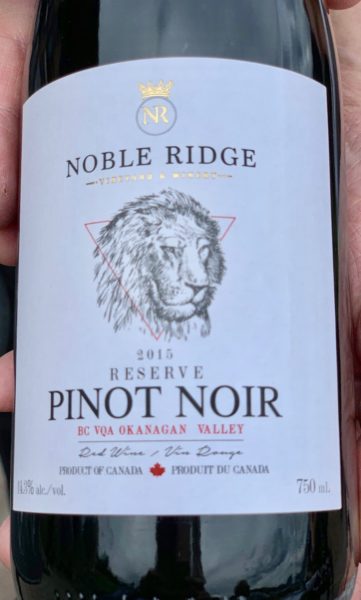 TASTING NOTES 
This bold and deeply complex Pinot Noir delivers many layers in both aroma and flavor. Rich black cherry and anise aromas are enhanced by a subtle earthiness. The palate follows with notes of blueberry jam, caramel and cherry cola carrying through a long lingering finish. 
FOOD PAIRING 
Grilled meats, Charcuterie, Baked lasagna & spaghetti  and Mushroom risotto 
Aromas of raspberry and blackberry jam with a tiny scent of smokiness and sweetness. Flavours of strawberry, cinnamon and somewhat yeasty bread and burnt wood. Refreshingly light. A pleasing orangey red colour tone. A Wine Club exclusive.
2015 Reserve Meritage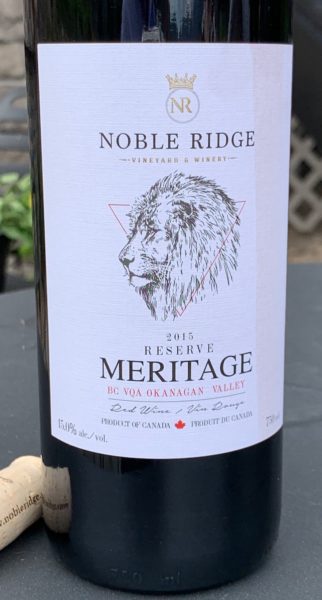 Aromas of cranberry and cassis are complimented by hints of spice and savoury earthiness. 
This wine will age gracefully for 8-10 years.
Food Pairing
Steak, grilled lamb, blue cheese, grilled Portobello mushrooms, dark chocolate desserts.
A slight syrupy essence with flavours of raisins and dark fruit, beautiful. A combination of deliciously sweet and savoury taste. $34.99 online and at the Wine Shop.
2015 King's Ransom Meritage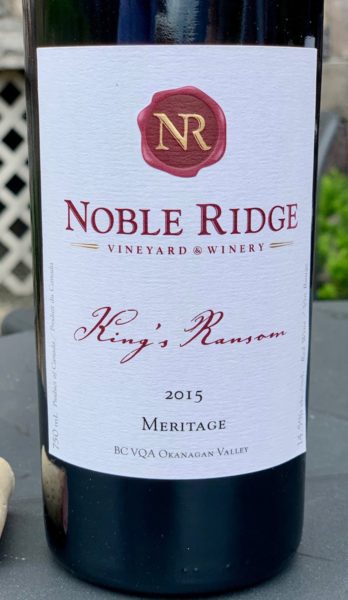 TASTING NOTES
Our highly awarded, full-bodied King'sRansom Meritage is made from carefully selected blocks in the vineyard. The fruit is hand-picked and sorted to ensure top quality. After 24 months in French and American oak barrels, this blend boasts rich, complex aromas of leather, tobacco and ripe blackcurrant. On the palate, flavours of dark chocolate and ripe plums are complemented by delicate savory notes reminiscent of dried thyme. Deep and layered, the velvety tannins carry through a long finish.
FOOD PAIRING
Prime rib steak, sharp aged cheeses and dark chocolate
Flavours of cherries, alcohol forward and absolutely delicious. Light tannins. $60.78 online or at the Wine Shop.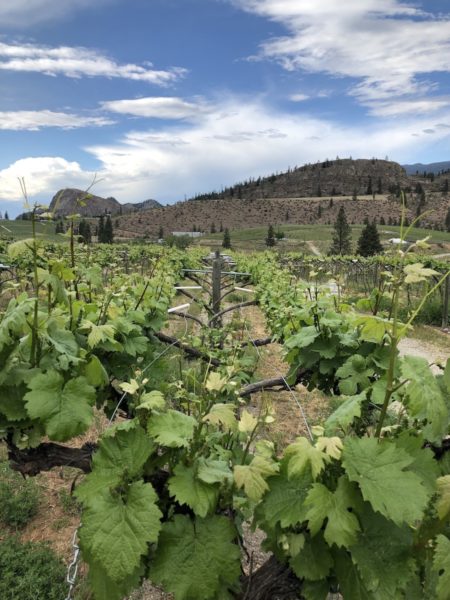 We enjoyed our tasting outdoors on the patio at Noble Ridge. Their newly renovated tasting room, deck, patio and green space are all available for wine tasting experiences (advanced notice recommended). In addition there are two private spaces available (by appointment) for wine club members, or by advance arrangement directly with the winery for private tastings, dining or special occasions. A catering kitchen is available to book.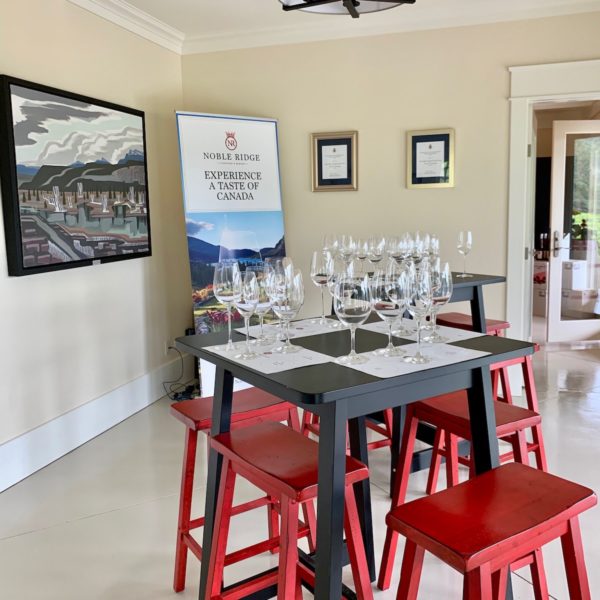 About Noble Ridge Vineyard Winery
Noble Ridge Vineyard Winery lays in the Okanagan Valley at the northern most tip of the only desert in Canada. The winery is named for the noble varieties of grapes grown and the ridge that divides the land on which they thrive. But this noble name is more than just a nod to the land. It's a statement of values and a reminder of the hard work and dedication on which the winery was built.
Jim and Leslie D'Andrea began their winery in 2001. When they purchased the property it had only 3.5 acre of vines. Since then they have planted an additional 20 acres and have grown their dream into an award winning winery. Tending to vineyards and making the wines is all done by hand on site by a team of dedicated workers who strive every day to create exceptional wine that reflects its noble namesake. Guests are always welcome to enjoy the breathtaking views with a picnic overlooking Vaseux Lake or to spend time exploring the vineyard with a tour.
Upcoming at Noble Ridge
There is so much going on at Noble Ridge. Did you know Jim & Leslie D'Andrea host private parties (minimum 12 guests). Dates are limited. More info here.
2019 Vine Dining Signature Event on July 19.
West Coast Kids Cancer Foundation Concert on August 24  For tickets – Preston 250-497-7945 .
Harvest Work Day October 5 and October 6
Noble Ridge Wine Club – five club options (at this time club memberships are at capacity) you may add your name to the wait list.
Noble Ridge is proud to support local business, arts and causes. Noble Ridge currently provides support for the following organizations:
Bocuse d'Or Canada
Canadian Foundation for Aids Research (CANFAR)
Kelowna Ballet
Okanagan Symphony
Okanagan Falls Wild West Fest
Theatre Calgary
CKUA Radio network
George Wilson Bursary Fund, South Okanagan Agricultural College
BC GrapeGrowers Association
Thompson Okanagan Tourist Association
Kelowna General Hospital
Penticton Art Gallery
Red Cross – Alberta Relief
Okanagan Falls Sub-Geographical Indication
The new Okanagan Falls sub-GI incorporates the area immediately south of the village of Okanagan Falls, east of the Okanagan River along Highway 97 and to approximately 500 metres elevation. Okanagan Falls is a sub-GI of the Okanagan Valley, covering an area just under 2,000 acres (800 hectares). It is estimated there are approximately 370 acres (150 hectares) of vineyards within the area.
The sub-GI is located on the east side of the Okanagan Valley giving long afternoon sunlight with cool mornings. Cool air from higher elevations flows into the region at night keeping night time temperatures low and therefore retaining acidity. Chardonnay, Pinot Noir and Pinot Gris account for roughly 75% of the planted acreage in the area.
As a consumer it's nice to know where the grapes are grown, under what climatic conditions and terroir. As we explore more about BC wine and the regions, GIs and Sub-GIs, we can identify the wines we enjoy.
When visiting BC Wine Country, before you go: Do your homework and a bit of research about the wineries you wish to visit. Check the winery website to find out their months, days and hours that their Tasting Room is open. Know if you need to book your tasting in advance of your visit. Many wineries are now so busy there may be times that they are unable to accommodate you. It will be a much better visit if you have a confirmed appointment. Be on time. Expect to pay for your tasting, some, but not all wineries refund all or a portion of the fee if you purchase wine. Plan ahead for a designated driver or use the services of a wine tour company. Limit the number of wineries you visit in a day. A more leisurely timeline will increase your enjoyment. For the best overall experience, I like to limit my daily visits to three, maximum two wineries if a winery lunch is on the agenda.
With thanks to Leslie for her time and expertise. Tasting notes, food pairings, and feature image courtesy of Noble Ridge. All images, except as noted, MyVanCity. Sub-GI information courtesy of Wines of British Columbia. I received a complimentary tasting for myself and two guests. I purchased one bottle of wine. Valerie Stride received a complimentary bottle of "The One" as a congratulations gift. Read more about Tasting Games here.
[wdi_feed id="2″]