"In this series I will be sharing a randomly selected wine and the dish I paired for #BCWineGoals"
In January and February of 2021 the Wines of BC, Mijune Pak, and Save On Foods ran a giveaway on Instagram. Followers were asked what their "BC Wine Goals" were. My #BCWineGoals were to randomly choose a bottle of BC wine from my "cellar" and then select a recipe to make a dish to pair with the wine.
Here is my interpretation of the recipe (you can find the original at NYTCooking.com). As usual I take great liberties with the recipe, this time mainly by adding a few ingredients and leaving a few off.
Sheet Pan Bake with Broccolini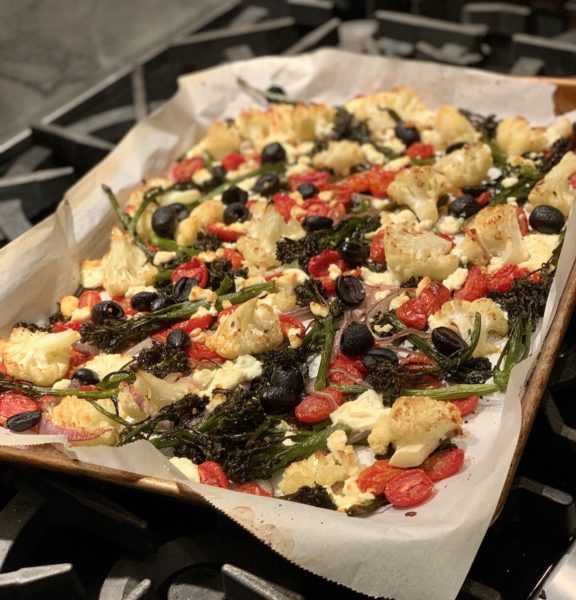 Ingredients:
Broccolini
Cauliflower
Red Onion
Grape Tomatoes
Black Olives
Goat Cheese
Olive Oil
salt and pepper to taste
Trim the ends of the broccolini and break the cauliflower into smallish pieces. Slice the red onion. Toss the vegetables together and coat liberally with olive oil, add salt and pepper. (if you like spicy add red pepper flakes) Slice the tomatoes in half and sprinkle with salt and pepper.
Lay out all the vegetables and tomatoes on a cookie sheet lined with parchment paper, drizzle with more olive oil. Roast at 400 degrees for 20 to 30 minutes. At this point remove the pan and turn the oven to 450 or 475 degrees.
Flip the cauliflower and broccolini. Add crumbled goat cheese and the olives to the sheet pan. You can check for seasoning and drizzle a bit more olive oil. Return to oven for another 10 to 15 minutes. If you prefer, you could put the sheet pan under the broiler.
The broccolini and cauliflower should be crispy. Note: the cauliflower pieces should be crispy but not soft. The goat cheese will soften and the tomatoes will blister. Finish with a drizzle of top quality olive oil.
Serve on its own or with orzo, rice, or pita bread and tzaztiki.  If you prefer this dish could be made vegan by leaving off the goat cheese.
I have made this dish before and find it is easier to control the finish of the vegetables without the cauliflower. I opted to add cauliflower and use goat cheese because I had those ingredients on hand.
Suggested BC Wine pairing:
2019 Eau Vivre Cinq Blanc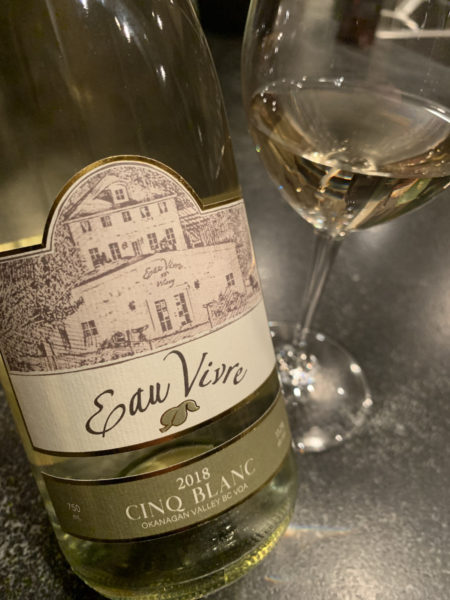 This wine paired well with the broccolini and cauliflower. Both of these vegetables are from the Brassicaceae family which includes cabbage and brussel sprounts. Although they can be slightly harsh, or even bitter, they are much more mellow after roasting. The goat cheese, after baking, is mild. The subtleties and acidity stood out next to the dish.
Luscious tropical aromas of white peach, pinapple & lemon zest lead to flavours of passionfruit, melon & guava, bursting gracefully from this young spirit. Complex yet subtle, this medium bodied wine follows with a bright acidity and a brilliant & expressive finish.
Tasting notes courtesy of the winery. Notes (in italics) are my own. The first recipe in this series; #BCWineGoals | Mayhem Pinot Blanc | Seared Scallops in Spicy Carrot Coulis can be viewed here.