"In this series, I will be sharing my take on which BC Wine pairs well with some inspirational recipes"
Definitely the star of this dinner was the Maverick Sauvignon Blanc that was the perfect match for the Roasted Zucchini with Garlicky Bread Crumbs and Mozzarella. Plus a repeat dish (a definite favourite) Italian Sausage Meatballs, this time with Marinara Sauce.
The combination of zucchini, mozzarella cheese, pork sausage and tomato sauce just begged for an acidic, fresh white wine and I think this was a winner!
Suggested BC Wine pairing:
2020 Maverick Sauvignon Blanc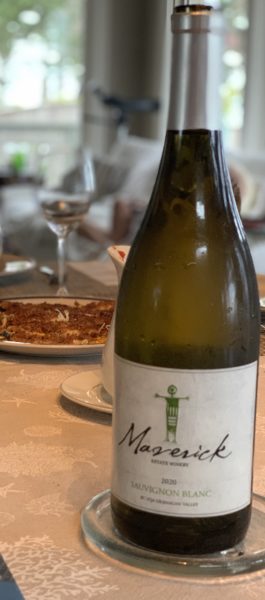 Deep straw yellow colour shows the small component of barrel aging this wine received, and flecks of emerald from the majority of wine done in stainless steel. Beautiful clarity and brilliance in the glass. Nose is stunning and pops with freshly cut mint, papaya, guava, banana and pineapple. There is a definite star fruit quality here as well, showing the greenish side of this grape varietal. Not grassy and vegetal but instead fresh and fruity. Palate bursts with lime juice, passionfruit and a round chalky note, and with added texture from the oak, giving a key lime pie crust character.
Crisp apples, green gage plums, straw, ever so slight lemon scents.
So delicious, this wine pairs exquisitely with a number of dishes. This dish was meatballs made with mild Italian sausage (pork) and garlicky, anchovy, cheesy zucchini which really put the wine through its paces.
Smooth, rich and slightly acidic. Light straw colour and perfect clarity. The level of acidity was ideal. Flavours of fresh fruits and rhubarb, tingly but densely flavourful.
Get this beauty before it's gone! You will not be disappointed. Amazing price point!
Roasted Zucchini with Garlicky Bread Crumbs and Mozzarella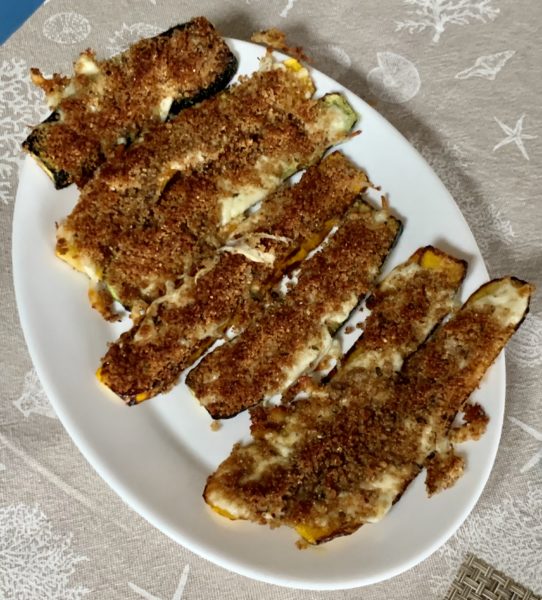 INGREDIENTS
olive oil
4 medium zucchini, sliced lengthwise into 1/2-inch-thick slices
 salt
bread crumbs (4 slices)
½ cup finely grated Parmesan
4 anchovy fillets, chopped fine
1 minced garlic clove
fresh oregano
red-pepper flakes, optional
1 cup grated mozzarella
 Black pepper
torn basil or parsley leaves
PREPARATION
Heat broiler. Line a baking sheet with parchment paper (trim excess to prevent a flame-out) Dip each zucchini slice in olive oil and place on the baking sheet, sprinkle with salt
Broil until golden brown. Flip and broil until golden in spots.
Toss together bread crumbs, Parmesan, anchovies, garlic,  oregano, red-pepper flakes and salt. Add 2 tablespoons of olive oil and mix into the crumbs.
When zucchini is browned on both sides, turn off broiler and turn oven to 500 degrees.
Sprinkle zucchini with the grated mozzarella, then bread crumb mixture; generously drizzle with oil. Bake until cheese melts and bread crumbs turn golden.
Serve with marinara sauce on the side.
Although maybe not the most picturesque dish it was realy tasty and a big hit! Served along side the Italian Sausage (pork) meatballs, pappardelli pasta and Marinara sauce.  Recipes from a previous #ThisWineThatDish featuring Sheet-pan Pork Sausage Meatballs here. This time the Italian Sausage Meatballs were fried on the stove with excellent results. It couldn't be easier, just use your favourite Italian Sausage (removed from the casing).
Wine notes courtesy of the winery. My notes (in bold italics). I received complimentary wine to facilitate this feature.  All opinions are my own.