"In this series I will be sharing my take on which BC Wine pairs well with some inspirational recipes"
As a new convert to this delicately flavoured fish it is fast becoming one of my favourite dishes. Seared, baked or steamed this fish keeps it's firm texture and retains its moistness. Delicious no matter how it's prepared or served.
Options include pan fried with brown butter and wine sauce, steamed with lemon, or baked au gratin. For this dish it was pan fried in butter with lemon and fresh dill. Served alongside a provencal mix of zucchini, tomatoes and garlic seasoned with herbs de provence.
Suggested BC Wine Pairing:
Hester Creek Pinot Gris Viognier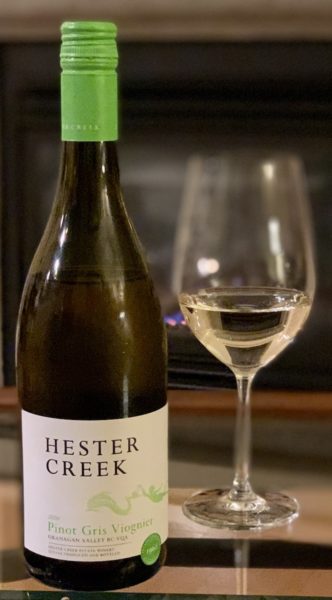 Winemaking
Our unique white blend of Pinot Gris and Viognier is crafted with fruit from select south Okanagan growers. The Pinot Gris grapes for this vintage are from our Vineyard Manager Iqbal Gill's Fairview vineyard and our Road 7 vineyard here in Oliver.
The Viognier grapes are primarily from our long time growers Star Vineyard located in sunny, Osoyoos and Stone's Throw Vineyard on lower Black Sage.
The Viognier and Pinot Gris tanks were fermented separately in stainless steel. They underwent a long, cold ferment on average 15 days between all the lots to best preserve the delicate aromatics and flavours. Following fermentation the lots were cross-blended and aged an additional two months in tank. Fresh, elegant, and a delightful showcase of these popular varietals.
Tasting notes
An enticing blend of Pinot Gris and Viognier, suggesting summertime echoes of key lime, pineapple, and lychee nut. The lush and refreshing palate is bursting with zesty citrus flavours balanced by wildflower honey. Unoaked and incredibly satiating, enjoy with friends, sunshine and light appetizers.
This was a delightful wine that sings with fruity flavours and excellent acidity then surprises with a mellow finish that speaks of the Viognier in the blend. Scents of ruby grapefruit and Granny Smith apples. Not so light as to get lost with the pairing, but crisp, reflecting the Pinot Gris initially and following with the Viognier. The combination is a winner and gives the wine a nice depth and balance.
Available at select Save-On-Foods for $16.99 (plus taxes).
Pan Seared Icelandic Cod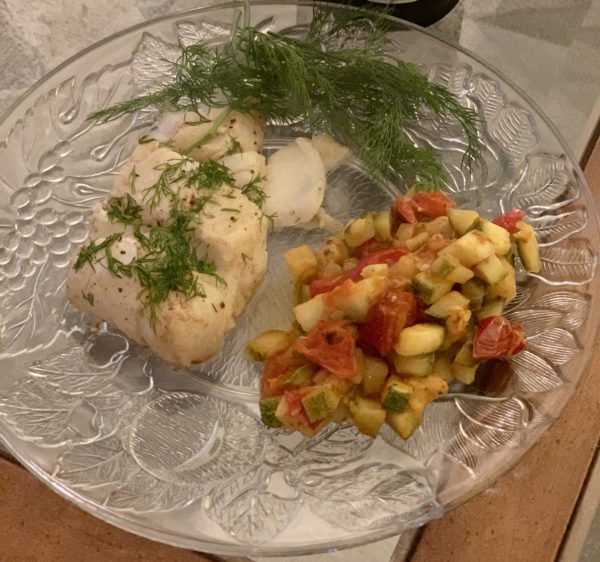 Ingredients
6 oz Icelandic Cod per person
fresh dill weed
lemon juice
butter
salt and pepper
zucchini chopped
tomatoes chopped
garlic
herbs de provence
salt to taste
olive oil
This recipe couldn't be simpler. The fish was pan fried in butter for about ten minutes on medium-high. Generously sprinkled with salt and pepper and juice of a fresh lemon (to taste) and freshly chopped dill weed.
Icelandic Cod has white and firm flesh that is sweet and mild – somewhat similar to Pacific Cod. The fish holds together well as long it isn't overcooked. My fresh, thickly cut filets were purchased at Seafood City at Granville Island Public Market.
This is a fish for people who don't like fishy fish. It is absolutely deliciously moist and lends itself to various side dishes.
Winemaking and Tasting notes courtesy of the winery. My notes (in bold italics) I received complimentary wine to facilitate this feature. Look for this Hester Creek wine to be included in #FavouriteThings 2021 Holiday Gift Suggestions guide November 1st thru December on MyVanCity.ca