"In this series I will be sharing my take on which BC Wine pairs well with some inspirational recipes"
Friday Pizza Night is a big deal in our house and along with a few favourite pizza toppings we always pair the pizza with a great wine. This time it was paired with a TIME 2018 Syrah. Bingo! The perfect pairing for a casual but delicious pizza.
Suggested wine pairing:
TIME

2018 Syrah

NEW RELEASE
VINEYARDS
Stark Vineyard (Osoyoos)
WINEMAKING
18 months in small French Oak barrels
TASTING NOTES
On the nose, bold aromas of ripe blackberry and hints of mint. On the palate, rich flavours of fresh black currant and dark plum with traces of ground pepper and cinnamon.
Can you find a better pairing for pizza? I don't think so. This wine is full bodied and delish. The wine elevated this casual, and very rustic, dish to the next level. Bursting with ripe, dark fruits with a fabulous, lingering finish . Medium tannins but contolled, especially after decanting but with a slight tang of spice to tantalize the palate. There is a reason Syrah is one of the most popular BC wines and TIME does an excellent job.
Never underestimate the power of a good wine to make the ordinary into the extraordinary. The only thing missing is which movie to watch while we munch and sip away.
Friday Night Pizza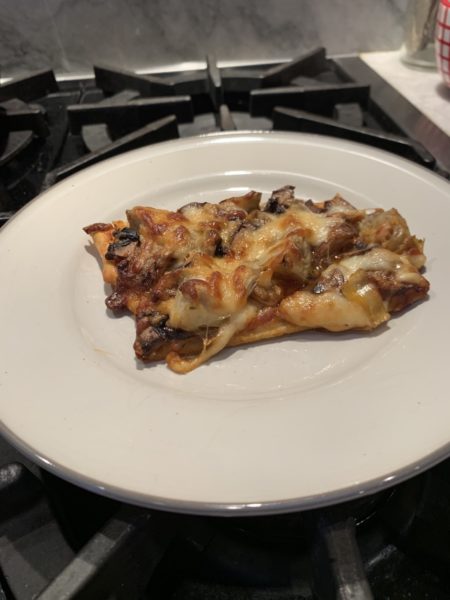 This is a two step process starting with the pizza dough. After trying numerous recipes this is the one I like the best that also nets the best results. It's flexible enough you can make it to use almost right away and forgiving enough to wait until you're ready to work with it. For the complete pizza dough recipe use this link.
As you can see from the images pizza doesn't have to be perfect, it doesn't even need to look perfect, but it sure does taste every bit as good as it looks.
Follow the directions for the pizza dough. Roll or toss the dough into a shape (round, square, rectangular, or avant garde) place on a pizza stone or a cookie sheet (lined with parchment paper for easier clean-up)
If you have followed the directions and used ample olive oil to grease the bowl your dough should have some nice olive oil already incorporated, but it is nice to add a little more oil to the surface of the dough.
First top with some sauce, preferrably homemade (it's super easy). Use a premium quality can of Italian tomatoes. The best kind will be packed in thick tomato sauce, not the watery juice. Put the tomatoes and sauce into a sauce pan. You can add onions and spices to taste, salt, pepper and finely diced garlic. (dried oregano, basil, garlic powder, red pepper flakes) Use your imagination. As it heats through to mingle all the tastes, break up the tomatoes with a wooden spoon to the consistency of a chunky sauce. If it's not thick enough just cook a little longer. (you can do this ahead of time)
Next load it up with whatever cheese you are using, add a variety of toppings and finally more cheese.
Here are two suggested topping combos:
tomato sauce, Litehouse ranch dressing, Mozzarella cheese, ham or crisy bacon, leftover chicken (cut to bite size pieces), pineapple, more cheese and arugula (optional, added after baking)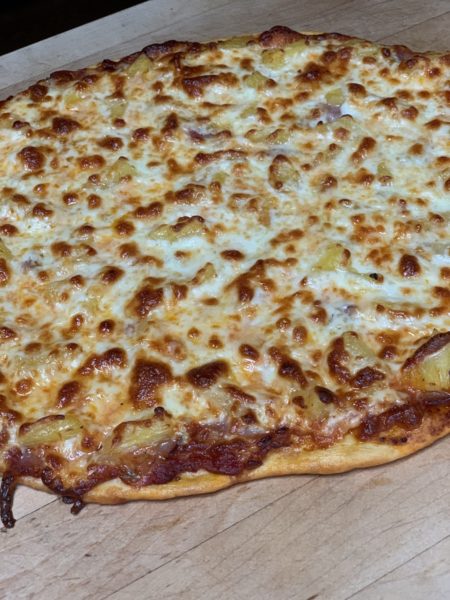 tomato sauce, Mozzarella cheese, chunky pieces of grilled zucchini, fried mushrooms, artichoke hearts, roasted garlic, Mozzarella and plus a sprinkle of Parmesan cheese (optional)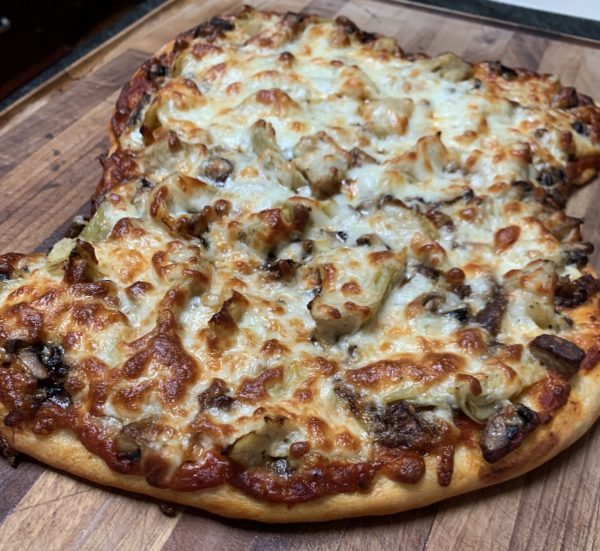 Bake at 425-450 on the top rack of the oven. After 5 to 10 minutes, or when the pizza edges just start to turn golden, carefully remove from the cooking sheet and bake for another 5 minutes or so directly on the oven rack.
Be creative! Just remember to pair your pizza with a good BC wine and enjoy!
For more TIME Winery wine suggestions use this link to the latest #ShiptoSip feature. For the recipe paired with TIME Voignier use this link For more wine pairing and recipe suggestions use this link to all the #ThisWineThatDish features and this link to all the #Taste features.
Notes (in italics) and bottle shot courtesy of the winery. Pizza images and feature image MyVanCity. I received complimentary wine to facilitate this feature. All opinions are my own. If you would like to be featured on MyVanCity.ca please connect with your pr agency or email valerievdg@nullgmail.com for details.