"This series features both the BC Wine new vintages and a few favourites"
With an opportunity to participate in a Zoom wine tasting of Time Winery new releases to celebrate International Women's Day I received a shipment to review. During that tasting I toasted to all women with the Evolve Cellars Pink Effervescence, which by the way, is a favourite!
While I am working my way through the wines from Time Winery I wanted to bring them to your attention ahead of my individual reviews when I will be pairing the wines with a dish I have made.
These wines are anticipated by BC wine lovers and I just can't wait any longer to share them with you. If you are able to visit Time Winery & Restaurant, safely, at their fabulous full production winery and tasting room in Penticton you will be able to taste and buy these wines. The restaurant is open for patio dining, reservations a must due to limited capacity. All of these wines are currently available to purchase online.
Here are the wines available now to purchase and enjoy! #wineonline
2018 White Meritage
VINEYARDS
Silver Barrel (Okanagan Falls) and Desert Wolf (Oliver)
WINEMAKING
40% barrel fermented in French oak and the rest was cool fermented in stainless steel tank.
TASTING NOTES
Classic aromas circle in the glass: honeydew melon, pear, and a hint of tangerine. Taste hints of apricot and mango, swirled with ripe gooseberry.This wine is mellowed by barrel aging, resulting in a sturdy and vibrant finish with delicate traces of oak.
2018 Viognier

VINEYARDS
Raison d'Être Vineyard (Naramata) and Adega Vineyards (Osoyoos)
WINEMAKING
20% barrel fermented in French oak, aged 5 months sur lie and the remainder cool fermented in stainless steel tank.
TASTING NOTES
The nose offers complex aromas of pineapple, orange, apricot, citrus and floral notes. Tropical flavours continue through the lush and round palate, balanced by a kiss of sweet coconut from oak barrels, leading to a long finish.
2018 Syrah

NEW RELEASE
VINEYARDS
Stark Vineyard (Osoyoos)
WINEMAKING
18 months in small French Oak barrels
TASTING NOTES
On the nose, bold aromas of ripe blackberry and hints of mint. On the palate, rich flavours of fresh black currant and dark plum with traces of ground pepper and cinnamon.
2018 Cabernet Franc

NEW RELEASE
VINEYARDS
Adega Vineyard (Osoyoos) and Halla Vineyard (Kaleden)
WINEMAKING
Aged 16 months in French and American oak barrels.
TASTING NOTES
This Cabernet Franc exhibits classic aromas of red berries and black cherry with hints of pepper and sage. On the palate, you'll notice plum and blackberry with soft tannins, making this an approachable and well-rounded wine.
2018 Cabernet Sauvignon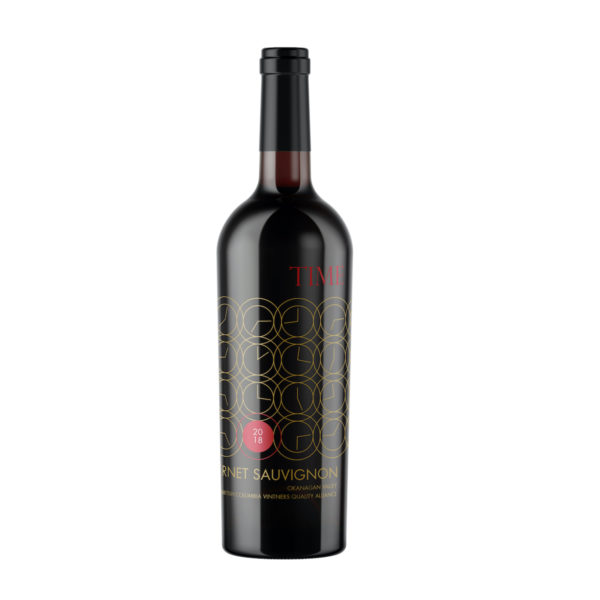 NEW RELEASE
VINEYARDS
Haynes Point (Osoyoos) and Gold Hill Vineyard (Oliver)
WINEMAKING
Hand-picked, crushed and destemmed. Fermented in stainless steel tanks. Aged 18 months in French oak barrels.
TASTING NOTES
This vintage exhibits classic aromas of cassis, blackberry and vanilla with hints of pepper on the palate. This complex, full bodied wine is well rounded and approachable.
While the literal definition of TIME may be elusive, it is an observed phenomenon which allows us to honour key moments in our shared journey through life. Our team knows that our unique Okanagan terroir develops complex flavours that result in the right wines to celebrate any occasion. Enjoy this TIME Winery White Meritage together.
THE WINERY
TIME Winery is committed to creating wines that express the unique flavours of Okanagan wine country. Located in the former PenMar movie theatre; TIME Winery is a state-of the art downtown winery. The entire TIME Winery team has worked to ensure that the new crush pad, barrel cellar, custom fermentation hall, and onsite lab were built to ensure only the best quality wine, vintage after vintage.
The winemaking team invites you to visit TIME Winery for a firsthand tour and sip the latest vintages, which offer flavours of the surrounding Okanagan wine country, while you explore the inner workings of a fully-functional winery. Complete the experience at the tasting bar and lounge, or with your guests on the patio. TIME Winery's full kitchen and event space provide a unique venue for your next public or private event.
Bottle shots, and wine notes courtesy of the winery. Feature image: MyVanCity I received complimentary bottles of wine to facilitate this feature and for future review.