APRIL IS BC WINE MONTH
Now is your chance to support your favourite BC vineyard and/or winery and perhaps try some new ones that you have been meaning to try/visit. Did you know that there are:
More than 280 licensed grape wineries in BC and over 900 vineyards across the province
More than 80 grape varieties
More than 12,000 people employed in BCs vineyard and agricultural communities
More than a million tourism visits each year
(Source: Orchard & Vine Spring 2021)
That is a lot of reasons to support BC local, never mind taste some lovely wines. And of course, we have some suggestions for you – please keep reading.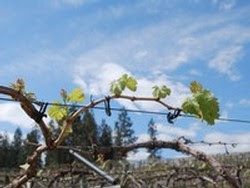 BE NOBLE PROGRAM – NOBLE CAUSES and PARTNERS
As many of you know, part of being noble includes reaching out and helping where we can.
We have 4 official NOBLE CAUSES
West Coast Kids Foundation
South Okanagan Women In Need
Vaseux Lake Stewardship Association
South Skaha Housing Society
We encourage you to check out our website HERE, to learn more about these wonderful organizations.
We have recently started an initiative called NOBLE PARTNERS. Our Noble Partners are organizations that we are teaming up with to either offer enhanced service and products to you and/or we can assist in some endeavor.
The Noble team has decided to support the BC HOSPITALITY FOUNDATION (BCHF) this month in their endeavors to provide funds for those in the hospitality industry who are deserving and needing a little extra assistance. For April and May, the BCHF has a fun, and fund-raising, initiative underway called #HospitalityHustle. The entire staff at Noble Ridge have signed up to help and have formed Team BE NOBLE. To learn more go to www.bchospitalityfoundation.com.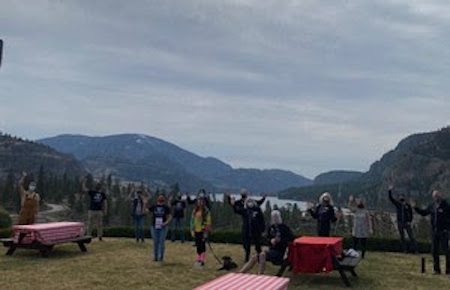 And while you are online, check out another one of our Noble Partners, BUY THE SEA, in Penticton at www.buythesea/contact.php. For those of you in Penticton, you can also check out their store, with wonderful seafood and fish (and every supporting spice, cookbook, etc. you can imagine) all delivered by Mike and his super-friendly staff. Ask to get on their newsletter list – next month (May), Mike will show Noble Ridge wines paired with 2 of his recipes.
– In the TASTING ROOM –
We are now open daily and enjoying seeing both our regulars and new guests.
We strongly recommend making your reservation ahead of time, using our online booking system, available HERE.
Walk-ins are accommodated if there is room.
Noble Tastings Daily, on the hour, between 11 am – 4 pm; $10/person (waived with purchase per tasting)
Premium Tastings Daily, 11 pm, 1 pm, 3 pm; $25/person (waived with purchase of $50 per tasting)
Picnics Daily, as weather permits, no booking required.

April is a busy month for our Vineyard and Winery team. The Winery is very busy as we prepare for bottling most of our reds this month, along with some of our King's Ransom Wines. Our 2020 Sparkling wines will also be bottled at this time, preparing them for their secondary fermentation which will take anywhere from 3 to 4 years and more.
The vineyard is a little quieter right now as we wait for bud break. Our Winemaker Benoit Gauthier is expecting a slightly earlier bud break this year, given the milder winter and spring weather to date. Compost has been added in many areas and minor repair work completed, getting ready for when the vines "wake up".
SUSTAINABILITY WINEGROWING BC
Benoit is leading a comprehensive Sustainability project at Noble Ridge, working with the Sustainability Winegrowing BC certification program. It is very comprehensive, covering a wide range of topics. We have several sustainable initiatives here at Noble Ridge such as regular composting, drip irrigation, and the use of geothermal and solar energy on-site. This certification process will take us to the next level and something we are all very excited about.
One new idea Benoit initiated this year was the use of a grape hoe. As our land is extremely rocky, our experience with using any kind of hoe or tilling type of equipment has not been a good one! The trials with a grape hoe have been very exciting. The grape hoe is basically a blade that goes into the ground 4 – 6 inches, cutting the roots of weeds, yet works it way safely around the vine. It gently turns the soil so disturbing the soil minimally but disrupting those pesky weeds and bunch grasses and will eliminate our sprays program.
As part of his ongoing work to constantly improve and enhance our soils, Benoit is also currently partnering with a few neighbouring vineyards to test a new cover crop in the future. According to research conducted by Agriculture and Agri-Food Canada,
"There are five significant benefits of cover crops in perennials [like grapes]: reducing soil erosion, reducing nitrite leaching, moderating temperatures, weed control, and increasing organic matter for enhanced soil biological activity."
Stay tuned!

2020 Rosé
The fruit-forward, French Provence style Rosé is made with 100% Cabernet Sauvignon grapes. Beautiful aromas of fresh rhubarb and white cherry are complemented by refreshing flavors of Asian Pear and dried herbs. The perfect patio sipper for those hot summer days!
$21.65 + taxes – ORDER NOW
2019 Noble MERITAGE
Rich and generous with lifted Black Current and Brambleberry. Accents of Cedar and Dried Cocoa with lingering notes of herb and graphite.
$21.99 + taxes – ORDER NOW
– SHIPPING –
Due to an ever-increasing list of new charges and increases in shipping expenses in the last 2 years, Noble Ridge has found it necessary to adjust our shipping charge policy.
Effective 01 April 2021,
COMPLIMENTARY shipping will take place as follows:
ROUND TABLE WINE CLUB members – 6 bottles or more
Non RTWC guests – 12 bottles or more
Additional customer re-directing expenses charged by our shippers to Noble Ridge will be charged to our guests.
As the current pandemic situation keeps many of our guests working from home, our shippers' additional residential delivery expenses to Noble Ridge will be paid by Noble Ridge.
While this is difficult to do, we trust that you will understand. If you do have any questions about this or any other aspect of your purchase, please contact Preston, our Director of Hospitality and Sales, at preston@nullnobleridge.com

Pending any changes announced by our government and/or health officials, we are pleased to continue to plan and work towards holding our SIGNATURE EVENTS through the 2021 season. Our winery association, the Okanagan Falls | Skaha Lake Winery Association is also planning an open house type celebration at each of our wineries. "SIP INTO SPRING", on Mother's Day weekend, May 8th – 9th.
Mark your calendars and save your spot now. These popular events sell out well before the event date.
SIP INTO SPRING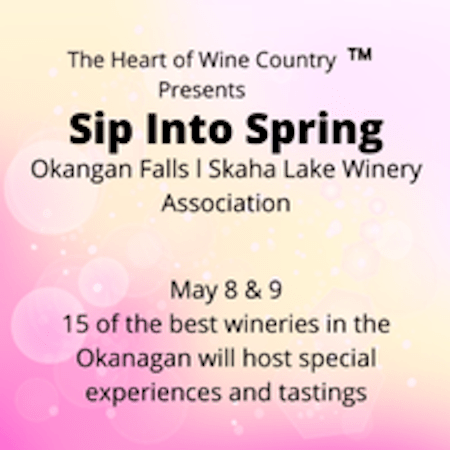 Sat., May 8 and Sun., May 9
11 am – 4 pm
At all Okanagan Falls | Skaha Lake wineries.
Booking ahead at individual wineries is recommended.
Click here for more information. (www.theheartofwinecountry.ca)
VINE DINING SERIES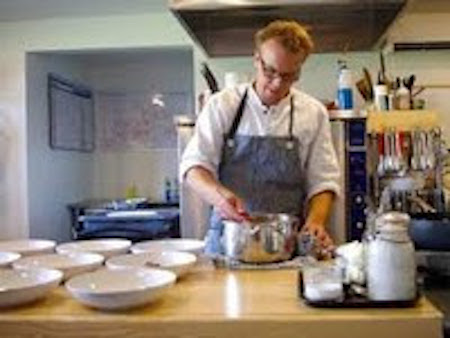 Fri., July 23 – 2 tickets remaining!
Fri., August 13 – 2 tickets remaining!
Sat., September 18
Join us on a culinary adventure in the vines. We will enjoy a multi-course gourmet dinner prepared by Chef Chris VanHooydonk and Backyard Farms. At this Noble Ridge signature event, we will be pouring a unique selection of wine specially curated by our in-house sommelier, Preston Radford, and Chef Chris VanHooydonk to perfectly complement each course. Enjoy an amazing meal, stroll among the vines with Owners, Jim & Leslie D'Andrea.
Tickets: $169.00 plus GST and Gratuity
*Must be legal drinking age to participate.
HARVEST WORK DAY & LUNCH
– Sat., Oct. 2 (almost sold out!)
– Sun., Oct. 3
Have you ever wanted to participate in a harvest? Here is your chance to be a part of the action! Come join us, the owners, our winemaker, and staff, as we pick grapes together. Your day will also include a tour of our crush pad, barrel/tank sampling, and a sit-down, hot harvest lunch catered by Joy Road Catering, complemented by award-winning Noble Ridge Wines.
Tickets: $109.00 plus GST and Gratuity
*Must be legal drinking age to participate.
Our goal is to create premium quality wines to share and enhance memorable life experiences. That goal is framed by our BE NOBLE perspective … IN WINE AND LIFE.
We value your opinions and feedback. Please let us know if you have comments, questions, or concerns by emailing experience@nullnobleridge.com.
The Noble Ridge Team
BE SAFE. BE KIND. BE NOBLE.
Noble Ridge Vineyard & Winery
2320 Oliver Ranch Rd, Okanagan Falls, BC V0H 1R2 tel: 250.497.7945
http://www.nobleridge.com
Information and images courtesy of the winery.