"In this series I will be sharing my take on which BC Wine pairs well with some inspirational recipes"
I have been waiting for just the right dish to pair with the TIME Winery Viognier I received for a virtual tasting to celebrate International Women's Day with a number of women in wine and a few men included to mix things up a bit.
It was an enjoyable experience which started off with Evolve Pink Effervescence – ideal to toast and cheer to all the smart, successful women attending the virtual tasting.
Although I had the option of tasting all the TIME wines that day I opted to wait and pair each wine with an inspirational dish. Here is the wine review and the recipe for the dish, Confit Leeks with Lentils and Lemon Cream.
2018 Viognier

The nose offers complex aromas of pineapple, orange, apricot, citrus and floral notes. Tropical flavours continue through the lush and round palate, balanced by a kiss of sweet coconut from oak barrels, leading to a long finish.
Barrel and stainless steel tank fermented.
I often approach a Viognier with a slight hesitation because I am more of a subtle fan than some examples of this grape exhibit. I was pleased to note that this Viognier, though bold, was very pleasing on the nose and not overly oaky or perfumed.  Smooth and rich with delicious tree fruits and citrus notes. As the wine sits in the glass it becomes rounder, while still retaining it's aromatics.
It matched well with the caramelized leeks and garlic cloves and complimented the herbs and lemon of the dish as well as standing up to the more lemony leek butter. A superb pairing.
Confit Leeks with Lentils and Lemon Cream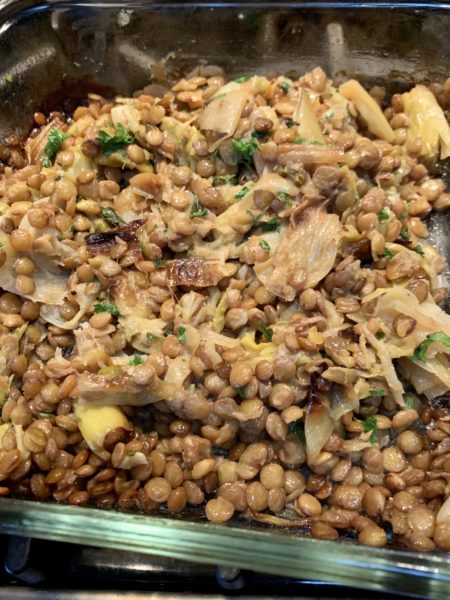 Ingredients
(served two)
3 large leeks, mostly the white with some light green
3 large garlic cloves, stem removed
3 thyme sprigs
salt and pepper
olive oil
lentils (green or whatever you have)
cream
Dijon mustard (about 1 tablespoon)
juice of one lemon
chopped parsley, dill and tarragon
Slice the leeks into rounds about 1″ long, rinse well and drain
Peel and remove the stem from the garlic cloves by slicing in half
Put the leek rounds, garlic and thyme in a glass casserole
Pour a generous amount of olive oil over the mixture and gently stir
(the original recipe called to keep the leeks upright [cut side up] which I found didn't work too well)
Salt and pepper to taste
Cover the dish tightly with aluminum foil
Place in a 350 oven and bake for 35 minutes, remove from the oven and turn (or gently stir) Remove about 1/2 cup of the leeks and the garlic, turn oven to 400 and return the dish to the oven for an additional 35 minutes.
Cook the lentils to just soft (about 10 to 12 minutes) I used 1/2 cup of lentils
Using the leeks and garlic, add heavy cream (at least 1/2 cup), Dijon mustard and one tbs of lemon juice. Pureé and set aside to serve as a side
After the second 35 minutes are finished remove the thyme sprigs and add the balance of the lemon juice and the chopped herbs, gently mix together.
Replace the foil cover and bake for an additional 10 minutes.
The original recipe called for the leeks to be cooked but not browned. I found my leeks and garlic became quite caramelized with lots of yummy caramel on the side of the casserole dish. I gently scraped and added the caramel to the dish and stirred it in well. It was quite delicious topped with a generous portion of lemon cream.
Bottle shots and tasting notes courtesy of the winery. Images: MyVanCity Tasting notes (in italics) are my mine. All opinions are my own. I received complimentary wine to review and participate in the Women's Day virtual tasting.
For more about the TIME wines visit my #ShiptoSip feature here.