"This series features both the BC Wine new vintages and a few favourites"
Looking for some wines that say "good times" then look no further than the wines that are everything you are looking for! A boutique winery with quality wines, staffed by friendly people in a picturesque setting with plenty of nostalgic flare.
Bring on spring and all the fun things we are looking forward to. Featuring a firecracker, cutie and a giggle! #wineonline
Cherry Baby 375ml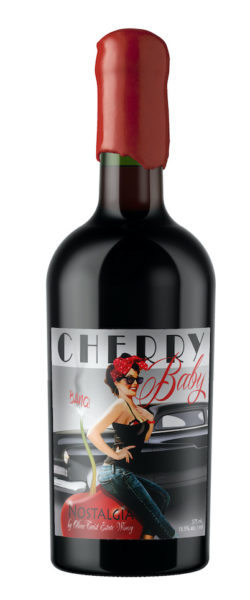 Non-Vintage, Solera, Port-Style fortified wine.
There's nothing quite as seductive as nostalgia. That indescribable feeling that overtakes you when a scent, a taste, a note played just right takes you back exactly where you want to be.
Bobbi Jo is known as quite the little firecracker. Her luscious flavours of ripe dates, toasty pecans, dark chocolate and lingering black cherry has got the whole town in an uproar!
A little glass of Cherry Baby is a great way to complete a meal. She's also fantastic with dark chocolate, including Black Forest Cake! Serve at cool room temperature, 16°C.
2019 Pink Cadillac 750ml

Billy Jean is on the scene cruisin' in with her Pink Cadillac. Cute as a button, Billy Jean knows what good taste is all about. She's a flirt and she uses her Pink Cadillac to lure you in. This little heartbreaker is here for a good time, and she'll have you begging for more. Catch her while you can!
Pink Cadillac rosé is just like her, playfully alluring you with her pretty perfume of red berries, lavender and spice. She'll get your motor running when you taste all the right notes of strawberries, cranberry, red current, raspberry, rhubarb, crab apple and citrus.  Billy Jean will have you singing 'I love you for your Pink Cadillac' – Bruce Springsteen!
Only 260 cases produced at our boutique, 100% women-run winery.
2018 Chantilly Lace 750ml
Cindy Lou's sparkling giggle creates delight wherever she goes! When this plucky little gal bounces in, her sprightly personality captures the entire rooms attention. Her flavours of honey, rose petals, creamy vanilla and gentle hints of spice create just the right tone to bring joy to any celebration.
This playful sparkling wine is made with Kerner and a splash of Viognier, finished in a semi-sweet style. A perfect pairing with waffles, peaches and cream for brunch, Angel food cake and berries or any celebration … like Tuesday night!
A nostalgic and chic boutique winery operated by a young family. Award-winning wines, always a fun atmosphere and memorable wine experiences! Winery and boutique shop open 10:00 am to 5:30 pm daily.
Tasting notes, bottle shots and feature image courtesy of the winery.