"In this series I will be sharing my take on which BC Wine pairs well with some inspirational recipes"
This was a pairing made in heaven. The asparagus pesto was rich and earthy while the aspargus tips that finish the dish were rich and sweet. With a finish of fresh lemon and lemon zest this was tasty and rich.
The wine needed to be able to handle the earthy, sweetish combination of the asparagus pesto and lightly cooked asparagus tips, as well as stand up to the distinct lemon flavour. The Frind Riesling provided the perfect foil for the Fettucini with Asparagus Pesto dish.
Suggested wine pairing:
2019 Frind Riesling

Our newly released vintage of Riesling has been a unique wine from grape to bottle. The two vineyards were hand harvested late season allowing for extra hang time to mature and develop.
The Kelowna vineyard (78%) was harvested October 18th, 2019 and the Oliver vineyard (22%) was harvested October 24th, 2019. The complexity of this off dry wine begins with honeysuckle and wildflower aromas, followed by fresh stone fruit and citrus flavours on the palate with bright, crisp acidity.
TASTING NOTES
Distinctive character, with rich palate coating textures and lots of layers and depth – this is benchmark Wine
Silver Medal London Wine Competition
Aromas of honey and fresh cut hay, herbacious with scents of grapefruit pith and sawdust. A clear, pale yellow colour, smooth, lighter, ever so slight diesel but rich with just the right amount of hints of lemon, tangy, with wonderful lingering flavours and excellent acidity.
Fettucini with Asparagus Pesto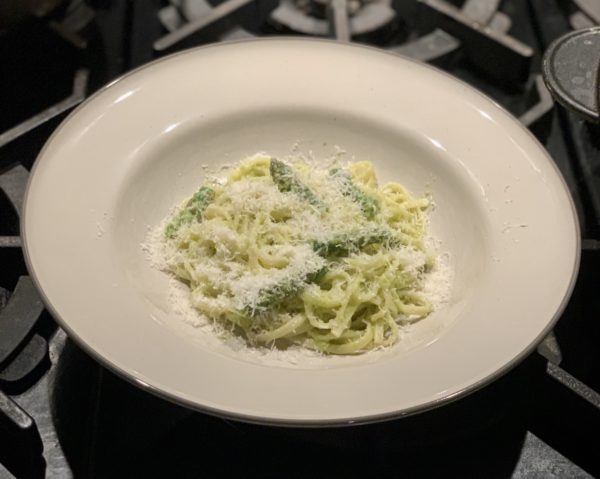 1 bunch asparagus
2 cloves garlic, chopped
6 tablespoons extra-virgin olive oil
½ cup grated Parmesan, plus more for serving,
Juice and grated zest of 1 lemon
Salt and ground black pepper
oregano, optional
Fettucini noodles
Slice off the tips of the asparagus and set aside for later.
Slice the asparagus into small pieces. Add the asparagus pieces and garlic pieces together in a food processor. Process until smooth. Pulse in the olive oil and season with salt and pepper to taste. Transfer to a small bowl and add the freshly squeezed lemon juice and lemon zest.
Cook pasta to 1-2 minutes less than directions. Transfer pasta, asparagus tips and asparagus pesto to a pan set on medium. Mix until all pesto has been evenly distributed (it will be thick), adding pasta water as necessary. Sprinkle with fresh Oregano if desired.
Wine and tasting notes (in italics) courtesy of the winery. My notes (in bold italics). I received complimentary wine to facilitate this feature and for a #FavouriteThings Holiday Gift Suggestions feature which you can read here.