"In this series I will be sharing my take on which BC Wine pairs well with some inspirational recipes"
This was a surprising easy dish to make but big on rewards. Deliciously flavourful and you can adjust the spice to suit your own taste. This dish just simmers with a unique taste that elevates what would otherwise be a simple dish to something special. Using bone-in chicken pieces to enhance the flavours, think winter comfort food. Make it a complete meal with jasmine rice and roasted root vegetables.
The flavours in this dish make it a challenging wine pairing. Although a Meritage may not be the first to come to mind with chicken but the complexity of this dish makes it the perfect pairng. Nothing steps up to the challenge like a rich, smoothly deep red wine from the Similkameen. The juicy balance of ripe fruit just cries out for a challenge, and meets it superbly in this Vanessa Meritage /  Chicken Adobo pairing.
Wine pairing suggestion:
Vanessa 2018 Meritage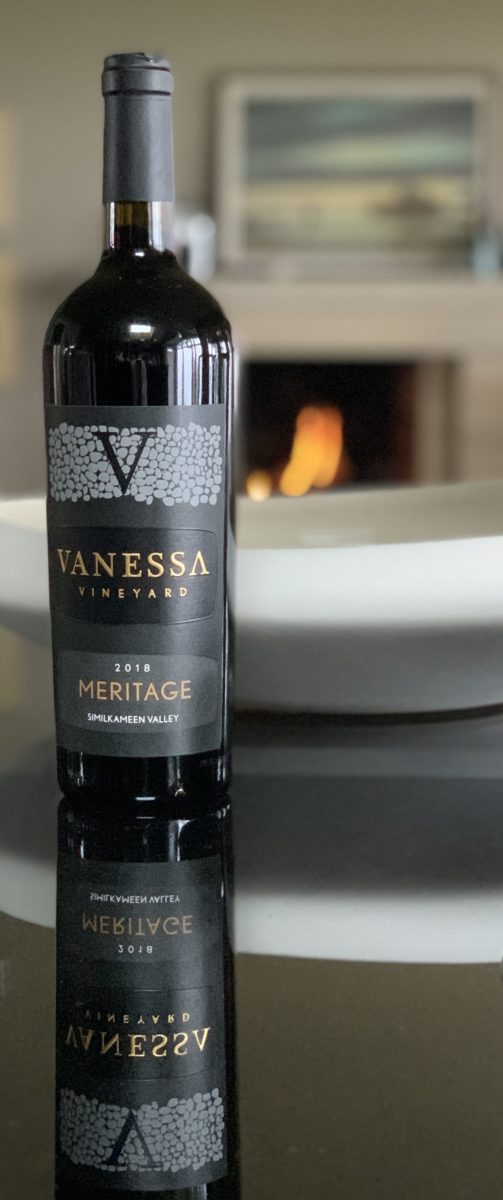 Flavour Profile
Our Meritage is a Cabernet-dominant blend of Cabernet Franc, Cabernet Sauvignon and Merlot. The nose balances red plum, cassis, cedar, and dried herbs. The palate is elegant and full bodied with notes of ripe raspberry, blueberry, savoury herbs, and a hint of smoke with a long rich finish.
Winemaking
Crafted from only 100% estate grown and hand-picked fruit. The grapes were destemmed and underwent a gentle crush before small-batch fermentation and hand punch down to maximize flavour and extraction. This vintage is almost entirely comprised of free run juice with only a very small quantity of pressed juice added to balance the tannins. Each varietal was individually fermented, and barrel aged for 8 months. The small lots were then carefully blended, and the final assemblage was aged 12 additional months in American and French oak of which 40% were new barrels. Beautiful integration of the soil minerality gives the wine exceptional character and quality. Only 31 barrels produced.
Growing Conditions
A long, moderate growing season started on schedule, yet with warmer than average spring temperatures. Cooler summer temperatures led into particularly warm autumn days with cool evenings. The results: an early bud break, increased crop sizes and slow ripening that allowed the fruit to fully mature with exciting flavour development for the reds in this vintage. Harvest began right on time, with our harvest for reds finishing in early November. Total heat units for 2018 at Vanessa were recorded at 1730.5 Growing Degree Days, similar to the previous year. The prolonged and mild 2018 growing season gives this vintage unique character and exceptional quality.
The Vanessa Vineyard Meritage is one fine wine. Made with grapes from two Bordeaux clones and one Pyrénées-Atlantiques clone the Meritage is rich, soft and always with an interesting complexity. Heavenly scents of stewed Italian plums and a rich port,  full of juicy ripe fruit flavours that tantalize the palate. Richly smooth with medium tannins. Excellent body with a lingering finish.
Chicken Adobo
coconut oil
4 garlic cloves, roughly chopped
2 teaspoons whole black peppercorns
1 teaspoon freshly ground black pepper
1/2 teaspoon red-pepper flakes (optional)
bone-in, skin-on chicken drumsticks and thighs
1 cup unsweetened coconut milk
1/2 cup water
1/2 cup coconut vinegar (or substitute rice vinegar or dry white wine)
1/4 cup soy sauce
4 to 6 Bay leaves
Heat the coconut oil in a heavy frying pan until sizzling. Add the garlic, whole peppercorns, freshly ground pepper and red pepper flakes (if using). Reduce heat to medium/low. Cook until garlic is toasted.
Turn the burner to medium/high and add the chicken pieces, skin side down and cook until brown and slightly crisp.
Mix together the coconut milk, water, vinegar and soy sauce and add to the pan with the Bay leaves. Turn to medium/low and simmer until the chicken is cooked through and falls easily from the bone.
Remove the chicken pieces and turn the heat to medium/high or high to reduce to a thick sauce. This only takes a couple of minutes so the chicken should remain warm. Pour the sauce over the chicken and serve immediately with rice and roasted vegetables.
Wine notes (in italics) courtesy of the winery. My notes (in bold italics). I received complimentary wine to facilitate this feature and the #FavouriteThings Holiday Gift Suggestions feature which can be found here.