"In this series I will be sharing my take on which BC Wine pairs well with some inspirational recipes"
This is without doubt one of my two favourite dishes. Company worthy and simply complex. This dish is both simple to put together but with the addition of an aioli and rouille it becomes more complex. It was also extremely difficult to find just the right pairing and we did experiment quite a bit before finding just the right wine.
The Bouillabaisse is from an old cookbook titled Floyd on France and it is really a fish stew rather than a fish soup. It can be made with a variety of white fish, nothing oily like salmon, shellfish (both in the shell or not) and crustaceans. The tomato base is alive with great quantities of garlic, subtler herbs such as thyme, celery (substitute for fennel) and saffron. But it is the inclusion of the aioli and rouille (if using) that take this dish over the top. Served with crostini and boiled potatoes.
The wine pairing:
La Stella LaStellina Rosato 2019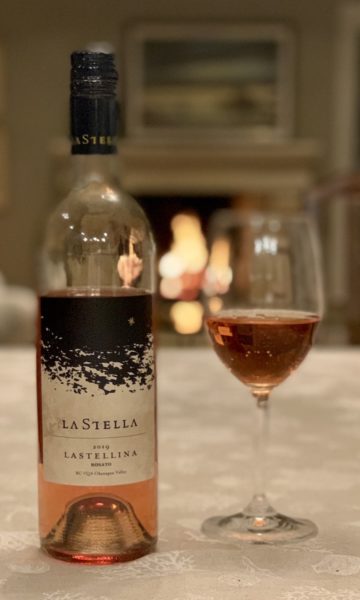 Beginning with an enticing scent of fresh, ripe strawberries followed by a fusion of juicy berries. Delicate aromas and a smooth texture with mixed summer berry flavours. A wonderful tangy spice adds to the essence and creates a dance on the palate. A lively finish with notes of fresh herbs and baked bread.
This wine was big enough to stand up to the powerful assortment of tastes in the dish. The acidity helped to balance the somewhat overwhelming garlic of the aioli and rouille. 
This dish was such a challenge to find just the right wine pairing. In fact we tried more than one wine varietal before this final, and perfect, selection. It takes a bold and well crafted wine to pair with the earthiness of the herbs and spices, and at the same time compliment the delicate seafood all in a tomato broth.
LaStellina is made by combining both the "press" and the "bleeding" method. LaStellina is a Rosato with personality and elegance. It is very slightly off-dry and intensely aromatic. This style of Rosato will complement any hot summer day on the patio or by the poolside.The cabernet franc adds some beautiful spice and herbal notes, Sangiovese bring with it those classic bing cherry notes while the Merlot provides a melange of red and dark fruit notes.
Pairings
Di Carne
The slightly off dry and highly aromatic qualities of this wine complement dishes that carry spice or piquant flavours. Hearty Indian or Thai curries would be a great choice! This wine will also work beautifully with strong aged cheeses.
Vegetariano / Vegano
A variety of vegetarian Indian and Thai dishes will work incredibly. Pairing this with lentil & bean chilli on a brisk fall day can work wonders.
This wine is currently sold out at the winery but is available at Everything Wines stores in Vancouver, Abbotsford and Langely at $26.98 SKU 578989
Bouillabaisse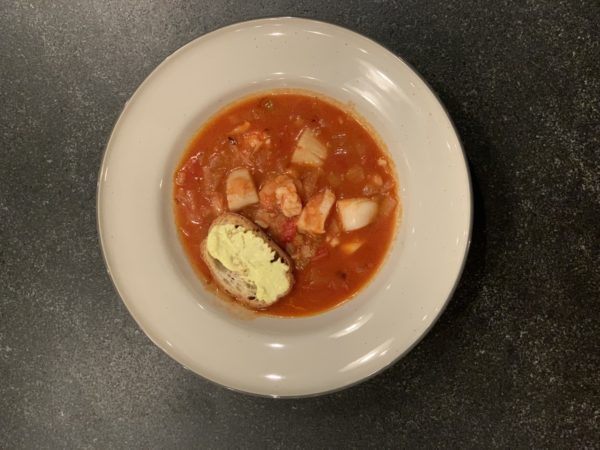 My variation of Floyd's Bouillabaisse
2 onions finely chopped
1 stalk of celery finely chopped
l leek thinly sliced
4 cloves garlic crushed
1 large can of good quality italian tomatoes
2 or 3 sprigs of fresh thyme
1 tablespoon grated orange rind
mixed white fish
Argentinian prawns cut in half
East Coast scallops cut in half or thirds depending on size (muscle removed)
salt and pepper
saffron
olive oil
potatoes (optional)
In a large cast pan saute the onions, celery, leek and garlic until golden. Add thyme and orange rind to the onion, celery and leek mixture and cook for another 5 to 10 minutes.
At this point you can carry on or set the mixture aside for later as you make the aioli and rouille. Put potatoes on to boil.
Meanwhile, bring one or more litres of fish stock (or vegetable stock) to a rolling boil. Add the fully boiling stock to the onion, celery, leek mixture and stir constantly as it begins to thicken. You may add additional olive oil to taste, salt and pepper and saffron.
Add the seafood in the order of how long it takes to cook. Less time is better. Spoon into individual bowls or a large serving bowl.
Serve with aioli, crostini, rouille and boiled potatoes.
Notes courtesy of the winery (in italics). My notes (in bold italics). 
If you are curious as to which other dish makes my top pair read #ThisWineThatDish | La Frenz | à l'Oignon Gratinée and find more inspirational #ThisWineThatDish pairings here.
Keith Floyd (28 December 1943 – 14 September 2009) was an English celebrity cook, restaurateur, television personality and "gastronaut" who hosted cooking shows for the BBC and published many books combining cookery and travel. On television, his eccentric style of presentation – usually drinking wine as he cooked and talking to his crew – endeared him to millions of viewers worldwide. Wikipedia