"In this series, I will be sharing my take on which BC Wine pairs well with some inspirational recipes"
Certain dishes I make fall into the category of signature dishes. These are dishes that I have made many times over many years. Faithful to the original recipe. These recipes become favourites with both company and family alike. This is a dish that was featured on Julia Child's TV show and dates back at least to the 1970's. Julia's casual style made a challenging recipe seem simpler. Although my knife skills are lacking I still slice everything by hand for this version of soup à l'Oignon Gratinée.
What makes the difference between a good soup and a great soup is the stock. The stock is the base of the soup and as such desires as much attention and acclaim as the finished dish.
soup à l'Oignon Gratinée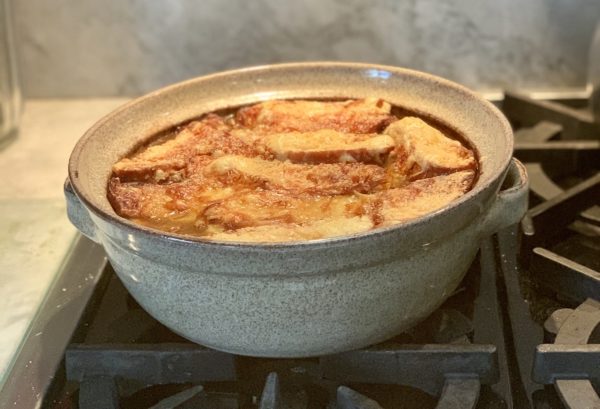 Beef stock
meaty beef rib bones
onions
carrots
garlic (peeled)
olive oil
thyme
bay leaf
salt and pepper
Worcestershire sauce
wine
cognac
baguette
Swiss cheese (Emmenthal or Gruyere)
raw chopped onion (optional)
Cut the onions in quarters and cut the carrots into junks, add the garlic and toss in olive oil until well coated with the oil.
Place the onions, carrots, garlic and rib bones on a baking sheet, add salt and pepper. note: if you have a non-stick low-sided roasting pan that is ideal.
Roast in a 350 oven for at least an hour, or until the onions and carrots are caramelized. Turn about half way through. Roast until the meat is dark and crispy looking.
Transfer to a large soup pot. (If you've used a low-sided roasting pan everything stays in that pan) Add water just to cover the ribs and vegetables, add a bouquet of thyme (tied with string), a couple of bay leaves and a good dash of Worcestershire
Cook for several hours. Strain the soup using a colander. Transfer back to the pot and let the stock cool. Put in the refrigerator and leave overnight.
The next day remove the fat that has formed on the top of the stock. If you wish the fat can be substituted for the butter in the next step.
6 cups of assorted sliced onions
butter
salt and pepper
Using a variety of onions; Bermuda, Walla Walla (or other sweet onion), yellow cooking onion, slice the onions and remove the core.
Fry each variety individually in butter (or beef fat if using) with a little salt and pepper, using a very large frying pan. Cook until caramelized but not too dark.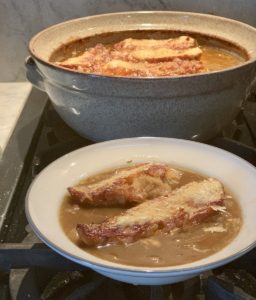 Place all the onions into the stock, add a liberal amount of wine, and heat over a medium burner for 30 minutes.
Meantime slice a loaf of baguette into rounds or diagonally cut slices 3/4 to 1″ thick, coat with olive oil on both sides. Roast on a baking sheet at 350 turning over once the slices start to turn golden (note: the bottom will turn first so be sure to check frequently) Once both sides are golden and toasty allow them to cook slightly, using whole, crushed garlic cloves spread each toast with garlic on both sides.
Grate at least two cups of cheese, either one or a combination of both.
Pour the heated soup into an ovenproof casserole, top with a small handful of raw, chopped onions if using, cognac and the toasts. Add a very generous amount of cheese on top. Bake in the oven for 30 to 60 minutes. Turn on the broiler just long enough to turn the cheese a golden colour and the soup is ready to serve.
To serve gently set aside one or two toasts onto a plate, using a soup ladle put the soup into a bowl and top with a cheesy toast.
Note: if you wish the soup can be assembled and baked in individual ovenproof soup bowls.
Served with baguette this makes a hearty meal.
Suggested BC Wine pairing:
La Frenz 2020 Viognier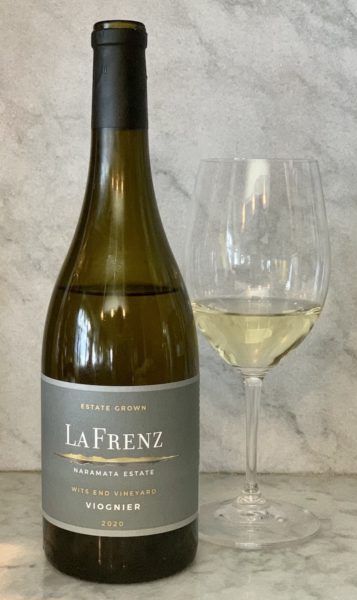 Viognier is an intriguing Rhône varietal that is reluctant to show its best unless fully ripened. As such, the fruit was left to hang for a lengthy amount of time to obtain the enticing richness.
A perennial favourite amongst our fans, this is a charming Viognier that exhibits aromatics of honeysuckle, tangerine and rose petals perfectly blended with notes of lanolin, grilled peaches, Turkish delight, nutmeg and saffron. Amazing palate weight, viscosity, and alcohol warmth are achieved due to their high ripeness level.
Allow yourself to be treated by enjoying this Viognier with a traditional North African tagine or a saffron risotto.
We recommend enjoying our Viognier upon release, however, you may carefully cellar the wine for 3-5 years from the vintage date. The fruit-forward characteristics will give way to the secondary notes of mineral and golden hay and the wine will develop a more viscous mouthfeel.
This was a delicious wine with floral notes, peaches, lychee, macaroon and ripe apricots. Offering wonderful acidity, lingering finish with a bit of black pepper and tiny hints that mimic new oak. Fruit salad, tropical, coconut, and pineapple. Smooth with a light to medium body. Clear and pale in colour.
Each sip grows in intensity with wonderful fruity aromas that blanket the soft but lively flavours.
La Frenz Winery
1525 Randolph Rd, Penticton, BC V2A 8T5
Notes courtesy of the winery. Images MyVanCity. My review notes (in bold italics) I received complimentary wine to facilitate this feature. All opinions are my own.