"In this series I will be sharing a randomly selected wine and the dish I paired for #BCWineGoals"
In January and February of 2021 the Wines of BC, Mijune Pak, and Save On Foods ran a giveaway on Instagram. Followers were asked what their "BC Wine Goals" were. My #BCWineGoals were to randomly choose a bottle of BC wine from my "cellar" and then select a recipe to make a dish to pair with the wine.
This is the first randomly selected wine paired with a dish that I made. For this first one I will admit I had already spotted this recipe on NY Times Cooking website, so had it in mind for dinner on Sunday, February 14th. As it turned out the randomly selected BC wine was a nice match so the Seared Scallops with Spicy Carrot Coulis.
Here is my interpretation of the recipe (you can find the original at NYTCooking.com). As usual I take great liberties with the recipe, this time mainly in quantities with just a little in the ingredients.
Seared Scallops with Spicy Carrot Coulis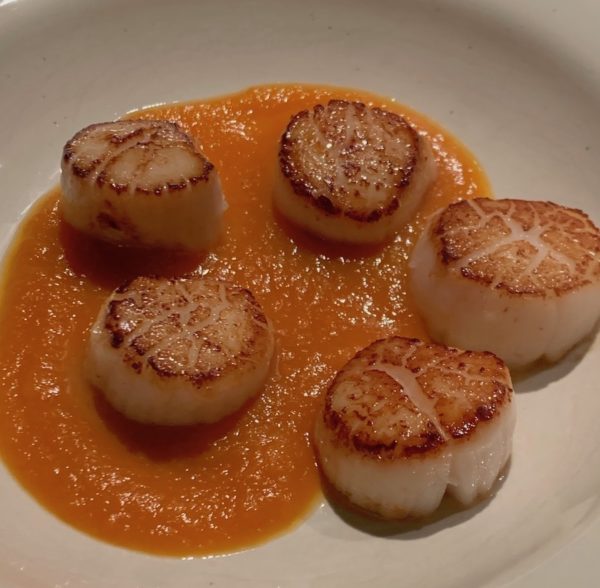 Ingredients
1 1/2 cups sliced carrots
3 garlic cloves
half a medium white onion, sliced
2 tbs red wine vinegar
Umami Bomb Shiitake Chili Oil, to taste
1 tbs honey
2 cups vegetable broth (from a jar)
9 large ocean scallops
1/2 cup chopped parsley
lime wedges
butter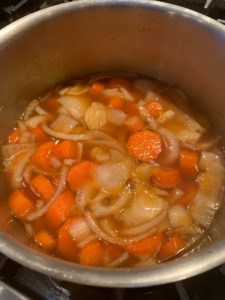 The recipe called for sliced carrots and I sliced them into circles (more on that later), slicing the onion, removing the stem from the garlic cloves, a small amount of chili oil, and two cups water plus 2 tsp vegetable stock from a jar. All into the pot, on high to bring to a boil, then medium until the carrots are soft.
I found the carrots never got to a consistency I expected for "soft" even after adding 20 minutes to the called for 15 minutes. In the last 5 minutes of additional cooking they were sort of soft and most of the liquid had disappeared so I added more water. Next time I would slice the carrots much thinner to see if that helps. No salt was added because the vegetable stock is quite salty (more so than the beef or chicken stock from a jar)
Using salted butter instead of the called for olive oil the scallops were not salted. The scallops were patted dry with paper towels and seared on a griddle pan in melted butter. Seared golden brown on both sides.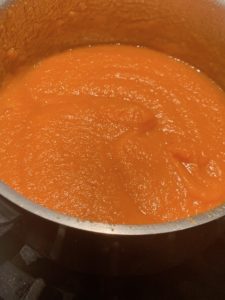 The carrot mixture was pureed but not strained, added to the bottom of a pasta dish, the seared scallops placed on top with a generous sprinkling of parsley (I didn't have the cilantro called for) and a lime wedge for a little extra tang.
I was pleasantly surprised by the intense flavour of the coulis, despite having to add liquid at the end. Next time I would use home made vegetable broth (future project), slice the carrots very thin, add a bit more garlic and chili oil. But lest you think this didn't turn out delicious let me assure you it was excellent. The honey was quite prevalent and really added wonderful flavour to the coulis. No salt was added to the dish and it was perfect.
Now to the randomly selected BC wine:
Mayhem Wines 2018 Pinot Blanc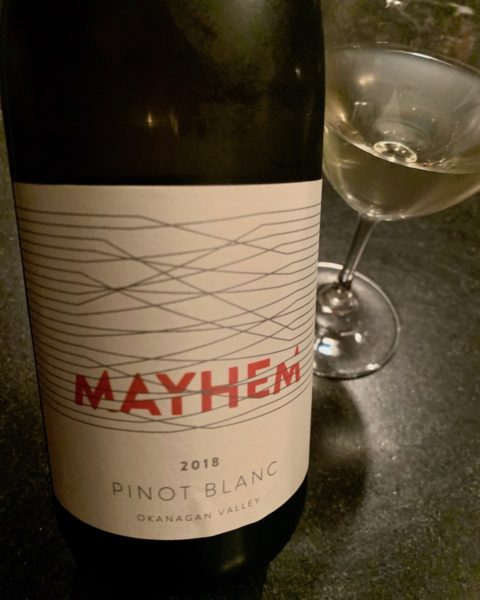 TASTING NOTES
The Pinot Blanc arrived on the crush pad at 23Brix after being handpicked at a vineyard on the Naramata Bench. The juicy fruit was whole cluster pressed, cold-settled, and racked into two separate thanks for fermentation. Each tank was inoculated with a different yeast. After fermentation was complete the wine in each tank spent time on its fine lees. One tank was left to settle for three weeks. Both tanks were then racked off that fine lees, married into one tank, settled and filtered before spring bottling.
The vibrant nose reveals pear, lemon zest citrus, red apples and elderflower. There is the slight hint of savoury lees resulting from the sur leees time post-ferment. This sur lees characteristic also shows on the palate in the rich texture and round soft body. The palate mirrors the nose with pear, and citrus zest with a touch of tropical fruit.
I found this wine to have light pleasant aromas with layered flavour of citrus. Acidic with a tiny bit of grass, honey and a pleasant taste. I would definitely drink this one now. This is a fabulous wine and a great price point that paired well with the Scallops and Carrot Coulis, perhaps more so because my rendition of the coulis was less spicy with a definite tang of local honey. The wine balanced well with the distinctive flavours of the coulis and did not overpower the delicate flavour of the scallops.
Mayhem 2019 Pinot Blanc currently available online from the winery still offered at $15.65 
Available at select Save On Foods
Add a sweet little dessert to share from Purdy's Chocolatier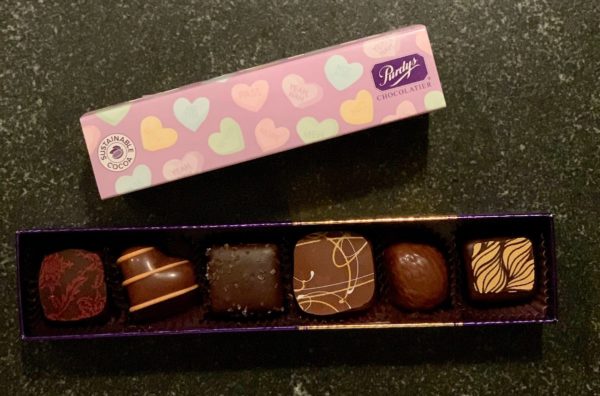 Winery tasting notes are from a previously published review on MyVanCity.ca, read it here. The Mayhem Pinot Blanc from my cellar was either one gifted from a visit and a tasting with Mayhem Wines President, Terry Meyer Stone and Hospitality and Sales Co-ordinator Caley Fraser in the spring of 2019; or from a purchase made by me in September, 2020 or purchased at Save-On-Foods later in 2020. Yes, I like this wine that much!
All remarks and comments about the wine are my personal tasting notes. Winery tasting notes (in italics) courtesy of Mayhem Wines. Images: MyVanCity.ca
If you would like to be featured on MyVanCity.ca please connect with your pr agency or email myvancityval@nullgmail.com for full details.