Mayhem Wines are definitely on my #FavouriteThings list of British Columbia Wines just because I love them. Why? All the MayhemWines I tasted are typically BC flavourful, fruity, acidic, light without being too light, easy drinking, fun, great for pairing and sharing, and best of all really affordable.
Recently I had an opportunity to sit down with Mayhem Wines President, Terry Meyer Stone and Hospitality and Sales Co-ordinator Caley Fraser to chat about their new releases, where to buy them, and how their Club Mayhem differs from other wine clubs.
First of course we did a tasting of some of their new releases:
2018 Mayhem Pinot Blanc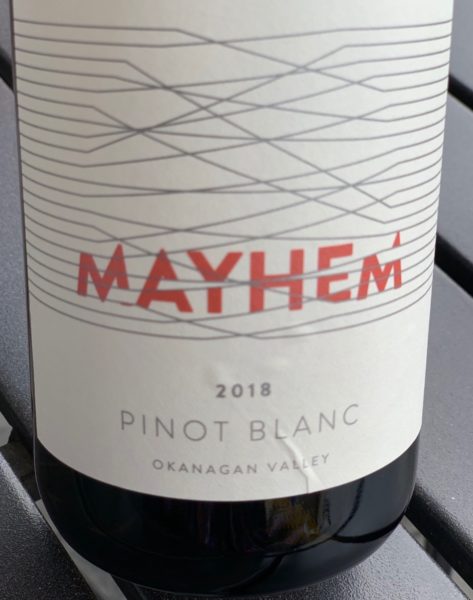 The Pinot Blanc arrived on the crush pad at 23Brix after being handpicked at a vineyard on the Naramata Bench. The juicy fruit was whole cluster pressed, cold-settled, and racked into two separate thanks for fermentation. Each tank was inoculated with a different yeast. After fermentation was complete the wine in each tank spent time on its fine lees. One tank was left to settle for three weeks. Both tanks were then racked off that fine lees, married into one tank, settled and filtered before spring bottling.
The vibrant nose reveals pear, lemon zest citrus, red apples and elderflower. There is the slight hint of savoury lees resulting from the sur leees time post-ferment. This sur lees characteristic also shows on the palate in the rich texture and round soft body. The palate mirrors the nose with pear, and citrus zest with a touch of tropical fruit.
I found this wine to have light pleasant aromas with layered flavour of citrus. Acidic with a tiny bit of grass, honey and a pleasant taste. Easy drinking although very new I would definitely drink this now. A limited number of 2017 Pinot Blanc is still available. Both 2017 and 2018 vintages $18.00 including tax and deposit.
2018 Mayhem Pinot Gris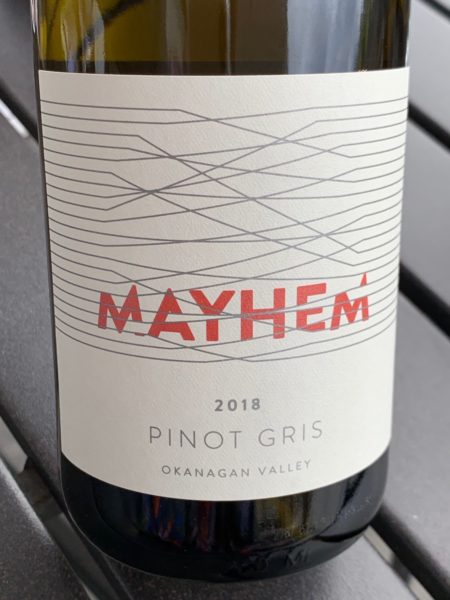 This handpicked pinot gris is predominately from an Okanagan Falls vineyard, with a small percentage coming from Kaleden and Naramata, arriving on the crush pad at 22Brix. As the press was loaded for whole cluster pressing, we were already seeing this vintage's juicy goodness; the free run juice was filling the press pan.
After cold settling the Pinot Gris was racked off so that the clear juice could be inoculated and fermentation could begin. The long slow cool ferment lasted 2 weeks after which the wine was racked off its fermentation lees, settled and stainless steel aged until bottling in April.
To the nose there are notes of pear, apple blossom, apricot and Meyer lemon. These flavour profiles are reflected on the palate with a prominent acidity with a round softness.
Yummy, smooth, with great flavour of fruit, citrus, with an every so slightly sweetish taste. I thought this wine was really good. Another wine I could drink anytime, alone or paired with food. A limited number of 2017 Pinot Gris is still available. Both 2017 and 2018 vintages $18.00 including taxes and deposit.
2018 Mayhem Riesling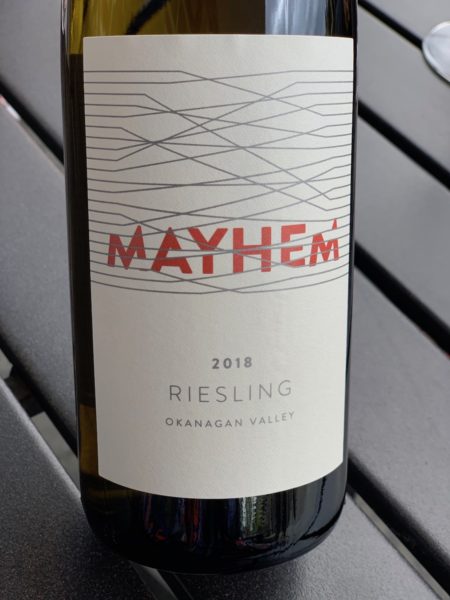 The Riesling was handpicked at a vineyard in Summerland. It landed on the crush pad at 23Brix where it was loaded straight into the press for whole cluster pressing. After a period of cold settling it was inoculated with a single yest strain undergoing a long, slow, cool ferment. It was racked off its lees, left to settle, and filtered just before bottling.
On the nose there is a prominent lemon note with softer pineapple and peachskin notes. The palate bursts with Granny Smith apple, lemon and lime, peach and notes of mineralogy. Bone dry with a thrilling finish.
I would describe this Riesling as "heaven in a glass" but keep in mind I am biased as this is probably my favourite varietal. It was delicious with aromas and flavours of citrus and tropical fruits. So good. The 2018 Riesling $21.00 including taxes and deposit.
2018 Mayhem Rosé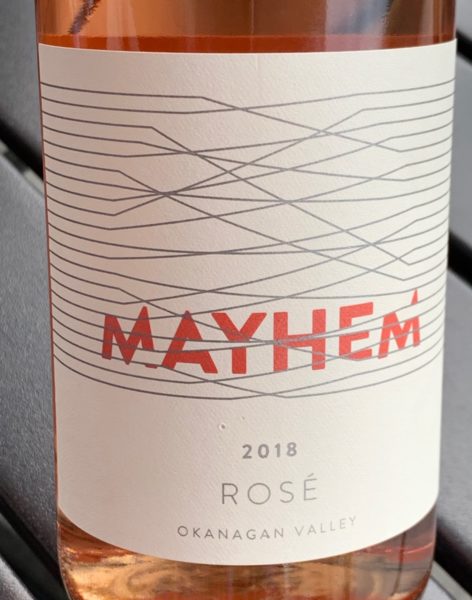 This light coloured Provence-style Rosé was grown at Anarchist Mountain Vineyard in Osoyoos, reaching 23Brix a picking. It was destemmed, left for a short cold-soak and pressed later that afternoon. to retain fresh fruit characteristics the ferment was long, slow and cool. Once racked off the fermentation lees the wine spent one month on its fine lees in thank receiving a stirring of the lees once per week. It was once again racked off these fine lees, left to settle and filtered just before bottling.
The wine is fruit-forward with a bouquet of strawberry, rhubarb pie and grapefruit with a touch of spice. The concentrated palate shows cranberry, red currant, grapefruit and strawberry with a vibrant acidity and lingering finish.
Strawberries! Rhubarb and fruit forward, floral with a strawberry taste. Lighter than you might expect from a BC Rosé more Provence style. Lovely salmon colour. 2018 Mayhem Rosé $23.00 including taxes and deposit.
2018 Mayhem Gewürztraminer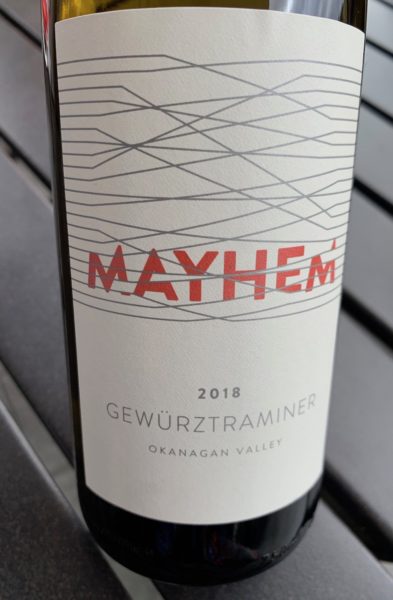 These grapes are from vines that were planted in 1994 from cuttings of a German variety. Whole cluster pressing was used on the grapes to retain their delicate aromatics. These aromatic traits were highlighted further by employing an aromatic yeast strain during fermentation. The wine was racked off its fermentation lees and left to settle on its fine lees for a short time before bottling.
The nose opens with classic lychee and rose notes, with a touch of ginger and a kiss of coconut. On the palate the lychee follows through accented with notes of clove, mandarin and gilled pineapple.
Beyond "heaven in a glass" Honey, fruit salad, in a word yum! No doubt its goodness has something to do with the 25+ year old Germanic vines and the grapes were picked later in the season. 2018 Mayhem Gewürztraminer $18.00 including taxes and deposit.
Not tasted but still available on the Mayhem website a 2015 Mayhem Cabernet Franc and a 2017 Merlot Cabernet Franc blend. As I often say what you don't see, taste or experience this trip means you just have to come back again. So it's nice to always have a reason to visit and taste more wine.
Our discussions spanned a number of topics from Game of Thrones (did you know Stone was a big fan and she has read all five books) to this interesting wine stat: if Canadian wine drinkers would up their consumption by only 5% they would buy up all the volume of BC Wine. Are you up for the challenge? I'm doing my part.
Tastings by Appointment Year Round.
Come to our pop up tasting room on Saturdays this summer! Catch us July and August in The Hut at Meyer Family Vineyards, Okanagan Falls. We will also be at some of the Penticton and Osoyoos Farmer's Markets and your favorite events, check out our events page. Mayhem Wines may also be purchased at local Save-On-Foods and JAK's stores.
"What's a little chaos among friends?"
Club Mayhem is a great club, that's not really a club, it's more a gathering of friends who love wine.  Break all the rules!
NO FEES TO JOIN.  PICK THE WINES YOU WANT.  GET THE SHIP DATES YOU NEED.
Here's how it works:
2 shipments per year. 6 bottles each shipment. There is also the option to pick up if you are in the area.
You are free to add on any other available wines to your club shipment.
Club members are the first to receive the new releases.
Customize the wines in your case OR stick with the curated selections of our talented winemaker
10% off on all your wine orders. Perks!
Be first in line for crazy good Club Mayhem events
Hang out with awesome Club members and Mayhem people
You are free to cancel whenever you want, but…why?
Mayhem Wines are currently available from the Okanagan Wine Club for a limited time.
About Mayhem Wines
Every Life Well-Lived Should Have A Little Mayhem!
Wine reflects the ever-changing environment from which it emanates; from the whims of Mother Nature to the unique talents of the winemaker, the effects of time and distance, and even your mood while enjoying it.
It is, perhaps, a distillation of the beauty found in disorder.
Our people:
Siblings. Partners. Colleagues. Friends – THE MAYHEM CREW
Terry and JAK have been involved in each other's lives for all their life. Why not spill over into business? If that's not a recipe for Mayhem, we don't know what is!
Terry Meyer Stone, President; Janice Stevens CFO; Ajay Chavan, Winemaker; Caley Fraser, Hospitality & Sales Co-ordinator.
Tasting notes (in italics), about Mayhem Wines, and feature image courtesy of the winery. All images, except as noted, MyVanCity. I received a complimentary tasting in order to facilitate this review. All opinions are my own.
[wdi_feed id="2″]