If you have not yet visited the lovely Coulombe family who are the owners, founders, winemaker, manager, and artist of small winery vinAmité you are missing out on possibly the friendliest group you would ever like to meet. Not to mention an opportunity to taste some great wine.
Loosely translated vinAmité means glass to friendship ; drink to friendship ; or toast to friendship.
Wendy (owner/founder) was at the helm the day we visited vinAmité. Wendy immediately exudes a warm welcoming to all who arrive on her doorstep. All the staff are friendly and knowledgeable and it was a delight to join in the conversation about the success of the little gem in the Oliver wine region.
Their slogans are apropos – Small is the New Big fits them to a T. They are right, their wine shop really is hiding in plain sight. On Hwy 97 in Oliver, pretty much dead centre between the numerous large and smaller wineries and vineyards, they have a niche that is worth a visit and your time. Nothing is rushed here so relax and enjoy your tasting.
Right out the window behind the wine bar you see the vineyards and their big, grey house beyond. Step outside to the patio to better appreciate what they have achieved here in this beautiful little spot. Besides a warm and inviting welcome you will have an opportunity to enjoy tasting a flight of pleasurable wines.
Pinot Gris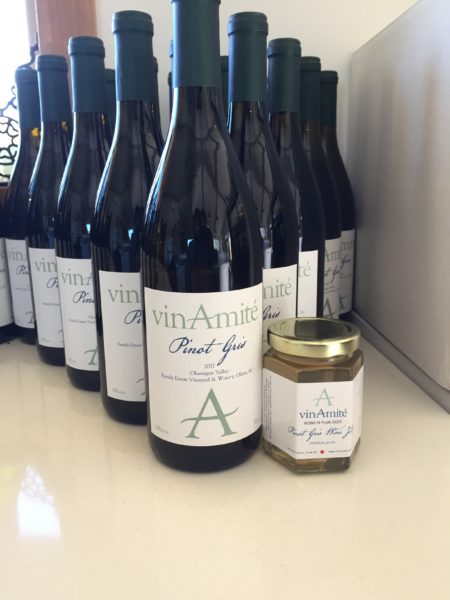 Aromas of green apples, pears, lemons and pineapple on the nose promise more of the same in taste. Crisp acidity and bright, balanced flavour dance around your taste buds, leaving a clean mouth-feel makes for a round, smooth summer wine with a breeze of pears and apples.
"A lively, reliable friend for those who love the constant company of this flavourful wine."
Price

:

$20.90
2018 Production

:

111 cases
Chanson d'amour

The bouquet of this joyful, lively wine is a floral and fruit-forward aroma that leads you to taste a refreshing and sophisticated balanced wine with notes of pear, orange and peach. This wine expresses a soft minerality inviting you to sit back and breathe easy with this new companion. 34% Orange Muscat, 33% Pinot Gris, 33% Chardonnay.
"Intoxicating aromas of fields of wild flowers bring you home to a new favourite blend."
Price

:

$22.90
2018 Production

:

311 cases
Chardonnay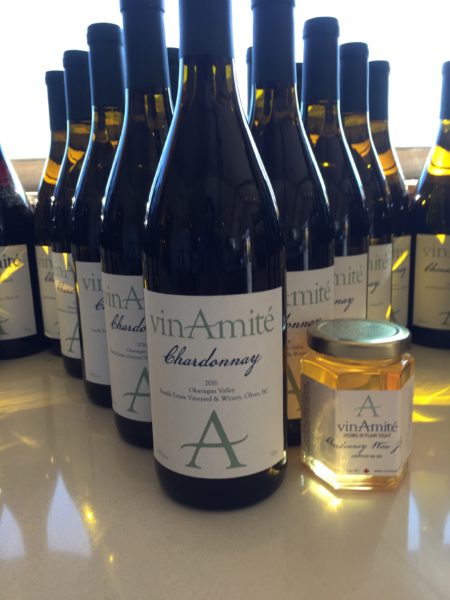 Aromas of brioche, toasted almonds and honey are further enhanced and confirmed with the rich tastes of lemon meringue pie, green apple and baking spices. With a touch of butterscotch on the finish, this Chardonnay is balanced with fourteen months of French oak, for pure elegance.
"This in-demand classic Chardonnay continues to satisfy that magical blend of Old and New Worlds meeting in harmony and balance."
Price

:

$31.90 at the winery
2017 Production

:

147 cases
Gamay Noir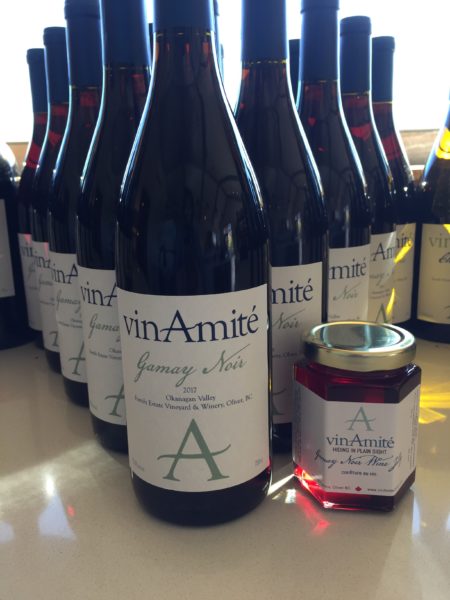 The expression of cherry and raspberry jam is crafted into this unique and delicate, slightly chilled, red wine. Its complex flavours of fresh-baked pies combined with savoury and spicy notes are graced with gentle tannins and French oak making this a unique and perfect fit for a lazy afternoon of happy thoughts.
"The spirit of Beaujolais is alive and well in this unique, flavourful, lighter red that also ages well in your cellar."
Price

:

$29.90
2018 Production

:

309 cases
Petit Claret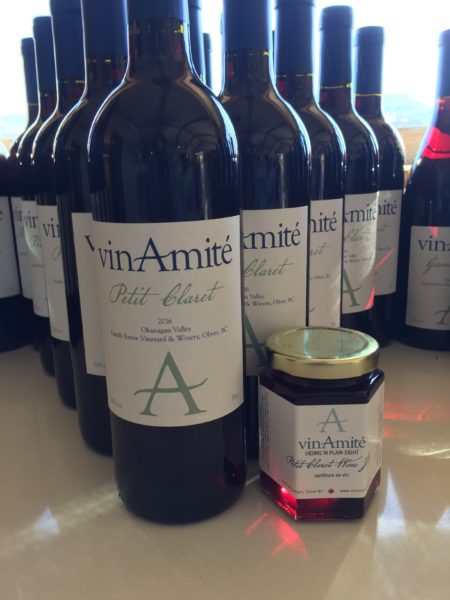 The essence of cooked cherries, plums and raspberry jam in an approachable blend, combined with hints of spice, licorice, cocoa, anise, surrounded by supple tannins and subtle minerality. The anticipated meeting of the Old World and the excitement of New World discovery. Let the magic begin with the first of the Trinity Collection. 69% Merlot, 31% Cab Franc.
"This first red in our popular Trinity Collection of 3 red blends delivers an easy satisfaction level based on its two flavourful varieties blended to perfection for pleasant distractions in your glass."
Price

:

$31.90
2017 Production

:

156 cases
Compass

The aromas of savoury dark chocolate and a rich latte brings you front and centre to the taste of black currant, blueberry, black cherry, nutmeg, clove, mocha and leather, all rolled into a nice bundle of confident tannins resulting in memories of enjoying a Bordeaux sidewalk café on a relaxed afternoon of well-being. 48% Merlot, 27% Cab Sauv, 16% Malbec, 9% Cab Franc.
"In constant demand by its circle of friends, Compass is a most popular benchmark in our Trinity Collection and is always missed until it returns once more. This next vintage is back."
Price

:

$35.90
2017 Production

:

282 cases
Hidden Corner
The marriage of fresh fruit-forward aromas come first followed by the flavours of blackberriesand blueberry jam, while a gentle blend of vanilla and chocolate leaves you wanting more. Earthy yet soft, elegant, intimate and adventurous. This wine is crafted for those occasions when you can devote your full attention to the beauty of a select red blend in your own hidden corner. 34% Cab Sauv, 34% Merlot, 14% Malbec, 12% Cab Franc, 8% Petit Verdot.
"The third red blend of the Trinity Collection remains faithful to wine lovers as an exceptional, complex blend that keeps on giving with every suspenseful sip, ready-made for cellaring."
Price

:

$38.90
2017 Production

:

178 cases
Petit Verdot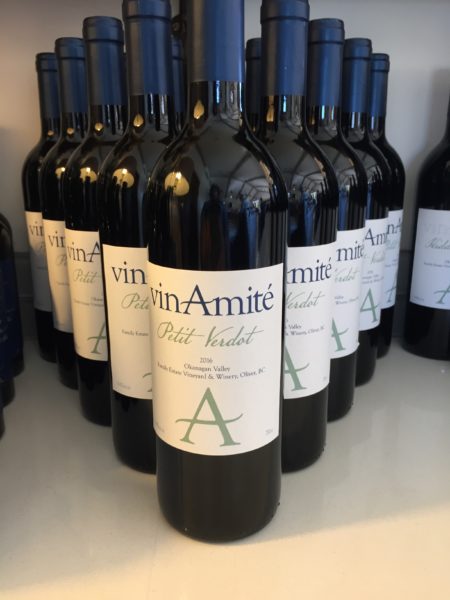 This wine holds no compromise in displaying the true nature of this rare grape, a spectacular dance of ripe blackberry, blueberry, black olive and peppercorn, with mysterious earthy shades of minerality from the cool shadows of the cellar room. Rich undertones of savoury, broken-in leathers, forest floor, cinnamon, nutmeg and cloves. Enjoy a bottle now, but save more for later.
"This rare 100% Petit Verdot is a Special Release given our limited number of cases available."
Price

:

$54.90
2017 Production

:

91 cases
Ouest- 5 years in Barrel – To Be Released in 2020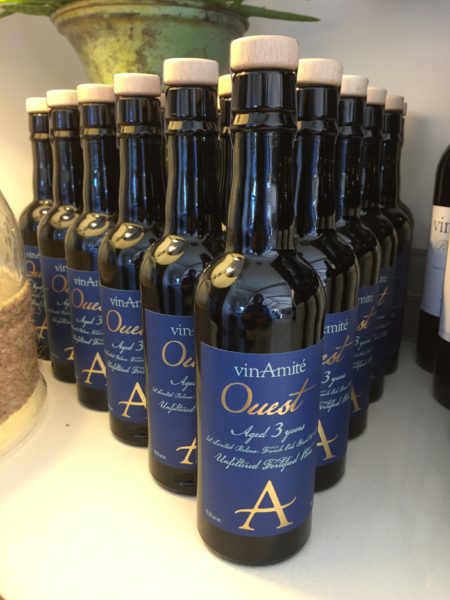 This is only the first of five barrels released while the four others continue to age well into years to come. A gentle giant of a port offering you a new world to explore with intoxicating aromas of anise, cracked pepper and flavours of chocolate, movie theatre red twizzlers, muddled mint, Christmas fruit cake.
"A blend of ripe Syrah, Cab Franc and Cab Sauv, distilled Estate CabSauv, neutral French oak barrels, patience for no less than 3 years, make the perfect homage to Porto in this long awaited fortified wine."
Price

: SOLD OUT –

$44.90
Production

:

Only 45 cases produced for the 2018 Release.

When visiting the Okanagan, before you go: Do your homework and a bit of research about the wineries you wish to visit. Check the winery website to find out their months, days and hours that their Tasting Room is open. Know if you need to book your tasting in advance of your visit. Many wineries are now so busy there may be times that they are unable to accommodate you. It will be a much better visit if you have a confirmed appointment. Be on time. Expect to pay for your tasting, some, but not all wineries refund all or a portion of the fee if you purchase wine. Plan ahead for a designated driver or use the services of a wine tour company. Limit the number of wineries you visit in a day. A more leisurely timeline will increase your enjoyment. For the best overall experience, I like to limit my daily visits to no more than three maximum, and if a winery lunch is on the agenda, no more than two winery tastings.

Please note that my visit took place in October at the end of the winery tasting season, the availability is as currently shown on the vinAmité website so should be up to date.  All images, except as noted, MyVanCity. Tasting notes, comments, and feature image courtesy of vinAmité Cellars. I received a selection of wines in order to facilitate this feature.

Something is wrong.


Instagram token error.