It's that time of year as the seasons change we feel the desire for what's comfortable and familiar. It's time to revitalize, maybe even do some spring cleaning (not!) One thing that's a good idea is to organize your wine shelf to see which ones are running low. I think wines are like an old friend, a reliable, always there for you, a favourite.
What a better place to start than Tinhorn Creek wines. Tinhorn Creek has been around for decades and they make great wine. I was reminded of that fact on our most recent trip to the Okanagan and a visit to the Tinhorn Creek Vineyards tasting room.
Tinhorn Creek has three wine tasting experiences to choose from. Tasting & Self Guided Tour, Guided Tour & Taste, and Oldfield Reserve Tasting & Cellar Tour.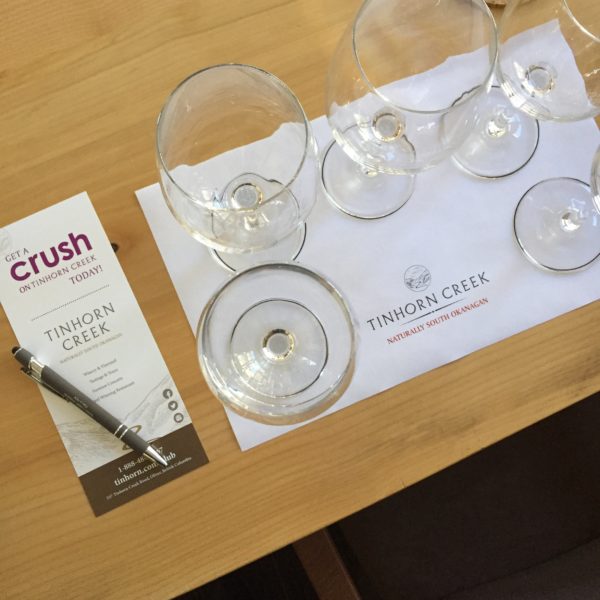 Tasting & Self Guided Tour
Tinhorn Creek Vineyards offers a $5 per person tasting (includes GST) of 4 wines from 10am to 6pm daily (10am – 4pm Nov – Feb). Tasting fees are non-refundable, a portion is donated to charity.
After your tasting enjoy a self-guided tour of the grounds, our demonstration vineyard and Barrel Cellar.
For groups (+10) please contact us 24 hours in advance.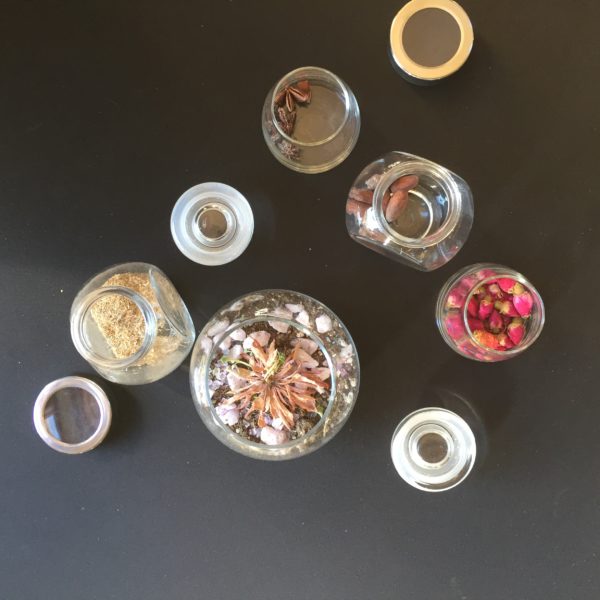 Guided Tour & Taste
Guided winery tour and tasting with one of our wine ambassadors to hear about why we do what we do while sampling a selection of our wines.
$15 per person + GST, includes 10% off wine purchases. 45 minutes.
11am or 1pm weekends. Advance booking not required.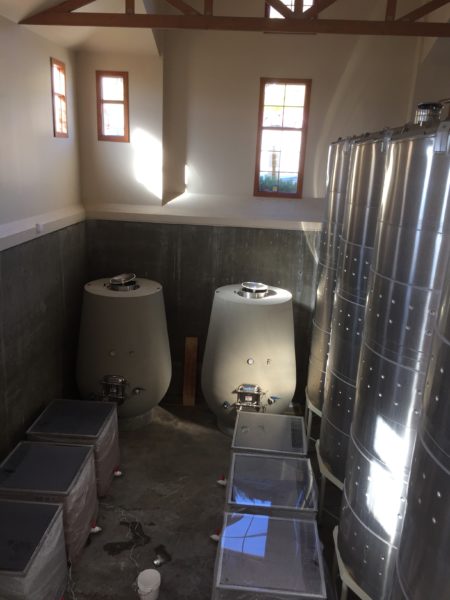 Oldfield Reserve Tasting & Cellar Tour
Premium guided winery and cellar tour, a special glimpse into the winemaking process including a rare opportunity to taste a barrel sample. Followed by a sit down tasting with one of our wine ambassadors to sample a selection of our Oldfield Reserve wines accompanied by a charcuterie plate from Miradoro Restaurant.$35 person + GST, includes 10% off wine purchases. 90 minutes.
May through October 2pm daily. Please contact us 48 hours in advance.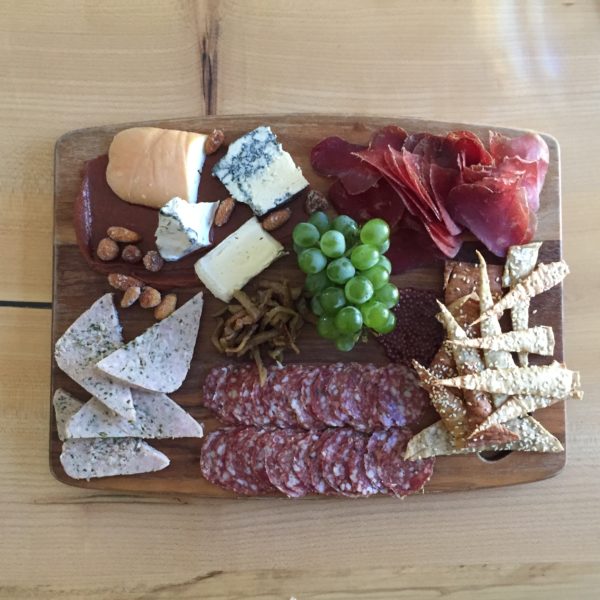 On our most recent visit we enjoyed a wonderful OldField Reserve Tasting & Cellar Tour. This is just the best wine experience you can have at Tinhorn. We've always enjoyed Self Guided Tastings before but this is really a special opportunity to taste reserve wines.
The Tinhorn specialists that take you through the journey of Reserve wine tasting are top notch, extremely knowledgeable and friendly. As I found out there is no such thing as a stupid question and they will patiently explain the winemaking process as you go along. We had a red wine lover and a white wine lover with a keen interest to learn more about the wines and what the best pairings are.
Here is what we tasted: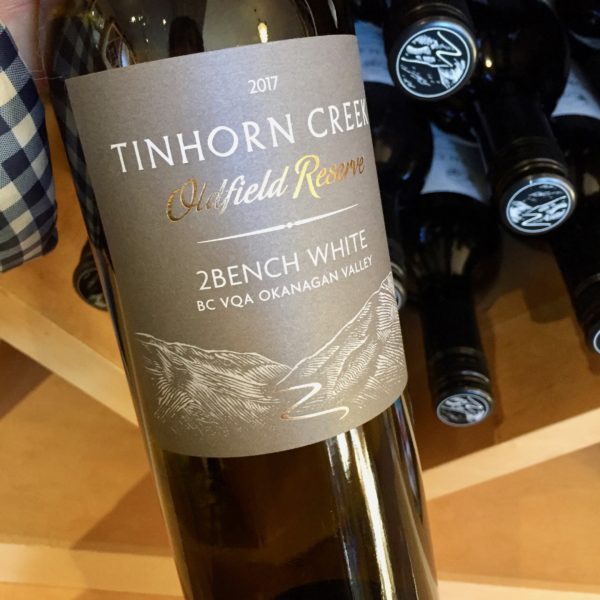 While we were waiting for all the guests to arrive we spent some time in the Tasting Room chatting with our "guide" and sipping a Tinhorn Creek Oldfield Reserve 2Bench White. An affordable $21.99
Lemon yellow colour this year, and the nose has a wonderful tropical note this year from the Sauvignon Blanc. Melon, white owers and a refreshing lemon tart avour with a good dose of stone fruits; white peach, nectarine. Has wonderful texture with a subtle grip that will grow richer with cellaring.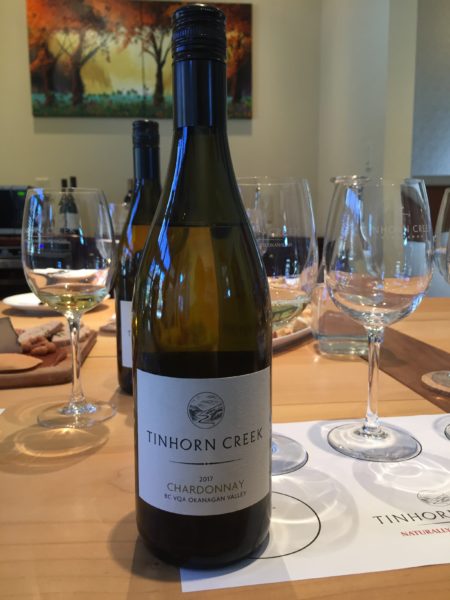 We started curated tour with the Tinhorn Creek 2017 Chardonnay, a varietal wine. $20.99
A nice crisp wine with citrus and green apple. Slight hint of vanilla, buttery yum. The oak was very much integrated with a touch of pear and apple on the back. The sourness was complimented with a perfect amount of sugar. Great Chardy. (Tasting notes: vivino.com)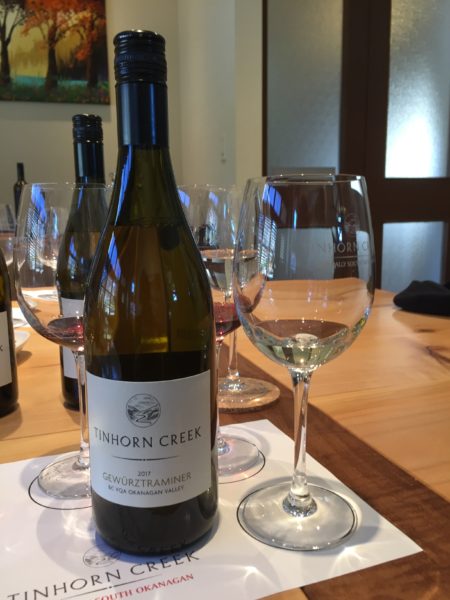 Next we tasted a delicious Gewürztraminer 2017. Super price of $17.99
Yellow in colour with an emerald hue. The nose is loaded with tropical fruit, banana, pineapple, papaya and lychee and the next whiff shows ginger, bubble gum and flowers. Not as sweet or viscous as the 2016 but still plenty of power here with similar mandarin and more bubblegum but with a slight grip in the finish, should age gracefully.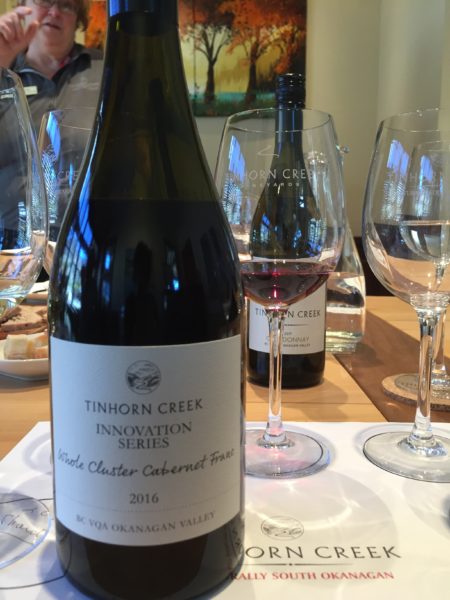 An excellent Innovation Series Whole Cluster Cabernet Franc 2016 $45.00
Nose jumps out with perfumed floral notes, cranberries and preserved citrus. Brambly fruit almost hints at a Zinfandel, then a creamy vanilla ice cream comes through from the well-integrated French oak. Palate is big and ripe with some sour cherry, raspberry jam and bitter orange peel. Tannins are assertive, reminiscent of a Nebbiolo in texture. Rustic and fun!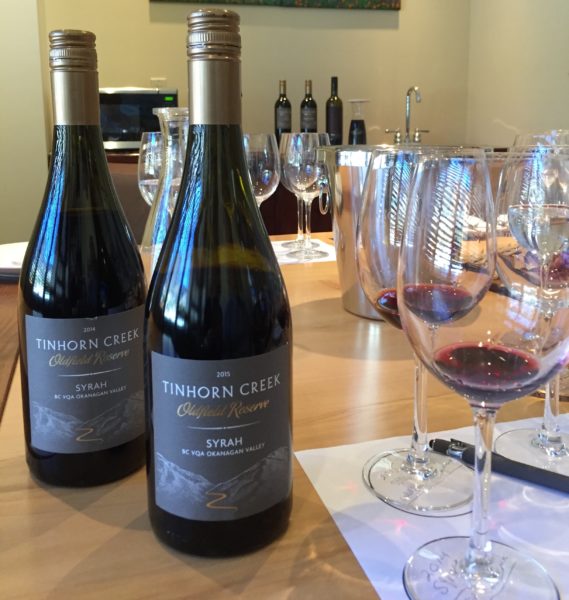 Comparing the Tinhorn Creek Oldfield Reserve 2014 and 2015 Syrah. $31.99
2014 – 91 points – Rick VanSickle – "This superb Syrah (and tiny bit of Viognier) is aged in a selection of French, Hungarian and American oak, about 30% of it new oak. The wines are kept on the lees and topped regularly over 18 months before being bottled. The wine is then aged in bottle for a year. It has a lovely, expressive nose of plums, boysenberry, figs, earth, bramble, peppercorns and an array of savoury and sweet oak spice notes. It's vibrant and meaty on the palate with ripe plum, black fruits, dried herbs, savoury/peppery spices, licorice, smooth tannins and enough structure to improve in bottle for a few years to come. Interesting and complex Syrah"
2015 – Deep purple hue. Nose is savory and meaty, but with an intriguing stone fruit note from the Viognier skins. Oak spice showing as co ee and the layers just keep coming. A rich wine with soy, espresso, plum jam and smoked bacon. Fine tannins and a warm nish carry the wine for ages. Another beautiful South Okanagan Syrah!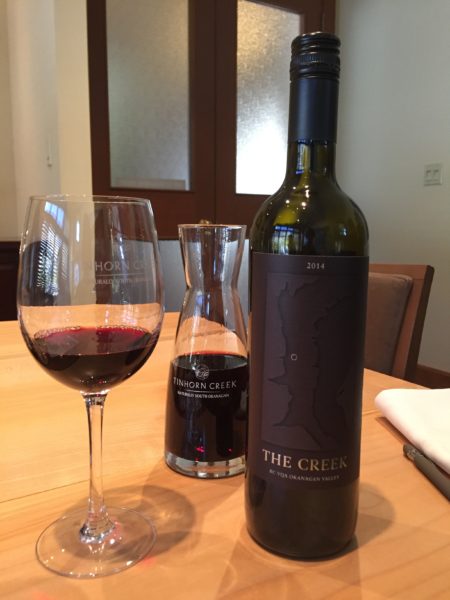 Tinhorn Creek Flagship wine "The Creek" 2014  $55.00
The 2014 The Creek is a unique blend of 53% Cabernet Sauvignon, 19% Merlot, 17% Cabernet Franc, 9% Malbec and 2% Petit Verdot. Aptly named after the iconic waterway that has shaped the surrounding landscape, the new flagship wine is a celebration of Tinhorn Creek Vineyards' longstanding pursuit of both excellence and innovation in winemaking. 
Fermented using wild and selected yeasts, the wine is aged for 24 months in 40% French new and Hungarian oak barrels. Boasting opulent flavours of blueberry, cassis and black cherry, with a warm toasted spice finish – the flagship wine's rich undertones and full-bodied palate make it a perfect pairing for richer dishes.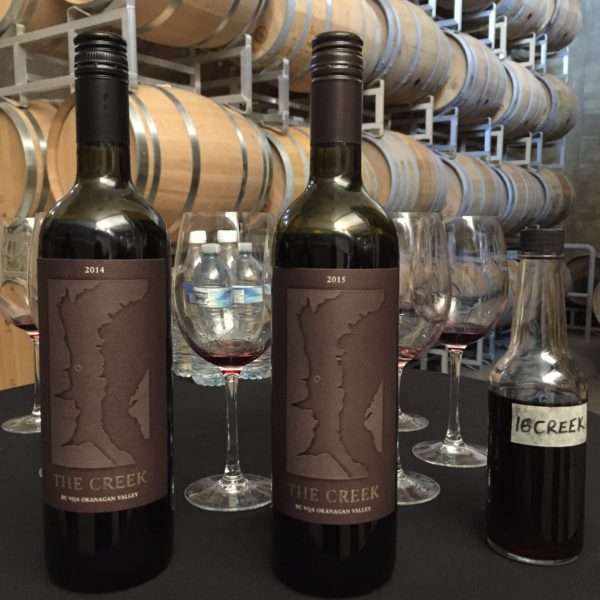 Last but certainly not least, a 2014, 2015, 2016 (barrel) tasting of "The Creek"
General wine touring suggestions:
Before you go: Do your homework and a bit of research about the wineries you wish to visit. Check the winery website to find out their months, days and hours that their Tasting Room is open. Know if you need to book your tasting in advance of your visit. Many wineries are now so busy there may be times that they are unable to accommodate you. It will be a much better visit if you have a confirmed appointment. Be on time. Expect to pay for your tasting, some, but not all wineries refund all or a portion of the fee if you purchase wine. Plan ahead for a designated driver or use the services of a wine tour company. Limit the number of wineries you visit in a day. A more leisurely timeline will increase your enjoyment. For the best overall experience, I like to limit my daily visits to three, maximum two wineries if a winery lunch is on the agenda.
Tasting notes (except as noted) are provided courtesy of Tinhorn Creek. I received a complimentary tasting to facilitate this review. All opinions are my own.