MAKE IT ICED
Beaucoup Bakery partners with Ca Phe to launch cold-brewed Vietnamese coconut drink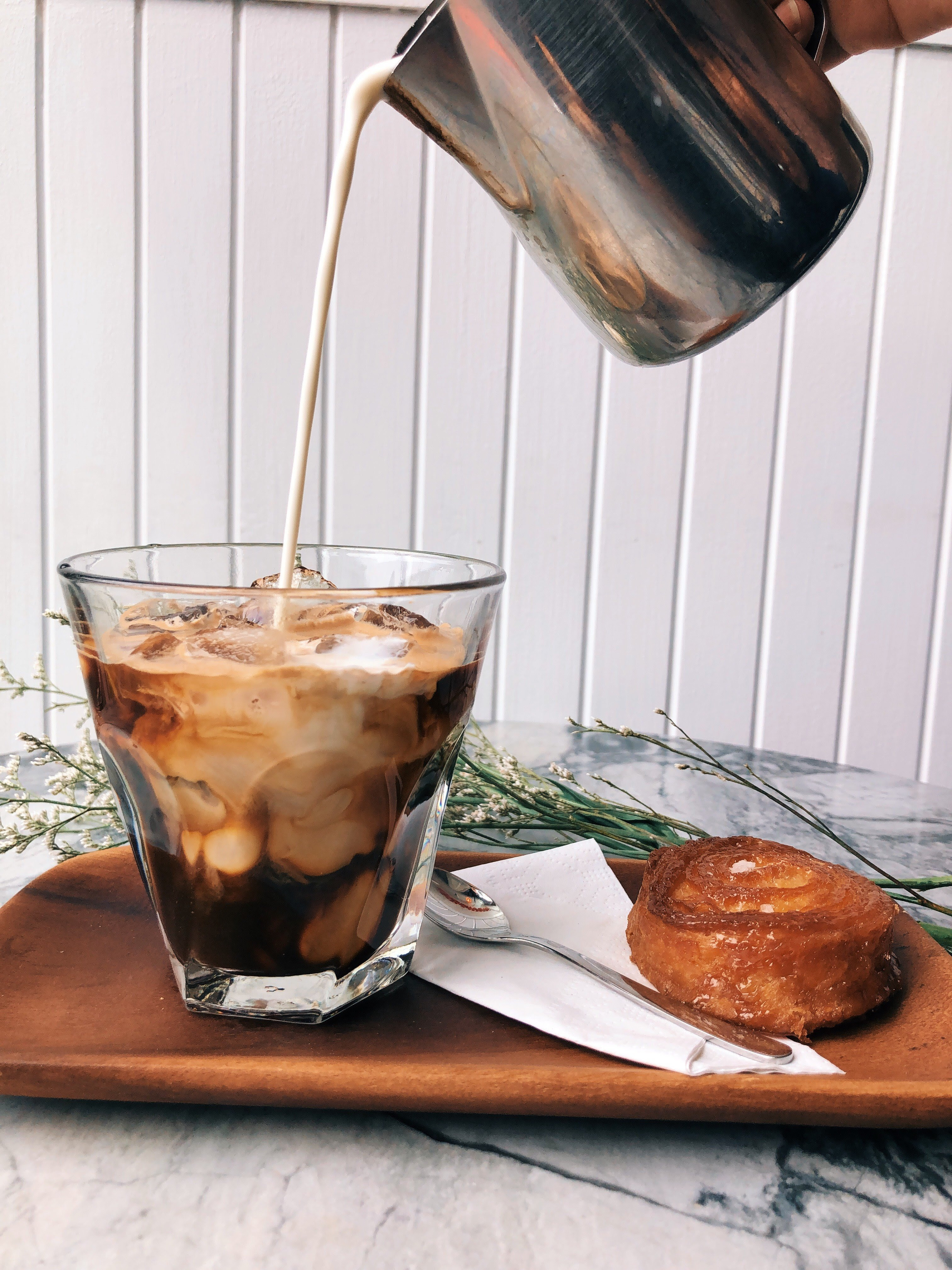 Beaucoup Bakery & Café (2150 Fir Street) and Ca Phe Vietnamese Coffee House (Ca Phe) are bringing together French and Vietnamese influences with the launch of a new cold-brew Vietnamese coffee. Available for a limited time at Beaucoup Bakery, this coffee is served chilled with a blend of vanilla coconut milk and condensed milk cream. 25 per cent of each drink goes towards programming at Chinatown House.
The coffee beans come directly from Vietnam and are roasted in butter and rum, imparting a natural caramel flavour.
"Vietnamese coffee beans, Robusta, are very different than Arabica, which is what is typically served in Vancouver cafes and what we have at Beaucoup," says Jacky Hung, co-owner of Beaucoup Bakery. "Robusta is twice as strong in caffeine, a bit more bitter, and is normally served dripped style with condensed milk. We experimented and came up with a new cold-brew version for the bakery. The added vanilla with the coconut milk really imparts a new flavour profile to the drink."
The new cold-brew Vietnamese coconut drink, served iced for $4.95, is available now until coffee beans run out. About 25 per cent of each cup will benefit Chinatown House's programming, specifically to help support its Community Digital Lab.
"Ca Phe exceeded my expectations and it was incredible to see the support we received," says Minna Van, co-creater of Ca Phe, who has been working with Chinatown House since its inception. "We definitely wanted to keep the spark going for Vietnamese coffee and Beaucoup Bakery was a natural partner. They support local, the community, and its owners are also immigrants with ties to Chinatown."
The Community Digital Lab is a joint partnership between Chinatown House through West Coast Technology Innovation Foundation and Vancouver Computer Graphic Association to create a digital lab that is open and accessible to every one in the community. The mandate of the partnership focuses on supporting at-risk youths and families interested in the digital medium but lack the opportunities to participate in the digital experience due to lack of funding.
Ca Phe, the popular month-long pop-up in Chinatown, was Vancouver's first Vietnamese coffee bar. There are currently plans for it to pop-up again in the near future.
For more information, please visit www.beaucoupbakery.com.
Media release and images provided by Sophia Cheng, Sophia Cheng PR.
[wdi_feed id="2″]