Okanagan Falls is home to a number of my favourite wineries including Meyer Family Vineyards and on  a recent visit we spent some time tasting wines and sipping a glass of wine while sitting on their patio. The atmosphere is relaxed and friendly with knowledgeable tasting room team members making this a  special place to visit.
Okanagan Falls just invites you to be outdoors and at Meyer they encourage you to enjoy their covered patio where they have set up a couple of seating arrangements that make you feel so very comfortable, almost like sitting on the patio of a friend. My favourite thing to do after I've completed my tasting is to buy a glass of a Meyer wine, usually one I would have enjoyed that day at the tasting. In addition to the lovely patio space there are also three cabanas on the upper lawn. Also a great space. You are literally surrounded by the vineyard.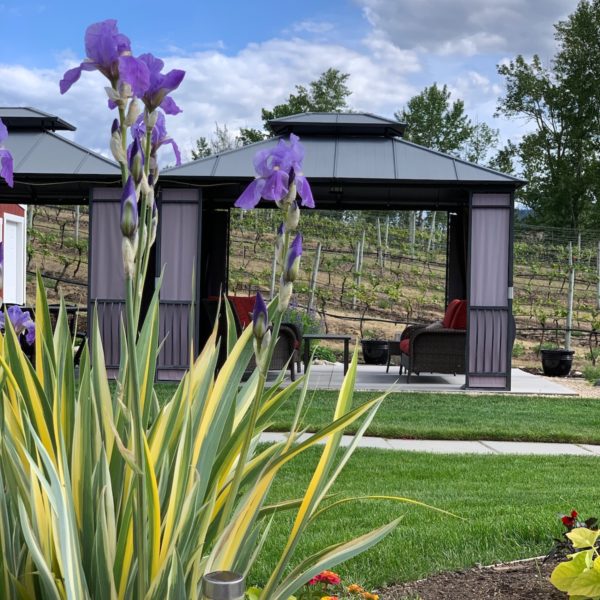 This is a family estate winery and vineyard and one of the most welcoming places. It truly is an ideal spot to take a break before moving on to your next winery destination. In the tasting room you can purchase some packaged cheese and meats to pair with your glass of wine. Or if you have been sitting a lot or spending too much time in your car, stretch your legs, be outdoors. Did you know you are welcome to play a game of croquette or bocci on the lawn? It really is just like visiting the home of a friend. Relaxing and welcoming.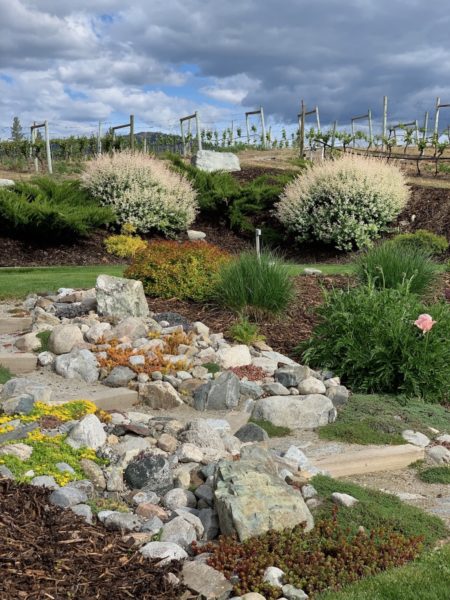 Finally it's time to move on and so you want to make sure you have purchased your wines because Meyer wines can fly right off the shelf and you wouldn't want to be disappointed after you've had such a lovely visit and discovered a wine that's new to you or you've been reminded how much you really do love one or more of your favourite Meyer wines.
The day we visited there were five wines on offer in the tasting room. It worked great for me because I am training my palate to recognize and enjoy a good Chardonnay and of the five wines open that day three of them were Chardonnay, as well as a Brut Méthode Traditionelle (did we visit on the right day!) and a Gewürztraminer. Remember if you came to taste a specific wine please make arrangements or an appointment in advance because wineries may not be offering every wine in their portfolio on any given day, in fact most do not.
Here is what we enjoyed tasting:
NV Méthode Traditionnelle, Extra Brut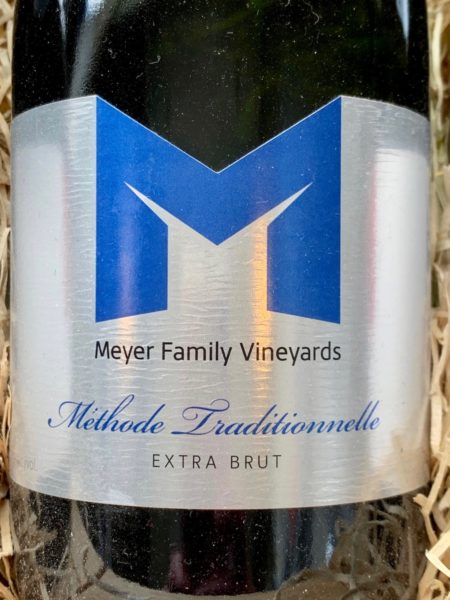 Our inaugural NV Méthode Traditionnelle, Extra Brut sparkling has a fine and persistent mousse thanks to the traditional method secondary fermentation in the bottle. Clean, crisp, and fresh palate with mineral notes wrapped in flavours of orchard apples and pears, finishing with a rich and creamy texture from the extended bottle age. The wine is dry from start to finish making it the perfect aperitif wine.
I found this sparkling to have a pleasantly slight yeastiness followed by fruit, tropical, with sweet aromas. Colour was a tint of yellow with citrus flavours leaving sweet bubbles on the tongue. Fresh and tangy. $34.88 online or at the winery
2017 Gewürztraminer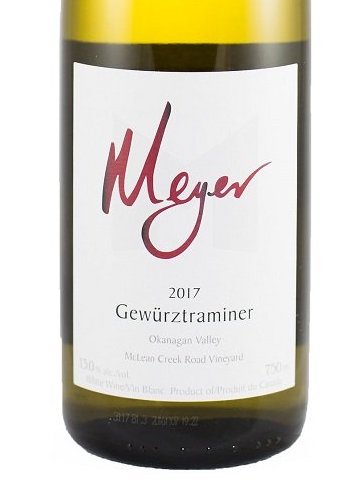 The 2017 Gewürztraminer is a beautifully aromatic, food-friendly wine from a heritage block on our McLean Creek Road Vineyard planted in 1994.
Beautiful aromas of fruit, peaches, and honey. Light, dry but not tart, flavourful. A very affordable $15.75 online or at the winery. A perfect summer sipping on the patio wine.
Okanagan Valley Chardonnay 2018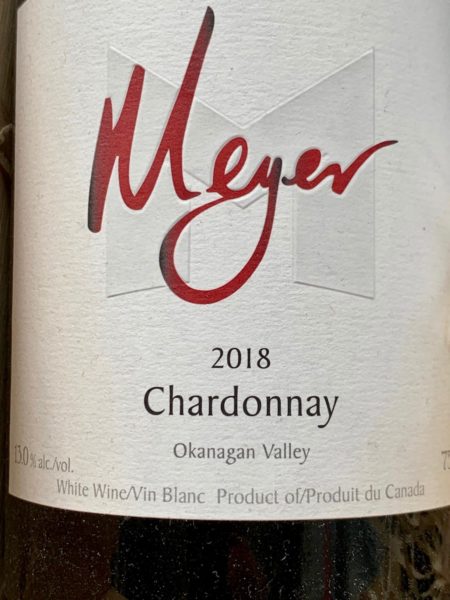 The wine is a blend of fruit from four vineyards; our two estate vineyards Old Main Road on the Naramata Bench and McLean Creek Road in Okanagan Falls; Anarchist Mountain Vineyard in Osoyoos and Cellarsbend Vineyard also on the Naramata Bench. The unique terroirs of the four vineyard sites yield a precise wine with elegance, finesse and length. Although we are not certified organic, we practice organic/sustainable farming principles.
The grapes were gently whole cluster pressed with the juice being cold settled overnight. It was then racked off its heavy sediment into a combination of older seasoned French oak barrels and stainless-steel vessels where it went through a cool fermentation using a mix of indigenous and cultured yeast. The wine was left on its fine lees for four months, a natural malolactic fermentation occurred.
With a light, pleasant aroma with very little indication of, or overly, taste of oak. I picked up flavours of apples and found it delicately dry with a nice finish. A Chardonnay for non-Chardonnay drinkers. Try it, you'll like it. $17.49 online or at the winery.
Tribute Chardonnay 2017 – Joannie Rochette *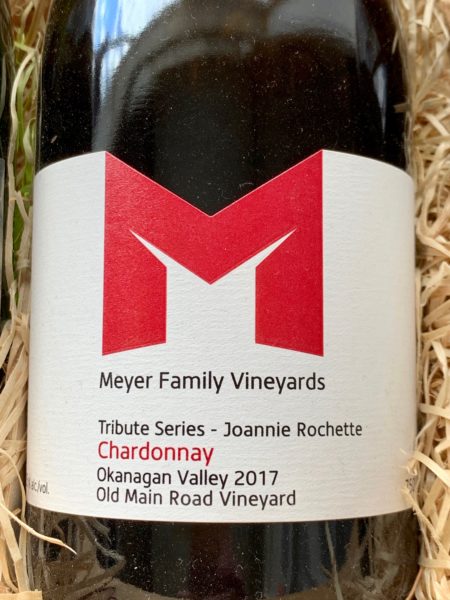 We produced 584 cases of Chardonnay from our estate vineyard on "Old Main Road" in Naramata, BC.
On the nose is lemon, pineapple, mineral and butter with a hint of apple tree blossoms. The palate is structured with bursts of white grapefruit and lemon meringue with a bright acidity. 
Drink this wine now or cellar up to 7 to 10 years.
Wonderful aromas of fruit and honey with light caramel in the background, a bit of grass and garden soil with very light oak (22% new oak). Fresh, crisp and dry with flavours of citrus, especially lemon. $28.80 online or at the winery.
I remember Joannie Rochette who skated through adversity, and what must have been a very difficult time, during the 2010 Olympics in Vancouver. A deserving Tribute recipient. A $5,000. donation will be made to the Heart & Stroke Foundation.
McLean Creek Rd Chardonnay 2017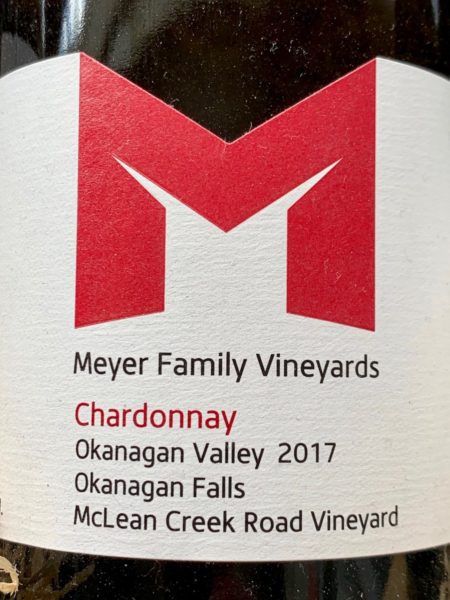 We produced 530 cases of single vineyard Chardonnay from our estate vineyard on "McLean Creek Road" in Okanagan Falls. 
The wine has bright acidity with peach and herbs on the palate, great structure and a long finish. On the nose fuzzy peaches, lemon and vanilla.
Drink this wine now or cellar up to 7 to 10 years.
An oaky aroma that didn't show in the taste (18% new) Scents of almonds and fruit salad. Nice and fruity. $28.80 online and at the winery.
This vineyard is a favourite of a resident mama bear with three cubs, obviously a smart mama bear with discriminating taste!
I enjoyed all three of the Chardonnays. The wines were really nice, smooth with citrus flavours I look for.
The Tribute Series* is a dedication to a Canadian for an outstanding achievement in their field. Each year, the Meyer Family will donate $5,000 toward a not-for profit foundation, endowment or scholarship as a way of encouraging or honouring the legacies of these Canadians.
"Crafting single vineyards wines of excellence"
In traditional French Burgundian style we focus on small case lots of varietals best suited and expressive of their unique place of origin with an emphasis on Chardonnay and Pinot Noir. We produce about 8,000 cases and strive to produce the finest wines possible. Our wines are hand harvested and hand crafted and we take great pride in each bottle of wine with great attention to detail. We hope that you enjoy our wines as much as we enjoy making them!
Meyer Family Vineyards has been crafting premium wines in the Okanagan Valley since 2006 and in 2010 we opened our tasting room in Okanagan Falls, British Columbia. Our team is built of passionate, dedicated wine lovers who have discovered the stunning views and charm of the Okanagan and everything it has to offer.  We invite you to come visit our winery and nurture your passion for wine while experiencing this little piece of paradise.
Chris Carson, Winemaker & Viticulturist
Ajay Chavan, Assistant Winemaker
Tasting notes and winery information in italics courtesy of the winery. All images, except Gewürztraminer bottle shot, MyVanCity.  I purchase wines at winery club pricing and received an unrelated non-monetary benefit during my stay in Okanagan Falls. All opinions are my own.
[wdi_feed id="2″]