The Wines of South Africa hosted a Trade Seminar today with an opportunity for wine bloggers and purchasers of wines for restaurants, wine shops, and BC Liquor Stores were invited to taste and sample the wines.
Many of the wines were what the producers consider to be "premium" wines. The majority of the wineries are located in the Western Cape and many of the growing regions are influenced by their promisity to the ocean and its cooling effects.
This was a tasting of 8 wines ranging from a Brut Classique to rich reds. Following are the wines that were tasted during the seminar, with the wineries tasting notes followed by my own impressions.
Anthonij Rupert
L'Ormrins Brut Classique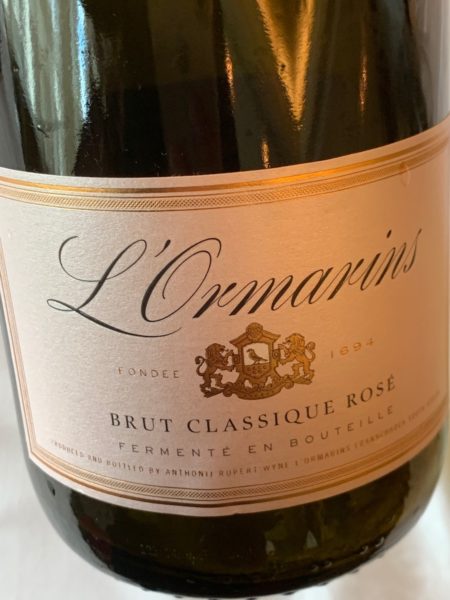 Elegant, fresh and lively – this wine is rich in minerality with hints of brioche, citrus and appley notes. Good vibrancy on the nose with perfumey notes balancing the ripe fruitiness and fresh lime character. The palate displays a crisp natural acidity, however rounded with a creamy texture and a long pleasant nish. An exquisite Methode Cap Classique!
Lovely, light salmon colour, a bit on the orange side. 60% Pinot 40% Chardonnay from vineyards 15 kms east of Capetown at a height of 800m. Citrus, alcohol scents and light stone fruit aromas in the background. Light tasting, fruity flavour, acidic, tingley on the palate, lingering taste and fizzy with a smooth finish.
Robinson & Sinclair
Linton Park White Rhino Chenin Blanc 2018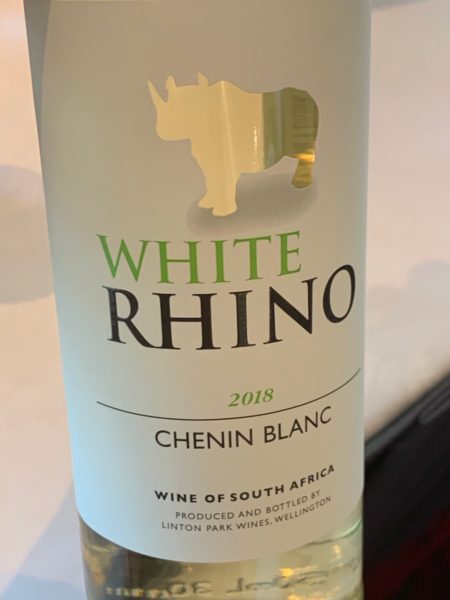 Celebrating Linton Park's commitment to preserving the environment, a portion of the profit derived from the sale of the Rhino range of wines is donated to the conservation of rhino's in South Africa. In addition, the wines are also packaged in light-weight bottles to lower the cellar's carbon footprint.
The wines are made for everyday enjoyment, offering excellent value for money. The grapes were sourced from selected vineyards where the vines benefit from the valley's high rainfall and the warm African sun, resulting in flavourful and well-balanced wines. The wines are all unwooded to preserve the natural fruit flavours of each grape variety.
Appearance of bright lemon colour, a delicate lightly musk aroma, stone fruit in the background with peach scents. Light tasting, some citrus scents. The flavour increases as you sip with a dry finish, not tart. Not as acidic as the scents would indicate. Very good, wonderful aromas, fresh. Finishes smooth with citrus scents still prevalent. Not made for aging although would keep for 3-5 years but best now. A "Monday to Thursday" wine benefitting from the higher altitude that keeps the vineyards cooler.
Bellingham
Bernard Series Old Vine Chenin Blanc 2017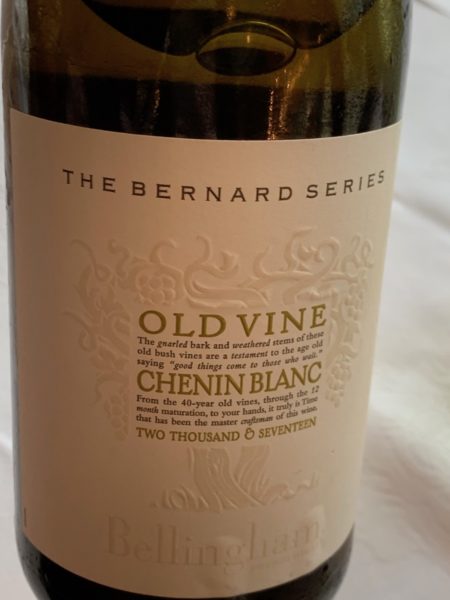 A luminescent gold wine with fleshy peach, passion fruit, honey melon, papaya and pineapple fruit aromas layered with whiffs of oatmeal and crushed wheat that follow through with lavish concentrated fruit flavours from the nose – powerful yet balanced on the palate with discernible, yet seamless and subtle spicy oak complexity. The riveting finish is fresh and intense with tremendous length, making it a great wine for enjoyment with food.
Also a pleasant yellow colour. Oak scents much more prevalent, barnyard and slight stinky aroma, cat pee, harder to pick up fruit scents. Very oaky. The harsh scents do not diminish but the flavour gets milder with a slight banana flavour.
Boschendal
1685 Chardonnay 2018 (with limited 2017 still available)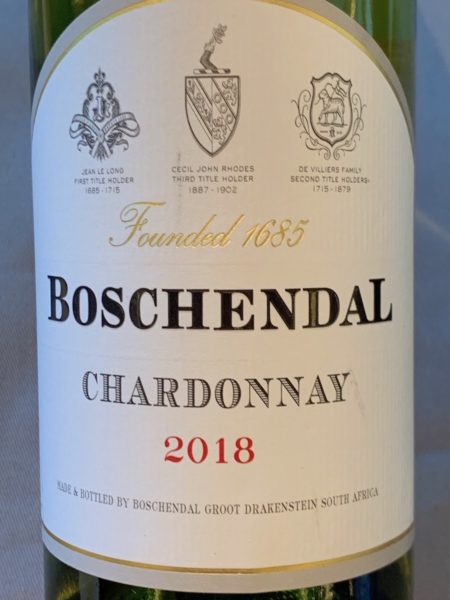 This bold statement wine, which is big onaromas and flavours, has a lemony, cinnamon and nutmeg
nose. Zesty citrus and ripe tropical fruit flavours. Well balanced with a soft, buttery character from barrel fermentation and maturation add to the complexity and roundness of the wine.
Toasty scent with very little oak aroma showing. Citrus fruit scents and aromas are sweet. Light with a surprise oaky taste, although not a heavy taste of oak. Grapes are from a selected vineyard featuring burgundy grape varietal plus two other vineyards with a cool climate. Lower acidity with pineapple and coconut flavours. Very nice, pleasant drinking with a citrus finish, not tart at all. Good for aging. Available at BC Liquor Stores $21.99 (on sale until June 29 $19.99)
Nederburg
Heritage Heroes Airhawk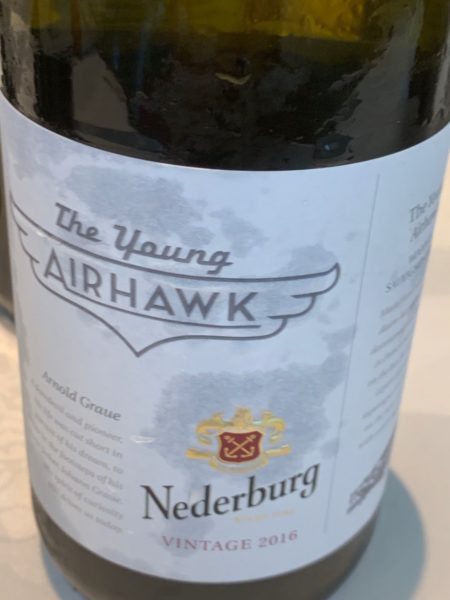 This refreshing, wooded Sauvignon blanc, made from cool-climate vines, pays homage to Johann Graue's son, Arnold, who was renowned for his winemaking prowess. A bouquet of green figs and asparagus opens onto a crisp, complex and multi-dimensional palate.
Layers of gooseberry, green fig, lemon zest and minerality very well integrated with wood. Fresh, crisp and zesty with a creamy texture.
Enjoy with fresh seafood as well as chicken and pasta dishes, vegetables and fresh summer salads.
Slightly stinky, damp but citrus, oka scents also sweet candy. Sauvignon Blanc fermented in barrels (which is uncommon in South Africa) From three regions with cooler climates, cooled by the ocean. Asparagus scents (hence the initial stinky), mineral notes. As it sits it develops more pleasant scents with hints of mushroom flavour, slightly tart, fairly light with a lemony finish. Puckery but not unpleasant. A premium wine at a bargain price. Age 5-7 years. May be found in select wine shops. $29.99 at Everything Wine.
Robinson & Sinclair
Rhebokskloof The Flatrock 2017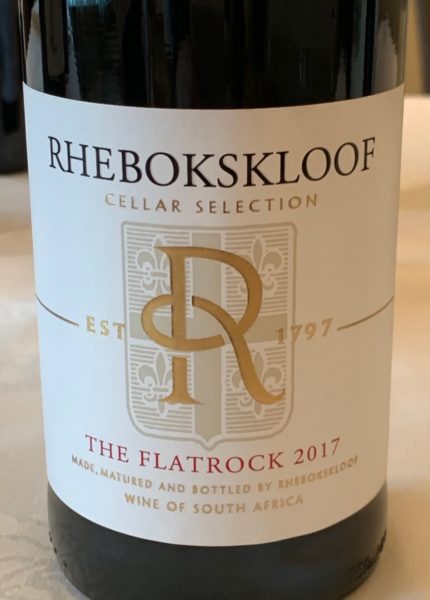 An exciting fresh & fruity nose is followed by a combination of ripe berry fruit flavours, perfectly intertwined with subtle oak and spicy characters that complement the silky elegant tannins, ensuring a very pleasant and smooth aftertaste. note: the 2017 tasting notes were not available on the winery website, the notes here cover 2014-2016
Pleasant scents of caramel, tobacco, rich, sweet with depth and later scents of sweet candy. I enjoyed the medium, rich scents. Smooth, very good, great colour, full bodied without being heavy. Lovely dark fruit taste of cherries. Easy drinking, medium tannins. A slight yeast scent after sitting that did not affect the enjoyment.
Nederburg
Heritage Heroes Brewmaster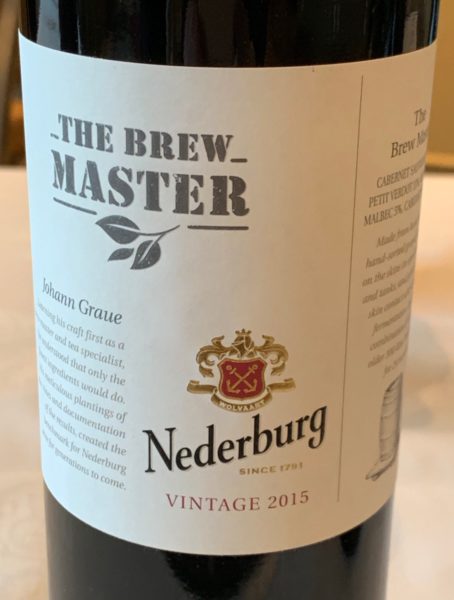 Dark, intense red. Concentrated aromas of dark fruit, blackcurrant, mulberry, dark chocolate, mocha, cigar box, and a hint of vanilla spice.
Full-bodied, classic and complex with juicy dark-fruit flavours, savoury notes and powerful soft ripe tannins that will soften with further bottle maturation. Great integration of wood and fruit.
Excellent with red meat, casseroles and stews, leg of lamb, roast beef, duck, robust chicken and pasta dishes, hearty soups and mature cheeses.
Scents of tobacco, alcohol, coconut, turpentine and raisins. Escents of medicinal scents. Fermented in 1, 2, and 3 year French oak barrels. Slightly lighter in body than Rhebokskloof The Flatrock but darker in colour. I found the coconut taste to be quite prevalent.
Anthonij Rupert
Optima 2014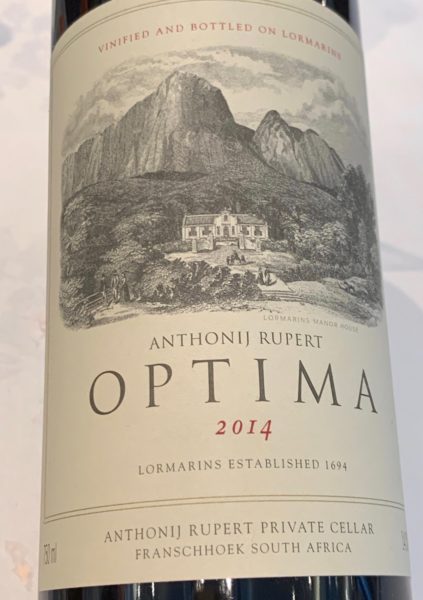 Complex melange of inviting deep blueberry, cassis and spicy cocoa aromas. The palate is fresh and lively with an abundance of the same blueberry, cassis and cocoa flavours. Structured and graceful with velvety, soft-textured mouth feel and lovely integration of oak and fruit. Complex, nuanced and subtly powerful, nothing is overplayed. Delicious, lingering tail. 
Ever so slightly lighter in colour than the Heritage Heroes Brewmaster. Much more delicate aromas of apples and figs. Select tasting. Light yet the taste has depth. Very flavourful and very good.  Elegant, food friendly an well balanced. Although this wine is listed at Everything Wine as a 2012 at $53.98 it does not appear to be in stock.
Although not many of the wines in the seminar are as readily available as I had hoped there were other wines during the afternoon trade tasting that are available at Everything Wine. At the end of this article there will be a pictorial of all the wines that were presented for tasting.
WINES OF SOUTH AFRICA (WOSA) is a not-for-profit industry organisation which promotes the export of all South African wine in key international markets. Here you will find up-to-date information on our regions, varieties, terroir and amazing biodiversity, which all make for magic wines from a magical place.
Wines of South Africa (WOSA) is a fully inclusive body, representing all South African producers of wine who export their products. WOSA, which was established in its current form in 1999, has over 500 producers on its database, comprising all the major South African wine exporters. It is constituted as a not-for-profit company and is totally independent of any producer or wholesaling company. It is also independent of any government department, although it is recognised by government as an Export Council.
WOSA is funded by a statutory levy per litre on all natural and sparkling wines exported.

Tasting notes, feature image, and information in italics courtesy of WOSA. All images, except as noted, MyVanCity. My attendance at the seminar and trade tasting was complimentary and included lunch. All opinions are my own.
[wdi_feed id="2″]