This Spring Release Wine Tasting of British Columbia wines was held in conjunction with a  Spring Release Wine tasting that included wines from Australia, Austria, Chile and Italy. See my post from Part One here.
There are numerous opportunities to sample the new spring releases. This Spring Release Wine tasting Part One included wines from Australia, Austria, Chile and Italy. These selections were from the HQ Wines portfolio presented by Town Hall Brands held at the Listel Hotel in late March.
For those BC wine lovers here is a selection of delicious wines I've had the opportunity to taste..
Narrative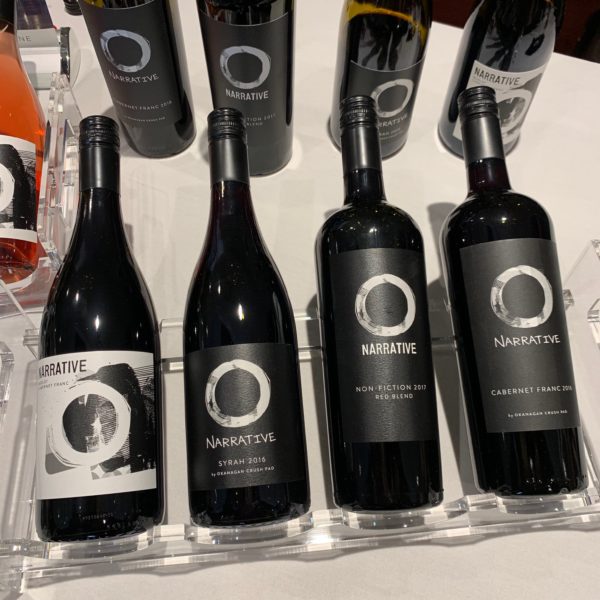 Left to right:
Narrative Red Blend
WINEMAKER Matt Dumayne
Our Narrative Red is a blend of Merlot and Cabernet Franc. Expressing true Okanagan characteristics of red fruits with a distinctive herbal note. Soft tannins coupled with nicely balanced acidity make this an easy drinking wine on its own or paired with food.
$20.90 from the winery online store
Narrative Syrah
WINEMAKER
Matt Dumayne
WINEMAKING
Using grapes sourced from the Black Sage Bench, and in keeping with our philosophy of less is more, this Syrah was gently destemmed with 25% whole cluster into concrete tanks for fermentation and gaining. No oak was used allowing the rich, black fruit, pepper and a barnyard savouriness to shine through.
WINE PROFILE
An intense fruit sweetness of plums, chocolate and spice leads to a long and supple finished framed by ripe and gentle tannins
$29.90 from the winery online store
Narrative Non-Fiction
WINEMAKER Matt Dumayne
Narrative Non-Fiction is a blend of Cabernet Sauvignon and Cabernet Franc from a Certified Organic vineyard in Osoyoos. Fermented and aged in concrete vessels for 8 months, the wine provides aromas of wild herbs and dark berry fruits that lead into a lush textural mouthfeel and fine supple tannins with a fresh lengthy finish.
$26.90 from the winery online store
Narrative Cabernet Franc
WINEMAKER Matt Dumayne
A blend of Cabernet Franc grapes sourced from the Black Sage and Golden Mile Benches in Oliver, BC. The wine was fermented and aged in concrete tank for 9 months prior to bottling in late July 2017. Powerful flavours of red fruits are coupled with elegant mid palate weight and a supple finish.
$29.90 from the winery online store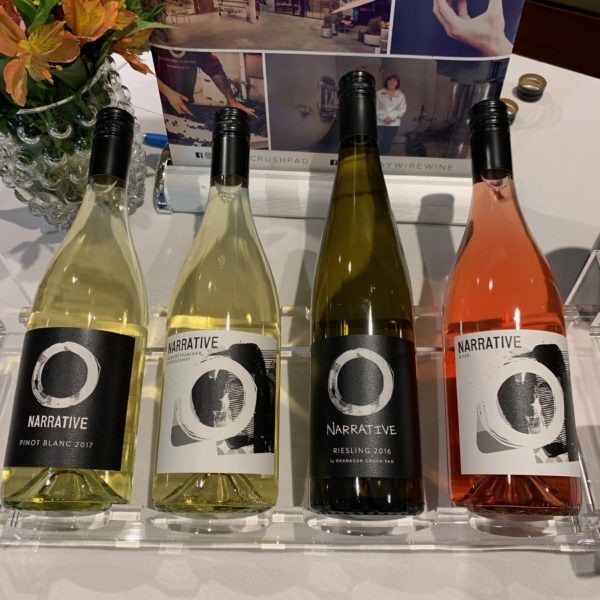 Left to right:
Narrative Pinot Blanc
WINEMAKER Matt Dumayne
Grown from 32 year old vines high above Lake Okanagan this sophisticated Pinot Blanc has a lovely round palate alive with melon fruit and a herbaceous top note. The old vines provide a mouthwatering finish with layers of complexity. We produced a very limited number of cases as we couldn't let this delicious wine be blended away. Enjoyed best on a warm patio with good friends.
$22.90 from the winery online store
Narrative White
WINEMAKER Matt Dumayne
Our Narrative White was crafted using Chardonnay, Viognier, Gewürztraminer and a touch of Riesling. The components were naturally fermented and aged separately for 8 months in both concrete and stainless steel tanks to give the wine great texture but maintain freshness and lively fruit flavours.
$19.90 from the winery online store
Narrative Riesling
WINEMAKER Matt Dumayne
WINE PROFILE
This Riesling came from a warmer site in Osoyoos and therefore was hand harvested early for retention of juicy acidity and bright fruit flavours. Native fermentation took place in stainless steel followed by 8 months of ageing in concrete egg-shaped tanks.
$22.90 from the winery online store
Narrative Rosé
WINEMAKER Matt Dumayne
Made from grapes harvested in Summerland and Oliver vineyards. Gently destemmed with 12 hours of skin contact before lightly pressing and fermenting naturally in concrete tanks, The wine is bone dry, very textural and sensual with bright berry fruits and a lovely herbal complexity.
$22.90 from the winery online store
Narrative wine and spirits were introduced by Okanagan Crush Pad winery in 2014 with the sole purpose of showcasing what the Okanagan is best at: cool climate, aromatic, crisp, and lively wines and spirits made exclusively from Okanagan grown grapes. Our region is one of the rarest wine growing terroirs in the world: offering both an arid desert landscape and snow, with a short yet intense growing season. Wines from this region are benchmarks for cool climate style. Narrative wines articulate this through winemaker Matt Dumayne's creation of unique blends, varietal wines and premium small offerings crafted from grapes sourced from various points across the Okanagan.
Our label was the inspiration of Vancouver artist Scott Sueme, who created the Dazzle-style graffiti on the exterior of the Okanagan Crush Pad winery building in 2011. Dazzle uses a complex pattern of geometric shapes in contrasting colours, interrupting and intersecting each other. The label embodies this design ethos and makes a bold and modern statement, which is symbolic of the new style of wines and spirits the team is crafting for Narrative.
Narrative wine is made at Okanagan Crush Pad established in 2011 in Summerland, BC on a site that offers sweeping views of Okanagan Lake. Owners Christine Coletta and Steve Lornie are committed to creating pure wines that tell the story of a very special terroir. It is here they craft Free Form, Haywire and Narrative wines along with offering custom wine services for other winemakers.
Haywire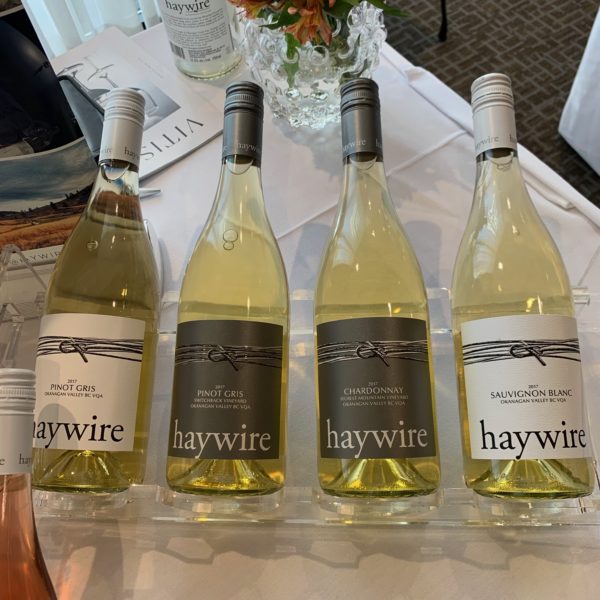 Left to right:
Haywire Pinot Gris
WINEMAKING
The wine was naturally fermented and aged in our new rectangular concrete tanks for 8 months.
WINE PROFILE
Intensely textured and very fruit forward with juicy acidity.
$22.90 from the winery online store
Haywire Switchback Organic Pinot Gris
WINEMAKING
Harvested in four separate batches in October, our estate grown organic Pinot Gris was whole cluster pressed to concrete tanks where it was fermented using native yeasts. The wine went through full malolactic fermentation and was left on gross lees for 10 months.
WINE PROFILE
The wine has a creamy mouthfeel with lively acidity and displays citrus and stone fruit characters with hallmark Okanagan herbal notes on the palate.
$26.90 at the winery online store
Haywire Secrest Mountain Chardonnay
WINEMAKER Matt Dumayne
WINEMAKING The wine was whole bunch pressed to egg-shaped concrete tanks for a long, slow native ferment followed by malolactic fermentation. It was left on gross lees to build texture and richness for eight months before bottling.
WINE PROFILE Bright tropical fruit, rich and lush on the palate with a mouthwatering frame of acidity.
$24.90 at the winery online store
Haywire Sauvignon Blanc
WINEMAKER Matt Dumayne
WINEMAKING 100% Sauvignon Blanc grown in Summerland was whole bunch pressed to concrete tank for native fermentation. Further aging in concrete tanks gives this wine excellent texture while preserving fresh lively fruit flavours in a classic Okanagan style.
$24.90 from the winery online store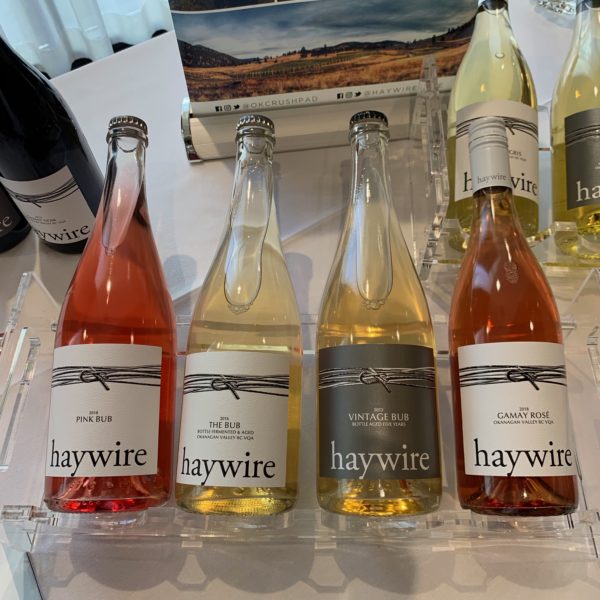 Haywire Pink Bub
WINEMAKER  Lynzee Schatz
WINEMAKING  A limited amount of Pink Bub is made with grapes grown on our Summerland and Oliver vineyards with secondary fermentation taking place in charmat tanks. We add a drop of red wine to the dosage to give Pink Bub its lovely pink hue.
WINE PROFILE  Hints of wild strawberries with a touch of sweetness and mouthwatering acidity; the body is fresh and lively with lovely depth.
$29.90 from the winery online store
Haywire The Bub
WINEMAKERS
Matt Dumayne, Jordan Kubek
WINEMAKING
This BC made sparkling wine uses Pinot Noir and Chardonnay grapes which were harvested in late September from two uniquely different sites. Fermented in stainless steel tanks, before bottling in December 2014. Disgorged January 2015 with zero dosage.
WINE PROFILE
This is a bold, austere bubble; crisp and fresh, with citrus and toasty notes and a texture of light effervescence.
$29.90 from the winery online store
Haywire Vintage Bub
WINEMAKERS Matt Dumayne, Jordan Kubek
WINEMAKING This special cuvee was bottled in early January, 2014 and remained on its lees in tirage for 52 months. At disgorgement we chose not to add a dosage, believing the wine had achieved balance all on its own.
WINE PROFILE When originally released, the wine demonstrated classic warm bread aromas and a crisp green apple finish. Now, with aging, toasted hazelnut aromas are emerging with a creamy red apple palate and white grapefruit freshness to finish.
$34.90 from the winery online store
Haywire Gamay Rosé
WINEMAKING
Gamay was fermented dry using native yeasts in a mix of both stainless steel and concrete tanks.
WINE PROFILE
Mouthwatering acidity with lifted red fruits balanced by savoury herbal notes.
$22.90 from the winery online store
Haywire Winery offers pure, lively, wines that reflect the unique cool climate terroir of the Canada's Okanagan Valley. The portfolio includes pinot gris, chardonnay, pinot noir, gamay and traditional method sparkling wine. Founded in 2005 by Christine Coletta and Steve Lornie, "haywire" is an old Canadianism that refers to wires used for baling hay. Haywire tended to tangle and be unpredictable making it an apt description of the pair's impromptu decision to forgo retirement and journey into farming and wine making.
Today, their venture includes Okanagan Crush Pad, a state-of-the-art 40,000 case winery, 320-acres of vineyard and farmland, and a focus on creating natural wines exclusively from organic grapes. With home vineyards Switchback and Garnet Valley Ranch now organic certified Haywire has become recognized as making some of the most game-changing wines from the region. Winemaking is in the capable hands of New Zealand native Matt Dumayne who works with consulting winemaker Alberto Antonini. The entire team is committed to farming wines that are lively and elegant and let the natural beauty of the Okanagan Valley shine through.
free form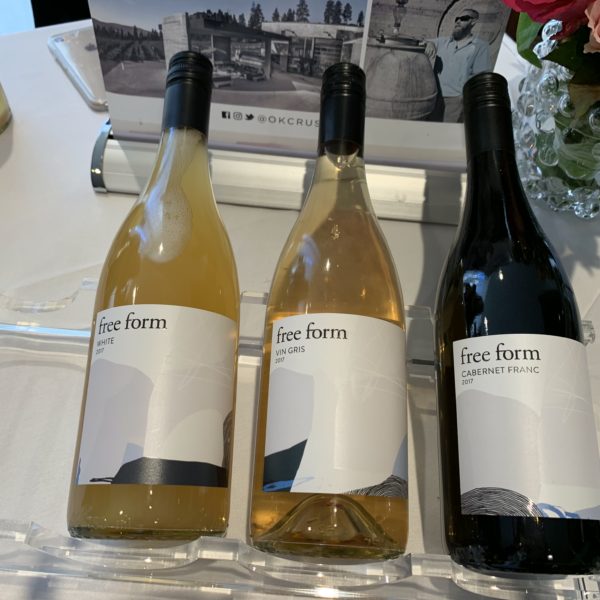 free form white
WINEMAKER Matt Dumayne
WINEMAKING This wine is a blend of three white varieties: Pinot Blanc, Chardonnay and Viognier sourced from three different vineyards. The grapes were destemmed and left to ferment using native yeast with the Pinot Blanc in concrete and the Chardonnay and Viognier in separate large oak barrels. After eight months of ageing on skins, the wines were pressed off and blended into a single large concrete tank in late June and bottled mid-August 2018.
WINE PROFILE Notes of guava and fresh pineapple intermingled with a slight floral herbaceousness. The palate is crisp with juicy acidity, tropical fruits and firm structure that will reward pairing with roasted lemon poultry and hearty vegetables.
$26.90 from the winery online store
free form vin gris
WINEMAKER Matt Dumayne
WINEMAKING Vin Gris was made from Pinot Noir grapes grown in Summerland, harvested in late October. The wine was whole bunch pressed to large concrete tanks. Added complexity and texture were achieved with a native yeast fermentation and a full malolactic fermentation. The wine was bottled unfiltered in April 2018.
WINE PROFILE This wine highlights the delicacy and fruit forward notes of whole bunch pressed Pinot Noir from an organically certified vineyard. This Vin Gris exhibits fresh floral notes with lively tropical fruits framed by a juicy acidity. Intensely textured from concrete fermentation and aging.
$26.90 from the winery online store
free form cabernet franc
WINEMAKER Matt Dumayne
WINEMAKING Cabernet Franc from an organic vineyard in Kaleden was destemmed and put into two clay amphorae and three large oak vessels. Native fermentation started spontaneously and finished in spring. After eight months of skin contact the wine was pressed off in June and blended to a concrete tank to settle naturally and bottled mid-August 2018.
WINE PROFILE Dark black plums with black berry fruit, a smoky note with rich mocha and classical cabernet franc herbal aromatics. Juicy red fruits dance with excellent structure and our hallmark mouthwatering freshness.
$39.90 from the winery online store
Free Form launches with four wines: an Ancient Method sparkling, a Vin Gris and two extended skin-contact wines. Made from organic grapes, native yeast and free of additives, these wines are left to find their own course under the watchful eye of Matt Dumayne. The inspiration for our Free Form art was taken from the unique features of our landscape where low hills and oblong lakes were formed by glacial activity during the final retreat of the ice more than 9,000 years ago. Large deposits of gravel, silt and sand were left behind in the valleys formed over time by water and wind. In the rain shadow of two mountain chains, large alluvial fans and deltas used for agriculture surround a chain of lakes, all once part of a larger glacial lake. The rain shadow creates a hot, desert-like dry climate, home to wild sage, bunch grass, cacti and rattlesnakes. In a country known for long, cold winters, this climate is unique.
Wines, made by Matt Dumayne, are fermented in concrete tanks or clay amphorae. Extended skin contact is used, followed by a gentle pressing and further rest before bottling (free of rough handling and commercial additives, and little to no sulfites). In our pursuit of "wines of place", we celebrate the inherent difference and pleasure of each vintage. Each is one of a kind – never to be repeated.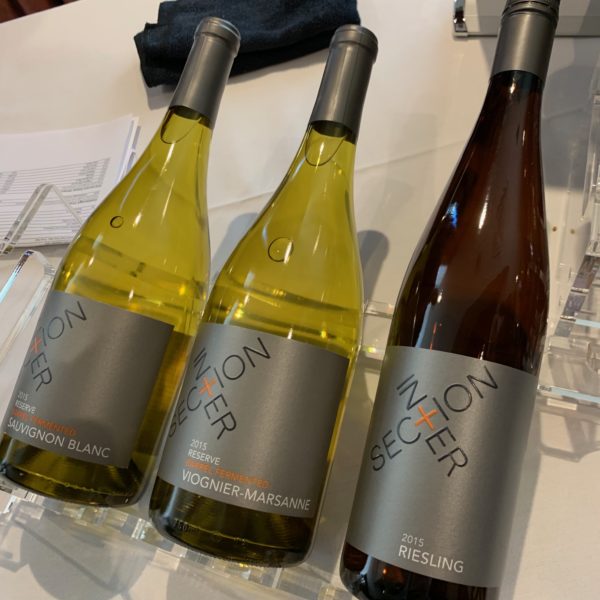 Intersection Sauvignon Blanc
A beautiful yellow-gold colour belies an intense, ripe nose of tropical fruit. On the palate, vivacious fruit from the hot 2015 year merge with hints of caramel and spice from six months in neutral French oak puncheons. The texture starts out creamy, tempered by bright refreshing acidity, and follows to a long, rounded finish.
A fantastic match for charcoal-grilled rosemary and citrus sausages or spiced chutney.
Serve chilled to accentuate the bright fruit, or slightly below room temperature to properly appreciate the broad, warming mouthfeel.
$20.00 direct from the winery (includes taxes and deposit)
Intersection Viognier
In this singular blend, the intense stone fruit and floral aromas of Viognier link to the orange peel citrus accents and ethereal texture of Marsanne. Whole bunch pressed, fermented in neutral French oak barrels, and aged on lees for 6 months to promote texture and complexity. 
The trick with Vio-Mars is to capture exactly the right blend of the two grapes, allowing the Viognier's chameleon-like versatility to promote and accentuate the Marsanne's comparatively subtle profile. This blend of 15% Marsanne has proven effective in promoting the finer varietal intricacies of the grape without diminishing the fruitful vivacity of the Viognier.
A complex and delightful pairing wine, well-suited to drink alongside earthy white meats, from roast turkey to oysters to pork terrine. Try with sushi for a particularly satisfying combination. 
$20.00 direct from the winery (includes taxes and deposit)
Intersection Riesling
A lively, aromatic minerality comes crisp and strong on the nose, intermingled with fresh green apple. On the palate, brief honey sweetness is swiftly cleansed by continued green apple and lime zest. A clean, refreshing finish leaves the mouth watering for more.
A bright, refreshing wine, the Riesling cuts through fat and cools the sensation of spice. Pair with goat cheese salad or oysters on the half-shell with grated horseradish.
$19.00 direct from the winery (includes taxes and deposit)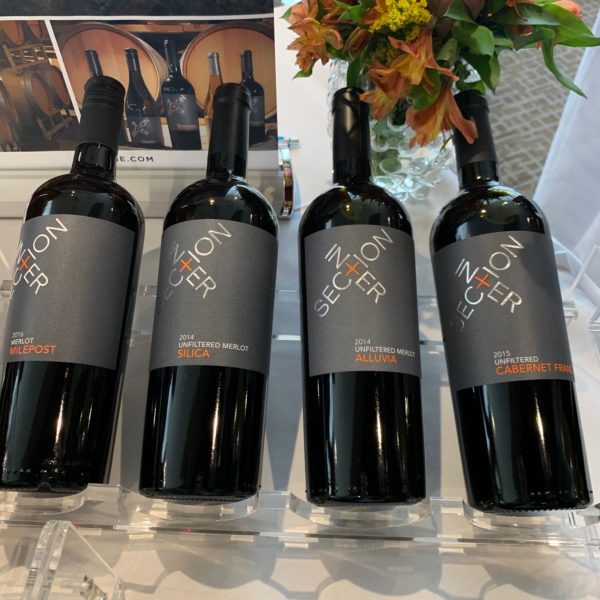 Intersection Milepost Merlot 2016
The Milepost Merlot is the avatar of a season. Starting in 2011 we began to make this wine selectively in singular years that showed intrigue and promise. With low intervention winemaking and a light touch in the field, the Milepost Merlot changes from season to season, always reflecting the nature of the year that its grown in. In 2016, that nature was bright, elegant, and extremely graceful.
Opens on the nose with beautiful floral and fruit aromatics, reflecting the light oak with a hint of cola. On the palate, plum preserve, strawberry, and cherries and cream balance on a fine structure with clean, light tannin.
Pair with sweet asian BBQ pork or baked yams with white pepper. 
$22.00 direct from the winery (including taxes and deposit)
Intersection Silica Merlot 2014
2014 was the third season of our separation between the Alluvia and Silica Merlots. This separation allowed for more specified vineyard management, which together with the consistently hot growing season, resulted in a beautifully stable and uniform crop of fruit. The thin sand caused strain upon the vines, resulting in stronger acid and tannin structure in the fruit. Upon harvest, the Silica is treated to 28 days of fermentation followed by ageing in tight-grained French oak, 30% new. This wine is gravity clarified, meaning that we rack the juice off of the settled sediment rather than pushing it through filter pads. This results in bolder structure, more density, and the designation: "unfiltered."
A vibrant and concentrated red fruit nose leading into luxurious raspberry torte on the palate with a long, elegant finish. Excellent structure formed by an intermingling of crisp underlying acidity and full, firm tannin. A powerful and robust wine, the Silica pairs beautifully with rack of lamb or with pancetta and baked olives.
$29.00 direct from the winery (includes taxes and deposit)
Intersection Alluvia Merlot 2014
In 2007 we planted one block of Merlot across two distinct soil types: a fine, thin plot of dry silicate sand, and the alluvial wake of an ancient creek system. For three years we created a unified Merlot from the block, until 2012 when we divided the field by soil and formed the Silica and Alluvia Merlots: twins in every way but one. Harvested in tandem and boasting near-identical winemaking, our labour is to isolate the single variable of soil in our flagship wines. Together, the Alluvia and Silica Merlots are paragons of all that we aim to achieve at Intersection: honest wines that truly represent a certain place at a certain time.
Plum and dried, dark fruit with hints of vanilla on the nose follow into a full, deep palate. Earthy clove and cinnamon tones intermingle with dark chocolate raisin, licorice, and black tea. Dry tannins lend the wine grip and promise to unfold across the next 3-5 years.
With its bold structure, the Alluvia is a robust wine that pairs to excellent effect with seared duck breast or the finest, fattiest steak you can get your hands on.
$29.00 direct from the winery (including taxes and deposit)
Intersection Cabernet Franc 2015
The 2015 Cab shows all of the rich, dark fruit of the previous 2013, coupled with a complex, intoxicating nose of roasted red pepper and dried cranberry. Notes of date, fig, and licorice round out a well-textured wine with finely balanced acid and tannin.
Pair with butter-poached pork loin or black lentil and goat cheese ravioli, always with fresh herbs to match.
$29.00 direct from the winery (including taxes and deposit)
Intersection Estate Winery was established in 2009 with a clear mandate: to discover and prove what our region grows best, and to craft wines that best exhibit those attributes.
We are dedicated to the hands-on farming and creation of wines that express a sense of place, and reflect the potential of our unique and exceptional terroirs.
Our philosophy of allowing the vineyard to guide our decisions has produced a focused portfolio of wines. Each is an authentic expression of a season, a soil, and the sum of our experience in making wines of consistent quality and fidelity.
All images, except as noted, MyVanCity. This was a complimentary media/trade event which I attended in order to facilitate this article. Tasting notes, winery descriptions and pricing courtesy of the wineries. Feature image courtesy of Okanagan Crush Pad.
[wdi_feed id="2″]