Crafting exquisite wines Meyer Family Vineyards is consistently on our list of #FavouriteThings. We absolutely love their Pinot Noirs and their Chardonnays figure prominently on my personal quest of learning to appreciate this beloved grape. You will often find their sparklings on our Sunday brunch table.
Just a few of the reasons we welcome Meyer to our #JointheClub campaign. Become a member and have exclusive access to their 2017 Micro Cuvée Pinot Noir & Chardonnay, and get access to all releases one month before the public.
The next wines to come up for club release are 2019 Rosé and Gewurztraminer, two summer favourites just in time to add them to the June club shipment!
How can you resist? You know you can't, so become a wine club member today!
MEYER FAMILY VINEYARDS WINE CLUB
BECOME A PART OF OUR FAMILY WHEN YOU JOIN MEYER FAMILY VINEYARDS WINE CLUB.
With all these benefits you'll be feeling like one of the family in no time.
Receive 4 bottles of award-winning wine 3 times per year (March, June & October)
Priority access to limited-availability wines, library wines & new releases
10% discount on all wine that you purchase online or in our tasting room
Exclusive access to our online wine club store
Complimentary tastings in our tasting room for you and up to 3 guests
Invitations to special "Family Only" events
No additional shipping fees when you add-on to your wine club order
No membership fees & no cancellation fees
Each "care package" is personally selected by our winemaker Chris Carson and will include a story about each wine along with a Meyer family favourite recipe to pair with your wine selection.  Wines are shipped directly to your door (unless you prefer to pick up at the winery).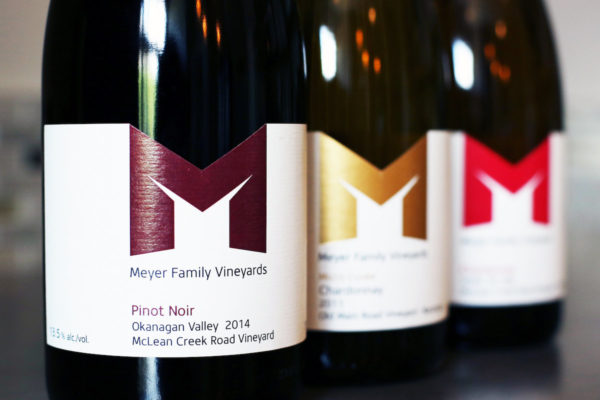 FAQS
What wine club subscription have I signed up for?
Simply sign in with your email address and password. Under "Memberships", click on "Wine Club Memberships". Your wine club subscription will appear.
Can I switch which package I am subscribed to?
You are able to switch between subscriptions but it is important to note that availability is limited in some packages contents may change to accommodate adjustments. To switch packages, follow the steps above, then click "Add or Edit Wine Options". Select the new package that you would like to subscribe to and click "Update".
What wines will be in my shipment?
The exact wines are determined just prior to each shipment, watch for the pre-shipment email that will let you know what wines to expect along with the expected shipping date.
Can I choose the wines for my shipment?
The wines are chosen by our winemaker just prior to each shipment. We do not do substitutions; however, if you have a particular favourite, you can add it on to your shipment with no additional shipping fees.
When will the next package be shipped?
We ship in March, June and October. The pre-shipment email will be sent out a couple of weeks prior to shipping and will indicate the exact shipping date. The cut-off date for changes and updates is on the 1st of the shipping month (ie. March 1st, June 1st, October 1st).
How do I pay for my wine club order?
Wine club shipments are automatic billing, your credit card will be charged on the 1st of the month of shipping (ie. March 1st, June 1st, October 1st). We will email you a receipt upon payment.
I will be away during my next shipment, what can I do?
If you will be away during the time of shipping, email wineclub@nullMFVwines.com and we will hold the wine until you return.
Can I change the address my wine is shipped to?
If you have moved or would like to permanently change your shipping address you can update your address by signing into your account and clicking "View Addresses".
How many bottles come in each shipment?
Four bottles are in each wine club package.
Can I add more wine to my package?
Absolutely, anytime. Just send us an email to wineclub@nullMFVwines.com or login to your account to place the order.
What additional wines are available to me?
As a valued wine club you have access to more wines than anyone else including our limited availability wines, low production wines and library wines when available. Login to your wine club account to view all the wines available or email wineclub@nullMFVwines.com to inquire about a specific wine that you are interested in.
Can the courier leave my wine at my front door?
No. At no time can your wine be left unattended. It must be received by and signed for by someone of legal drinking age in the province of shipping. If you will be unavailable to receive your shipment, we can hold the wine until a more convenient time or we can ship with a courier that has a depot close to your house so that you can pick-up the wine.
My question is not listed here, who can I contact for help?
Drop an email to our wine club coordinator (Julia) via email to wineclub@nullMFVwines.com and we would be happy to help!
Now for the important but boring part please read the Terms of Service. It's that easy!
"crafting single vineyard wines of excellence"
Information and images courtesy of the winery. Photo credit: Something Blue Photography