Love BC Wine? Want to be sure you don't miss out on the new releases? Have you considered joining a wine club?
Join us in supporting your favourite BC Winery by joining their wine club. It's a win for you and a win for a BC winery, you got it a WIN WIN.
One of the ways you can both support the BC Wine Industry and do something for yourself at the same time is to join a wine club of your favourite winery, or even more than one winery! One of our #FavouriteThings Pentâge Winery is joining our new campaign #JointheClub. Here are some details about the perks and how to join.
PENTÂGE CLUB
Created for our biggest fans.
Our club is simple and convenient.
Treat yourself or surprise someone with a membership gift!
Choose the season the wine is delivered – Spring, Fall or Spring & Fall.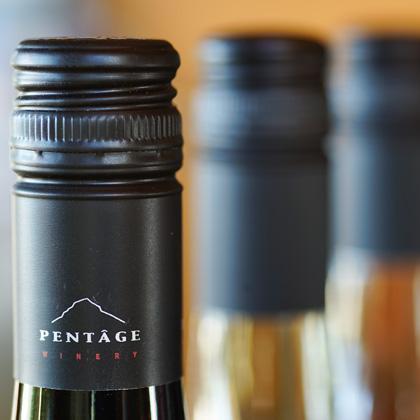 You Pick your wines every shipment.
10% discount on your club shipment (case of 12 bottles) and any additional purchases online or at our wine shop.
Flexible – you decide which season you would like your shipment delivered – Spring (April/May) and/or Fall (October/November)
Preferred access to new releases, limited production and library wines.
Complimentary wine tastings for you plus three guests at the winery (May-Oct)
First in line for winery events
No annual membership fee
Questions? Please email   wineclub@nullpentage.com
Give it a try!
At Pentâge Winery our mission is to produce world-class wines.  Viticulture practices from pruning right through to harvest will determine the characteristics of the wine – this is why our low-yield, hands on approach in the vineyard is critical.
In the winery, the grapes are sorted prior to being de-stemmed and sorted again, if needed, after the de-stemmer and before processing.  As we strive to produce premium wines our grapes are gently pressed and fermented at controlled temperatures with select yeasts.  As a small producer we are able to inoculate small batches, of the same variety, using different yeasts. Once fermentation is complete we then blend them back together – this adds complexity and uniqueness to each wine.
With the use of modern wine making equipment and techniques – Paul believes minimal intervention throughout the wine making process ensures extremely stylistic wines.  Our philosophy has remained the same from day one – produce wines that reflect excellence, which are elegant and well balanced world-class wines.
Our attention to detail with regards to the vines, winery, yeast selections, specific barrel cooperage, winemaking techniques and equipment is essential in our continued success.
We hope you enjoy our wines as much as we have enjoyed making them.
We release no wine before its time.
Information and images courtesy of the winery.