Now is the time to stock up on these delicate and delicious sparklers. The Mountain Jay Brut is just moving into the 2016 vintage with limited quantities of the 2015 still available to #ShiptoSip
The ideal patio and party sparkling wines that everyone just loves! Order now for your shipping pleasure!
Sparkling Rosé

The grapes in this sparkling rosé are harvested a full month earlier than when harvested as a red wine. An early harvest is essential in order to get that signature crisp, refreshing acidity and bright citrus flavours.
TASTING NOTES
This sparkling rosé first catches your eye with its pale pink colour and persistent mousse. Fresh strawberry and cream aromas are complemented by subtle notes of raspberry and ruby red grapefruit. Strawberry and raspberry flavours dance on the palate, with a crisp acidity balancing the sweet field fruit. A velvety texture coats the mouth, with fine bubbles providing a clean and long finish.
70% Gamay Noir, 30% Merlot
FOOD PAIRINGS
Serve slightly chilled as a toast to accompany a celebration or special occasion. Try a glass at brunch with cured meats and rich cheeses. Create your own signature cocktail by blending together your favourite field or orchard fruit, a bit of honey and a splash of coconut water; top off with Steller's Jay Sparkling Rosé and a wedge of citrus fruit for a refreshing summer sipper!
Mountain Jay Brut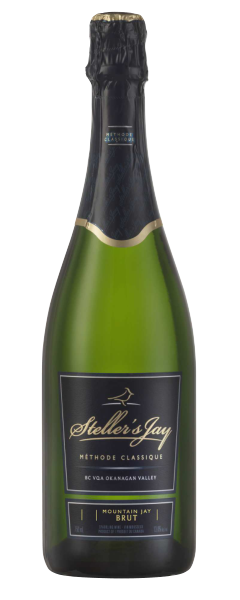 The harvesting of our premium Pinot Noir and Chardonnay grapes for Mountain Jay Brut begins in mid to late September which assures ideal sugar levels. The Pinot Blanc follows and is added to the Brut base. Early harvesting of these grapes ensures a crisp, fresh acidity in our traditional method sparkling wine.
TASTING NOTES
Aromas of citrus and green apple, with hints of biscuits and semi-toasted almonds. The palate is crisp and clean with a pleasant and persistent mousse, while the refreshing acidity provides a long, clean finish. A well-orchestrated blend of Chardonnay, Pinot Blanc, and Pinot Noir.
FOOD PAIRINGS
Steller's Jay Mountain Jay Brut displays smooth flavours which complement a variety of dishes. This dry, delicate sparkling pairs beautifully with flavourful seafood dishes such as sushi, caramelized sea scallops or rich lobster risotto.
Please note that we can only ship within the provinces of British Columbia and to Manitoba and Saskatchewan. Wine charges are subject to 15% Sales Tax (5% GST & 10% PST).
Instagram: @StellersJayBrut
Facebook: Steller's Jay Brut
Tasting notes, bottle shots provided by Dina Clark, Arterra Canada, image courtesy of the winery.