Today we are introducing you to a wine that is also new to us. With a background in farming Joka & Wilbert Borren are no strangers to change and a lot of hard work. After successfully cultivating and raising grapes for other wineries they are now embarking on a new challenge.
We are pleased to welcome Four Shadows Vineyard & Winery to our #ShiptoSip campaign to promote sales of BC wine. Although we haven't yet had the opportunity to taste their wines (we will soon) I think the tasting notes and awards speak for themselves.
Admittedly it takes time to gain a reputation but with Wine Align and BC Lieutenant Governor Wine awards under their belts we encourage you to discover Four Shadows wine, delivered right to your door for your sipping pleasure.
2018 Chardonnay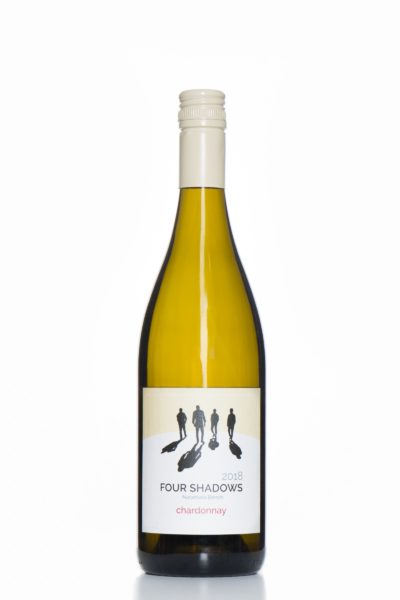 This full-bodied, dry chardonnay is lightly oaked and releases aromas of honey, pear, and caramel. On the palate, you will find flavours of toasted bread, vanilla, and ripe pear.
Try pairing this full-bodied chardonnay with a white, cream sauce (nothing too spicy). If you have a lobster on hand, the notes of pear, vanilla, and honey compliment the crustacean beautifully. This wine also goes well with roasted chicken and turkey. Again, prepare your dish with softer spices such as rosemary and basil, rather than cayenne pepper, for a lovely congruent pairing.
Bronze
WineAlign and BC Lieutenant Governor awards.
2018 Rosé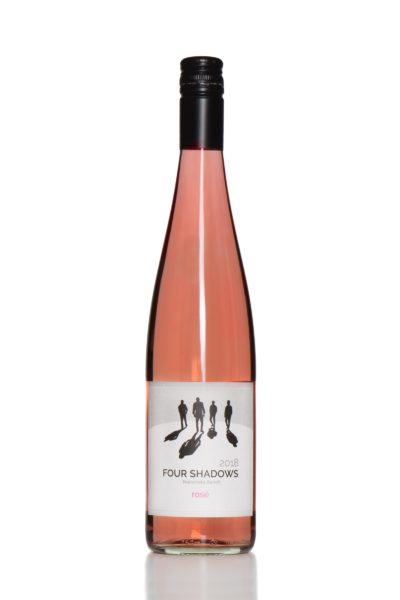 After limited skin contact with our Pinot Noir and Merlot grapes, this salmon rosé provides aromas of raspberries, rhubarb and grapefruit. On the palate, you will experience strawberries, ripe pear, and a hint of lemon.
The perfect patio sipper, this rosé can also compliment smoked salmon, southern BBQ pork, or a medium spice jerk chicken. If salads are more your style, try this rosé with spinach, strawberries and crumbled feta.
2018 Riesling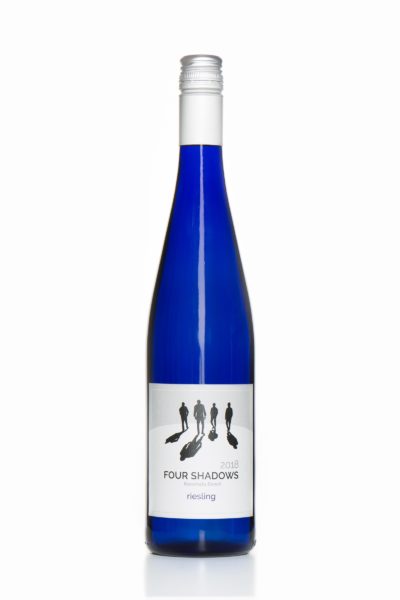 Intensely fragrant with aromas of roses, jasmine and peaches, this off-dry Riesling floods the palate with pear and apricot. The perfect balance of tart and sweet, this wine has a long, drier finish.
This Riesling shines in contrasting pairings. Try coupling this sweeter, brightly acidic wine with a spicy coconut curry, or butter chicken. The spice will mellow the initial sweetness of this Riesling, while the acidy is a lovely pallet cleanser for any creambased sauce. You can also pair this with a charcuterie board (think blue cheese, gorgonzola, or brie).
Gold and Silver
WineAlign and BC Lieutenant Governor awards.
2017 Pinot Noir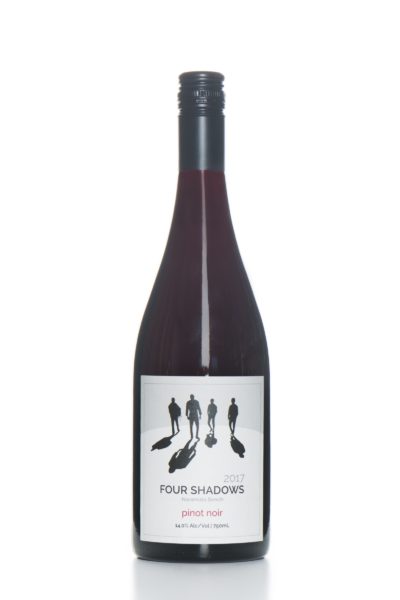 This French-oaked Pinot Noir fills the nose with vanilla, red cherries and white pepper. Upon tasting this medium-bodied, dry wine, you will find more cherries with a touch of leather, and clove.
This pinot noir pairs beautifully with duck, or a pork chop smothered in caramelized mushrooms. Dry, with notes of white pepper, clove, and cherries, our medium bodied red will leave you wanting another glass.
Bronze and Gold
WineAlign and BC Lieutenant Governor awards.
2017 Merlot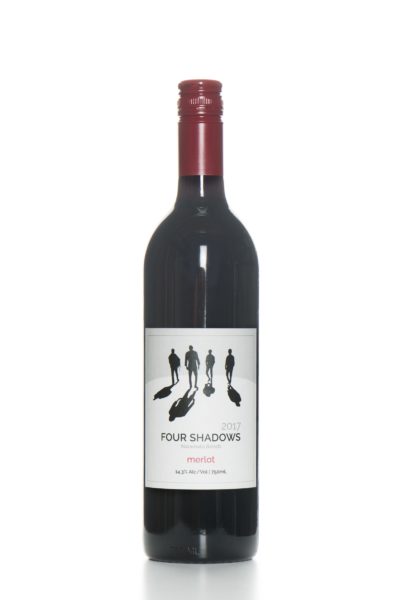 You will discover flavours of black currant and dried plums in this barrel-aged wine. Full bodied and dry, this elegant merlot finishes velvety smooth. Enjoy it today or age it for a special occasion in the future.
Fruit forward and full bodied, this merlot goes hand and hand with heavy tomato dishes, a leg of lamb, or a sizzling steak fresh off the grill. You can even pour a glass after dinner to compliment a parfait of chocolate moose. Try decanting this wine an hour before serving for the most rewarding experience.
WineAlign and BC Lieutenant Governor awards.
Silver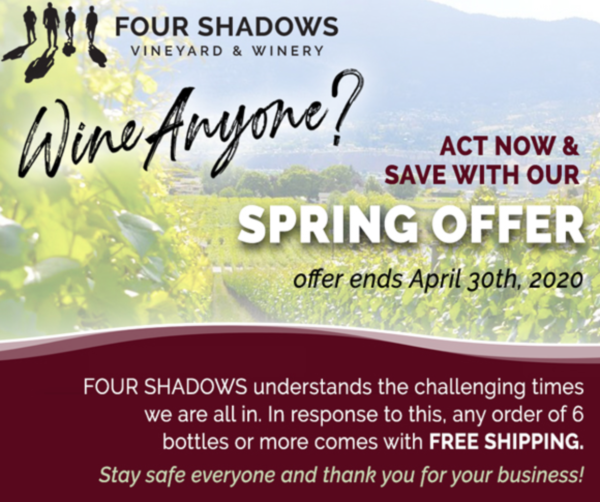 About Joka & Wilbert Borren
"Family means the world to us. The Four Shadows name was inspired by a photograph of our four sons during a family vacation in Mexico.  Even though our boys are growing up and following their own dreams, they are still a big part of Four Shadows. They have left their mark – from helping in the vineyard, renovating the tasting room building, or making the beautiful sign that hangs outside our tasting room. "
"We hope that when you visit our tasting room, your experience is one which is comfortable and fun.  Our intention is for it to be an extension of our home where anyone can feel at ease talking about wine regardless of their level of wine knowledge.  We want to make wines that you can enjoy with friends and family, and create your own special memories."
The Borrens have always had adventurous spirits.  Wilbert and Joka both grew up in Holland. They bought a small pig farm in Lacombe AB and started a family. After successfully growing and expanding the farm, it was time to sell and find their next adventure.  A previous vacation to the beautiful Okanagan area had them intrigued.  With a strong desire to continue farming, in 2011 they purchased a 17 acres vineyard property and moved their young family to Penticton BC.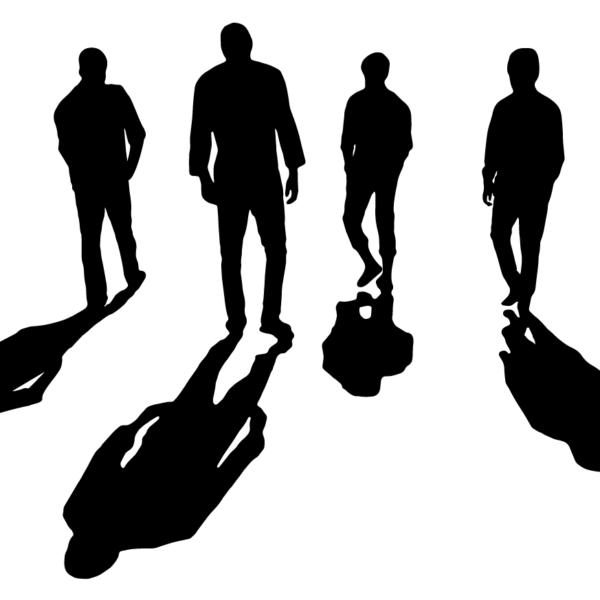 250 Upper Bench Road South, Penticton, BC V2A-8T1
Phone: (250) 493-3625
Email: info@nullfourshadowsvineyard.com
Tasting notes, bottles shots, image and "about" courtesy of the winery. I received complimentary bottles of each of the wines featured to facilitate a future review on MyVanCity.ca.