New World Chardonnay & Merlot, with Old World Elegance
This is a wine club for those that appreciate an elegant, award winning portfolio of wines.
What originally began as an outrageous dream achieved the unthinkable last year when CheckMate Artisanal Winery was awarded a perfect 100-point score for our 2015 Little Pawn Chardonnay. Now, I am proud, and humbled, to share the news that we have been awarded a second 100-point score for the 2016 vintage of Little Pawn Chardonnay, the first Canadian winery ever to earn perfect scores across two consecutive vintages.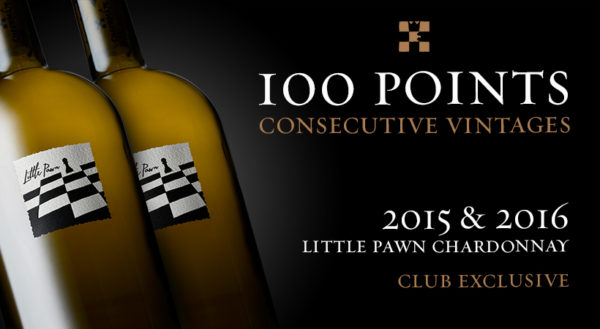 As only 7 barrels of 2016 Little Pawn Chardonnay were crafted, this wine will only be made available to CheckMate Wine Club Members in our Spring Shipment.  The Spring Shipment contains several member exclusive pre-releases including 2016 Knight's Challenge, Fool's Mate and Attack Chardonnays, as well as 2016 End Game and Silent Bishop Merlots.
Membership Program – Six Bottles
Two unique shipments of six bottle configurations delivered to you twice a year, handpicked by winemaker Phil McGahan.
Membership Program – Twelve Bottles
Two unique shipments of twelve bottle configurations delivered to you twice a year, handpicked by winemaker Phil McGahan.
Due to the limited quantities of the wines produced membership is close to capacity. For membership information please click here.
To join the CheckMate Membership Program in the US click here.
Members are extended a limited offer to purchase three of our recently released 2016 Chardonnays (Capture, Queen Taken, Queen's Advantage) and introduce you to our complete collection of 2015 Merlots.  Our 2016 Chardonnays were produced in limited quantities, many of which will not be made available to the general public.
Once you've signed-up, you will receive the most recent member's shipment. Following that, bi-annual shipments are scheduled for spring and fall. Each of your bi-annual shipments will be hand-picked by winemaker, Phil McGahan. The shipments will highlight the subtle, but significant differences that soil and mesoclimate impart on our wines.
All members will receive complimentary ground shipping on all orders. As a member, you are welcome to stop by the winery anytime whether it be to taste the newest release, sample from a barrel, introduce friends to CheckMate, or just to have a chat with the CheckMate team and take in the spectacular setting.
For assistance customizing your order, or if you have any questions, please do not hesitate to contact us at membership@nullcheckmatewinery.com
Information and bottle shots courtesy of the winery. Featue image of D/6 provided by Nadia Davare, Marketing Coordinator, JW Marriott Parq Vancouver & The Douglas. (Exclusive members only evening October, 2019)