Quails' Gate News & Events | August 2018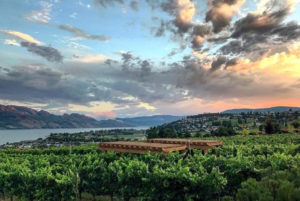 It's an exciting time at the winery with our grapes going through veraison, which means that another successful harvest isn't too far away.
Before the arrival of harvest, there is still plenty of summer left and we're looking forward to your visit to the winery, whether dining at Old Vines Restaurant, visiting our tasting room, or attending one of our many  events.
Cheers to the rest of summer!
REASONS TO CELEBRATE

Proud to share that at the WineAlign National Wine Awards of Canada we received the following awards:
GOLD |  2016 Rosemary's Block Chardonnay, 2016 Richard's Block Pinot Noir, 2017 Dry Riesling , 2017 Lucy's Block Rosé
SILVER |  2017 Chenin Blanc, 2017 Rosé, 2017 Shannon Pacific Viognier, 2017 Totally Botrytis Affected Optima, 2016 Chardonnay, 2016 The Bench Pinot Gris, 2015 The Boswell Syrah.

At Decanter World Wine Awards  we won GOLD for 2016 Chardonnay | 2015 The Boswell Syrah.
SHOP ONLINE
NEW MENUS AT OLD VINES RESTAURANT

We love supporting our local farmers and producers at Old Vines Restaurant, which is why we change our menus regularly to make the most of the freshest ingredients that the Okanagan and BC has to offer.

Winery Chef, Roger Sleiman and his team have just launched new lunch, dinner and dessert menus to pair with our award-winning wines and we have a table waiting for you. Open daily from 11 AM.
MEET WINEMAKER, ROSS BAKER

Ross has been an integral part of our winemaking team since 2013 and was the protégé of former Winemaker Nikki Callaway. A native of Kelowna, Ross completed his Bachelor of Science in Biochemistry (Wine and Plant option) at the University of British Columbia Okanagan, with previous experience at Villa Maria Estates in Marlborough, New Zealand, Red Rooster and Kettle Valley Winery.  Over the past 5 years at Quails' Gate, Ross has learned the amazing nuances to every block of our vineyards and is the perfect candidate to maintain the consistency and quality that Quails' Gate wines are known for.
A LITTLE REMINDER

Internationally recognized as a top producer of Pinot Noir, Quails' Gate was one of the first to bring Pinot clones to Canada. To celebrate National Pinot Noir Day, receive free shipping when you buy any of our current release Pinot Noirs in 6 bottle increments! Simply quote 'PINOT' as the coupon code at the time of payment via our e-store.

Offer valid online only from August 17 until August 27. Order in increments of 6 or 12 bottles.