Who doesn't love a good Happy Hour? No one I know! Just last Thursday I attended a special kind of Happy Hour that included an inspirational extra called Seafood Sessions.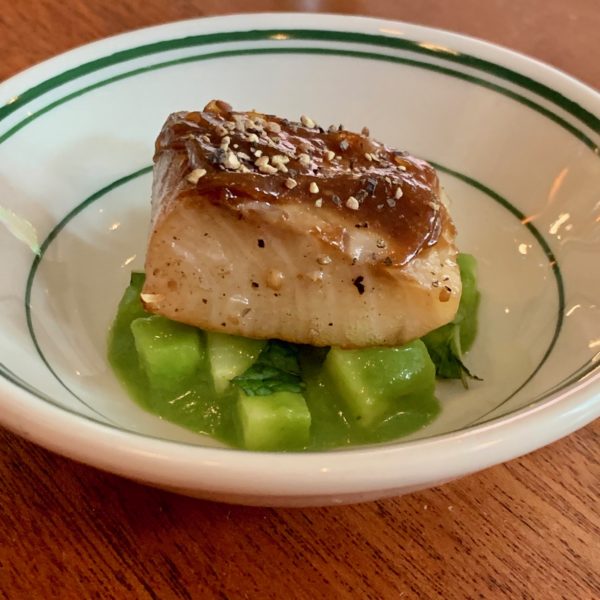 Thursday afternoon happy hour at Gastown favourite Coquille is even more interesting with a calendar of featured Ocean Wise seafood and invited guests to share stories, knowledge and tricks of the trade.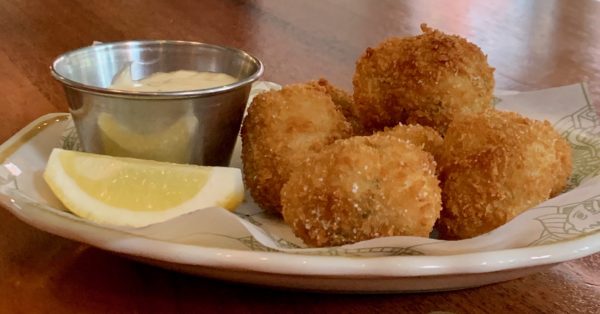 It's been a little over a year since Coquille opened their doors in Gastown and the team have had an incredible year of developing new and existing relationships with shellfish farmers, fishermen and women along with seafood purveyors from near and far.  Seafood Sessions, which will take place every Thursday during happy hour is aimed at showcasing the incredible Ocean Wise bounty that Coquille receives on a daily basis.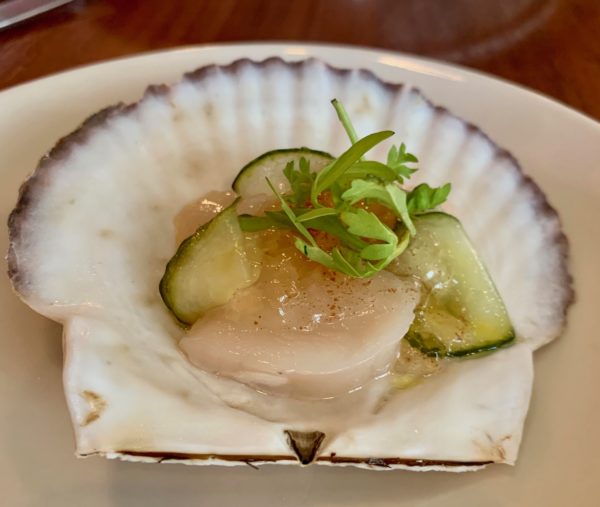 General Manager, Liam Todd who helped conceptualize the program, says "It's our way of bringing together and engaging all of our stakeholders; from our restaurant guests, to our kitchen and service teams to our invaluable local suppliers.  It gives us the chance to share the stories behind what's on our menu."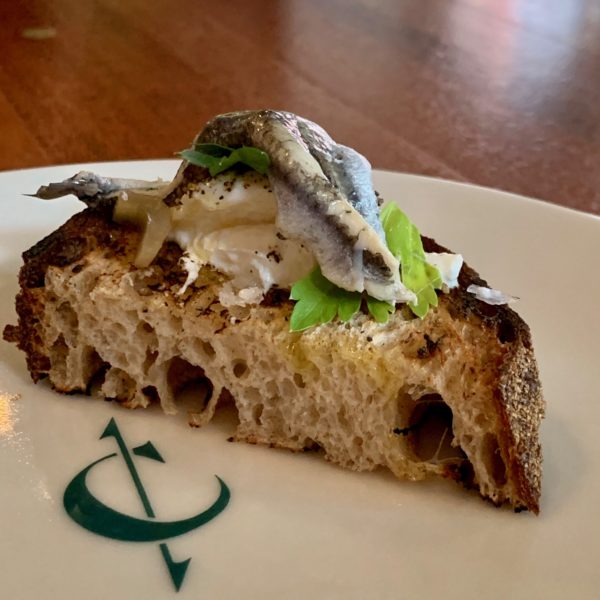 Every Thursday will have a different focus and flavour based on the product and the personality of the invited guest or the product being featured with the aim of providing a fun and informal experience to unwind after work or before dinner.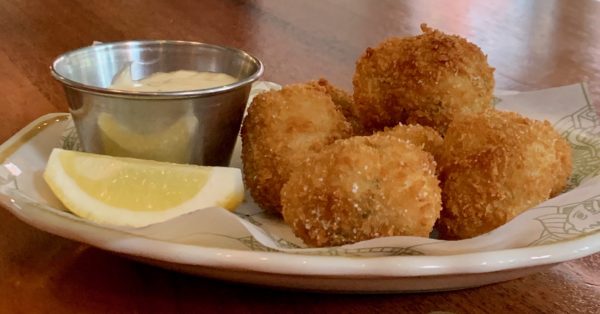 Seafood Session Thursday May 16th welcomed Claire Li, Sustainability Director at Gindara Sablefish, who brought us a taste of this incredible Ocean Wise fish which is native to our pacific northwest waters.
Every dish was fabulous and I can't wait to go again. Happy Hour is available every day and a great bargain. So many tasty snacks to choose from all specially priced for Happy Hour: Marinated Olives, Raw Qualicum Scallops, Fish Croquettes with Garlic Aioli, Grilled & Broiled Oysters, Fried Prawns with Curry Mayo, Grilled Octopus & Chorizo Skewer with Ancho Chili Sauce, Burrata Toast with Pickled Celery & White Anchovy and Oysters 1/2 price.  Note: we enjoyed a "tasting bites" experience and some images may not reflect actual menu portion size.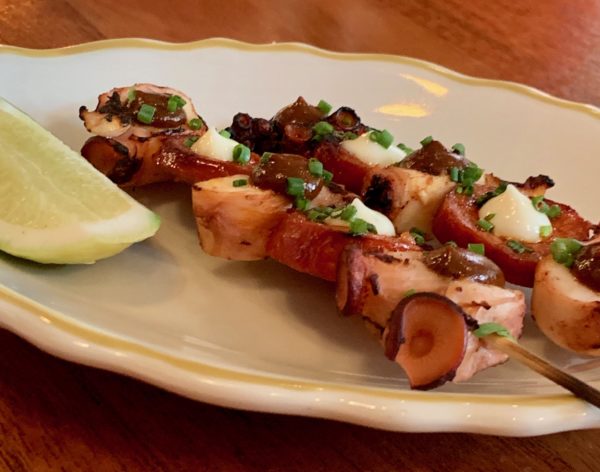 Wine pairings included a Sauvignon Blanc house wine from Lock and Worth Winery and a Syrah house wine from Nichol Vineyard. Both wines were delicious and paired perfectly with the dishes.
House wines are always the best value and in this case they were so good and I love that the House Wines are from BC.
Coming up: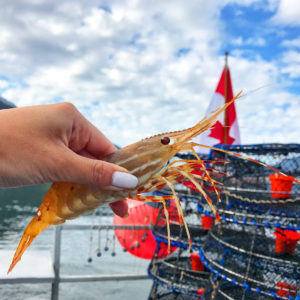 MAY
23
Coquille Fine Seafood (map)
Join us on Thursday May 23rd in welcoming Fisherman, Steve Johanson, Co-Founder of Organic Ocean as he hauls in some seasonal Ocean Wise spot prawns to share with us.
Less than a decade ago 90% of our local spot prawns were shipped overseas with very little left in our own market. Steve successfully championed with the Chefs Tables Society of BC to bring spot prawns back to our dinner tables.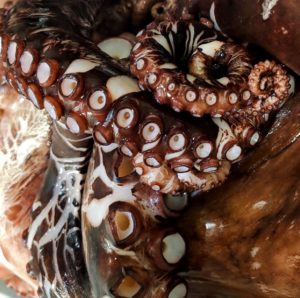 MAY
30
Coquille Fine Seafood (map)
Join us on Thursday, May 30th to learn all about the giant Pacific octopus. Our Sous Chef Mygem will be sharing some interesting facts about this awe-inspiring sea creature, as well as offering some tips on how to prepare and serve it.
The giant Pacific octopus is know for it's grandeur, intelligence, and is known as a master of camouflage. It is a demersal cephalopod that is locally sourced, typically inhabiting the shallow coastal waters of British Columbia and Alaska. Octopus is a versatile seafood that takes well to both hot and cold preparations. You can find it grilled on our happy hour menu, and served as a carpaccio on our lunch and dinner menus.
ABOUT COQUILLE FINE SEAFOOD | Opened in 2018 in the heart of Vancouver's historic Gastown District, Coquille Fine Seafood is the latest project from the team that brought you L'Abattoir. A modern spin on a classic fish house concept, the beautifully appointed restaurant offers a creative Ocean Wise recommended menu of quintessential seafood dishes accompanied by a wide-ranging drink menu featuring craft beer, handmade cocktails, notable BC and international wines. With seating for over 100 between the dining room, lounge and patio, Coquille strives to offer the city's best seafood, allowing locals and visitors alike to enjoy a relaxed-yet-elegant dining experience for lunch, dinner and happy hour.  Open from 11:30am to late, seven days a week.
181 Carrall Street, Vancouver, BC  V6B 0R5 | 604.559.6009 | coquillefineseafood.com 
Facebook: /coquillevan | Twitter: @coquillevan1 | Instagram: @coquillevan
ABOUT GINDARA SABLEFISH
Gindara Sablefish is artisan crafted in partnership with First Nations on the northwest coast of Vancouver Island Canada.
The Kyuquot/Checleset First Nation granted permission to Gindara Sablefish to operate in its territory 20 years ago and since then environmental stewardship has been a keystone in their operation.
Every Gindara Sablefish is cultured and graded for use by fresh sashimi experts.
Gindara Sablefish are a sustainable best choice rated seafood, living in harmony within its native environment.
The world's top chefs trust Fresh Gindara Sablefish to deliver their creativity and passion.
Information, about, feature image, spot prawns image, and octopus image of Seafood Sessions courtesy of Coquille Fine Seafood. About Gindara Sablefish courtesy of Gindara. All other images, except as noted, MyVanCity. I received a complimentary Happy Hour and Seafood Sessions tasting for myself and a guest in order to facilitate this review. All opinions are my own. A gratuity equal to 18-20% of the value of the dinner left with thanks to the team at Coquille.
[wdi_feed id="2″]