Long Beach Lodge Resort's Great Room taking it's rightful place as a Culinary Destination
Chef Shaun Snelling puts the Luxury Resort on the map for Fine Dining
There is no question Long Beach Lodge Resort is an impressive and imposing destination. Situated on one of Canada's best known beaches with endless views. The Great Room has the presence of a grand hotel with hardwood floors covered in a mix of Persian and Indian carpets and well placed seating areas that take advantage of the breathtaking views of the Pacific.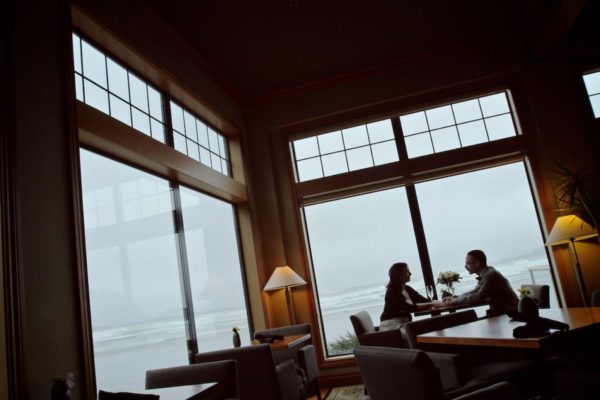 On any given day you will find guests enjoying the salon in a variety of ways. Cozy seating encourages you to snuggle up with a good book; soak up the warmth of the fireplace; have a cocktail at Happy Hour; play a board game and throughout the day sampling the regional delights coming from the kitchen. Mornings find locals and guests alike having a west coast breakfast or brunch served 7:30 am to 2:00 pm. Lunch menu at 11:00 to 2:00 and dinner service 5:00 to 9:00. with apres surf 2:00 to 10:00 pm. Desserts available anytime your sweet craving desires.
Dinner is the time that Chef Snelling has the opportunity to show his impressive culinary skills presenting a menu to please even the most picky of diners. A selection of eight starting dishes of delectable seafood, carnivore or vegetarian choices sure to please the most particular of palettes.
On our most recent visit we chose to let Chef Snelling and Sommelier Benjamin Howard make the decisions for us with a request to please pair each dish with a BC wine. As it turns out the wine list in The Great Room is an impressively well chosen and diverse selection of 100% British Columbia wines. I love that! Way to support the local wine industry.
We started our evening with a before dinner cocktail for him and a glass of Sea Star Salish Sea for moi. Our table was set so that both of us faced the ocean side and we just settled in and relaxed while the sun made its slow descent.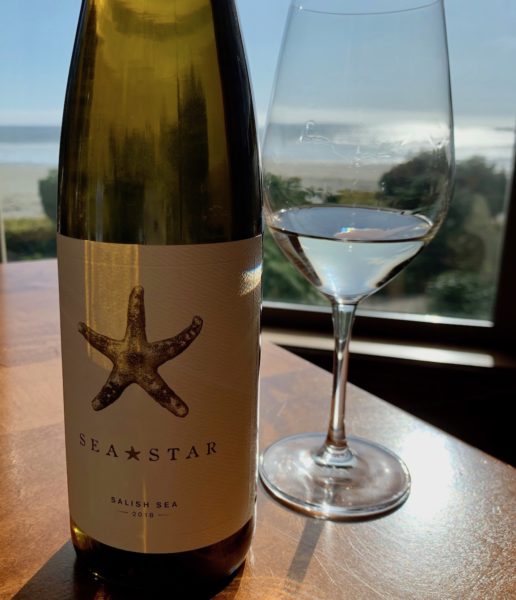 Onbeknownst to us my before dinner glass of wine, Sea Star Salish Sea, was to have been the pairing for our second course. This brought on some interesting debate with somm Howard and in the end he chose a different wine for us…
We indulged in an exceptional five course dinner with an emphasis on seafood and wine by the glass. Beginning with a half dozen Black Pearl oysters on the half shell served with Horseradish, lemon, and a ginger mignonette paired with an Unsworth Charme De L'lle dry sparkling wine. The oysters were sublime and the wine pairing was just the perfect choice.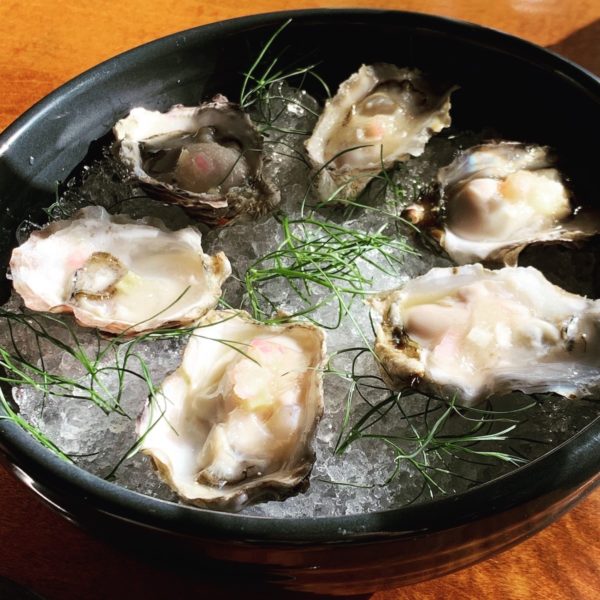 An Unsworth Charme De L'lle dry sparkling wine was exactly the right selection to pair with the Black Pearl oysters. Cool, crisp and refreshing.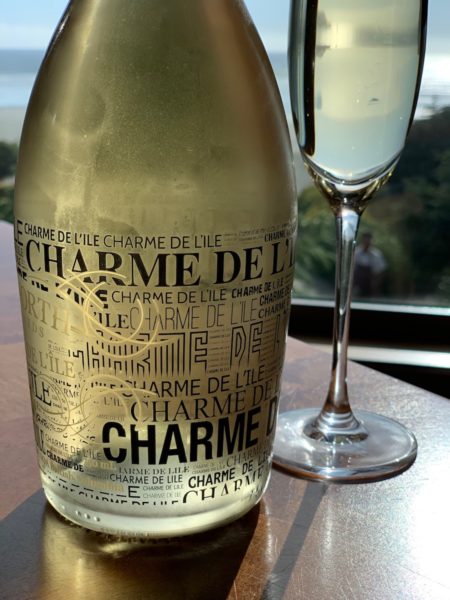 For this next course Chef Snelling created a dish of Side Stripe Shrimp with radish, sea asparagus, avocado, local strawberries, dusted with nori with a light vinaigrette, which, after some discussion, was paired with a 2017 Van Westen Vivacious.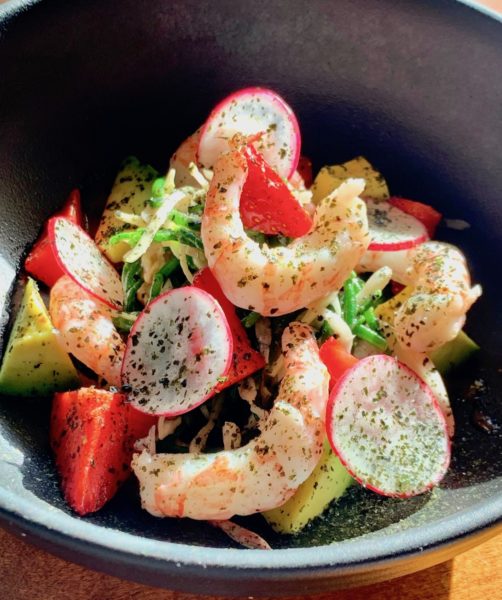 The pairing suggested was the Sea Star Salish Sea but because I had beaten them to the punch another wine pairing was necessary. I definitely wasn't complaining because it meant the opportunity to enjoy a glass of one of my favourites; Salish Sea before dinner, and then pair this tasty dish with a wine I hadn't tried before being the Vivacious. I call this a win/win.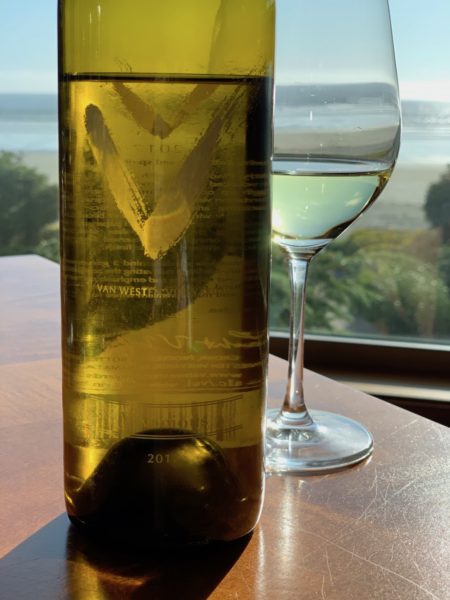 I should also mention that the pace of courses was dead on. We had just the right amount of time to both savour each dish and then leisurely finish our glass of wine before the next course arrived. This too is an art, no one wants to be rushed through their dinner, or for that matter, wondering how long until the next course. Chef Snelling is a genius in the kitchen and a master in the art of presentation.  Truly the mark of a fine dining experience.
For our third course we were treated to a filet of Halibut on a purée of spring pea with the most delicious morel mushroom ragout and dashi pickled shimiji mushrooms, topped with shaved fennel. The fish was cooked absolutely to perfection, moist and flavourful. This dish was a wow moment for me this is the way halibut should be prepared. If you have been avoiding this fish because you thought it was dry you must try Chef Snelling's halibut dish. The halibut was excellent and one I would definitely order this dish again.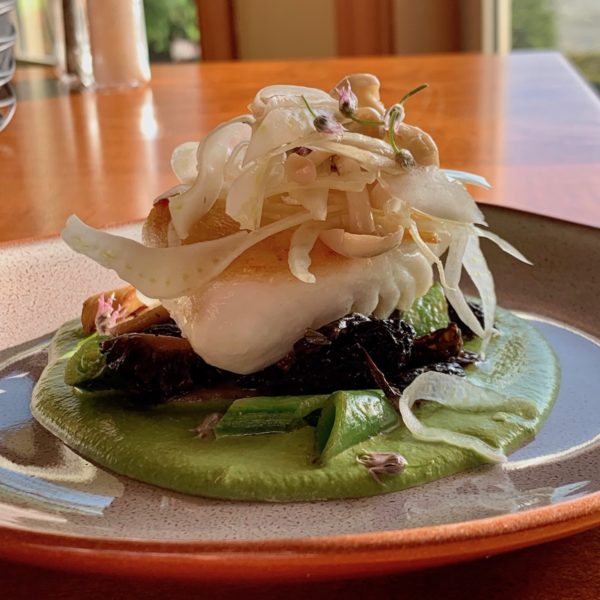 We paired the Halibut dish with a Road 13 2016 Rousanne. The Rousanne goes so well with fish with its tropical notes and fruit forward essence. Not too light with just the right amount of acidity it was another perfect pairing.
For our fourth course Chef Snelling chose one of my very favourite dishes, duck breast. Duck is one of those dishes  I will order every time it is offered on a menu. This dish was a lightly smoked Duck Breast on black rice with celeriac and cashews, with a fresh rhubarb and cherry emulsion and a purée of cashew and celery root. Another outstanding dish.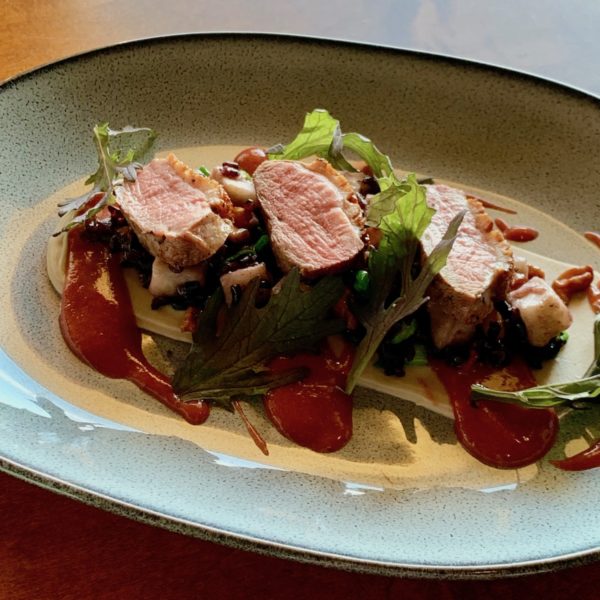 For this course Sommelier Howard suggested a 100% Organic Estate grown Scorched Earth Pinot Noir. "PASK the Pinot Noir" is a play on "Pass the Pinot Noir" and was very good.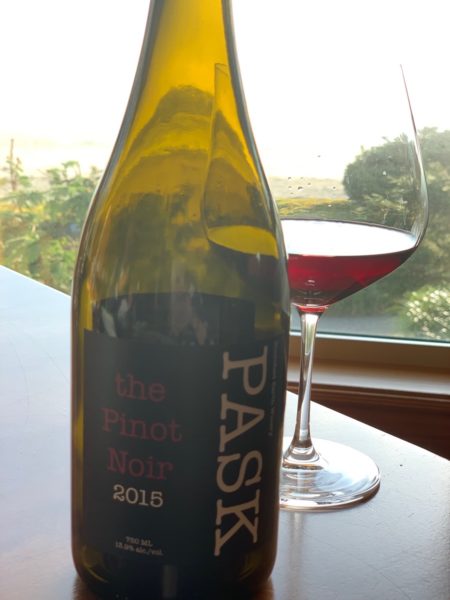 Then we began a discussion with Somm Benjamin over the slightly less common varietal of Gamay Noir and it just so happened that The Great Room wine list includes my favourite Gamay Noir from vin Amité. Sampling ensued. Both of these wines would made a grand pairing with the Duck Breast. The Pinot Noir perhaps a more traditional pairing and the Gamay Noir for those looking for a wine with that is full bodied with a smooth finish.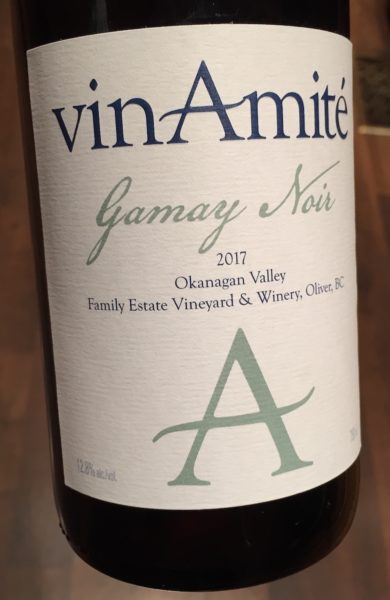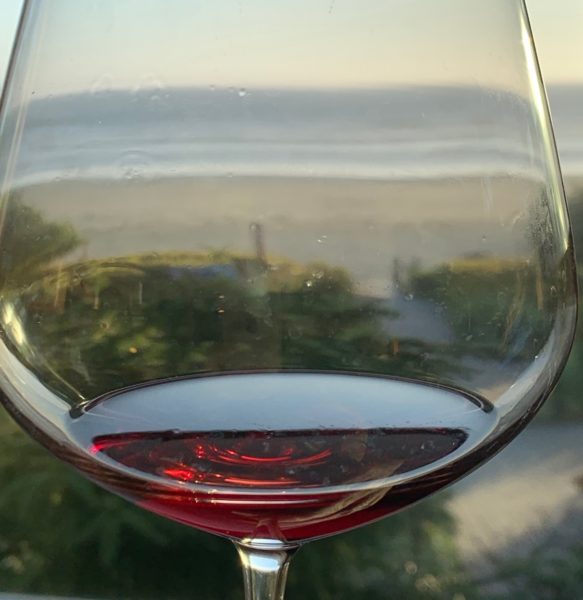 Initially we turned down dessert until I decided I should at least take pictures of the desserts even if I wasn't going to indulge. That proved to be either a mistake or the best decision I made all night – I'll let you decide…here are the expressions of two traditional desserts made exceptional by Pastry Chef Katherine Sinclair.
For him; a Coastal Fog, african nectar cremè brûlée served with earl grey ice cream, vanilla sponge and lavender meringue. Two of my favourite things brought together in lavender and meringue so I may admit to taking a nibble or two.
For moi; I can never resist a lemon tart and this creation titled Forest Floor was a sweet and flaky pastry collar filled with lemon mousse topped by a fern mint touille with basil cream and raspberry.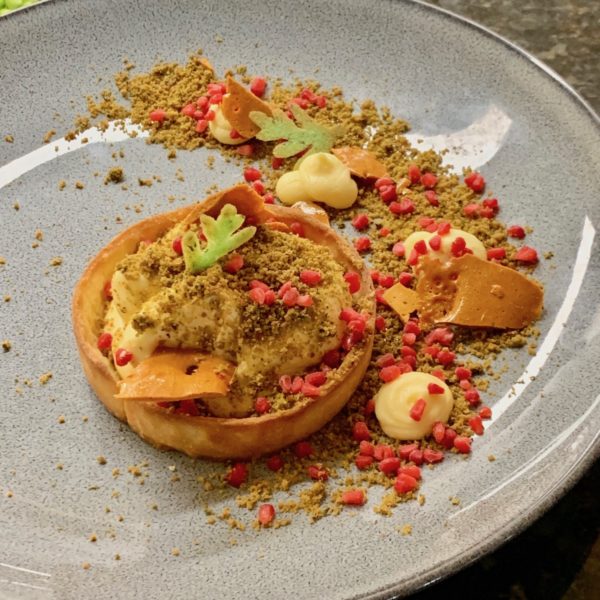 With dessert we enjoyed a Venturi Schultz 'Brandenburg #3′ 2011 which was a lovely finish.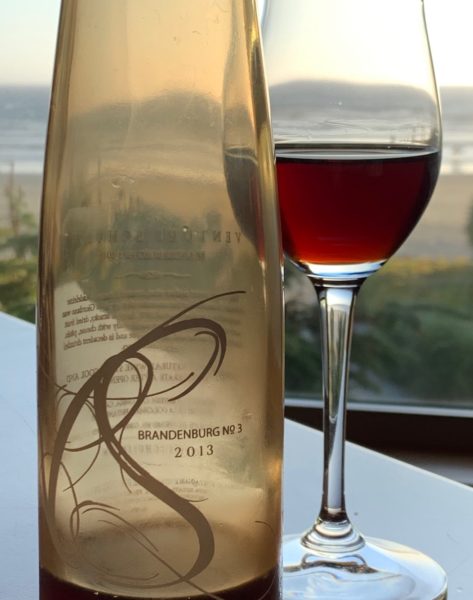 Followed by a nightcap of Kraze Legz Skaha Vineyard, port style Merlot, Flying Change which completed our splendid evening of fine dining and wine pairing.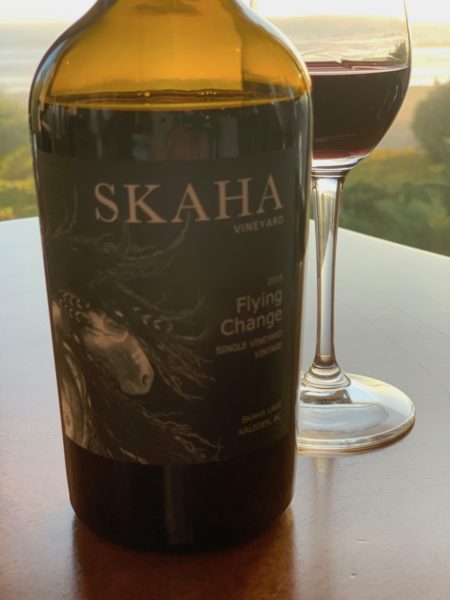 With thanks to Executive Chef Shaun Snelling who made this incredible dinner and to Sommelier Benjamin who was definitely up to the challenge pairing BC wines to outstanding dishes, Pastry Chef Katherine Sinclair and all the front and back of house team. Job well done! Can't wait to return.
To book your own Great Room experience please allow for a minimum of 24 hours advance notice. All requests are subject to dining room availability. Please note all members of your party must participate.
Reservations: 1 250 725 2442 or online to reserve a table.
The Great Room
The Resort's location on the edge of Cox Bay, offers breathtaking ocean views of the wild and beautiful west coast that is unique to Vancouver Island. Equally spectacular is the impressive interior architecture. The open concept enables an uninterrupted panorama of nature while the modern furnishings, wood accents and fireplace features provide the warmth and feeling of a living room setting.
Executive Chef Shaun Snelling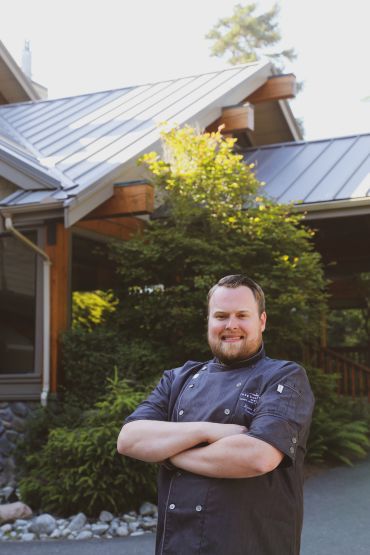 It was a part-time job while attending high school that sparked Snelling's interest in the culinary arts. West Vancouver's Salmon House on the Hill gave him a place and platform to explore his creativity and share his talent with hungry patrons. Upon graduation he chose to pursue an engineering degree but after a brief stint at BCIT he found himself drawn back to the galley. To develop his craft and set the course for a passion-driven career, Shaun transferred to the Dubrulle International Culinary Arts program at the Art Institute of Vancouver in 2004.
His years as Sous Chef at CRU Restaurant enabled him to further realize his personal cooking style before returning to the West side as Chef de Cuisine under the mentorship of Chef Wayne Martin of the upscale eatery, Fraiche.
His career has since taken him through many renowned kitchens such as Bin 941/942 and the Opus Hotel and given him entrepreneurial opportunities such as owning a sandwich shop, working as a private chef, and gourmet catering. More recently Shaun has worked with some of Canada's top chefs and impressed palates as the Executive Chef at The West Coast Fishing Club and Executive Sous Chef at Tofino Resort and Marina.
Appointed in 2018 Executive Chef Snelling brings to the Long Beach Lodge Resort his love for fine dining. By adding a touch of West Coast flair to every dish, highlighting local seasonal ingredients and applying classic techniques, he aims to maintain the high quality experience guests have grown to know and love. With Chef Snelling's distinct influence, the Great Room will continue to be a place you can discover inspired dishes and creative flavours of the coast.
Long Beach Lodge Resort, Tofino's Luxury Boutique Hotel
Welcome to Long Beach Lodge Resort, your adventure resort with personalized service, featuring oceanfront accommodations on an expansive sandy beach with wild pacific surf. Long Beach Lodge Resort has 41 Lodge rooms and 20 Cottages and is located on Cox Bay beach, just 7 km south of Tofino.
The Lodge was designed and constructed to resemble a grand West Coast style residence. The interior design concept was to evoke feelings of warmth and familiarity, as though you have just arrived at a friend's home. Staff are dedicated to ensuring your comfort with friendly and attentive service. Enjoy the tranquil ambiance of the interior or choose your own adventure with abundant opportunities for an unforgettable experience on the wildest coast of the west.
Come experience the natural beauty, exceptional amenities and handcrafted cuisine at Long Beach Lodge Resort. Set amongst the native coastal vegetation the Resort takes full advantage of the expansive sandy beach and the open ocean with wild west coast surf… in fact it is one of the few Tofino hotels that can claim such a spectacular locale.
View Tofino's biggest waves from the comfort of the iconic Great Room and partake in some of best award-winning cuisine in Tofino!
Hotel information and chef bio courtesy of Long Beach Lodge Resort. Great Room, Dining Room and feature image courtesy of Long Beach Lodge Reosrt. All images (except as noted) MyVanCity. I received a complimentary dinner for myself and a guest and left a gratuity equal to 20% of the value of the dinner. All opinions are my own.